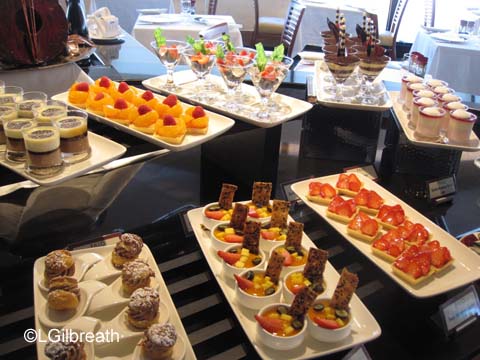 Wednesday night was the Captain's Gala ship-wide menu. We were in Lumiere's again. We ordered a lot of different things – I think this is the most photos I have for one meal!
I started with the regional White Onion Soup with caraway and smoked salmon. As I recall the smoked salmon was not overwhelming and I enjoyed the caraway flavor.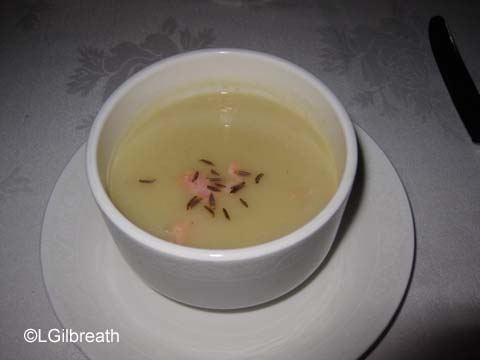 Lee had the regional Smoked Salmon Timbal – salmon on the outside and cream cheese, smoked trout, and dill inside. Rich, but good. I had this as my second course.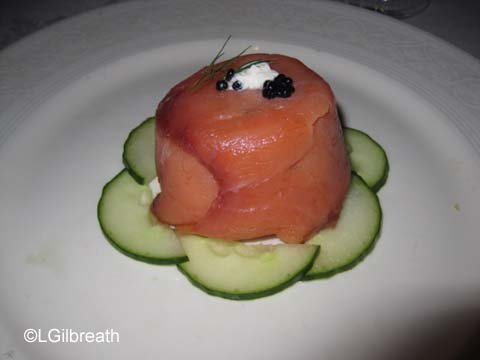 Terrie had the regional Baked Oysters on the Half Shell with spinach, onions, and bacon topped with buttered bread crumbs.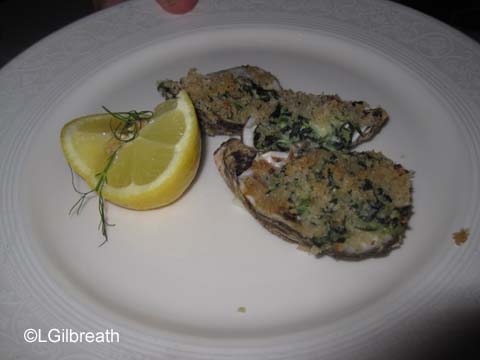 Paul tried the Marinated Tiger Shrimp with celery hearts and remoulade.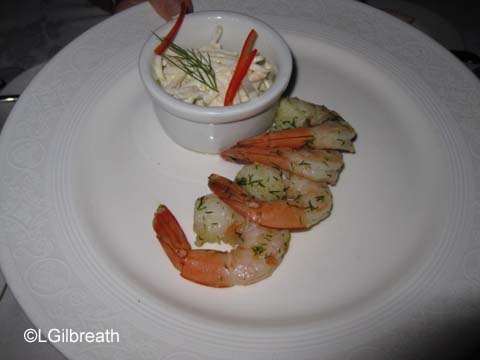 Terrie ordered the Beefsteak Tomato and Vidila [sic] Onion Salad.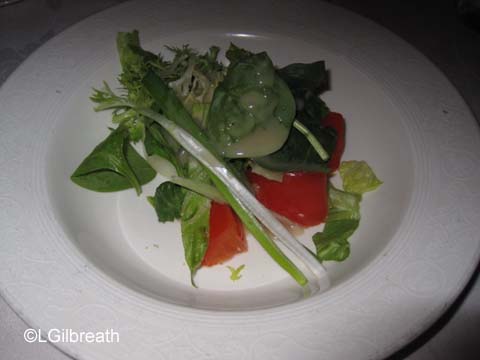 There were two entrees Lee and I were interested in, so I ordered one and he ordered the other and we shared. I had the (not regional!) Roasted Red Snapper on a bed of fennel, olives, sweet peppers, and Yukon Gold potato ragout with saffron broth. The fish was good, but the broth was outstanding. So flavorful!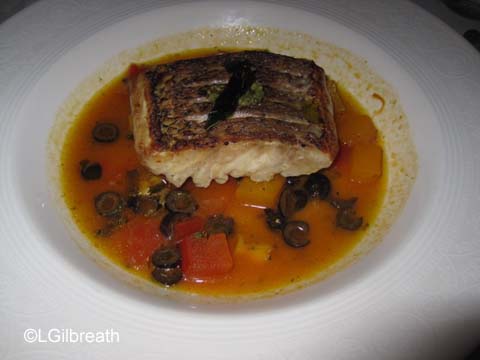 Lee ordered he regional Oven-Roasted Pork Tenderloin with creamy cheese polenta, sauteed wild mushrooms and merlot reduction. This was also excellent.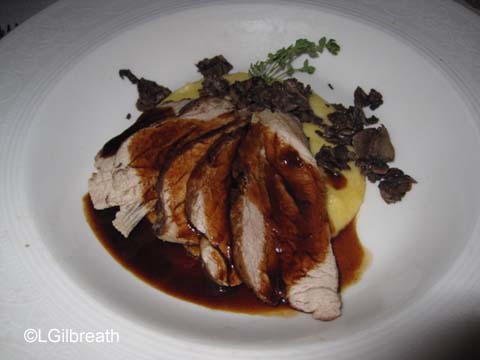 Terrie ordered the specialty of this particular menu: Oven-Baked Lobster Tail with sun-dried tomato, lemon pesto mash and roasted asparagus. It's very nice to have the servers remove the lobster meat from the tail! They do it so neatly.
Paul tried the Seafood Salad with pan-seared scallops, baby shrimp, lobster medallions, leeks, fennel, dill, and romaine lettuce.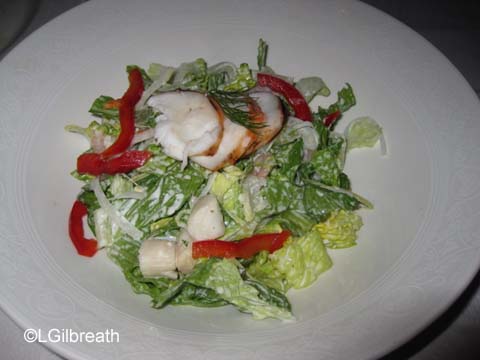 For dessert Terrie and Lee had the signature Warm Chocolate Lava Cake served warm with double chocolate sauce and vanilla ice cream. Chocolate smiles all around.
I actually passed by the chocolate (yes, really) in favor of the regional dessert: Russian Honey Cake – layered with butterscotch cream and vanilla bean sauce. This was a lighter dessert, and I liked it – especially the honey cake part. It was moist and the honey gave it an interesting flavor.
Paul ordered two desserts: Banana Creme Brulee with caramel banana and Banana Foster Sundae with rum-glazed bananas, vanilla ice cream, whipped cream and caramel sauce. He fully enjoyed both of them.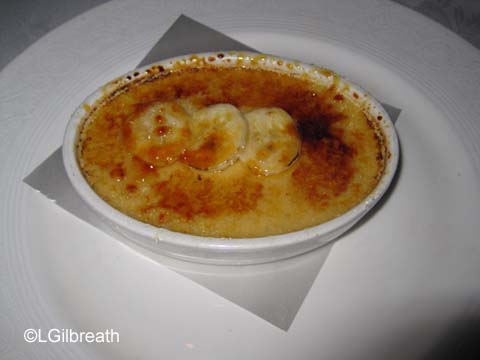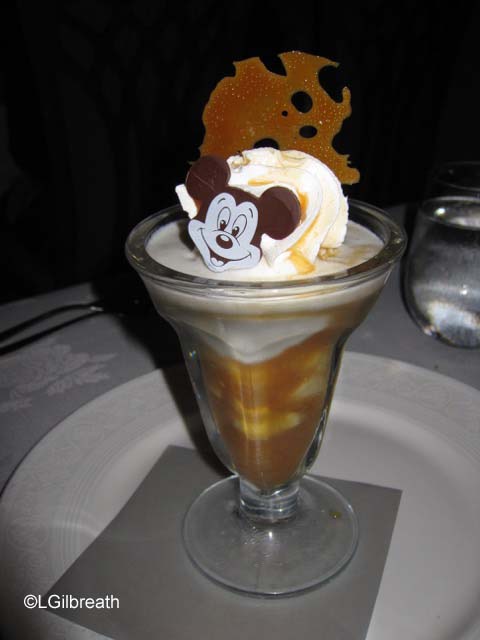 Thursday night we were in Animator's Palate – this time for the Animation Magic show dinner. It was also the night of the ship-wide "Freezing the Night Away" menu, but unfortunately because of the show dinner, we weren't offered the entire menu. 🙁 We had done the Animation Magic dinner before on the Disney Fantasy, but this was the first time we'd done it on the Disney Magic. It's the same – our servers handed us a big animation sheet and told us to draw in the boxes. Darma told us no words – that's the first time I've heard that, but obviously someone abused it at some point. 🙁 We'd worn our new Norway sweaters, and we were both inspired to put similar designs on our drawings.
Liliana made us a lovely origami centerpiece for our table – there was a flower for each of us.
For this dinner, there is a set appetizer sampler and soup, and limited desserts. You get your choice of entree, and at least for entrees we had all of the options that the other two restaurants were getting. It was pretty much ALL regionally inspired on his night – except in Animator's Palate. 🙁
Though the appetizer plate was not on the ship-wide menu, I still think it was "regionally inspired". It included Smoked Duck Breast with pickled red onions and Craisins, Dill-Marinated Shrimp with tomato mayonnaise and horseradish cream, Smoked Salmon Tartar with Sour Cream and Cream Cheese. The latter two quite definitely seem "regional". It was all pretty good.
The soup was the one from the regular Animator's Palate menu: Macaroni and Cheese and Baked Potato Soup. It was just ok. I'm not sure macaroni and cheese and baked potato really go together. It had a lot going on.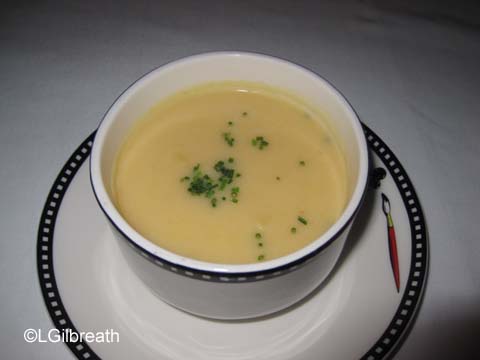 As I mentioned, for the entrees we got to choose. And there were lots of interesting choices. I could've had this menu several times! Lee and I both ordered Anna's Honey-Mustard Marinated Salmon with sour cream, spinach, and Aquavit sour cream sauce. The salmon was very good, but I didn't taste mustard in it at all – and I like mustard. And I didn't eat the spinach. Cooked spinach is pretty icky.
But I got my vegetables another way because Lee and I ordered a second entree to share: Pabbi's Stuffed Cabbage Roulades. Savoy cabbage leaves stuffed with brown rice, asparagus, leeks, carrots, and lingonberry served with a dill cream sauce. We thought the cabbage was a little tough but we really enjoyed the filling. They needed more sauce, though. And I didn't detect any lingonberry in it.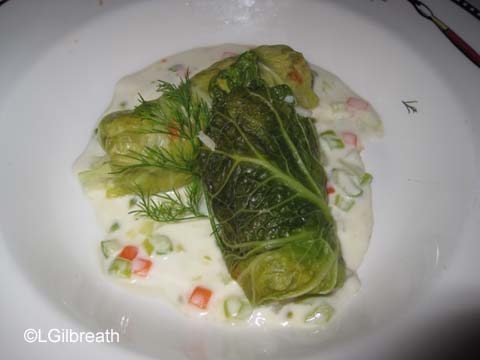 Other entrees were: Hans's Juniper Wild Boar Filet, Veal "King Agda", Kristoff's Rosemary-marinated Striploin, Bulda's Vegetable Lattice, and Alesund Smoked Trout Salad.
There were three desserts available, one of which was the Sweet Temptations sampler that at least offered some opportunity to taste some of the desserts available on the larger menu. Terrie, Lee and I had that. It included Olaf's White Chocolate Floro Dome, Almond Berry Crumble Cake, and Norwegian Pancake. The Crumble Cake was also available as a full-size dessert. It was a nice sampler. The "Floro Dome" was surprisingly good – it had almost a gingerbread-like center to it. The pancake was like a crepe with a lingonberry cream in it that I enjoyed.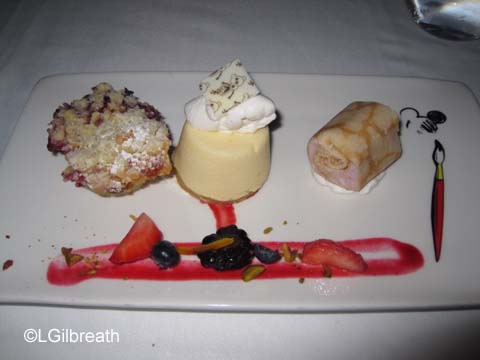 Paul ordered the other dessert, Frozen Yogurt Romanoff Sundae with fresh strawberries marinated in Cointreau, vanilla frozen yogurt, and chopped pistachios.
After we received our desserts the show, featuring our drawings, started. Watching them come to life is really fun, and one of those "how do they DO that?" things. Lee and I are on the right in the photo below.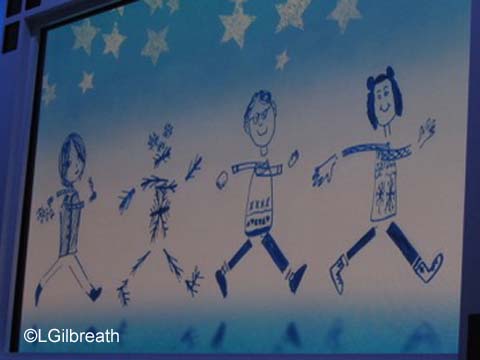 And my animated self got to go log-rolling with Louis in the bayou – though I think we all know who won. 🙂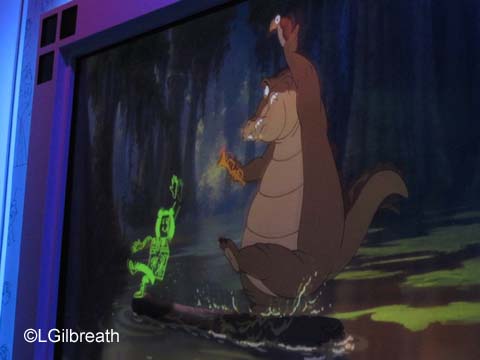 We learned the first time we did this that when put your name on your drawing you want to do something to make it stand out in the credits, so we advised Paul and Terrie of that, too.
It was a really fun dinner, though I'm disappointed hat we missed a number of items from the "Frozen" menu – I had been looking forward to that.
Some of the items we missed:
Elsa's Coronation Scallops
Arendelle Gravlax
Duke of Weselton's Favorites (I'm very curious about what those were)
Oaken's Red and Yellow Beetroot Salad
Sven's Carrot Soup
Friday was a day at sea. We slept in, and started our day with brunch at Palo. I think this is my favorite meal on a Disney cruise ship. We had a reservation at 10:00, when the restaurant opened, and we were the third party seated.
We were able to get to the food tables before too many guests had been there to mess them up. 🙂
Everything is so colorful and beautifully presented.
I tried for an artistic look for my first plate. Anything with a sticky bun on it is going to look good, to me, though. 🙂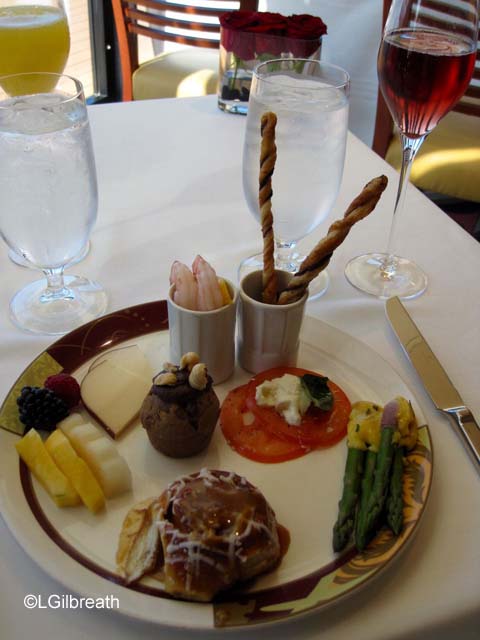 Lee's plate: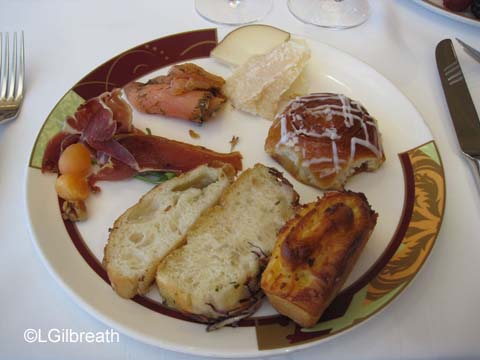 I went with something different for my hot entree this time: Eggs Julia. Which is Eggs Benedict with smoked salmon instead of Canadian bacon. It was delicious, and I totally cleaned my plate.
Lee ordered the Frittata. Unfortunately he didn't realize he should request "no tomato". But he ate most of it anyway.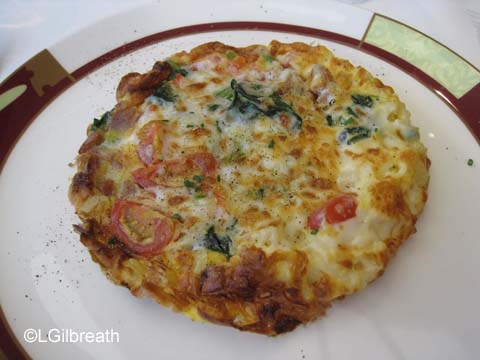 I enjoyed trying a number of different desserts. The fruit with the champagne gelatin was good – though I can't say the gelatin really tasted like champagne to me. Mostly it was just lightly sweet. The nutella mousse filled puff was pretty good.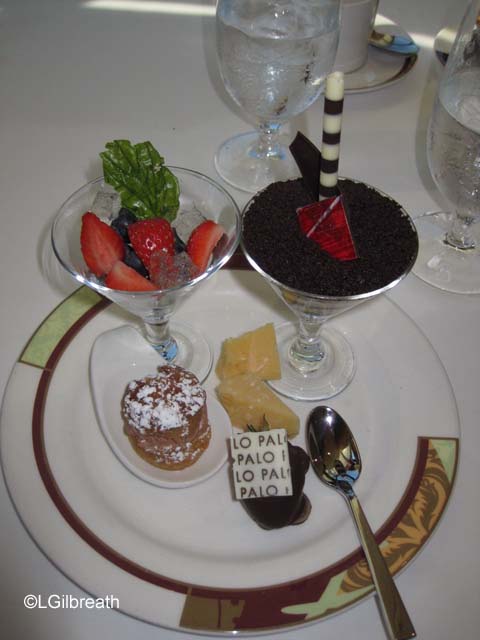 In place of dessert Lee ordered a second hot entree: Palo Buttermilk Pancakes.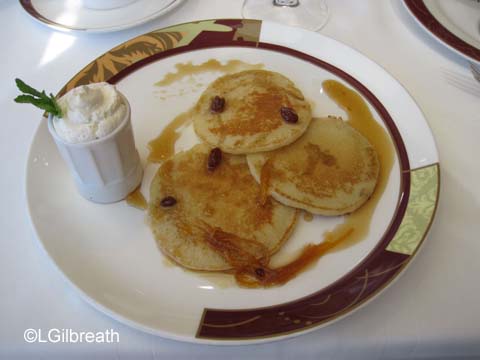 We were back in Carioca's (for the third time) for the final dinner: 'Til We Meet Again. I think this was the only dinner when I didn't order any of the Regional dishes. Terrie and Paul were in Palo for dinner, so Lee and I were alone at our table. As an appetizer Lee and I both ordered something we have enjoyed in the past: Grilled Potato and Goat Cheese Napoleon. It was a much larger serving than we have had before. And really stuffed with goat cheese. I love goat cheese, but there was too much on this, and neither of us finished it. Just too rich.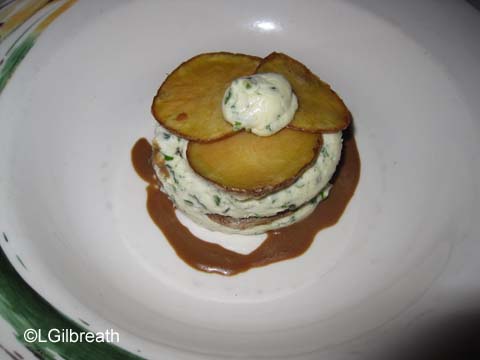 As a second course I ordered Cranberry Salad, with field greens, sunflower seeds and Craisins. It is normally served with blue cheese, but they left that off at my request.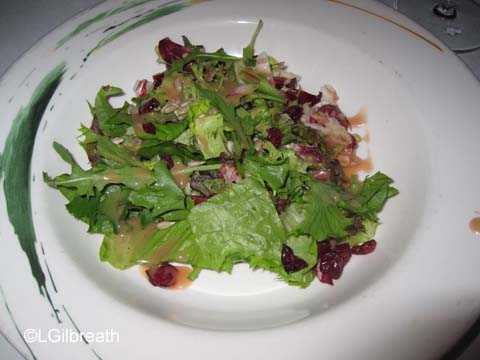 Lee had the Lobster Bisque.
My entree was Trenette Pasta with buttered shrimp, tomato, and basil. And plenty of fresh grated parmesan. The pasta was very good, the shrimp was ok. There could've been more sauce, too.
Lee tried the Tandoori Lamb Duo, with jasmine rice, mint chutney, and raita.
I ordered Sweet Temptations for dessert. This included Celebration Cake, Chocolate Decadence and Cappuccino Mousse. The Chocolate Decadence was a regional inspiration, with a hazelnut biscuit crust, though I don't think I tasted hazelnut. The Cappuccino Mousse is the meringue finger thing. This is another of those desserts where the description bears little resemblance to the actual dessert. I've mentioned this before, but there's a definite disconnect between the people who write the menus and the people who actually prepare the food. It seems especially pronounced in the desserts.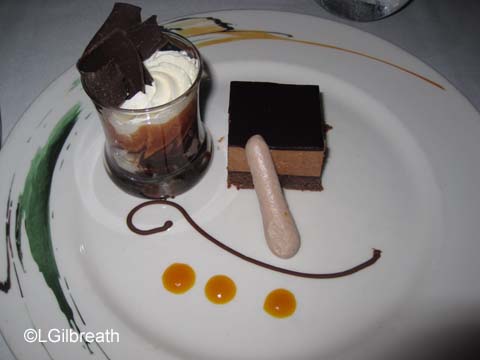 Lee always orders Baked Alaska. He must enjoy it.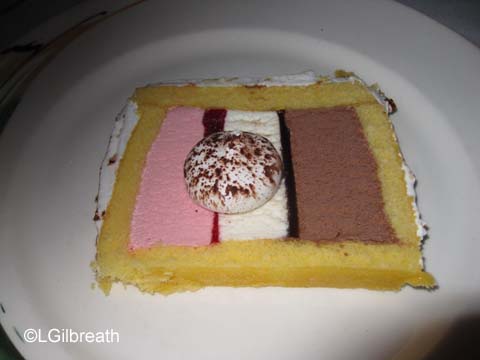 On the Magic and the Wonder they still do the parade of servers waving flags on the final night. I've always thought this was a nice ending to the final dinner.
Saturday morning breakfast – our last meal on board. Sigh. It's always a bit quiet. Partly because a lot of us are still half asleep, but also because we are sad to be leaving the ship. It's a pretty limited menu, since they need to get us out of there quickly. I had Eggs for the Road with scrambled eggs, bacon, and a side of whole wheat toast. Having seen the eggs all week in Cabanas, I requested the eggs be scrambled dry. 🙂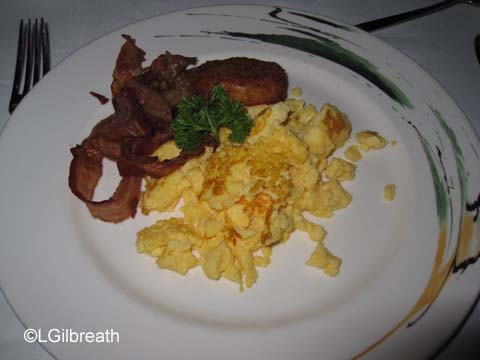 Lee ordered the Chef's Farewell, an open faced omelet with bbq chicken, green peppers, onions, and Swiss cheese. He almost always orders this.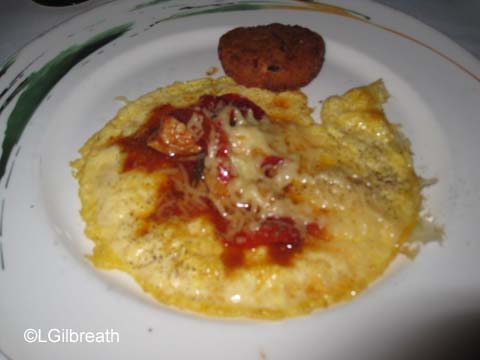 It's kind of a shame that our dining experience ends with a whimper like that. There's only so much that can be done on the final morning, though.
For the most part our dining experience this time was very good. I really enjoyed the addition of the items that were "Regional Inspirations" to all of the dinner menus. My only real disappointment is that we did not get the opportunity to experience the full "Freezing the Night Away" menu because we had the show dinner in Animator's Palate that night. That's a real drawback to the show dinner setup there.
And with that, I'm finally done telling you about our Norway cruise. Thank you for reading! Until next cruise…