It's not a set of cruise blogs without some information on all of the dining, too!
We've been on enough Disney cruises that we are familiar with a lot of the menu items – they don't change that frequently. One thing we really enjoyed about this cruise was that there were some new offerings: each menu featured some "Regional Inspirations". Generally there were two of these in both the Appetizers and Soup/Salad categories, three in the Entrees, and one Dessert. Now, some of them were variations of what was on the regular menu, but quite a few of them were new. It was great to have all of these new options on every dinner menu! I tried a lot of them, and for the most part I enjoyed them. I don't know if this is something Disney Cruise Line is just doing on the Magic this summer, where there are new itineraries and so many guests are repeat cruisers, but I really liked having some more interesting and different options.
After boarding the Disney Magic in Copenhagen we went to Carioca's for lunch. It's a buffet, and seemed to have the usual selections. I didn't notice any regional choices, but I also wasn't looking for any. It seemed like the usual selection of salads, shrimp and crab, and hot entrees. They had potato leek soup, which is always one of my favorites.
We were back in Carioca's for dinner that night. I know I've mentioned this before, but we always seem to get the same dining rotation, where we start in Carioca's (or the equivalent).
Our assistant server was Liliana (Lily) from Portugal and our server was Darma from Indonesia. Lily was a little bit feisty and we really enjoyed that. As the server, Darma always made menu recommendations – which we almost always ignored. 🙂 It got to be a joke after a while. They both did a very nice job for our table.
We were at a table for eight, but there was only one other couple at our table. Terrie and Paul were excellent dinner companions and we enjoyed spending time with them. We always had a lot to talk about.
This dinner was our first experience of seeing the "Regional Inspirations" on the menu. Lee and I both tried the Bergen Fish Soup with cod dumplings. It said "dumplings", but there was only one. It was a creamy soup, and I thought it had a very nice flavor – not fishy at all. Maybe a bit too salty. The fish dumpling had a mild fish flavor. We both enjoyed it.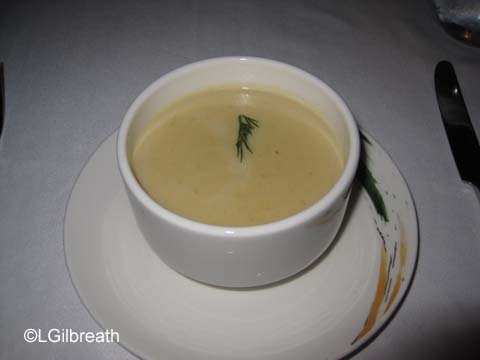 My next regional choice was New Potato Salad with chevil and green beans. This was really a green salad with some sliced new potatoes in it, along with the green beans. Very fresh and tasty.
Lee's regional choice was Deep Fried Lobster Croquettes with lentils and creamed horseradish. He thought it was good.
For our entree we selected the same regional: Pan Seared Halibut on minted smashed peas with shredded potato cake and a chive cream sauce. The fish was very nicely cooked. I was happy that the peas were only slightly minty – hardly even noticeable. That's a good thing.
We actually didn't go regional for dessert. 🙂 That choice was an Orange Almond Torte. I had one of the no sugar added desserts: Silky Dark Mousse de Chocolate with whipped cream and berries. It was ok. I scraped the chocolate off the top – it was that weird gelatinized chocolate that I don't like.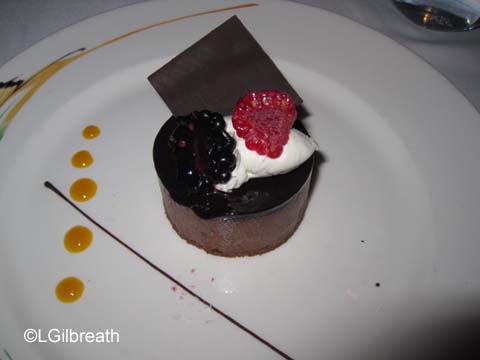 Lee ordered Coconut Tres Leches– coconut cake with three milks, layered with coconut cream. This was excellent – we both thought it was one of the best desserts we had all week.
Most mornings we went to Cabanas on deck 9 and had some combination of oatmeal, fruit, yogurt, bacon, pastries, and omelets. The scrambled eggs were always scary – they were too runny for our taste, though Lee tried them once. The pre-made omelets were a little rubbery, but we never took the time to get them made to order.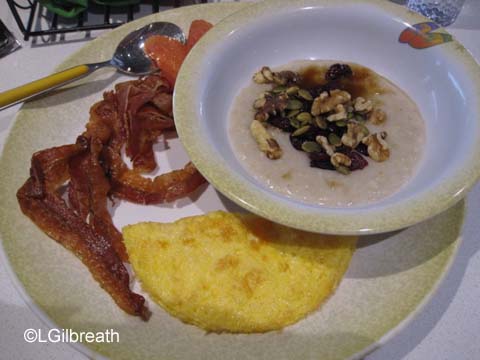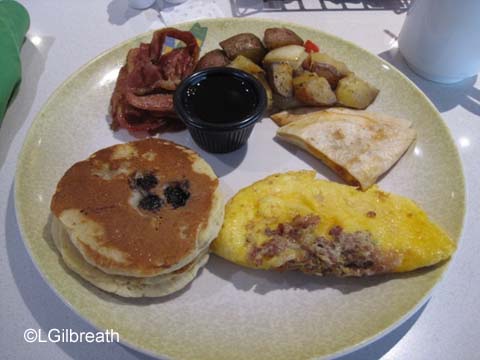 On our first sea day we went to Lumiere's for lunch. The last couple times I'd had lunch at Lumiere's/Triton's I'd been disappointed, but this was pretty good. No regional selections on this one, though. I started with the Ginger-infused Carrot Soup. A little ginger goes a long way with me, but this was very good. It was a cool day and I appreciated something warm. I mentioned Julia in my previous blogs – this was the meal where she was our assistant server, and so diligent in refiling my teacup with hot water. It's rare for me to get even one refill, so it was most appreciated.
As an aside…one thing we've noticed when we have a table service meal for breakfast or lunch (so not with our usual dining team), is that we rarely get the same kind of prompt and dedicated service. So when we do, it's especially noteworthy.
Lee ordered a Vegetable Quesadilla with guacamole, sour cream, and pico de gallo. It was a really good quesadilla.
He also had an Apple Walnut Salad .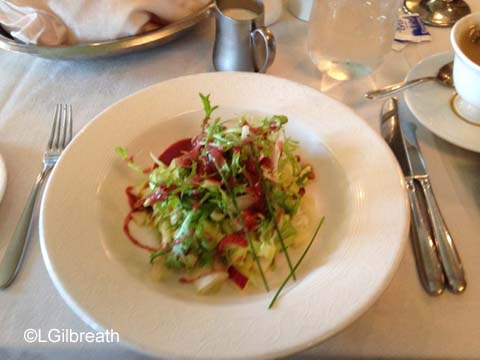 My entree was Lemon Chicken Salad – a pan seared chicken breast served over greens and papaya. This was very tasty! I liked the chicken, but the papaya was the best part – it was ripe and really good, though it was odd that the skin was still on it.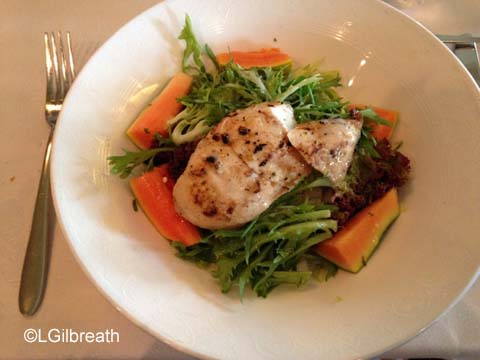 Lee tried the Glazed Meatloaf with smashed potatoes, buttered carrots and long beans. He says it was very good meatloaf.
For dessert we tried the Hot Chocolate Fudge Pudding. We were pretty sure this was going to be more like a lava cake than pudding, and we were correct. It was still good, though – one of the better desserts of the week.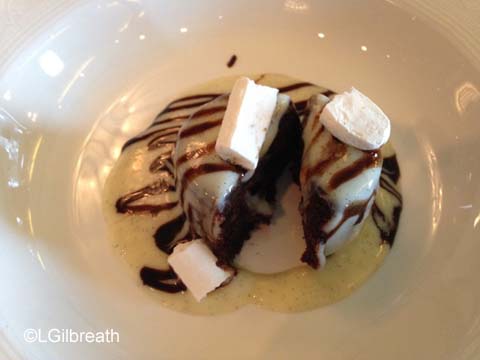 We were back in Lumiere's for dinner that night – it was Formal Night, though we just had the regular Lumiere's menu – plus the Regional Inspirations. Terrie and Paul offered to let me take photos of their food, too. It's good to have indulgent table mates. 🙂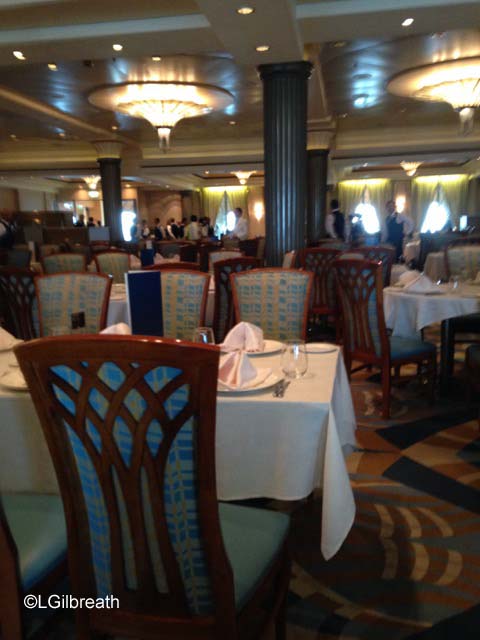 As a Regional appetizer I ordered the Smoked Salmon Potato Lefse with sour cream, asparagus, and dill. This was excellent, and a much larger serving than I expected. With the salmon and the sour cream it was a bit rich, and just one of those rolls would have been an acceptable serving size. Which didn't stop us from eating all of them – I had two and Lee had one. 🙂
Lee's first course was the same thing I ordered as my second, Ham and White Cheddar Croquettes with apple-cherry chutney. This was good, but I think my favorite part was the chutney. It was made with tart cherries and had a nice bite to it.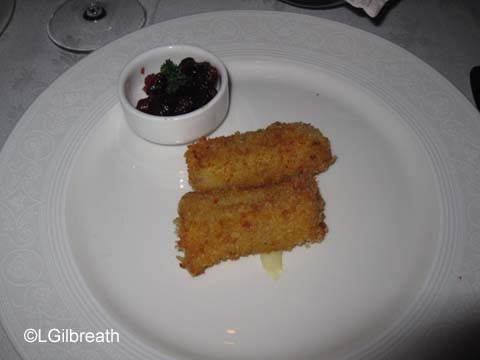 Paul ordered the Iced Lobster and Jumbo Shrimp with horseradish cream, asparagus and dill dressing. I think this was the one where Terrie had a bite that was mostly spicy horseradish. Whew.
Lee and Terrie ordered French Onion Soup. This is always a winner at Lumiere's. This may be the first time I haven't ordered it, but I was focusing on trying the regional dishes.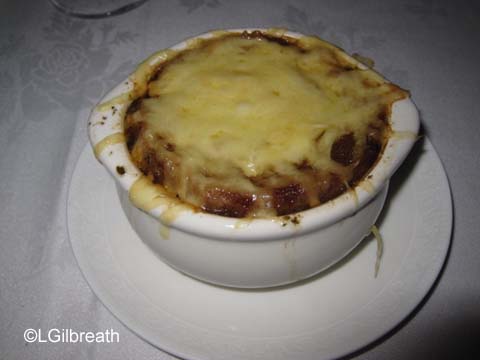 Paul ordered Gaston's Escargot Gratinee, which he kindly offered to share with all of us – we passed. 🙂 He had no problem finishing it without our help. 🙂
Instead of an entree I ordered the regional soup, Yellow Pea with Crisp Bacon and a side of steamed broccoli. The soup was very good, though I can't tell you that yellow peas taste much different than green peas. 🙂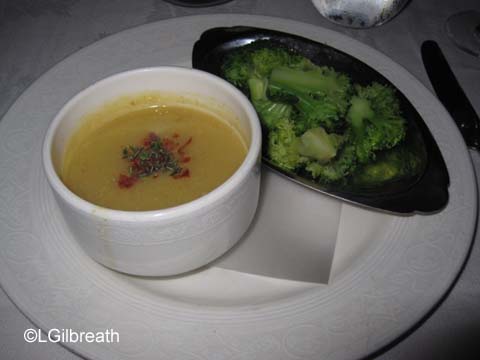 Lee ordered a regional entree: Roasted Rack of Lamb with creamed potatoes and buttered brussel sprouts in a rosemary red wine sauce. This didn't really seem that different from the lamb that is usually offered on Lumiere's menu. The lamb was cooked nicely.
Terrie ordered a different regional, Mini Potato Dumplings in a thyme rosemary cream sauce. She didn't really care for it. I've had something similar before, and also was not impressed – it was pretty heavy.
Paul tried the Ahi Tuna Nicoise. This was definitely one of the prettier dishes, and he really enjoyed it.
I passed on dessert that night – nothing appealed to me. Yes, Lumiere's offers a chocolate souffle, but they ruin it by adding Grand Marnier to it. Chocolate and orange…yuck. (Terrie and I bonded over our mutual love of chocolate and dislike of chocolate and fruit together.)
Lee tried the regional dessert – Summer Berry Pudding. Berries layered with white bread with double cream on top. He liked it.
Terrie, on Darma's recommendation, ordered the Peanut Butter Mousse. This was not at all what I expected from the description: Dark chocolate infused peanut butter, chocolate crisp base, and whipped cream. She was very happy with this.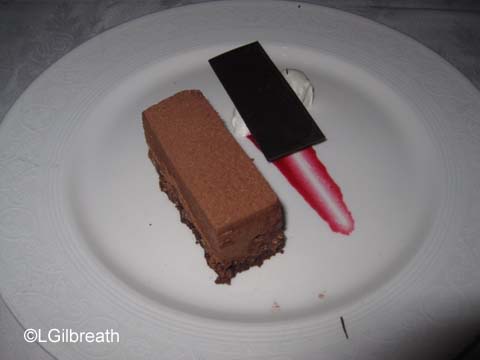 (Speaking of chocolate crisp base – on NO menu did I ever see a "chocolate wafer" mentioned. They learned their lesson on that one. 🙂 )
Paul is a creme brulee fan, and ordered the Tahitian Vanilla Creme Brulee. He gave it two thumbs up.
When we returned to the ship after our day in Stavanger we went to deck 9 to get some pizza. Even at the pizza place they had some regional flavor – I got the last piece of smoked salmon, onion, capers, and dill pizza. It was very good!
That evening we were in Animator's Palate for the animation show dinner. This is more of a modernization of the original Animator's Palate show dinner, where the restaurant transforms from black and white to color over the course of the evening, rather than the Turtle Talk show that's on the Dream and Fantasy. But now the pictures are animated, rather than just changing color.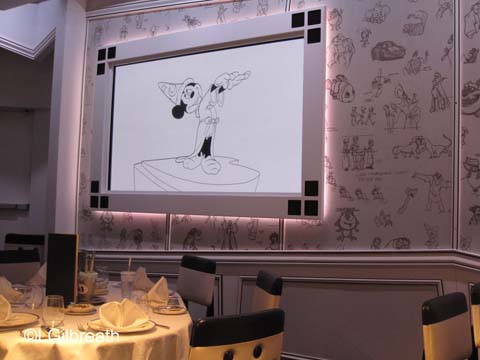 My first appetizer was a regional: Jarlsberg Cheese and Carrot Souffle. This was outstanding – I think it was my favorite appetizer of the week. Before this trip I didn't know that Jarlsberg cheese came from Norway – I thought it was a variety of Swiss cheese like Gruyere or Emmentaler. (Our guide on the Troll Road excursion later told us that it was made not far from where we were – and that we can buy it much more cheaply in the U.S. than they can in Norway!)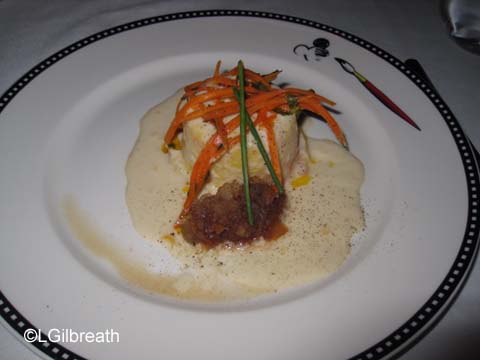 Paul also went regional with the Smoked Salmon Tartare, with dill, capers, onions, and horseradish cream. (There were a lot of dishes with horseradish cream! Must be a common condiment in Norway. Lots of dill and smoked salmon, also.)
Lee and Terrie went with Darma's recommendation – Black Truffle Pasta Purseittes.. Lee has had this before and still enjoyed it this time.
For my second course I stayed with the regional choice of Split Green Pea Soup with buttered croutons. This was just ok – not as good as the yellow pea was the night before. So I guess there is a difference between green and yellow peas!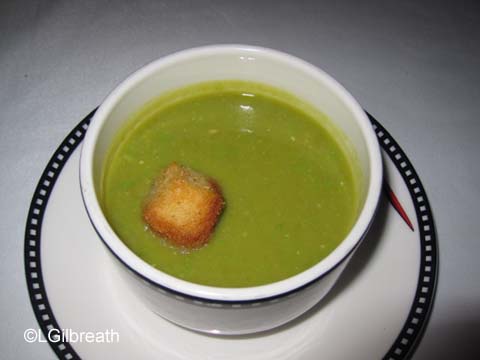 Lee went with the tried and true Butternut Squash Soup. It was nice and thick and creamy.
Terrie ordered the regional salad: Spinach Leaves with red beets, orange segments, and marinated white beans. None of which are very evident in this photo.
The three regional choices on the entree menu were mostly variations on regular menu items. I tried the Lemon-Thyme Marinated Chicken Breast, served with sour cream mashed potatoes, roasted root vegetables and grain mustard jus. The chicken was tender and cooked well, and I enjoyed the mashed potatoes.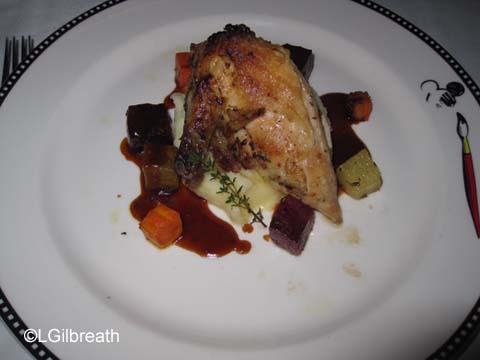 Terrie had another of the regionals: Pork Cordon Blue – breaded pork loin stuffed with ham and gruyere cheese served with snow peas and roasted potatoes. She did not really care for it – it was a pretty heavy dish.
Lee and Paul had one of Darma's recommendations: Ginger-Teriyaki Dusted Angus Beef Tenderloin with wasabi mashed potatoes, bok choy, and tamarind-barbecue reduction. Other than the bok choy, Lee thought it was excellent.
Just before dessert we had the show part with Sorcerer Mickey and the parade of servers, now wearing their colorful vests.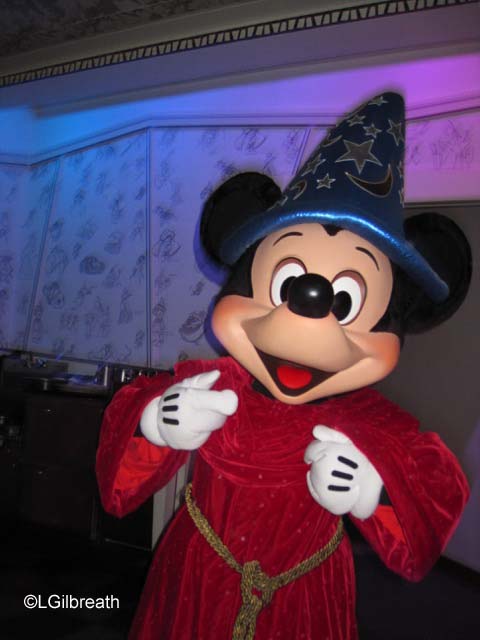 For dessert I ordered the regional Helsinki Blueberry Crumble Tart with vanilla frozen yogurt and a blueberry whipped cream. I really enjoyed it. Paul had the same thing, though he requested vanilla ice cream instead of frozen yogurt.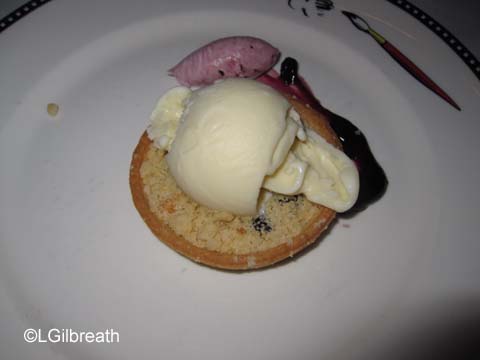 Terrie and Lee had the traditional Crunchy Walnut Cake with dark chocolate mousse and raspberry coulis. This one needs a better description – it's really a dark chocolate mousse, and there's nothing cakey about it. I've always enjoyed it, but since I went with the regional this time I recommended it to Terrie, and she liked it.
Darma decided that we needed additional dessert, and brought each couple a lemon souffle to share. It was good, but we were all really stuffed after that.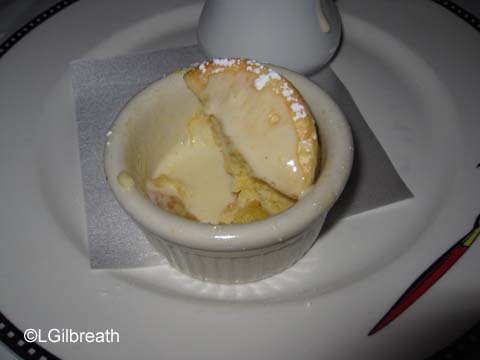 Tuesday night was the ship-wide Prince and Princess menu. We were back in Carioca's. My first regional of the evening was Cream of Potato Soup with leeks, carrots, celery, bacon, and knockwurst. It was delicious, and I could've eaten a lot more of it as a main course with some bread.
Terrie had the regional Gravlaks. Or "rotten fish", as our guide on the Trollstigen called it. 🙂 Terrie said it was basically just smoked salmon.
Lee and Paul had Princess Tiana's Sauteed Shrimp on jambalaya rice. Lee says it was yummy.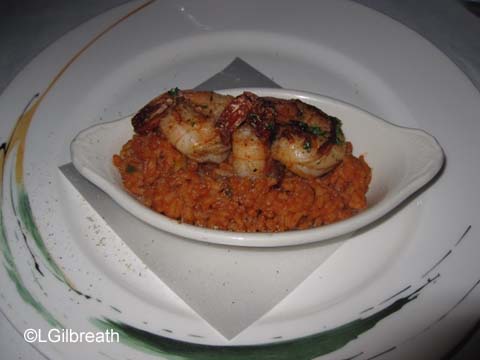 My second regional course was Egg and Bacon Salad with baby lettuce, spring onions, radishes, and Akavit dressing. This was really very nicely presented, and very tasty.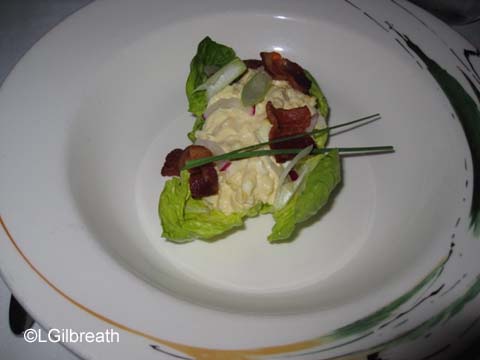 Lee and Terrie had Snow White's Wild Forest Mushroom Soup. They said it was very good. It's never a flattering photograph, though. 🙂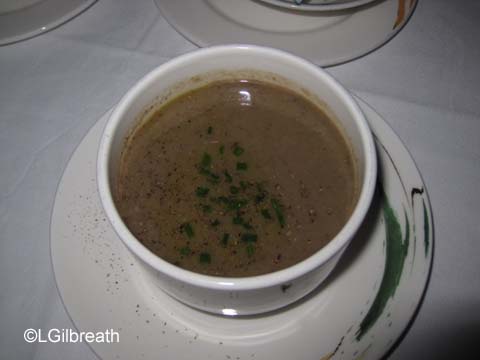 As an entree, most of us had the regional Baked Fillet of Turbot with creamed potatoes, sauteed fennel, and a dill cream sauce. I thought it was very good.
Terrie tried the Roasted Portobello Mushroom Triangoli Pasta topped with sour cream, pesto swirl, and sweet butternut squash sauce.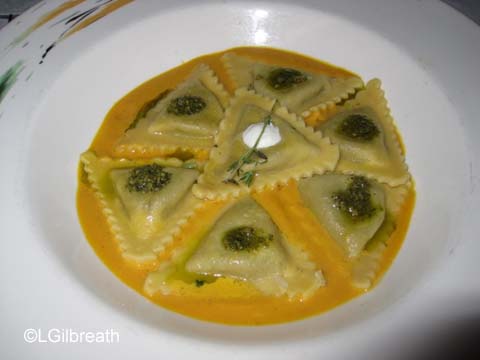 I didn't go regional for dessert, as Prince Charming Flourless Chocolate Cake was on the menu. Layered with vanilla and chocolate cream, with hazelnut chocolate sauce. In the past I think this was a chilled souffle (which was very good). This was good but not great.
Lee had the regional dessert: Traditional Bread and Butter Pudding – lightly toasted bread and raisin pudding with rich custard sauce. Lee says it was REALLY good. As in "one of the best bread puddings he had every had" good.
Paul is an ice cream guy, and he enjoyed Princess Aurora Sundae – rocky road ice cream topped with cookie crumbs (not wafers), chocolate sauce and whipped cream.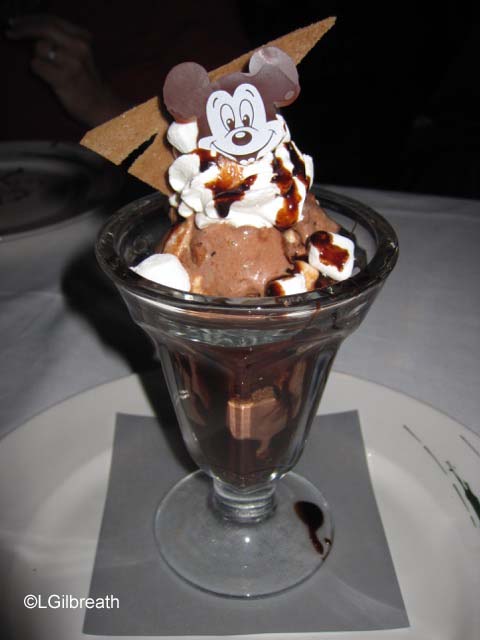 Even more food coming in Part 2!