I started scrapbooking when I was pregnant with my son 13 years ago. While I was on bed rest, a dear friend taught me the basics and inspired me with her gorgeous albums that documented the milestones in her children's lives. After two detailed baby books, however, I decided I would focus on creating keepsakes of my family's Disney memories; there just wasn't enough time to scrapbook everything in our lives!
For years, I really enjoyed collecting Disney-themed albums, papers, stickers and embellishments. Designing the pages appealed to the former newspaper layout editor in me. And I usually scrapbooked with girlfriends, which was a great way to catch up with friends I didn't see on a regular basis. But the older my children grew, the less time I had to pursue scrapbooking. It's no longer working around naptimes and scheduling times when husbands can watch the kids, but fitting it in around sports practices and meets, homework and family time.
As much as I love scrapbooking by hand, I know it would be more efficient of me to make photo books online. I just couldn't abandon all my Disney supplies. But now Disney scrapbookers like me don't have to. Shutterfly has introduced a new Disney Collection, and photo books are one product. The Disney photo books can be created with Simple Path, which allows Shutterfly to arrange all your photos with preset backgrounds and layouts, or they can be customized. Scrapbookers who choose Custom Path can put pages together by mixing layouts, backgrounds and embellishments, much like the process of scrapbooking by hand.
Shutterfly also offers a number of Disney idea pages, which users can drag and drop into their books to use, if they choose. These pages are the best of both worlds — quick and easy to use, while allowing the scrapbooker some control over the placement of photos. There are pages for the Disney Parks and Disney Cruise Line and plenty that could be applicable to both types of vacations. Disney photo books start at $12.99 and increase in price based on the size of the book and the number of pages included.
Shutterfly's Disney Collection also includes sets of Disney character wall decals that can be customized with your own photos. Choose from Minnie and Friends, Mickey and Friends, Cars McQueen and Mater, Frozen Anna and Elsa, Princesses, Toy Story Buzz Lightyear. Each set costs $104.99. Pick your favorite hero for sweet dreams with Disney character pillows that can be personalized with names and photos, too. Pillow prices range from $39.99 to $44.99. Plus, an assortment of Disney holiday stockings — priced at $34.99 — offer the opportunity to showcase the recipient's favorite Disney memories.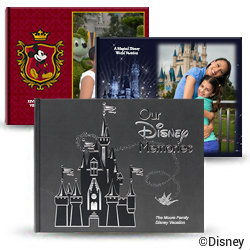 Scrapbookers looking for other Disney photo books can find another option in the Disney PhotoPass section of My Disney Experience. A premium photo book for sale features a padded cover, 20 stitched pages and the use of your own photos and those in your PhotoPass account for $79.99. There are even more choices for pre-designed, themed pages, and you also have the option to create pages with various backgrounds, photo frames and stickers.
For many people, Disney photo books are unique souvenirs that will be treasured for years to come. After all, who doesn't like to relive their best vacations?