Animal Kingdom's newest eatery, Harambe Market, has been well-received by Walt Disney World guests, and that's no surprise. After all, it was designed by the Imagineer who headed up the development of restaurants and shops in the popular Cars Land at Disneyland, as well as a long list of beloved attractions at Walt Disney World. I recently had the opportunity to speak with that Imagineer — Emily O'Brien, the executive producer for Animal Kingdom — about the open-air, counter-service marketplace at Animal Kingdom.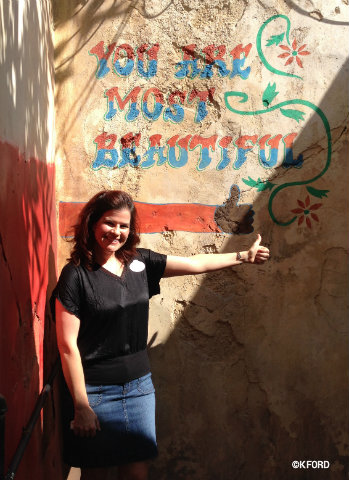 Could you tell us how the concept of Harambe Market came about?
Looking at the village as a whole, we were looking to give our guests some other options in the area. We developed this marketplace as a colonial train station, what I would call, a street fair market that you would find in any town along the coast of Africa. Goods would come in either by boat or by train. As you can see, we have a train that runs right by here, and people can experience the flavors that have been developed by locals to serve the community. We're really trying to tell the story of a full neighborhood, a full town. To me, it doesn't feel like a theme park, it feels like a neighborhood that you would go to. And from people who have been to Africa a lot, it really does feel like a small town, including the Lion King Theater, Harambe central street, [Kilimanjaro] Safaris, and then this area.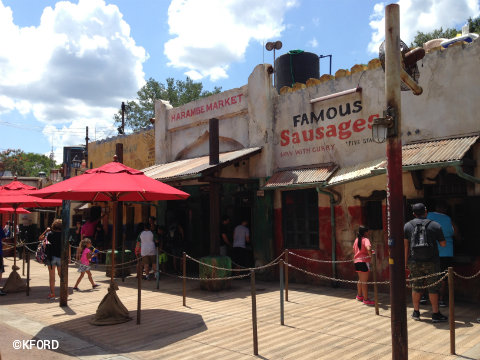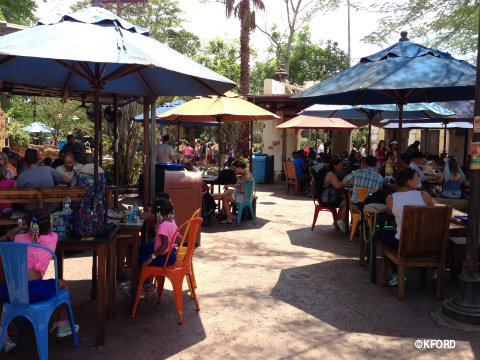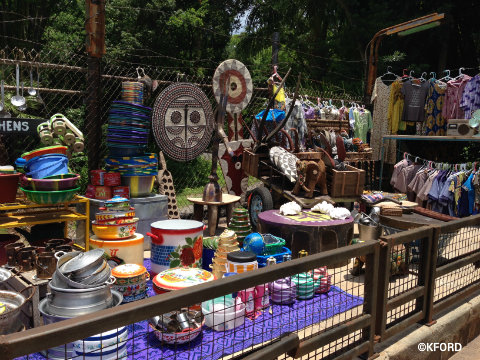 How did this project get started?
It's a big team of people that all work together, from park operators to our food and beverage team to the Imagineering team that helps come up with concepts that fit to serve a need — in this case, to offer more food. We all get together early on and figure out how big of a restaurant we need and what kinds of foods we are trying to do — are people going to sit down and be served or is it a more casual walk-up like this area? I started on [the project] in late 2012. But we go in ebbs and flows; we're working on obviously a bunch of stuff at the same time. If it's a concentrated effort, it can be a much shorter timeline.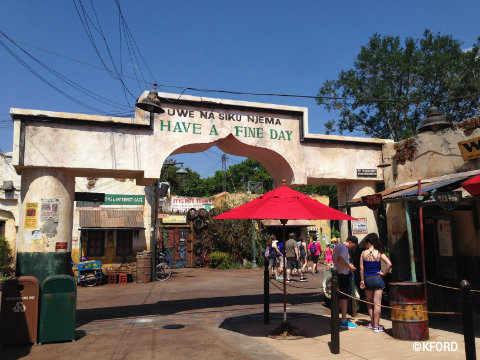 Did you travel to Africa to do research for Harambe Market?

I personally did not travel, although we did have a few Imagineers who did. The point of those travels is to really soak up what happens when you go around corners. You can get a certain feeling from pictures, but it's a whole different experience to see how people live and interact with each other — the cultural aspects of it that influence why things look the way they look. [For example] you'll see bundles of wires pulled from one place to another and that is true to what you'll see if you go to Africa. People are what I would call "McGivering" wire from one spot to another. You can see everything that is powered pulled from one location. So, you have a big bundle and everything goes out from it. For those kinds of things, you might see a picture of a telephone pole with a whole bunch of wires on it, but you don't know why it's that way. So, the reason we travel for research is to understand the why, not just the what.
Once the theme has been established, how do Imagineers proceed with designing the restaurant?
In this case, I was the Imagineer that was tasked with laying it out. I knew how many seats we were trying to put in here [220], I know the code requirements for how much space you need to walk around, and those sorts of things so I started developing a plan. And we also work with our kitchen contractors to figure out how much kitchen equipment we need, how big the kitchens will be and how those interact with each other. We basically start with an overhead, bird's eye layout and we go 3D from there. A lot of Imagineers design it 3D in their heads as they are drawing things flat from an overhead view — but you know what it looks like in your head. Also, look at all of the details, the props, the inventive spirit. If you look at the bicycles, there might be a makeshift wheelchair made out of bike parts because they don't have a wheelchair. There's a very kind of usefulness that comes out of being very inventive with how pieces and parts go together to serve a purpose.
Tell us how you got started as an Imagineer at Walt Disney World.
So, about 18 years ago, I started as an intern in Interior Design. Over the course of time, I helped out and learned from people who have now been Imagineers for 30 years and are still here. I had great mentors that taught me the ins and outs of why we do what we do, how it all works together, and what to be sensitive to. I've done many, many restaurant designs. Most recently, I was the principal interior design Imagineer for Cars Land. I did Flo's Restaurant and Cozy Cone, the shops there, and pretty much everything indoors in that particular park. Of course, there was a team of people, but I was the lead designer. Going backwards from there, I've done various bars and restaurants: Trader Sam's in California, Turtle Talk here, Soarin' here. I've been really fortunate to have people recognize my abilities and try to stretch them [with more responsibilities and bigger projects].
What did you enjoy the most about this Harambe Market project?
I think what's great about this project is that when we finished, we had a guest come the very first day from Kenya. This particular person said that it felt like being in their own town, and that was like, "OK, we nailed it!" The idea is to be as authentic as possible, but it's not just about what it looks like but what it feels like. And that's not really even tangible, unless you've experienced both. We want to give our guests the real feeling of being in Africa, and from what I've heard, we were very successful at doing that.
On a day-to-day basis, what's your favorite part about being an Imagineer?
There are so many facets to it because it goes from design to meeting with animal programs in this park and talking about new baby animals being born and how we're going to incorporate those to meeting with kids in high school and encouraging them to go after what they're passionate about. There are so many pieces to it that it's hard to pick a favorite. One thing that I like to do if I'm struggling with something is to come into the park and do a lap. I watch people enjoying themselves and remember why I'm doing what I'm doing. People go through things in their lives and so one thing that people come to Disney Parks to experience is to get away from stuff. I try to really appreciate what we're providing for people in that aspect.