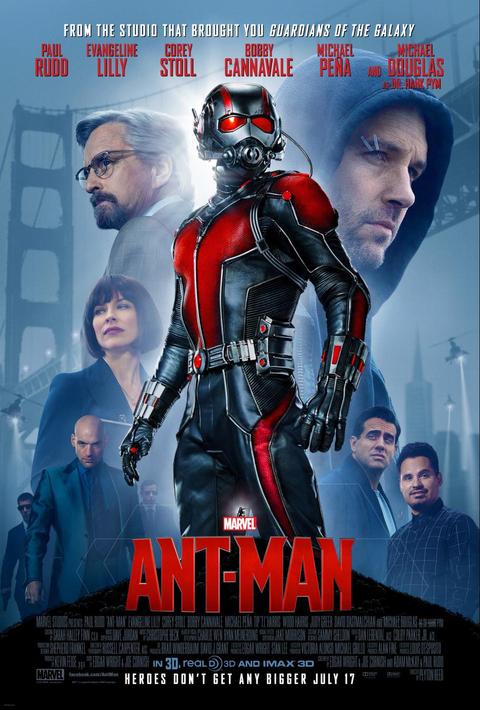 "I know a guy."
–Everybody
"Ant-Man," the final entry of the Marvel Cinematic Universe's "Phase Two," is a lighter, smaller film (in more ways than one) than its world-shattering brethren, and serves as a refreshing change of pace as we head into what appears to be a grimmer time for all our heroes.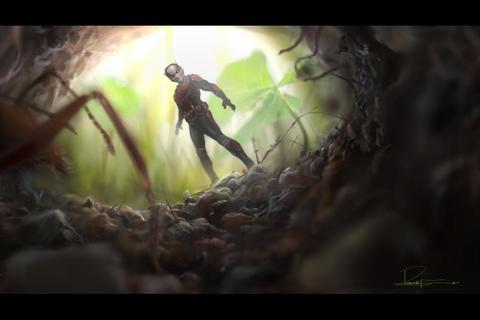 Our story begins when Scott Lang, a Quixotic modern-day Robin Hood, is released from jail from stealing one too many times from the rich and giving to the poor. Turning over a new leaf, his only concern is to be a part of his daughter's life from which his incarceration has long absented him.
Unfortunately, his ex-wife and her policeman fiancé somewhat rightfully expect him to present himself as a financially responsible father figure before they will let him see Cassie, and in a world where not even Baskin-Robbins will give an ex-con a job, it looks like she might be ready to leave for college before he can fulfill his obligations. Desperation sets in and leaves him vulnerable when his good-tempered ex-cellmate Luis brings him a plan for a heist that could net him the money he needs.
It turns out, however, that fortune comes in different manifestations, and what he takes from the Pym vault may bring him something more valuable than money–a second chance to prove himself a hero, both to his daughter and to himself.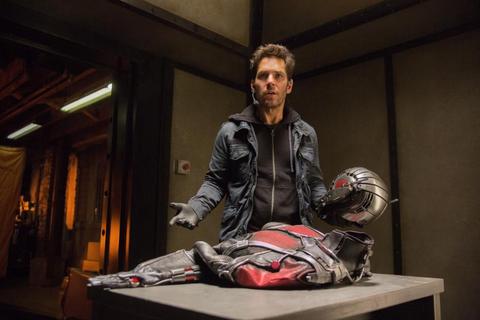 Like all the Marvel Cinematic Universe films, the big splashy action scenes are expertly done and look wonderfully convincing as Scott navigates a miniature world of ants and water droplets and toys. Probably the most impressive effect however, is in the beginning flashback, where we see Michael Douglas some thirty years in the past as SHIELD scientist Hank Pym refuses to share his Pym Particles with a suspiciously militaristic world. Now, it's not like I don't know that Michael Douglas is some years past his "Romancing the Stone" years, but minutes went by before I remembered that, because the job they did digitally making him younger was amazing. Not a hint of the "Tron Legacy" plastic-y look, this looked like the real deal.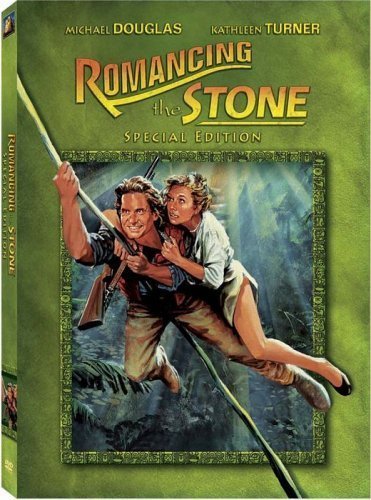 As Pym, tortured by guilt over both the implications of his scientific discovery and his inability to keep his family together, Douglas does the masterful job that you'd expect from a star of his caliber. Strong enough to sell his past turn at super-heroics, he's professional enough to keep the more teary interactions with his daughter, Hope van Dyne, from becoming maudlin.
If there is one aspect that rings a little tired, it's the variation on the "Chosen One" trope present in Hope van Dyne. As one more super-competent female character who is relegated to hating/helping/liking the goofier male character fulfill his destiny, she takes her place in a wide pantheon of girls from "Matrix's" Trinity to "Lego Movie's" Wyldstyle. It is true, though, that the movie is called "Ant-MAN," and at least here, we're given a rationale for her status and the hope that she will evolve past it in future movies.
Ultimately, "Ant-Man" is a self-contained heist movie, as much as "Ocean's Eleven," with just enough references and cameos to connect it to the rest of the MCU. This does it the favor of not burdening it with the sometimes-ponderous backstory of Thanos and the Infinity Gauntlet that peppers the main timeline movies and keeps its storytelling light and nimble.
While the film has more than its share of laughs, it also tries to maintain an emotional core of how people are shaped by the belief others have in them–whether it's Scott, trying to "become the hero (Cassie) thinks (he) is," or the villainous Darren Cross, trying to overcome his hurt at Pym's rejection, or even the comical Luis stepping up to infiltrate Pym Technologies.
"Ant-Man," much like last year's "Guardians of the Galaxy," is both fun and funny. With it, Marvel Studios adds the heist film to its superhero subgenres next to "Winter Soldier's" spy thriller and "Guardians'" SF movie and gives us a breathing moment of levity before hurdling into next year's divisive and dramatic "Civil War" storyline.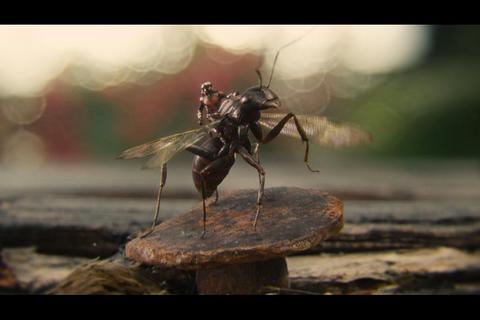 "Ant-Man" is presented by Marvel Studios. Rated PG-13, it stars Paul Rudd, Evangeline Lilly,
Corey Stoll, Bobby Cannavale, Michael Peña, Tip "T.I. " Harris, Wood Harris, Judy Greer, David Dastmalchian, and Michael Douglas as Dr. Hank Pym
*Always stay to the end of the credits.
Directed by Peyton Reed and produced by Kevin Feige. The Executive Producers are Louis D'Esposito, Alan Fine, Victoria Alonso, Michael Grillo, Stan Lee, and Edgar Wright. Screenplay by Edgar Wright & Joe Cornish and Adam McKay & Paul Rudd, based on a story by Edgar Wright & Joe Cornish.
The film enters general release on July 17, 2015, and is distributed by Walt Disney Studios Motion Pictures.
**Looks like we're coming up on the end of the line.