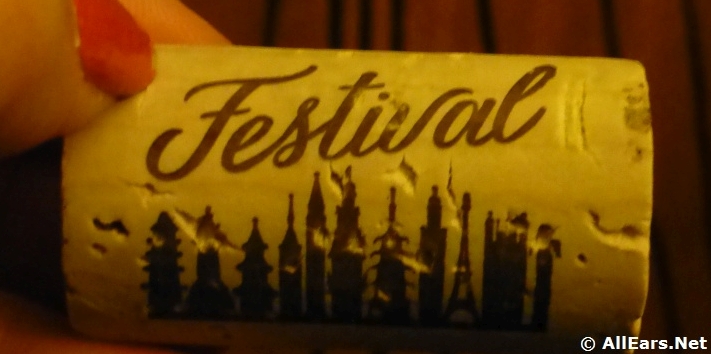 I'm back with more news from the Tables in Wonderland preview of this year's Epcot International Food and Wine Festival.
I only just mentioned in passing the special ticketed dining experiences the other day. I already talked about the new Rockin' Burger Block Party, but forgot to share with you a few photos of the types of sliders that will be on offer at this experience.
There's the Oklahoma BBQ Beef Slider with Mmmhops Pale Ale Onion Fries and Smoked Bologna Baked Beans — paired of course with Mmmhops Pale Ale, from the brothers of pop group Hanson.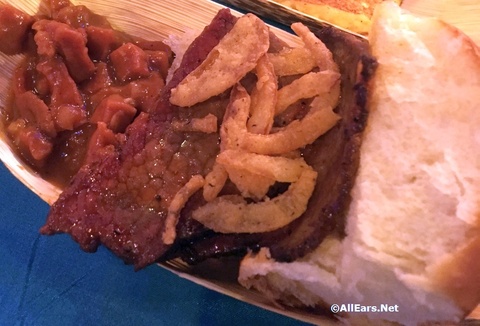 And we also had a chance to sample the South African Vegetarian Bunny Chow Slider with The Dreaming Tree Chardonnay Watermelon Salad — in case you didn't know, The Dreaming Tree wines are affiliated with singer Dave Matthews (a personal fave!).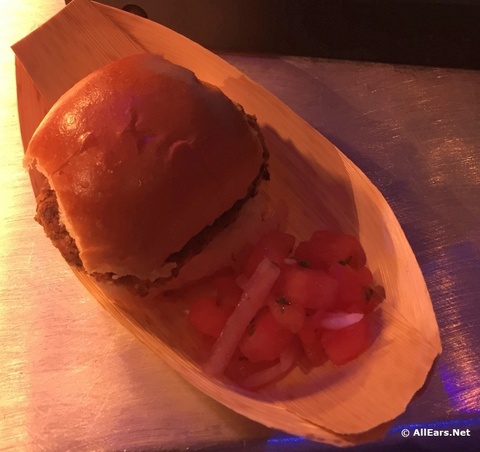 As I look over the list of other programs for this year, I don't see many additions (and note quite a few subtractions). Still, I didn't mean to give the others such short shrift. There are a few things in this 20th anniversary year that are a bit intriguing.
New for 2015 are a Japanese Craft Beer Tasting and an Italian Food, Wine and Beer Pairing. The latter seems a combination of last year's Food and Beer Pairing with a more traditional Wine Pairing, I'm guessing to appeal to more participants. I'm not much of a beer drinker, but if I get the chance, either of these might be a good way to try to learn an appreciation for the beverage. I'll be seeing if I can make the times for those programs fit into my schedule.
Also, the programs "Sunday Mornings with…" and "Food for Thought" seem to be have been combined into the new "What's Cookin' with…" — a series of twice-weekly programs featuring a light brunch, and a cooking demo and conversation with a celebrity chef, such as Andrew Zimmern, Robert Irvine or Carla Hall (from The Chew). Most of these chefs have been to the Epcot Food and Wine Festival before, however, as a devotee of the TV shows Chopped! and Iron Chef, I'm interested to see the names Amanda Freitag and Alex Guarnaschelli this year — hope I'm in town to see one of them, at least.
What I am really interested in, however, is what's happening in the France pavilion.
You may have noticed as you read over the list the France pavilion is no longer offering the Grand Marnier tasting that they've had for the past several years. Instead a new experience is on the schedule: The Parisian Afternoon, Sandwiches, Macarons and Bubbles! To be held in the restaurant Monsieur Paul, this event promises an assortment of finger sandwiches, petit fours and unlimited mimosas — all for $55 per person. Based on how enjoyable the Parisian Breakfast program they've offered the past few years has been, I can't wait to try the afternoon outing myself.
The team at France is also mixing up its tried-and-true French Regional Lunch program. This year they are abandoning the "regional" theme altogether, and Monsieur Paul will instead host French Family Meal Traditions. This new experience will allow guests to enjoy the chefs' favorite meals from their childhoods, in a long, lingering meal served family style and paired with "perfect" wines. As Eric Weistroffer, general manager of operations in the pavilion notes, "In France we eat like this — a big family meal that lasts all afternoon, and as we are eating dessert we start to plan what we will have for dinner." It sounds like my kind of gathering!
Some of the other new things for the festival this year:
— For the first time, the festival has its own private label wines! Called "Festival" the chardonnay and cabernet sauvignon come from California and were just bottled the other day, but we had a chance to sample them — the red was surprisingly good. And I say surprisingly because it is such a young wine — but there were notes of vanilla and berries that made my tastebuds very happy.
— In addition to the two new "Chew"-related booths that will be in Future World, there are two other new Future World booths making up an exhibit called The Art of Wine and Cheese. Designed to resemble an artist's studio, these two kiosks will be stocked with a selection of wines and cheeses arranged by color, allowing you to have fun will you pick your pairings. According to Chef Mike Deardorff, the cheeses will include an Oregon blue cheese and a chevre, or goat cheese, while the wines will be vintages from California, Oregon and Washington State.
— The Food and Wine Festival Discovery Sampler Package which includes the following:
* 8 entitlements for food or beverage of your choice at 30 Food and Wine Festival International Marketplaces.
* Priority seating at the 6:45 p.m. Eat to the Beat concert at America Gardens Theatre on the day the package is purchased.
* Limited release 20th Food and Wine pin that comes in three color options.
PRICE: $59 per person, plus tax. Epcot admission is required.
Note that a limited number of packages are available each day.
— Remy's Ratatouille Hide and Squeak, a scavenger hunt around World Showcase for young and old alike. To join the hunt, you'll have to purchase a map and stickers from a special location, then search for little statuettes of the "little chef" Remy, star of the film "Ratatouille", that have been hidden. Once you've found all the little statues and matched the ingredient stickers to your map, you can take the finished product for a special surprise, compliments of Remy.
I've had a number of questions from readers about the Festival Premium Package that was offered last year, but there has been no word yet whether it will return this year. The Eat to the Beat Dinner Package IS coming back, however. This package, available for lunch or dinner at a number of Epcot restaurants, includes your choice of appetizer, entree, dessert and non-alcoholic beverage (or one full buffet), as well as guaranteed seating at an Eat to the Beat concert on that day. For a list of participating restaurants and pricing, as well as a scheduled entertainment, check our Eat to the Beat page HERE.
Remember:
— Details about festival programs are available online now (http://disneyworld.com/foodandwinefestival), giving those interested two full weeks to plan before booking starts at 7 a.m. on July 30 at 407-WDW-FEST (939-3378).
— As in years past, Tables in Wonderland members, Annual Passholders, Disney Vacation Club Members, and Golden Oak Residents will be able to book culinary demos and beverage and mixology seminars early. This year early booking for these programs starts July 24 at 9 a.m. at 407-WDW-FEST (939-3378). A $2 discount is available to the above-mentioned guests for seminars and demos held Monday through Thursday.
— The cast of The Chew will be filming a week's worth of shows October 7, 8 and 9. They will also be filming segments around Walt Disney World to be broadcast on upcoming shows. The co-hosts will also attend the Rockin' Burger Block Party on October 8.
I think that brings you up to speed on most of what's happening at the Epcot Food and Wine Festival this year. We'll certainly do our best to bring you any more details as they are announced.
Quick Ref Guide:

International Markeplace Menus with Photos
Special Ticketed Dining Events
Eat to the Beat Concerts/Dinner Package

Culinary Demos/Beverage Seminars
DISCLAIMER: I was a guest of Walt Disney World at the Tables in Wonderland event. This did not affect my review; my opinions are my own.