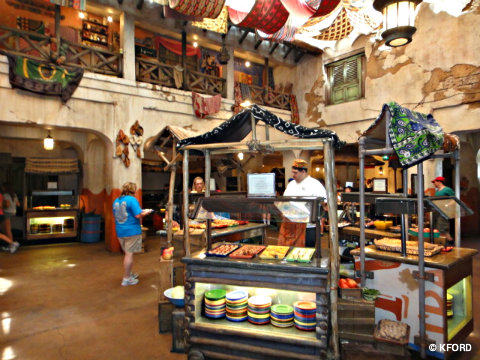 Tusker House's dessert bar is the first thing you see — as it should be — in the Harambe Marketplace.
Tusker House at Disney's Animal Kingdom is home to Donald's Dining Safari Breakfast and Lunch, the only character meals at that Walt Disney World park. Recently, I was invited to experience the lunch buffet, which features African cuisine, as well as plenty of American favorites.
Our experience began after we checked in at the outdoor podium. There is a large, shaded waiting area with tables and even a bar for those seeking adult beverages. It's definitely one of the nicer waiting areas, though you don't have to be eating at Tusker House to sit there. It's open to anyone in the Harambe, Africa section, which also has a snack counter on the opposite side from Dawa Bar.
When our party was called, we were led around the corner to a queue to have our pictures taken with Donald Duck. As with all Disney character photos, guests may take their own photos in addition to the ones snapped by the Disney PhotoPass photographer. A photo package that includes one 6 x 8 in a decorative folder and four 4 x 6 prints plus a character-only stock photo will be brought to your table during the meal. It's about $31 if you choose to purchase it. These photos also can be added to your Disney's PhotoPass account after purchasing the prints.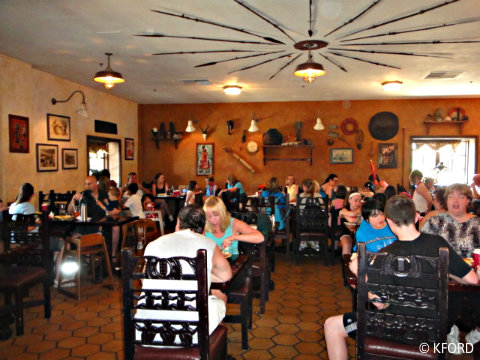 The Disney characters visit guests in four dining rooms.
Inside the restaurant, our hostess explained the concept of the Harambe Marketplace, which features quite a few short buffet lines. She stood in front of the dessert lines (yes, plural!) during her talk, and suggested that diners can even eat dessert first. The children in our party took her up on that, and I feel certain my kids would do the same, especially when they saw the chocolate-frosted donuts with colorful sprinkles.
For those of us who decided to eat our vegetables first, there were numerous salads, many with African-inspired flavors. As the main course, guests could choose from carved sirloin or pork loin, curry and rotisserie chicken and salmon, plus a selection of stews. And, of course, there were many side dishes. Vegetarians, there is a buffet just for you, too.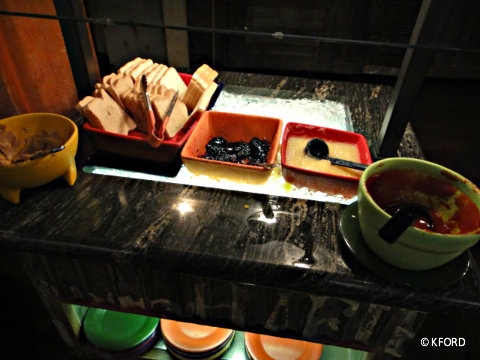 Kids can choose from white or wheat bread when making their own PB & J sandwiches. Chilled applesauce is on this bar, too.
The kids' buffet had a lot of the usual crowd favorites, but there were two fun additions — corn dog nuggets and a table to make real peanut butter and jelly sandwiches. The PB&J bar was a nice touch, especially when so many Walt Disney World kids' meals come with Smucker's uncrustables. The young and the young-at-heart are invited to choose items from the kids' buffet. (See a complete menu at the AllEars page /menu/menu_tus.htm)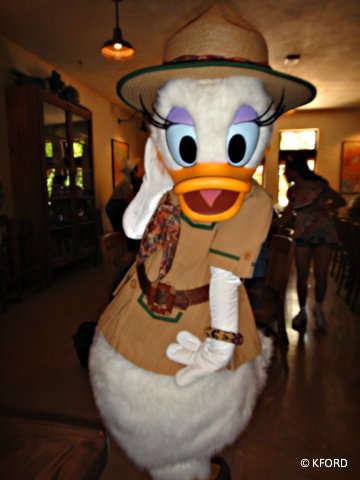 Daisy Duck strikes a pose.
In between your trips to the numerous buffets, Disney characters circulate through the four dining rooms, meeting families at their tables. Donald stays outside, but Minnie, Mickey, Daisy and Goofy greet guests inside, posing for photos and signing autographs. They each patiently allowed our party to take multiple photos, and Daisy really was funny — striking pose after pose, like a model. One character also leads the kids around the room in a makeshift parade, complete with handheld instruments.
Lunch prices vary slightly depending on the season: Adults are $27.68 to $31.94; and children ages 3-9 are $15.97 to $18.10. (Tax is included; gratuity is not.) A standard, non-alcoholic beverage is included in this price. Admission into Disney's Animal Kingdom is required. These prices are typical of character lunches at Disney World.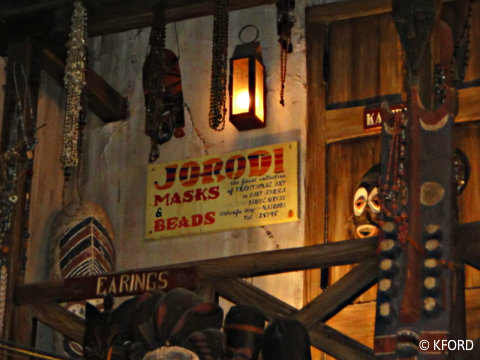 Well-known Disney Imagineer Joe Rohde and his infamous earring are celebrated with these Tusker House decorations.
I would recommend Tusker House to those guests who love to try different foods and flavors, or those who already have a taste for African cuisine. And all the Disney character meals have one great advantage in common: They allow diners to meet many Disney pals in such a short time, which clearly saves time waiting in individual lines.
See the AllEars resource page /din/cbchar.htm to find out where all the Disney World characters dine.
Disclosure: As an invited media guest, my lunch was paid for by The Walt Disney Company. Opinions expressed herein are solely mine and do not reflect the opinions or policies of The Walt Disney Company or its affiliates.