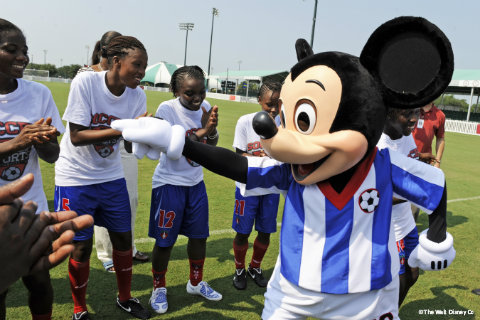 The Haitian National Women's Under 17 soccer team played in the Disney Cup International Youth Soccer Tournament in 2010.
For many families, spring and summer are synonymous with soccer. This year, Walt Disney World is offering the ultimate soccer camp experience for players ages 6 to 18.
Players who join the Disney Soccer Academy will have interaction with and daily appearances by soccer stars from the English Premier League. The roster includes Craig Bellamy (Liverpool), Paul Robinson (England, Tottenham) and Aaron Hughes (Northern Ireland Captain, Fulham).There will be a special time for photos and autographs, too.
Two four-day camps will be held at ESPN Wide World of Sports Complex: June 18 to 21 and June 25 to 28. Licensed coaches from around the world will train male and female athletes from 9 a.m. to 3 p.m. each day. They will focus on technical development and small sided games, all while keeping the instruction age-appropriate.
A typical schedule has the players training at HESS Sports Field from 9 to 11:30 a.m. Lunch is served in the Sports Pavilion/Sony Playstation Pavilion for 90 minutes, and then training resumes from 1 to 3 p.m.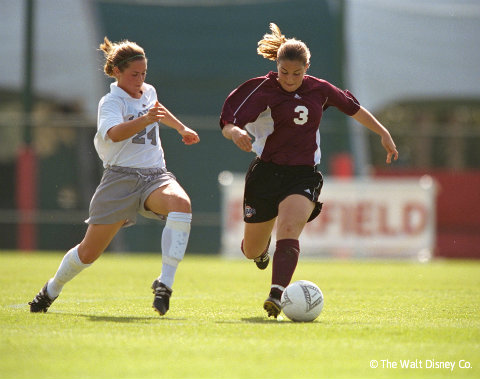 Players compete for the ball while participating in the Soccer Showcase at ESPN Wide World of Sports.
Parents and family members can stay and watch, but they are required to purchase admission to ESPN Wide World of Sports. Daily admission is $15.50 for adults and $10.50 children ages 3-9. Length-of-event passes can be purchased for $62 for adults and $42 for children.
Each player (or a minor's guardian) is required to turn in a waiver in order to participate. When the forms are completed, campers will receive their athlete credentials, which gains them access to ESPN Wide World of Sports Complex for the duration of the week.
Camp includes lunch, an event shirt and gifts for $390. (Aftercare from 3 to 5 p.m. is available for an additional $15 per day.) Best deal: Disney World passholders who register by June 1 using the code PASS are entitled to $100 discount. Register online at disneysocceracademy.com or call 1-877-714-5575. Players can bring their own ball or purchase an official camp ball on the first day.
Disney Soccer Academy is operated by Midwest Soccer Academy.
Disney Soccer Academy participants and spectators are eligible for specially priced Disney World hotel rooms. Book Disney's Caribbean Beach Resort for $112 plus tax per night by calling 407-938-4868. Theme park tickets are also available at a discount.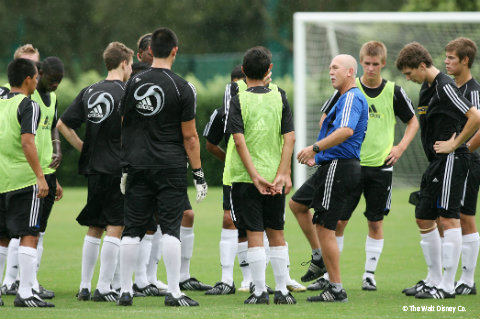 Rusty Scarborough, head coach of Disney's Soccer Showcase All-Stars (Raleigh, NC), demonstrates a drill during practice at Disney World.
In recent years, Disney World has continued to add youth and professional soccer tournaments. Next up: Disney's Memorial Day Soccer Shootout. In 2011, more than 400 teams played more than 500 matches in the competition's three days. This is an FYSA-sanctioned tournament, which is open to all USSF/FIFA affiliated organizations for boys and girls in age groups: U9-U10, U11-U12, U13-U14, and U15-U19.
In July, the ESPN Wide World of Sports hosts the Disney Cup International Youth Soccer Tournament, which has attracted teams from more than 20 countries for 13 years. It, too, is an FYSA sanctioned tournament and open to the same groups.