I didn't get the chance to do a lot of shopping while I was on the Disney Fantasy preview cruise last week, but I did pay a visit or two to some of the shops just to see what special merchandise they might have.
As they did last year for the Dream, they've designated Inaugural Sailings merchandise that will be on sale throughout 2012 and into 2013.
AllEars.Net's Laura Gilbreath, who is on the Fantasy's maiden sailing as I write this, posted this photo of some of the inaugural merchandise the other day. I'm sure she and Deb Wills (who is also on the Fantasy right now) will have more merchandise pictures when they return. But as you can see, there are photo albums, pins, shirts, jackets, tote bags, cups — a really wide range of merchandise that has the Fantasy's Inaugural Sailing logo.
This 24K gold ornament cost $40.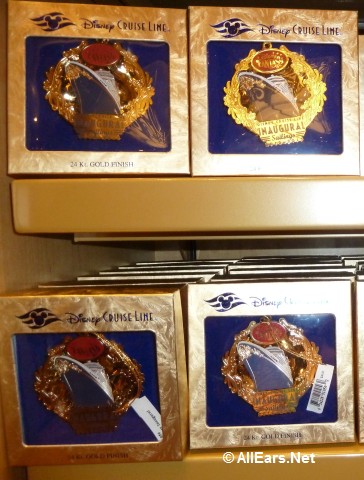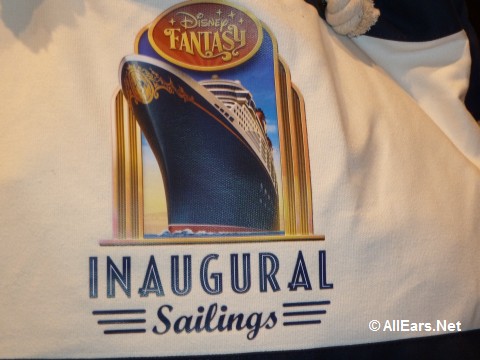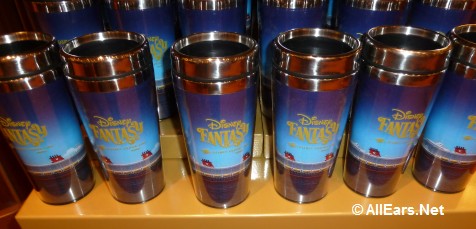 The poolside bar on Deck 11 was selling a special commemorative Coca Cola bottle.
There were lots of Disney Cruise Line Dooney & Bourke bags, in all shapes and sizes. This style cost $175.
I was pleasantly surprised to see some special merchandise branded with O'Gills, the Irish pub found in the Fantasy's Europa area. The t-shirt was $24.95.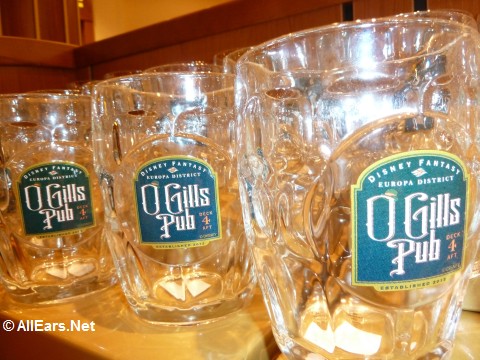 They also have the wine bottle-shaped pepper mills that they're using in the restaurants for sale. They're by Peugeot, and they're $84.95! Ouch!
They had loads of beautiful costumes for little girls in the Bibbidi Bobbidi Boutique, but the shops also had an assortment. These retailed at $64.95.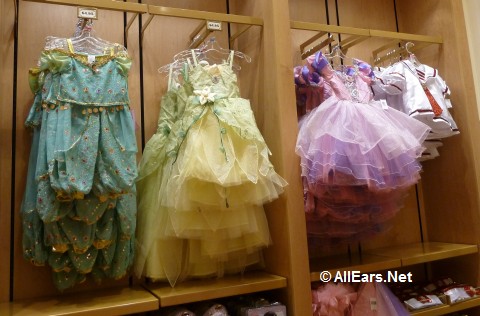 And there was buccaneer merchandise a'plenty for those who wanted to "get their pirate on."
I noticed that Deb Wills posted on Twitter a photo of the t-shirt she had pre-ordered boasting the Fantasy's Maiden Voyage, so I thought I'd add that here, too.
After taking a quick look through all the shops, I decided I wanted to get something for myself. I was very tempted by this shirt, which echoed the peacock theme prevalent throughout much of the ship's decor.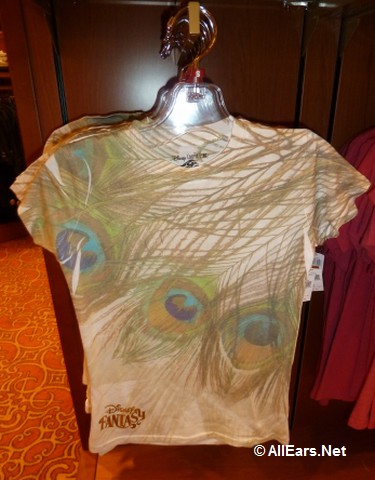 But in the end I bought this one — loved the peacock blue color. (It was $31.95, by the way.)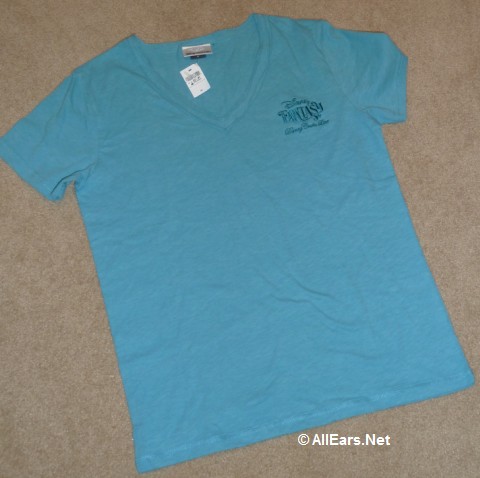 Hope that gives you just a taste of what's "in store" for you when you go shopping on the Disney Fantasy!
DISCLOSURE: As an invited media guest, AllEars.Net's cruise expenses for the Disney Fantasy Media Preview Cruise were paid by the The Walt Disney Company. Opinions expressed herein are solely mine, however, and do not reflect the opinions or policies of The Walt Disney Company or its affiliates.