Well, here I am back in Walt Disney World for a few days, for what's become an annual event in recent years — the Resort Showcase, during which Disney shines a spotlight on everything that's new and exciting all around its parks and resort hotels, here in Florida and even worldwide.
This year's theme for the showcase is Summer to Remember, and so tonight's kick-off featured a quintessential summer activity — the backyard barbecue. But not just any backyard barbecue. No, this evening we (a fairly large group of media and guests) visited Mickey's Backyard BBQ, which is held seasonally at the Fort Wilderness Resort and Campground. (NOTE: This does NOT mean that Disney World has changed the BBQ to a Phineas and Ferb theme. This was a one-time special BBQ staged for this media event. The BBQ is still Mickey's Backyard BBQ.)
The evening was taken over by a couple characters whose stars are shining brightly right now in the Disney universe — none other than Phineas and Ferb, of the Disney Channel's wildly popular animated comedy-musical TV series that bears their names.
When we arrived at Fort Wilderness, we were directed to the pavilion, which usually hosts the character barbecue. Mini-blimps advertising Doofenschmirtz, the evil nemesis of Phineas and Ferb, marked the way, although he was nowhere to be found.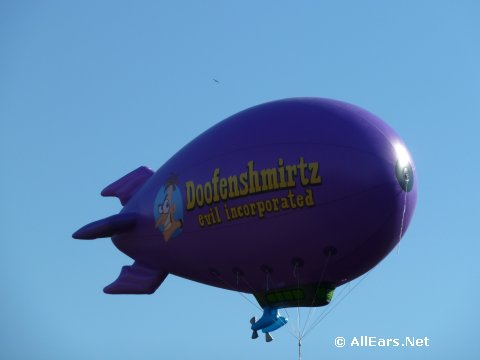 I'd not ever been to the pavilion before, so I was interested in seeing the set-up, even though it was specially decorated for the night's event, rather than with its usual Mickey motif. A DJ spun current pop songs, including some well-known to viewers of the Phineas and Ferb show. There was even a trailer decorated to look like Perry the Platypus, the boys' sidekick who frequently turns into Agent P, a mysterious spy-like creature who battles the evil Doofenschmirtz.
Special guests for the evening were the creators of Phineas and Ferb, Dan Povenmire and Jeff "Swampy" Marsh, along with the voice of Phineas, Vincent Martella.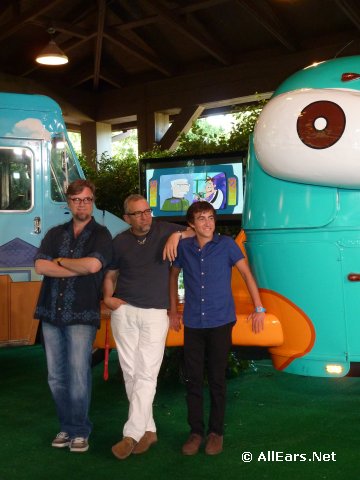 For those not familiar with the show, it follows the adventures of two boys as they fill their days of summer vacation. In the grand tradition of other cartoon series like Bugs Bunny and Looney Toons, Phineas and Ferb is entertaining on many levels — innocent enough to appeal to children, but sophisticated in ways that speak to older viewers. The show has caught on so much that last year a "play and greet" experience featuring the duo debuted in Disney's Hollywood Studios. They also lead a dance party over on the West Coast at the Disneyland Resort. More recently, it was announced that the characters will take over the Kim Possible World Showcase Adventure game in Epcot this summer.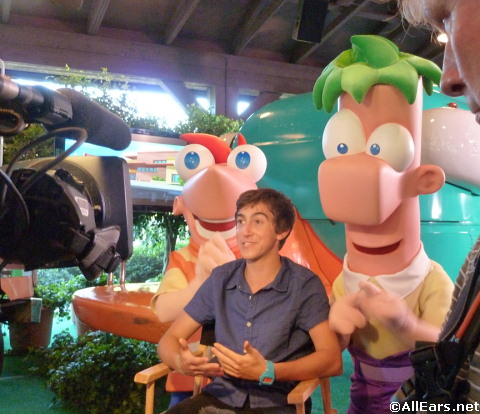 After our traditional barbecue dinner of hotdogs, hamburgers, chicken, baked beans, coleslaw and more, everyone had the chance to visit with Phineas and Ferb, as well as speak with their creators.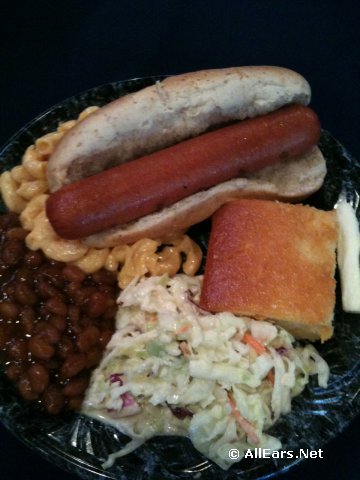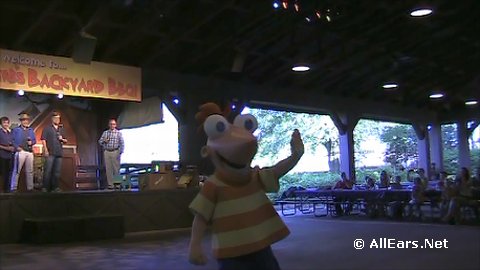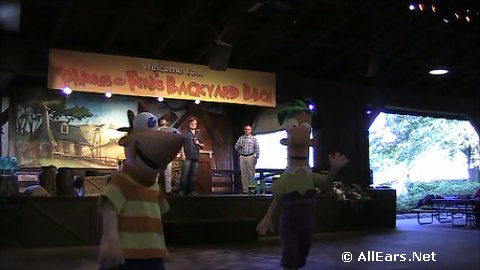 Povenmire and Marsh told us a bit about how they were approached by Disney to bring their characters to the parks, and adapt what they do for the Kim Possible activity. Like their TV show, they said that the primary audience for the new game will be 6 to 12 years old, although they pointed out that nearly half of their viewers were older than 18. They even teased that they had had the chance to try the new game a little already themselves. But rather than reveal any specifics, they asked Martella to share some of the dialog he'd been recording for the new adventures, and he readily obliged.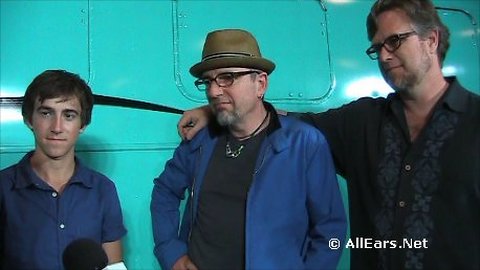 "Ferb, it's me again, will you pick up?" Martella laughed, slipping into his alter ego's voice easily. But none of the men could give us a date for when the new show would debut for the rest of us beyond "sometime this summer."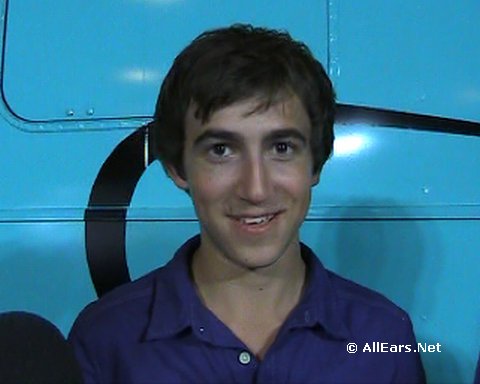 Later, when we returned back to our room, we found that Agent P had apparently stopped by. He left us his signature fedora, as well as a pin lanyard, with a mission to find the perfect pin.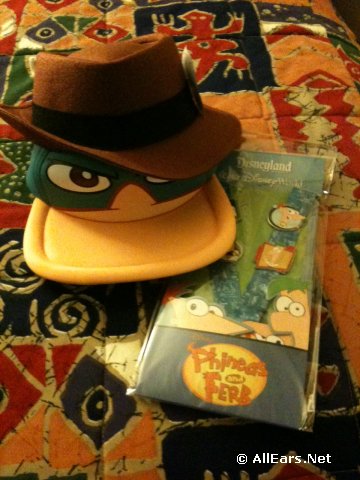 I just might do that, as we continue on our exploration of what's new and what's next around this resort.