It's a beautiful At Sea day on the Disney Fantasy! Generally sunny, and in the 80s.
Since I didn't get a chance to post them yesterday, here's some photos and information on the Sailaway Party and other things that happened yesterday evening.
I tweeted some photos of the Sailaway Party, including the champagne toast by Bob Iger, Tom Staggs, and Karl Holz.
Once we pulled away, the Port Staff gathered outside to wave goodbye, wearing their Mickey hands.
We were escorted out the channel by a couple of tug boats spraying water – that always looks so cool! And thank you to all of the people who came out to the parks and restaurants along the channel to cheer and wave and send us on our way. The captain sounded the horn a number of times as we went out.
We have early dinner seating this cruise (5:45), so we didn't have time to linger on deck. I'm happy to say that our luggage was delivered to our stateroom very early (it was there when we returned from lunch), so we were able to change quickly.
We were in Royal Court for dinner. As Deb Wills tweeted, we were at the Royal Table in the center of the restaurant (there are nine in our dining party).
The restaurant is quite beautiful, but the menu is pretty much the same as Royal Palace on the Dream, Lumiere's on the Magic, and Triton's on the Wonder. We also noticed that it seemed very loud – we had to yell across the table to hear each other.
We're used to lingering a bit after dinner, but since we were the first seating we had to get out of there so they could prepare for the next set of diners, and eventually they turned the lights way up – the classic "Get Out of Here!" signal. 🙂 It was strange to be done with dinner by 7:45! But nice to have some extra time.
The opening night show in the Walt Disney Theater was a comedian, and we weren't very interested in that, so we decided to go into Europa, the Adult District. We wanted to try Ooh La La, the champagne bar on the Fantasy, since we'd enjoyed Pink so much on the Dream.
Ooh La La seems bigger, and the decor is much different – Pink was sort of a funky 1960s look, and Ooh La La is more of an opulent French look – one of the bartenders said Louis XIV. It wasn't very busy, and we had a nice chat with the bartenders working there. We of course tried the exclusive Ooh La La champagne (made by Tattingers), which was very nice.
Ooh La La has a guest book which you can sign with a feather pen, so we did that. It was nice and quiet while we were there and we enjoyed our time there…so we never made it to any of the other bars.
So far we like Europa more than The District on the Dream – Europa has that whole "Europe" themed tying everything together, whereas The District is more of a hodgepodge. And the various clubs just seem more interesting.
Last night we moved into the central time zone so we gained an hour, so we slept in a bit this morning. After we got up we went out and ran on deck 4. I was impressed by how many other people were out walking and running this morning – I've never seen that many out there. The seas are very calm so the running was easy, though it's a lot warmer and more humid than I'm used to.
For breakfast we went to Enchanted Garden, where they offered a breakfast buffet. I have my new favorite breakfast now – oatmeal with toppings from the yogurt bar!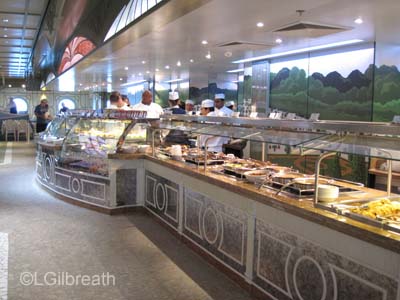 After breakfast we visited the Midship Detective Agency on Deck 2 (just outside Enchanted Garden) and went out to solve the Muppet Adventure: The Case of the Stolen Show. The two cases from the Dream, stolen art and stolen puppies, are also available on the Fantasy, but use a separate clue brochure. Both brochures are offered at the kiosk, and you have your choice of cases when you activate your Detective Badge.
This is a hoot – we were laughing just at the intro with Kermit and Pepe the Prawn. I found the Muppet Adventure more challenging than the other two cases – for the Muppets we really had to write the clues down and keep track of things, and I didn't have to do that with the others. Some of the tasks we had to do were a little different, also.
I know I've said this before, but I think the Adventure game is a great way to learn your way around the ship. It takes you to most of inteior decks, so you pass by most of the public areas.
One of the areas we went by on our search were the shops, so we went in to see what they had. The shops were pretty crowded and the lines were very long last night, but today they were not busy at all. We were pleased to see that they still have lots of the non-limited Maiden Voyage attire and merchandise available, as well as a good selection of Inaugural Voyage items, which will be on sale all year.
This afternoon we enjoyed some of the many things you can do on a day at sea…we had lunch at Cabanas, and then went and played mini golf on Goofy's Sports Dec on Deck 12. We changed into swimsuits and went to check out the new Satellite Sun Deck, an adult-only area on Deck 12 forward. It was very nice up there – not too many people. We sat in the Satellite "pool" for a while and then found a couple of lounge chairs. Ahhh.
(I'm demonstrating Goofy's recommended stance in this photo – each foot pointing a different direction.)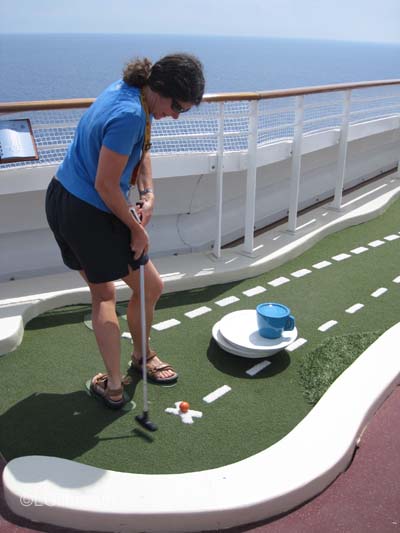 After a while we moved over to the AquaLab – that's really clever, and a lot of fun. It was a little chilly because most of it was in the shade and the wind was blowing, but it's a fun way to cool off. We noticed a few effects that weren't working, though. 🙁
The line for the AquaDuck wasn't too long, so we tried that. This was the first time we'd actually done it together. Something new on the Fantasy: there's a camera on the AquaDuck, and if you put your room key against the sensor just before you get on the raft, it will be able to track your photo. We had intended to see how it worked, but unfortunately the AquaDuck camera system wasn't working today, although the flash was still going off and it looked like photos were being taken.
We watched about the last 30 minutes of Bolt on FunnelVision. It's really a cute movie – we were both laughing at the part where Mittens teaches Bolt about being a dog.
Tonight was Formal Night, so we got all dressed up for that. We were in Animator's Palate, and it was the Crush show, like they have on the Dream, and not the new show, so we were a bit disappointed. But we are supposed to get the new show on our next visit there, on Wednesday.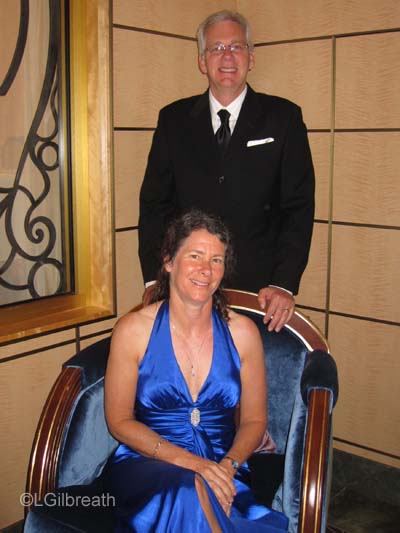 We saw the Aladdin show – which is very much like the show we've been seeing at Disney California Adventure for the last 6 years or so. No photos allowed, unfortunately. The flying carpet sequence was well-done, I thought, and some of the newer special effects looked very good. I thought it was just as good as the one in the larger theater in California.
It's been a great day! Grand Cayman tomorrow.