As another year comes to a close, I suggested to my fellow Picture This! bloggers that we each select a favorite photo and memory from 2011 to share with you.
I visited Walt Disney World in September with my friend Terri. We're all for getting onto rides quickly so we opted to go single rider for Test Track. We were not only placed in the same car but the back seat as well with a tall fellow between us who belonged to the family in the front seat.
When the doors opened and our car zoomed off, I started shooting and tried real hard to lock my elbows into place. It wasn't until sometime after the ride ended that I went through my photos and realized I had nabbed a few good shots.
I love how the kid's angled himself along with the "road".
I love even more how our speed is fantastically featured between his hands.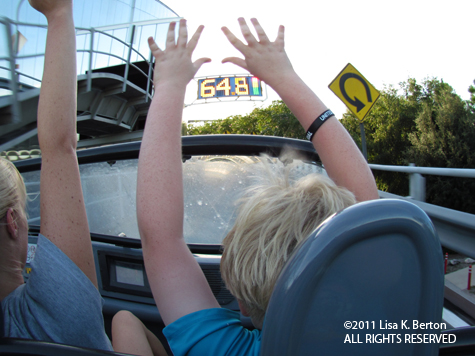 I wish you and yours a happy and healthy New Year. Próspero Año Nuevo.
Find me on Facebook.