Close up and macro photography let you to show detail in your subject that may not be noticed when looking at the big picture. This is especially true at Disney where great attention is paid to the creation of that detail. When in the parks, most of us tend to take pictures that encompass as much of the scene as possible, trying to capture the whole story that the Imagineers are telling. But much of that story is in the details. Remember to take close ups so that you are getting the full story. This week's Pic of the Week theme is close up and macro photography.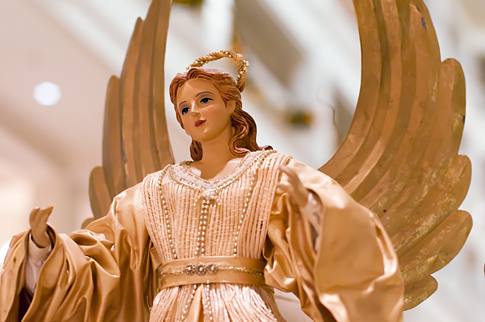 Copyright © 2009 Barrie Brewer, Nikon D300, 18-200mm VR, 1/60s shutter, f3.2, ISO 2500
This lovely angel stood in a holiday flower arrangement in the lobby of the Grand Floridian. Originally, I photographed her with the Christmas tree and a good part of the lobby and holiday decorations included in the shot. It was a pretty enough picture, but it wasn't until I zoomed way in that I saw just how beautiful she really was. I love her expression – it's what makes this image my favorite of the two.
Share your closeup and macro images from the Disney parks on Google+ with #disneypics-detail.