It is time for another Walt Disney World Dining Bits and Bites. Hopefully, now that we live in Florida, I'll be able to do these more often.
Last week Linda and I stayed two nights at the Contemporary Garden Wing (AP Rate which we got just 10 days prior) and spent both days in the Magic Kingdom and MK resort area.
This segment contains a quick service, theme park full service and signature dining.
CONTEMPO CAFE – CONTEMPORARY
Chicken Chop Salad $7.69
Deb: I have not been a fan of the Contempo Cafe, my previous 2 dining experiences were not so great. However I must say the Chicken Chop Salad was very fresh and perfect for lunch. It had the right balance of veggies, protein and carbs! I always ask for dressing on the side and was glad I did. The mayo based dressing really had little flavor and the vegis more than made up for it! I would have this again and would also recommend it to you!
Chicken Spinach and Artichoke Flatbread $8.79
Linda: This was disappointing as the description of the flatbread did not jive with what I received. The spinach and artichoke appeared to be a creamy dip spread on the flatbread – not a chicken, spinach and artichoke flatbread that was advertised. There were VERY little actual spinach or artichokes. Plus the sauce was VERY thick and not at all appetizing. I was expecting fresh spinach and chopped artichoke therefore would not order again nor recommend it.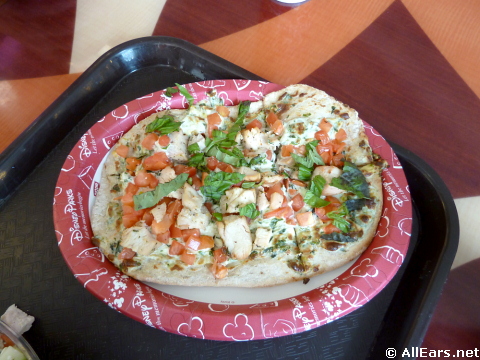 CALIFORNIA GRILL – CONTEMPORARY
Heirloom Apple Salad – winter greens, aged Gouda, dried cranberries, pumpkin-apple dressing $14
Deb: I love when greens means something other than Romaine or Iceburg lettuce and I would expect nothing less from a signature restaurant. The selection of greens were crunchy and did remind me of "winter". I loved the aged Gouda sprinkled on the top. If there was a slight disappointment with the salad it was the dressing. I felt the pumpkin-apple dressing was on the bland side and did not have the flavors I expected. That said, it was still a great salad and I would order it again!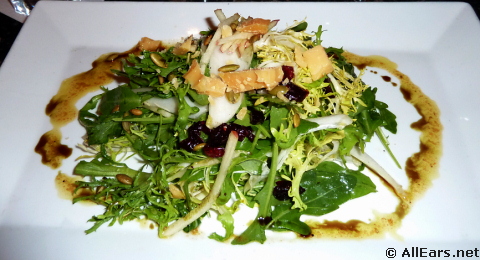 Creamy Parsnip and Sunchoke Soup – apple gastrique, truffled goat cheese gougere $11
Linda:
Yum Yum! Sunchoke was described as a cross of the edible parts of a sunflower and an artichoke. Seasoned perfectly, not over salted, and had a savory and sweet flavor (sweet coming from the small bits of apple). The goat cheese was in a puff pastry you can see on the side of the soup in the photo. I highly recommend and I'd order again!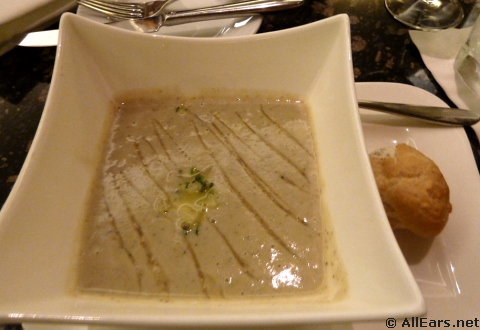 Triple Cheese Flatbread – pecorino, asiago, and provolone, sun-dried tomato and arugula pesto $12
Deb: I didn't want a full, heavy dinner and so opted for the salad above and this flatbread. I'm not much of an adventurous eater so this fit the bill for me perfectly. I'm a big fan of flatbreads from the signature restaurants with Jiko and California Grill making some of my most favorites!
Dragon Roll – spicy and tataki tuna, shrimp tempura, bell pepper, avocado, chili soy glaze $28
Linda: Another Yoshi (Sushi Chef Extraordinare) Winner! A superb and very filling entree. If shared would make a great appetizer for 2. The only thing I didn't care from was the red bell pepper. Highly recommend and I'd order again.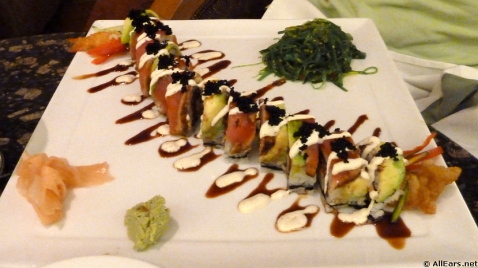 LIBERTY TREE TAVERN – LUNCH – MAGIC KINGDOM
Colony Salad – Washington apples, sweet pecans and applewood smoked cheddar, dried cranberries Craisins, and grilled chicken tossed with field greens in honey shallot vinaigrette $14.49
Deb: I love lunch at the Liberty Tree Tavern. The Colony salad is a wonderful blend of flavors accented with the apples. I forgot to order the dressing on the side so it was a bit "soupy" for me, but that was my error. I've had this salad before and I'll have it again – try it next time!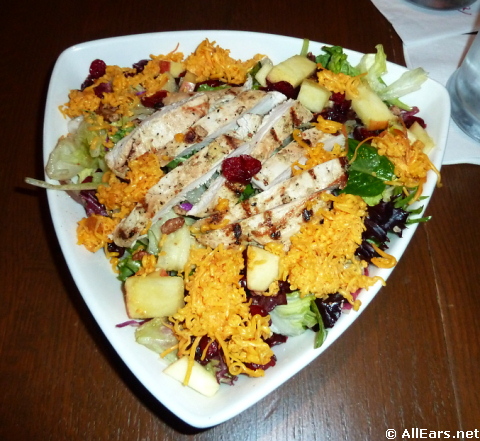 Pilgrims' Feast – traditional roast turkey with herb bread dressing, mashed potatoes and a garden vegetable $14.99
Linda: This hit the spot. I debated between this and the Tri-Corner sandwich and the server recommended the turkey – Spot on! Some of the most moist and tender turkey breast I've had in a long time. Green beans cooked just right, dressing was yummy – I joined the Clean Plate club for this one! Highly recommend!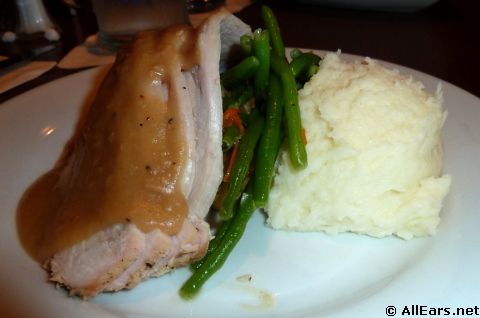 Post Your Reviews and Read what Others Say about:
Contempo Cafe
California Grill
Liberty Tree Tavern Lunch
That's it for this edition of WDW Dining Bits and Bites!