I would never say that one World Showcase pavilion is more beautiful than another. Each is picturesque and captivating in its own way. But I would certainly be willing to use different adjectives to describe each pavilion. For example, I would call Morocco mysterious. Serene would work well to describe Japan. And one might use rugged to express feelings about the Canada Pavilion. But when it comes to the France Pavilion, enchanting is the word that comes to mind for me.
Visiting the France Pavilion is like taking a step back in time. The years between the Franco-Prussian War and World War I (1871-1914) were characterized by unusual political and financial stability in western and central Europe. Modern inventions like the motor-car, railroad, aeroplane, cinema, gramophone, and telephone began to emerge and become common place. Art Nouveau was in fashion and impressionist such as Renoir and Matisse were making names for themselves. During this time, the designs of Baron Georges Eugène-Haussman to modernize Paris, came to fruition. Boulevards were widened and a seven story height limit on buildings was adopted. This era would later become to be known as the Belle Epoque (beautiful age). It's this time period in French history that the Disney Imagineers chose to recreate in World Showcase.
The waterway running next to the France Pavilion represents the Seine as it flows through Paris. In the years before International Gateway, it had a far more peaceful appearance than it does today.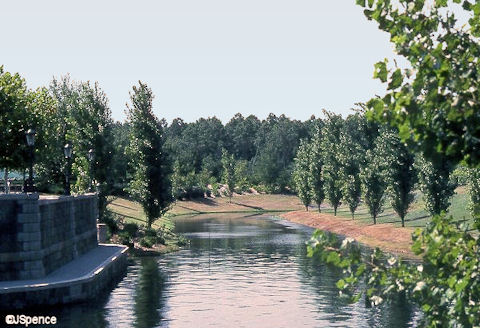 Guests touring World Showcase counterclockwise enter the France Pavilion via a pedestrian bridge. This overpass recalls the old Pont des Arts, the first metal bridge in Paris.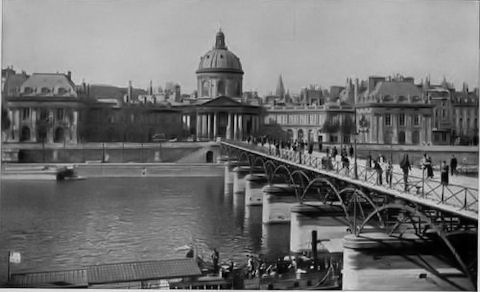 If you arrive at the France Pavilion at opening (11am), you might be greeted by French cast members proudly displaying Drapeau Tricolore (Tricolor Flag) or singing and waving joyously to welcome you to their Epcot country.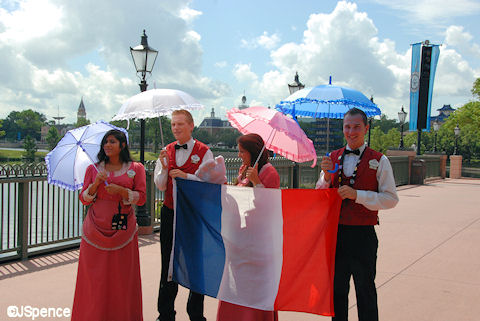 When crossing the "Pont des Arts" bridge that leads to the France Pavilion, be sure to look down on the banks of the Seine. Here you can see an easel and painting. If you study it carefully, you'll notice a budding artist is painting an impressionistic interpretation of International Gateway across the river. Once across the bridge, you can find another artist has also been struck by the beauty of the area.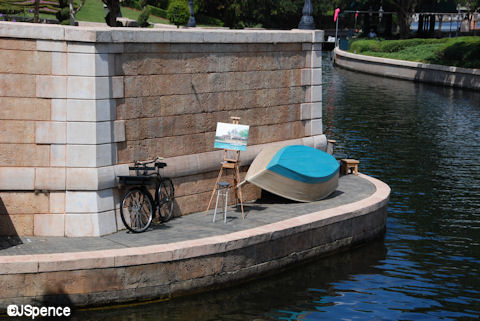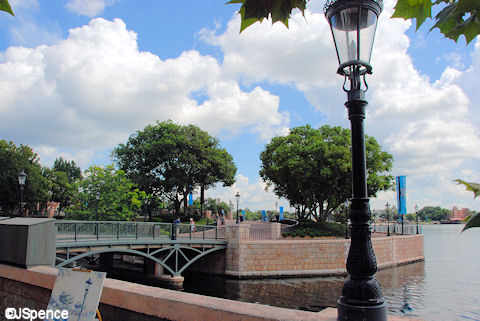 Just like in the real Paris, tourists can't help but notice the Eiffel Tower looming in the distance. Built at approximately 1/10 scale of the original, this 69 foot recreation (sitting atop a 34 foot high building) uses forced perspective to make it appear larger than it actually is. The Imagineers used blueprints from Gustave Eiffel's 1889 original to design their model. So detailed is this recreation that a close observer might notice tiny elevators and turn-of-the century beacon lights.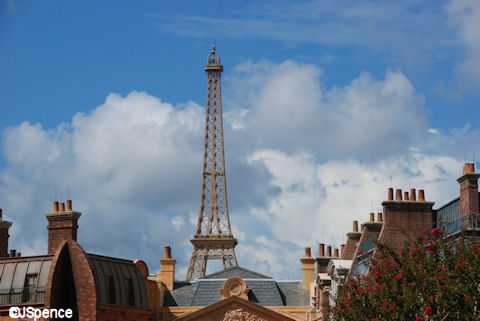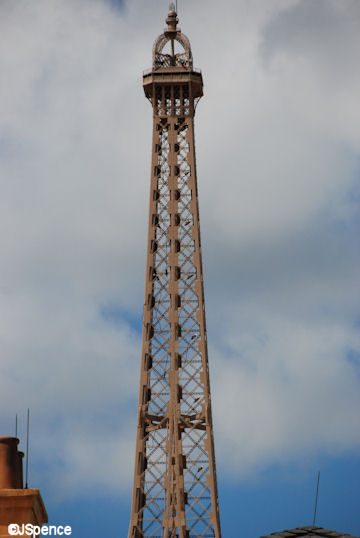 Before I continue, I would like to answer a question that I am frequently asked. "Why aren't there any people in your pictures? Do you have special access to the parks?"
I have no special privileges. As far as Disney is concerned, I'm just an average guest (unless I've been invited to a press event.) I do nothing that any of you can't do – if you're willing to take the time and expend the energy.
In the case of the France Pavilion, I arrived at International Gateway ten minutes before World Showcase officially opened. Once the rope was dropped, granting me access to the countries, I was at the front of the pack. I walked quickly and safely toward the pavilion, snapping pictures all the way. Since I knew that the vast majority of my fellow early-birds were heading for Boulangerie Patisserie to secure a delicious pastry, I needed to shoot the outside courtyard and seating area for this eatery before they could make their purchases and settle in. After that, I dashed from building to building, and interior to interior, taking pictures as fast as I could. I knew that I had about 20-30 minutes of people-free opportunities to get the shots I wanted.
Like I said, you could do this too – if you wanted to give up some of your valuable touring time for the sake of people-less pictures. But is that what you really want to do on your vacation? Probably not.
When you first set eyes on the France Pavilion, it's difficult to decide what to discover first. The rich architecture, the manicured landscaping, the multitude of colors, and the layers of texture are mind boggling. The foot of the "Pont des Arts" bridge is a wonderful spot to stop and take it all in.
The city of Paris is represented by the main thoroughfare of the pavilion (as seen in the above picture). The small towns and provinces of France can be discovered on Le Petite Rue, a small street found in the back of the pavilion.
Some of you might have noticed the ugly green metal boxes lining the wall that separates the pavilion from World Showcase Lagoon. In Paris, boxes similar to these line the embankments of the Seine. Containing rare books, artwork, and modern-day souvenirs, bouquinistes (secondhand booksellers) hawk their wares from these boxes, just like their ancestors have been doing since the 1500's. Note, nothing is sold from these boxes at the France Pavilion.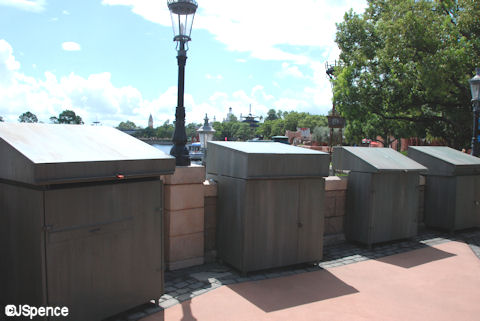 More street vendors can be found in this same vicinity. For a few francs (okay, for a few dollars), artists will draw your caricature or personalize a parasol. And if your gastronomical pallet needs to be satisfied, you can sample a glass of French wine or indulge in a crépe, espresso, or cappuccino at a nearby booth.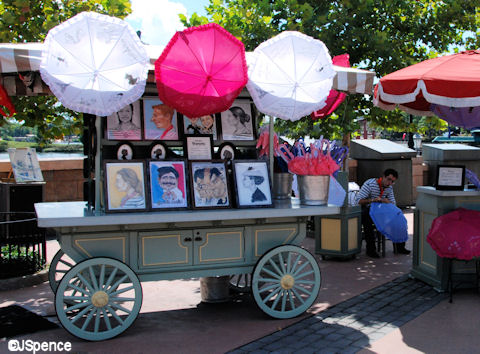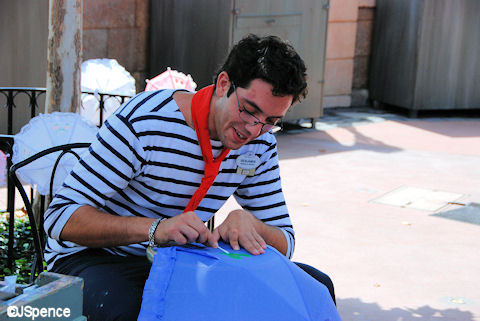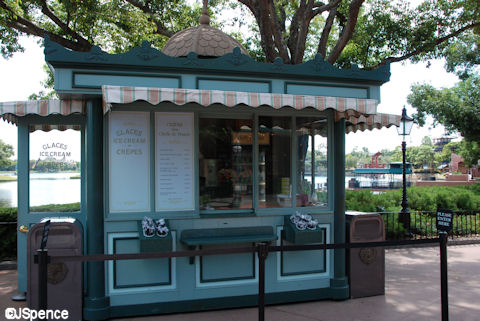 Kiosks, like the ones seen in these next two pictures, are a prominent sight along Parisian streets. They serve as information boards, advertisements, and newspaper stands. The ones seen in the France Pavilion are plastered with the works of French artists, many promoting upcoming exhibits.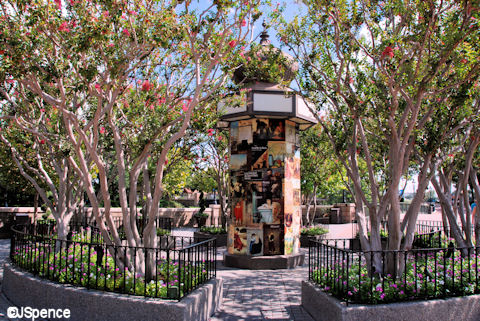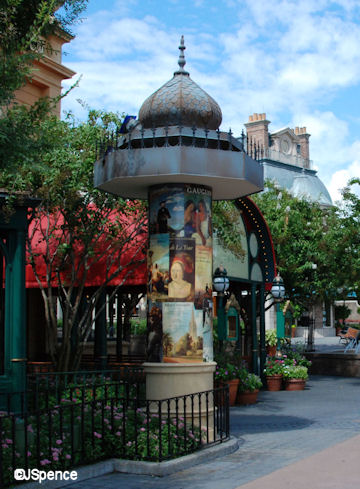 There is a lovely park-like setting bordering the "Seine." Although not accessible to the public, this area of the France Pavilion was inspired by the famous painting "A Sunday Afternoon on the Island of La Grande Jatte" by pointillist artist Georges Seurat. In reality, this was better illustrated before International Gateway was build and the embankment installed.
It was the Imagineers' desire to create an urban ambiance in the France Pavilion that reflects perpetual springtime in Paris. To achieve this, landscaping plays a vital role. Flowers, blossoming trees, and colorful plants can be seen everywhere. With this foliage, it was hoped that an atmosphere, capable of inspiring an impressionist artist, would be achieved.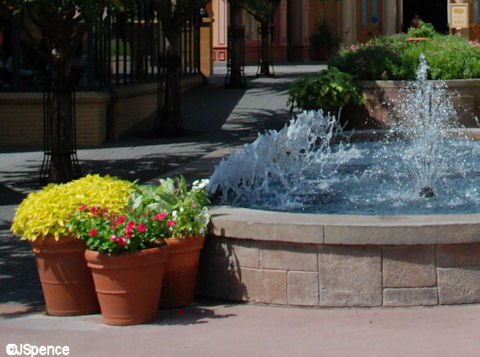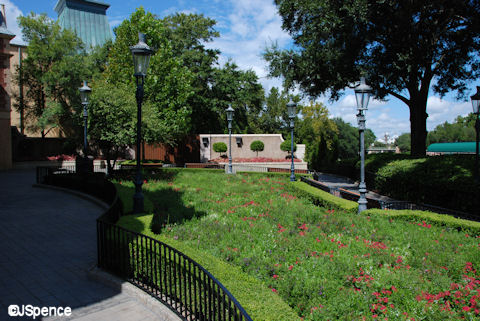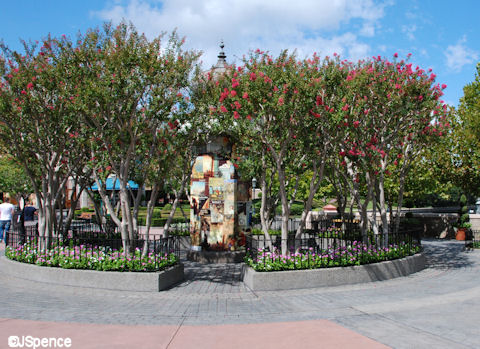 Jardin à  la française (French formal garden) is a style of landscaping based on balance and symmetry. The idea is to impose "order" into nature. This style of gardening reached its apex in the 17th century when landscape architect André Le Nôtre used his talents at Versailles. In the decades that followed, this style was widely copied by other courts of Europe. A recreation of this gardening technique can be seen in the France Pavilion.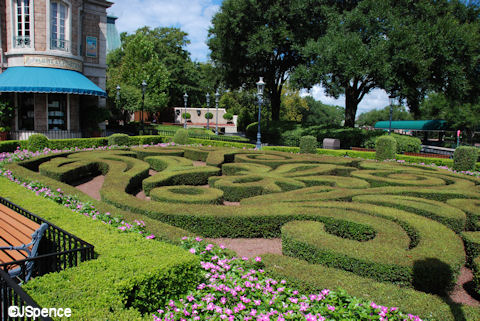 Four Disney characters are on hand at the France Pavilion to pose for pictures. Marie from the "The Aristocats" and Aurora from "Sleeping Beauty" meet guests near the kiosk at the foot of the "Pont des Arts" bridge. Belle and Beast from "Beauty and the Beast" greet guests at a location between the France and Morocco Pavilions. A sign board in these areas list the times.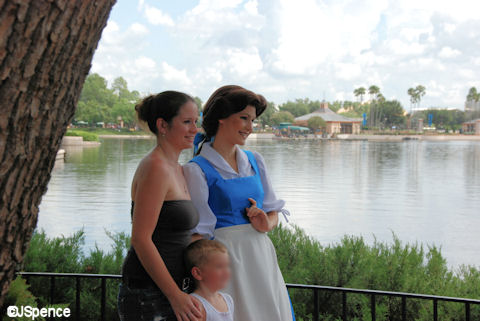 That's it for Part One of my France Pavilion review. Check back tomorrow for Part Two and my video.