Yesterday I posted Part One of my review of the France Pavilion. Today I'll continue the story.
Knowing that France is famous for its outstanding cuisine, the Imagineers knew that fine dining needed to be a part of the France Pavilion. In the early years, there were three table service restaurants here, Les Chefs de France, Bistro de Paris, and Au Petit Café. Au Petit Café was a sidewalk cafe situated adjacent to Les Chefs de France. This canopy covered eatery featured small round tables and offered light meals and snacks. Reservations were not accepted. This was a charming spot to grab a bite and watch people stroll the promenade. However, it was eventually decided to enclose (and air condition) this eatery and merge it with Les Chefs de France. Au Petit Café closed on June 9, 1997. Here is a picture of this area I took in October, 1983.
Disney sought out and engaged three of France's most highly acclaimed chefs to operate Les Chefs de France and Bistro de Paris. Paul Bocuse, Roger Vergé, and Gaston Lenôtre design menus around Florida foodstuffs so that only the freshest ingredients could be used and the menu updated often. And although pastry chef Gaston Lenôtre has passed on, his skills are still evident here.
When facing the France Pavilion from the "Pont des Arts" bridge, Les Chefs de France is located on the ground floor of the large building to the left. The menu here is inspired by nouvelle cuisine. This is a method of preparing food using lighter and more delicate fare and an increased emphasis on presentation. Whenever I eat here, I usually order Bisque de Homard (lobster bisque) for an appetizer and Profiteroles au Chocolat (Puff choux with vanilla ice cream and chocolate sauce) for dessert. I'm in heaven.
The décor of Les Chefs de France is elegant. Large windows allow sunlight to bathe the restaurant in soft light and offer wonderful views of the pedestrian traffic outside. The mosaic tile floor is a work of art and the ceiling is equally stylish. The tables and chairs are stained dark red and are set simply with a placemat, bread-and-butter plate, and a crisp, white napkin. This is a beautiful restaurant in which to break bread. Les Chefs de France also features a smaller dining room which faces out onto the pavilion's courtyard and fountain. This glass enclosed room has the feel of a solarium or greenhouse.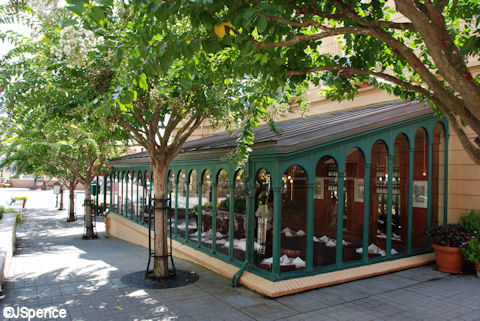 The three founding chefs of this establishment were recently joined by a fourth epicurean prodigy. Chef Remy (from the Disney-Pixar film "Ratatouille") now helps out in the kitchen six days a week. He can often be coaxed out of the kitchen four times a day to mingle with the patrons. He is accompanied by one of the restaurant employees who helps translate his squeaky voice. And just for the record, he's more than happy to say "cheese" when posing for a photograph.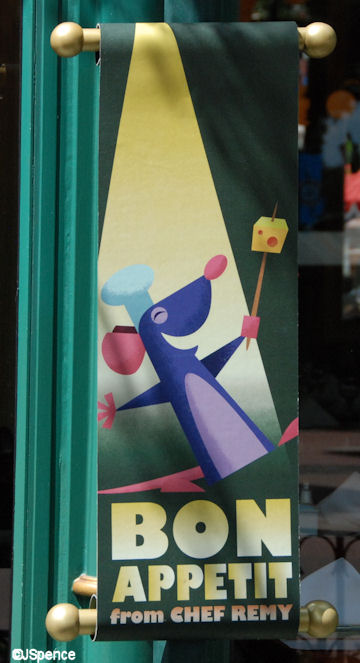 Les Chefs de France is open for lunch and dinner. Reservations are strongly recommended, but if you arrive at opening (currently noon), you can often secure a lunchtime table.
The second table service restaurant at the France Pavilion is Bistro de Paris. Its entrance is located off of a courtyard behind Les Chefs de France. This eatery is on the second floor of this same building and offers outstanding views of World Showcase.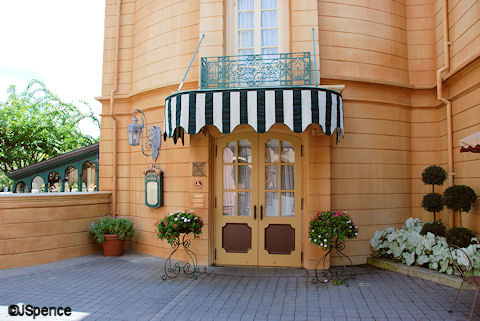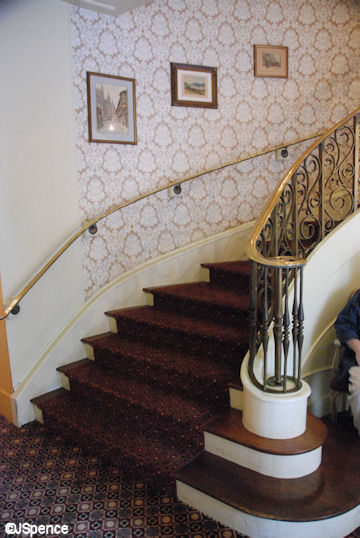 Bistro de Paris is elegantly decorated without being pretentious. Its style captures the sophistication and romance of turn-of-the-20th century Paris. Cream colored walls and maroon upholstery are accented by mirrors, brass sconces, and milk-glass chandeliers. And unlike its downstairs counterpart, Les Chefs de France, the tables at the Bistro de Paris are spaciously arranged allowing diners a more intimate atmosphere.
Bistro de Paris offers À la Carte and Prix Fixe dining. If you opt for the Prix Fixe option, you'll be served four courses with or without wine pairing. Bistro de Paris boasts a magnificent wine list that features French wines from the famed regions of Alsace, Loire Valley, Southern France, Bourgogne and Bordeaux. Please note, although children are welcome to dine here, no children's menus are available.
In my opinion, Bistro de Paris is the finest "theme park" restaurant at Walt Disney World. It is comparable in every way to Flying Fish, Citricos, and California Grill. Not only is the food and wine outstanding, so is the service. This is not an establishment you want to "get in and get out" of. You want, no, you need to savor every minute you spend here. Plan on at least an hour and a half. Reservations are strongly recommended.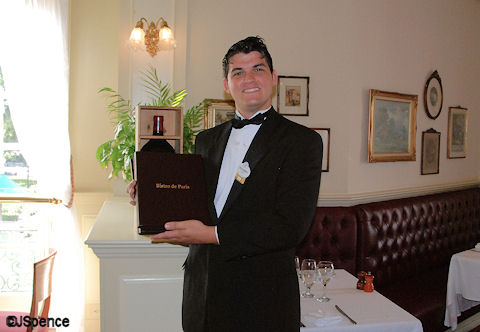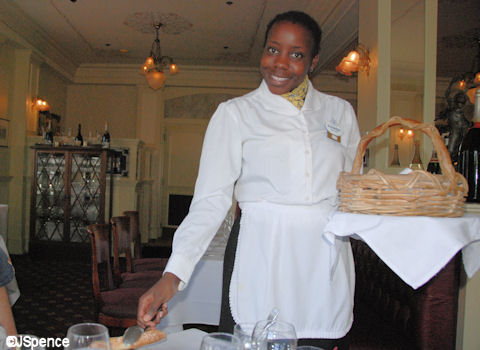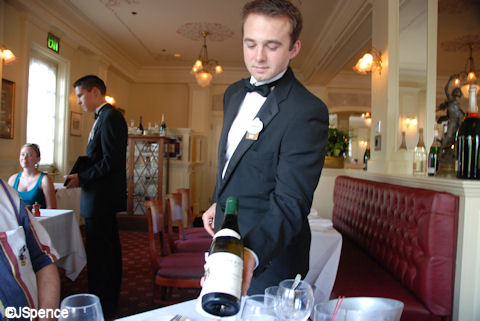 The last eatery in the France Pavilion is possibly the most popular of the three. Boulangerie Patisserie is the spot to satisfy your sweet tooth with artistic culinary delights. Pastries, fruit tarts, puddings, cakes, cookies, éclairs, and cream puffs beckon. What better place is there to indulge in such decadence? After you've made up your mind, all you have to do is point and a charming French cast member will be happy to place your selection on a paper plate and tray. The Napoleon is my favorite, but I always get powdered sugar all over myself. And if you're in the mood for something a little more substantial, cheese plates and sandwiches are also on hand.
Be forewarned, this eatery becomes busy early in the day and remains so until closing. Either arrive at opening, or be prepared to wait in line.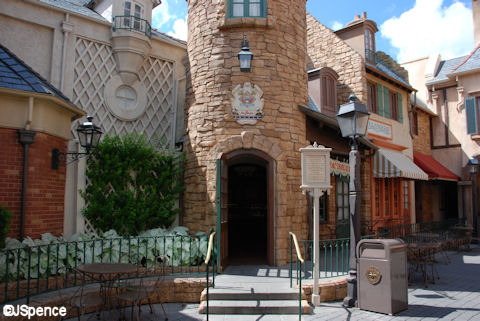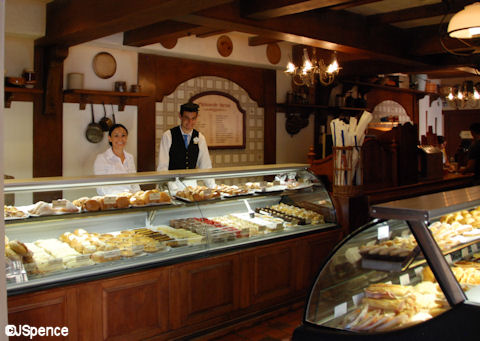 There are numerous tables right outside the Boulangerie Patisserie. On a pleasant day, it doesn't take too much imagination to make believe you're actually in Paris enjoying your taste treat on a quiet street. However, these tables fill up quickly and sometimes it's difficult to secure one. If you discover that all of them are occupied, don't despair, more are available just inside the Souvenirs de France shop. Actually, on a hot day, these inside tables are a better choice than their outside counterparts as you'll find air conditioning waiting for you here.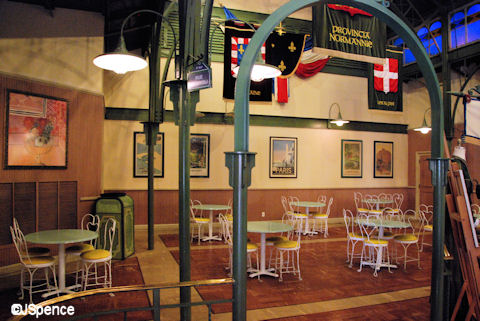 I have to believe that 95% of you have already experienced Boulangerie Patisserie and these pictures are nothing more than a pleasant reminder of a lovely spot. But for that other 5%, this needs to be a "must see" on your next visit to Epcot. I can pretty much guarantee that once you try it, you'll become a regular customer.
There are several shopping options in the France Pavilion. Three stores line the right side of the pavilion near the Seine. First is Plume et Palette (Feather and Pallet). This Art Nouveau shop sells French fragrances, soaps, and a small selection of handbags.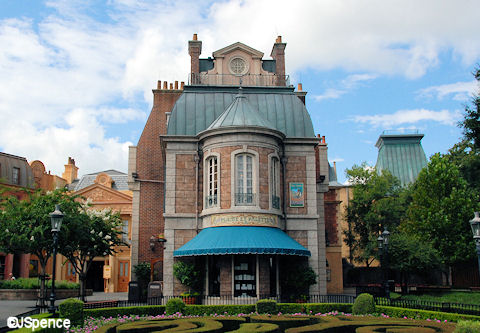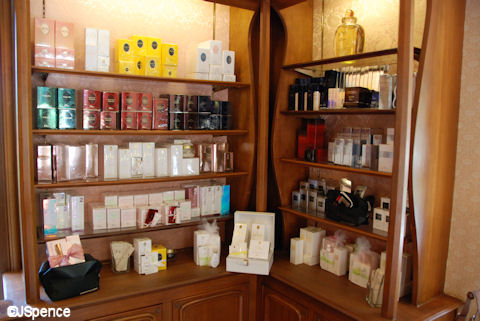 In the early years, the second floor of this lovely shop was open to the public. Guests could wander this area, viewing works of art and browse through prints by French impressionists which were for sale. In addition, wonderful views were afforded from here. Unfortunately, this area is no longer open to guests.
The entranceway to the Arcade is styled to look like an entry to the Paris Metro. Through this gateway, are more shops.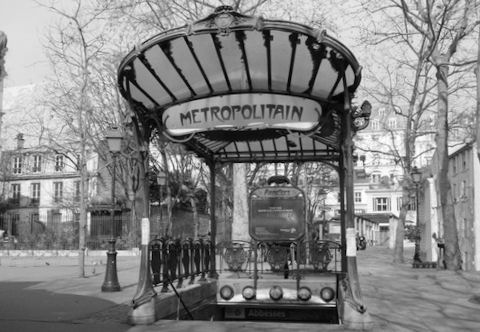 The newest mercantile to open in the France Pavilion is Givenchy. This 400 square foot shop offers the entire line of Givenchy fragrances, cosmetics and skincare products including a specially created fragrance exclusive to Epcot, eaudemoiselle de Givenchy.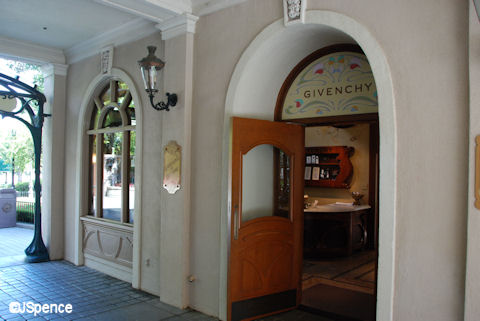 Another feature of Epcot's Givenchy shop is a complete makeup counter, complete with experts to help you select and apply the appropriate product. As a learning tool, the associate will be happy to apply the makeup to only half of your face then allow you to take over under his or her guidance for the second half. If you decide to purchase their products, you will be provided with a complete, step-by-step chart so you'll know exactly what to do once you return home.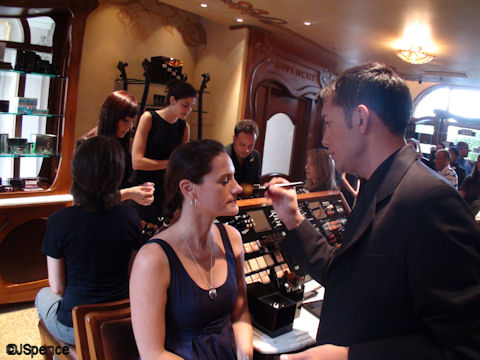 La Signature shop features Guerlain products. In 2007, this shop was remodeled as a Haute Perfumery patterned after the original La Maison Guerlain flagship boutique on the Champs-Elysees in Paris. La Signature carries exclusive and limited-edition specialty fragrances for men and women.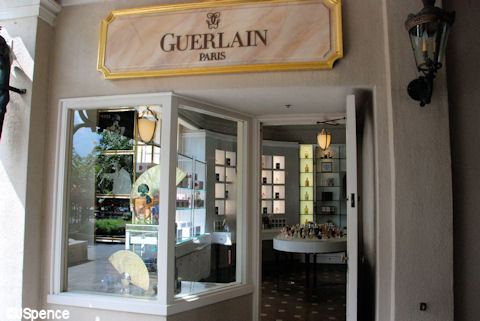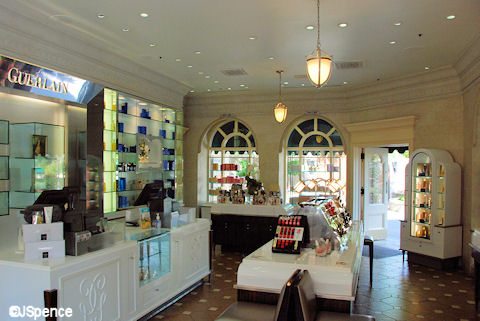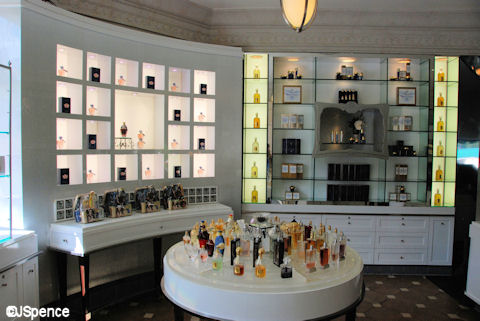 Les Vins de France offers a selection of French wines. Beginner connoisseurs can find relatively inexpensive selections and experts will be delighted with rare vintages. Wine tasting is also offered in this shop. Prices range from about $5 per tasting to $12.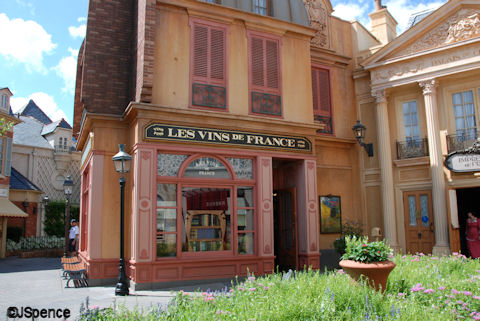 Adjacent to Les Vins de France is L'Esprit de Provence. This wonderful emporium sells kitchen accessories, dinnerware, some foodstuffs, and Disney cookbooks.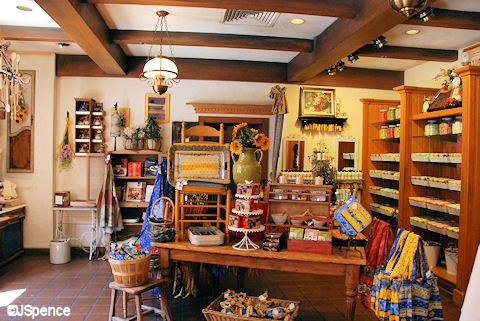 The last shop found in the France Pavilion is Souvenirs de France. As the name implies, this is the place to pick up the stereotypical remembrance to take back home from your trip abroad. Models of the Eiffel Tower, guide books, berets, posters, mugs, and other Parisian memorabilia are available here. This is also the spot to pick up a Remy plush. And if you're looking to get your Epcot passport stamped, a Kidcot Fun Spot can be found in this shop.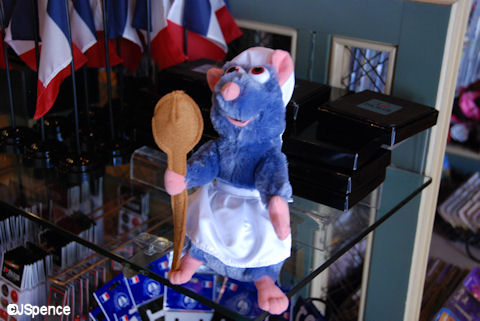 When the France Pavilion first opened, Souvenirs de France was called Galerie des Halles. This emporium was modeled after Les Halles, which was the predominant marketplace of Paris for centuries. In the 1850's, architect Victor Baltard designed an elegant iron and glass structure to protect the merchants from the elements. Les Halles became known as the "belly of Paris." Unfortunately, changing economics and age would bring an end to this marketplace and it was dismantled in 1971.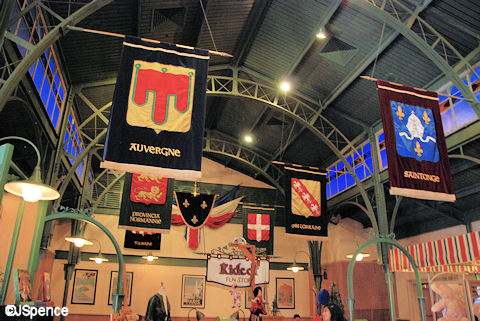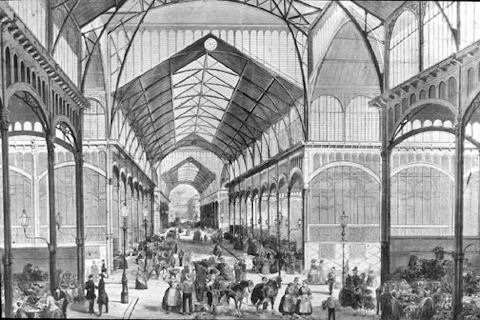 Perhaps the biggest draw at the France Pavilion is the movie, Impressions de France. This 18 minute travelogue is breathtaking. Outstanding cinematography is expertly blended with the classical music of French composers and takes viewers from one end of France to the other. Famous landmarks like the Eiffel Tower and Arc de Triomphe are shown as well as lesser known locales in the countryside. The movie is projected onto five screens, each measuring 21 feet high and 27½ feet in width for a total of 200 degrees. And unlike the CircleVision films shown in the Canada and China Pavilions, this theatre provides seating for the audience — a welcome respite when touring World Showcase. I'm sure I've seen this film at least 50 times and I could easily see it that many times again. This film is usually shown on the hour and on the half-hour.
Impressions de France is shown in the Palais du Cinema. The exterior of this building was inspired by a theatre in Fontainebleau. When waiting for the next presentation to begin, be sure to take a look at the gargoyle in the lobby. Known as the Spitting Gargoyle, this is the most famous of the hideous creatures that guard the Cathedral of Notre Dame and is the most photographed. The reproduction was made from a direct casting of the original.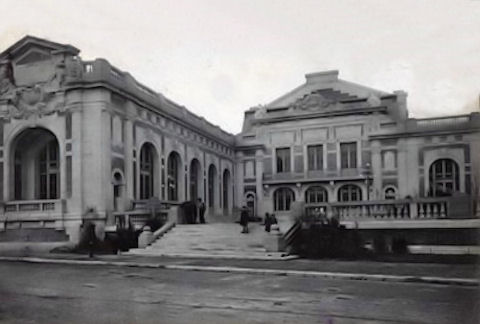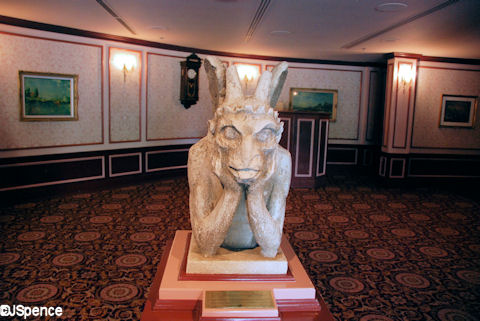 For those of you curious as to what locations you're seeing in Impressions de France, here is a complete listing in order of appearance. It's interesting to note, the film editor wheedled the movie down to 46 locations out of the 140 originally shot.
1. Cliffs at Étretat in Normandy
2. Marais Poitvin, a swamp near La Rochelle
3. Château Chenonceau, shot from the Loire Valley and the gardens
4. Horsemen and hunting dogs in the Cheverny Forest, with Château Cheverny in the background
5. Chambord in the Loire Valley
6. Vézelay Village and church interior
7. Horsecart riding through Riquewihr Village in Alsace
8. Marketplace in Bouvron in Normandy
9. Wine harvest at Monbazillac Vineyard
10. Cognac cave near city of Cognac
11. Fountain of Apollo, gardens, west face and Hall of Mirrors at Versailles
12. Castle Beynac in Dordogne Valley
13. Forest near Château Montpoupon
14. Bicyclists at La Rogue-Gaceac in Dordogne Valley
15. Bicyclists at Château Montpoupon
16. Bugatti race cars in Cannes
17. Hot air balloons near Chaumont Castle on the Loire River and in cliff city of Rocamadour
18. French Alps in spring
19. Mont Blanc in winter
20. Skiers on rocky peaks in the French Alps at Chamonix
21. La Rochelle harbor
22. Brittany fishing boat at sea
23. Rocky beach in Normandy
24. Mont St.-Michel
25. Small church in Brittany
26. Wedding reception at a Brittany farmyard
27. Cliffs at Normandy in Étretat
28. Cliff city of Bonifacio in Corsica
29. Villefranche near Nice
30. Cove at Calanque Cliffs near Cassis
31. Pier in front of Carlton Hotel in Cannes
32. Rooftop restaurant overlooking Cannes harbor at night
33. Railway tracks in hills of Chaporoux
34. Gare du Nord rail station in Paris
35. Champs-Élysées and Arc de Triomphe
36. Boat on Seine River in Paris, under the Pont Neuf
37. Balloon release at Notre-Dame Cathedral
38. Garde Republicaine rides through the archways at the Louvre
39. La Concierge in Paris
40. Garde Republicaine Stables in Paris
41. Eiffel Tower
42. Étretat Cliffs
43. Alps near Chamonix
44. Château Chambord
45. French Alps near Mont Blanc
46. Eiffel Tower
As with the other World Showcase nations, street entertainers are a part of the experience at the France Pavilion. All too often we only see these "impromptu" shows if we happen to be in the area when they begin. But the times of these presentations are listed in the Times Guide and some attention should be paid. These performances are a lot of fun and often good for a laugh.
Currently, "Serveur Amusant!" (which translates to Amusing Waiter) is playing at the France Pavilion five times a week. These acrobats/comedians use wine bottles and a table and chairs to amuse and delight as they build a tower that teeters over the onlookers below.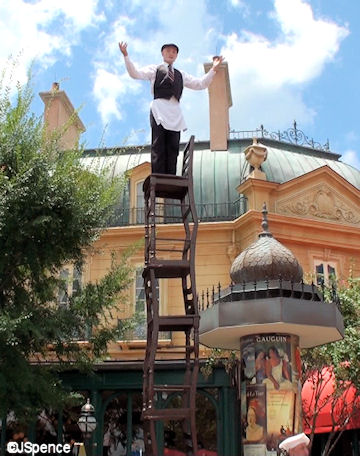 That's it for the France Pavilion. As I always tell you, slow down and notice the details. Each of the World Showcase countries was designed and created from painstaking research and work. Nothing happened here by accident. Every color, texture, plant, and element was selected for a reason.
I'll end this blog with my now traditional video. It's approximately 9 minutes in length. Enjoy.