In January of this year, a small fire broke out in the attic of "Enchanted Tiki Room – Under New Management". The sprinkler system was activated and guests were evacuated. No one was hurt and the blaze was quickly brought under control by the Reedy Creek Fire Department. However, the Iago AudioAnimatronics figure was badly damaged by the fire and other portions of the attraction sustained water damage. The show had to be closed indefinitely until repairs could be made.
The attraction officially reopens on Monday, August 15, 2011, but today (August 14), the attraction held a soft-opening – in other words, a dress rehearsal. As you might expect, I was the first person in line to see the show. However, "Enchanted Tiki Room – Under New Management" has been retired. It has been replaced by "Walt Disney's Enchanted Tiki Room." This show is a close approximation the original "Tropical Serenade" as seen on opening day of the Magic Kingdom.
I thoroughly enjoyed the revival of this classic, even if it is an abridged version of the original. At 11 minutes, I think it's the right length to entertain, but not bore guests. The sound and acoustics are great and gone are the clicking noises made by some of the older AA figures. Disney has even restored the original "nationality" feather colors. Here are a few pictures I snapped today.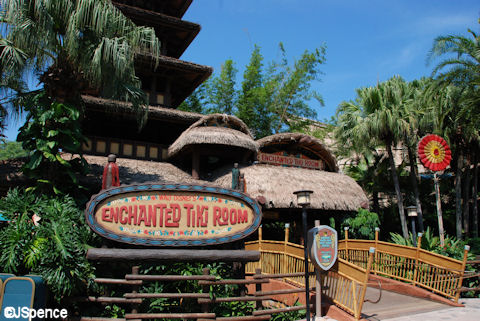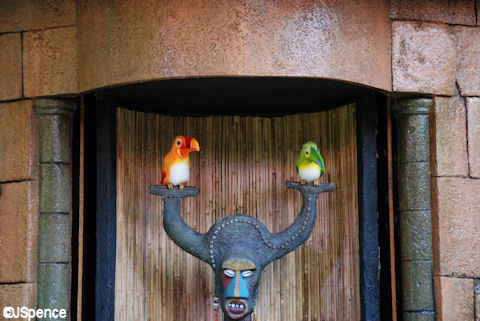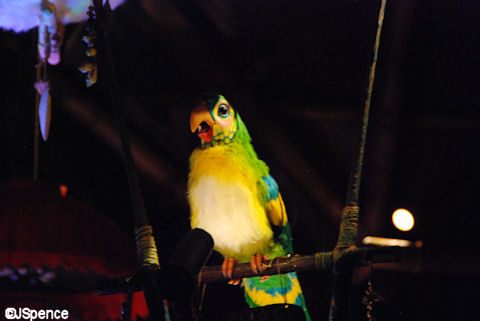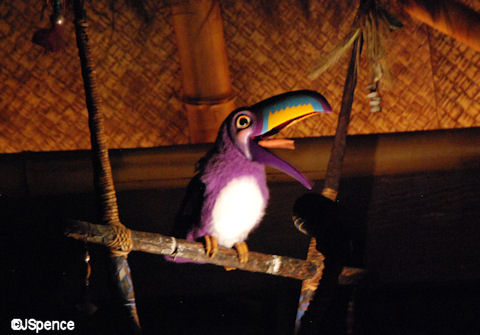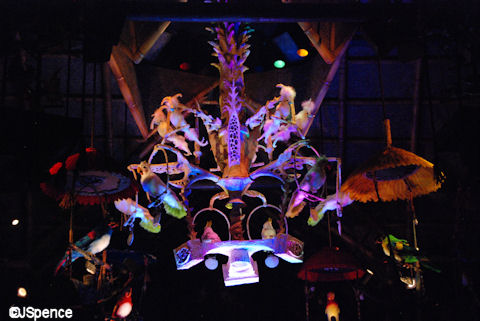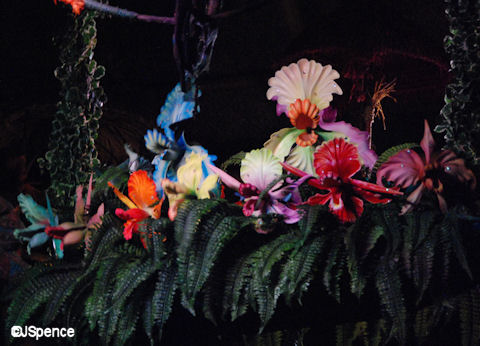 For all of you who are only familiar with "Under New Management," I strongly encourage you to see this new/old version of "Walt Disney's Enchanted Tiki Room." It's not nearly as exciting as many other Disney attractions, but it is a classic and it's historic. Its AA figures were the beginning of so many other wonderful attractions to follow. It's a charming show that Walt personally supervised its creation. Only the most jaded guest would not be captivated by its simple humor, wonderful melodies, and fantastic characters.
If you are familiar with the original show, please come back and see it again. You'll be glad you did – and you'll be singing "The Tiki Tiki Tiki Room" song all day – which really isn't a bad thing.
In many ways, "The Enchanted Tiki Room" opened the door to other Disney classics like "Great Moments with Mr. Lincoln," "Carousel of Progress," and "Pirates of the Caribbean" as the Imagineers were able to use what they had learned with the Tiki birds to build on their success.
In my next blog, I share with you the history of the Enchanted Tiki Room!