With the official reopening of the Tiki Room, I thought I'd use this opportunity to give you a history of this groundbreaking attraction. In many ways, "The Enchanted Tiki Room" opened the door to other Disney classics like "Great Moments with Mr. Lincoln," "Carousel of Progress," and "Pirates of the Caribbean" as the Imagineers were able to use what they had learned with the Tiki birds to build on their success.
Long before Disneyland opened, Walt dreamed of animating figures using cables and cams. He even went so far as to contact a patent attorney in 1949 and proposed dimensional animation. The idea would unite three-dimensional figures that could move to synchronized audio tracks. But his idea was far ahead of its time and was limited by the technology of the day. When Disneyland opened in 1955, the park featured crude versions of AudioAnimatronics (AA) figures. These figures had limited movements and were unreliable. This is best illustrated by the simplistic animals seen on the Jungle Cruise.
The exploration of space brought a number of technological advancements to the world in the late 1950's and early 1960's. The Imagineers were able to capitalize on these inventions and apply them to their crude figures. With the use of rudimentary computers and new hydraulic and pneumatic hardware, their animals began to move less like robots and more like the real thing.
The first attempt by Disney to create a lifelike AA human was undertaken by Roger Broggie and Wathel Rogers. Walt wanted to have them create a likeness of Confucius who could interact with guests dining in a Chinese restaurant to be located on Main Street. The pair succeeded to a point, but ultimately, limitations in technology would stymie the project. The required electronics would fill a room and Confucius was extremely fragile. He was continually ripping his rubber face.
Walt next directed his team to create a likeness of Abraham Lincoln. Since 1956, a spur off of Main Street to be called Liberty Square had been under development. Walt felt that an AA figure could tell the story of freedom better than the static display currently under consideration. Soon after, Walt hired Buddy Ebsen to dance in front of a large grid and filmed the hoofer's movements. Walt himself directed the sequence. This footage was then studied and measurements were taken. With this information, the Imagineers built a 1/8 scale model of Ebsen which perfectly reproduced his dance routine. Walt even had a miniature stage built to showcase his new figure.
While on vacation in New Orleans (or Europe, depending on which version of the story you hear), Walt found and purchased a mechanical bird that could sing while moving its beak, head, and wings. He thought to himself, if toymakers can do this well, my Imagineers can do better. He took the bird home and gave it to his team so they could dissect it and discover what made it tick.
Walt put his Lincoln idea on hold and concentrated all of his efforts on this new project. In the months that followed, his Imagineers built life-sized cockatoos, toucans, macaws, and other tropical birds. Walt wanted to resurrect the Chinese restaurant idea, but instead of Confucius entertaining guests, birds would take center stage. Walt also reasoned that guests would be more accepting of the limitations of AA mechanics when applied to non-human figures.
The restaurant, to be called "The Tiki Hut," was to be located in Adventureland and would have a Polynesian theme. The eatery would share the kitchen used by the Plaza Pavilion and the Tahitian Terrace. A press release issued by the company read, "Walt Disney is creating a restaurant. And just as his full-length animated films, True-Life Adventures, and Disneyland pioneered in their fields, Walt's creation may alter the course of many full-course meals." However, as the idea for a restaurant progressed and logistics considered, it was realized that the average meal would take between 45-60 minutes. This would greatly limit how many guests could see this new marvel. Add this to space limitations in Adventureland, and the restaurant idea was eventually abandoned in favor of a 17 minute show only. "Walt Disney's Enchanted Tiki Room" opened on June 23, 1963. The show contained 225 AA performers directed by a fourteen-channel magnetic tape feeding 100 speakers and controlling 438 separate actions.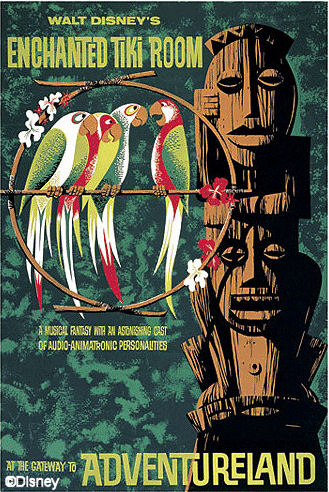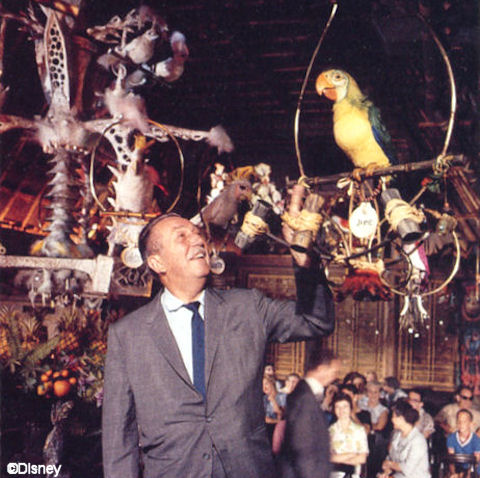 Although difficult to conceive today, in 1963, the public could not begin to fathom what the "Enchanted Tiki Room" was all about. Cast members would try to explain that there were singing birds and flowers inside the building, but guests just didn't "get it" and would bypass this attraction for other adventures. Even the Disneyland TV show failed to convey the magic awaiting guests inside this unassuming structure. A solution was needed to promote the show appropriately.
Enter Barker Bird. Situated on a perch above the Enchanted Tiki Room turnstiles, a new AA bird was added to the show. From high above, Barker Bird (a copy of Jose who performs in the show) would call to the guests below and extoll the virtues of the performance inside. The solution worked. For the first time, guests could experience a sophisticated AudioAnimatronics figure and were intrigued enough to venture inside to see the entire show.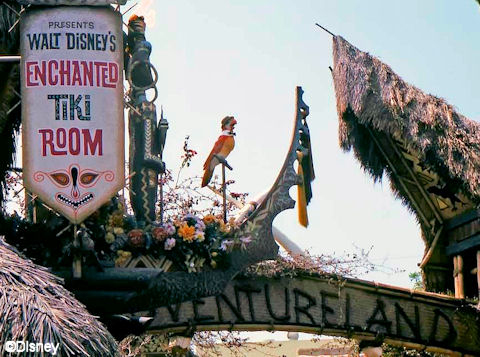 However, there was a drawback to Barker Bird. He became an attraction in his own right. The entrance into Adventureland was very narrow in the early years. So many people would stop to listen to Barker Bird that the walkway became impassable. Eventually, after the show became well established, Barker Bird was retired.
Once guests were persuaded to see the show, they were blown away by it. Remember, this was 1963 and nothing like this had ever been seen before.
The adventure began with guests entering a dimly lit, quiet room. Once everyone was seated, a host or hostess used a cane to wake up Jose. The show was carefully orchestrated to "build" upon itself. First the four hosts spoke to the audience. Then a background chorus of birds chimed in and an elaborate bird-mobile descended from the ceiling. After we thought we'd seen "everything," the various tropical flowers scattered around the room came to life and serenaded us. And finally, the Tiki gods began to recite Polynesian chants. In the end, so much celebration was taking place that the gods were awakened and angered. Guests left the "Enchanted Tiki Room" awe-struck. They couldn't believe what they had just seen.
When the "Enchanted Tiki Room" first opened, it was not owned by the Walt Disney Company (then Walt Disney Productions), but rather by Walt's private company, WED Enterprises. Because of this, guests were required to purchase a separate ticket for the staggering amount of 75¢ if they wanted to see the show.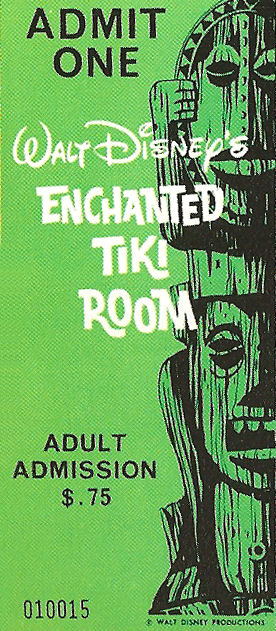 Since the show was 17 minutes in length, it was realized that some sort of diversion would be required to keep guest entertained while waiting for the next presentation to begin. To accomplish this, a number of Polynesian gods were situated around the perimeter of the holding area. Shortly before entering the building, each god spoke to the audience and provided a brief explanation as to his or her importance and function. Note, these were not AA figures. Their lips did not move or their eyes open. Some figures rocked back and forth and others dropped flowers from their branches, but there was nothing sophisticated about these Tiki gods.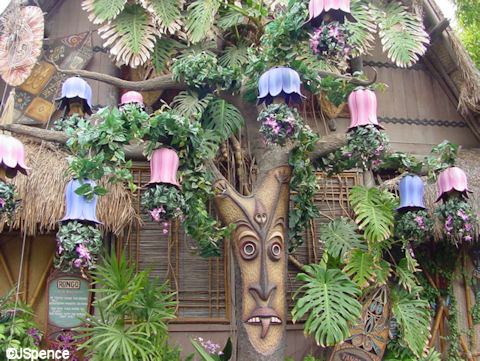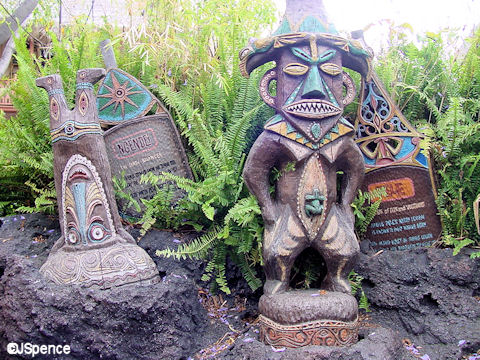 In the 1960's, United Airlines was the premier carrier of passengers to and from the Hawaiian Islands. They were the perfect company to sponsor the "Enchanted Tiki Room" and held that honor for twelve years. In 1976, the Dole Food Company replaced United Airlines and continues sponsorship to this day.
While there may be 225 AA figures, the show revolves around four wise-cracking macaws, Jose, Michael, Pierre, and Fritz. It's interesting to note, in the early years, their feather's colors represented their nationalities. Jose (voiced by Wally Boag) was covered in red, white, and green feathers, the colors on the Mexican flag. Michael (voiced by Fulton Burley) donned green and white feathers to represent his Irish background. Pierre (voiced by Ernie Newton) sported blue, white, and red for his French nationality. And Fritz (voiced by Thurl Ravenscroft) was covered in red, white, and gold feathers for his German heritage.
The Sherman Brothers wrote "The Tiki Tiki Tiki Room." Robert Hargreaves, Stanley J. Damerell and Tolchard Evans wrote "Let's All Sing Like the Birdies Sing." For you true lovers of Disney trivia, a version of "The Tiki Tiki Tiki Room" can be heard in the Pizzafari Restaurant at Disney's Animal Kingdom.
In late 2004, the "Enchanted Tiki Room" closed for an extensive refurbishment. The exterior of the building was in sad shape and inside, the bird's feathers were routinely falling from their bodies and you could hear their hydraulics sputtering as they sang. Disneyland's 50th birthday was rapidly approaching and this attraction needed some serious attention if it was to be presentable for the park's big celebration. When the show reopened seven months later, it had been restored to its former glory. The score had been digitally remastered and a new sound system had been installed. In addition, many of the birds and flowers had been replaced with state-of-the-art AA figures. The show's length was also shortened somewhat. This will be noticeable to anyone who bought the LP in the early years or has found a full-length version of the show on the internet. But to the vast majority of visitors, the deletions are inconspicuous.
Since the "Enchanted Tiki Room" had been so successful at Disneyland, it was a given that it would be an opening day attraction at the Magic Kingdom at Walt Disney World. In 1967, Walt Disney Productions entered into an agreement with the Florida Citrus Growers to sponsor this attraction for a cost of $3 million.
When the Magic Kingdom opened on October 1, 1971, a copy of Disneyland's "Enchanted Tiki Room" was on hand to greet guests. Renamed "Tropical Serenade," this attraction was an immediate success and required an "D" coupon to enter. Guests familiar with the Disneyland version would notice that the Magic Kingdom's theater was considerably larger.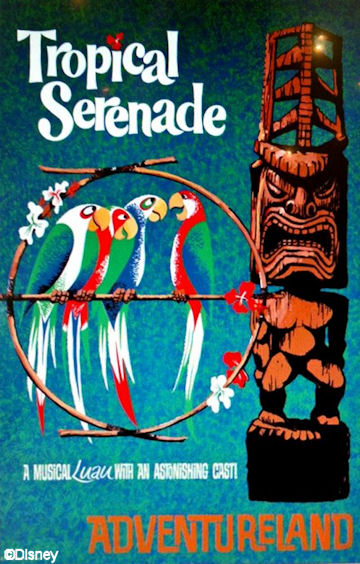 Although the main presentation was the same, the waiting area and preshow was all new at the Magic Kingdom. At Disneyland, guests waited on a large lanai and wandered about until the show began. At which time, they all converged into a single door with occasional pushing and shoving. Wanting to better control people at the Magic Kingdom, the Imagineers created three, terraced lines where guests could wait in a more orderly fashion. While waiting to enter the theater, guests faced a shrine and waterfall that eventually parted to reveal two AA birds perched atop a Tiki god.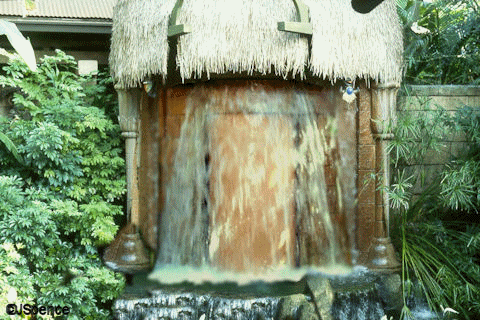 Other changes could be seen in the building's exterior. At Disneyland, the "Enchanted Tiki Room" had been squeezed into a tight space and could easily be missed as you walked by. But at the Magic Kingdom, the Imagineers gave the "Tropical Serenade" a place of prominence with a large pagoda that could be seen throughout much of Adventureland.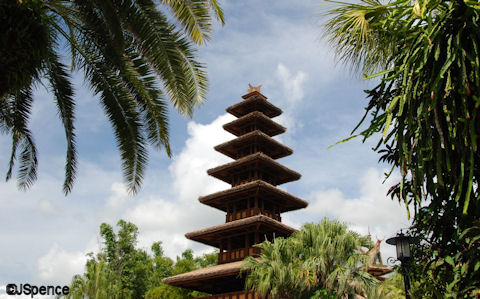 In 1970, WED Enterprises created the Orange Bird character to serve as the sponsor's (Florida Citrus Growers) mascot at the park and in other promotional advertisements. The Orange Bird could often be seen at the Sunshine Tree Terrace in Adventureland greeting guests and posing for pictures. The Sherman Brothers wrote a song about our feathered friend and Anita Bryant recorded it.
Florida Citrus Growers ended their sponsorship in 1986 and the Orange Bird slipped into Disney history. However, this character had a resurgence at Tokyo Disneyland in 2004 to coincide with Japan's annual Orange Day celebration held on April 14th. Back in the States, new Orange Bird merchandise can be found today in Magic Kingdom shops in honor of Walt Disney World's upcoming 40th anniversary.
As the years marched on, guests became bored with the slow-moving "Tropical Serenade." Having become accustomed to more thrilling fare like Splash and Space Mountains, it was a common occurrence to see guests walk out in the middle of the show. Something needed to be done.
"Tropical Serenade" closed on September 1, 1997 for an extensive rehab. When it reopened in April 1998, a new show awaited guests, "The Enchanted Tiki Room: Under New Management." The show still starred Jose, Michael, Pierre, and Fritz, but two new additions were added to the festivities, Iago from "Aladdin" and Zazu from "The Lion King." In this version of the show, Iago and Zazu are the new owners of the Tiki Room and want to make some changes to the act. They even poked fun at the previous, slow moving show. A new preshow also featured moving AA figures, William and Morris, who set up the storyline before guests ventured inside.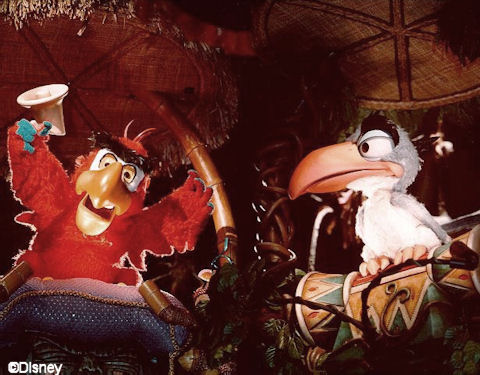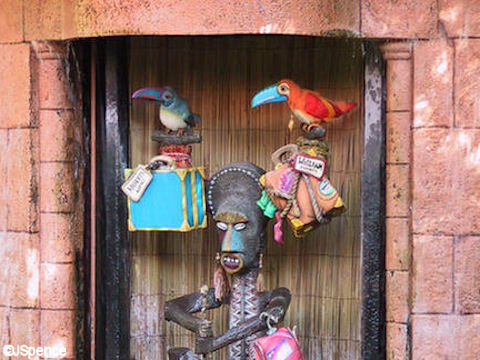 Unfortunately, "Under New Management" never lived up to Disney's expectations. Iago may have worked well as a villain in "Aladdin," but as the host of a fun-loving show, he was obnoxious. After the initial surge of first time visitors saw the new show, crowds quickly dissipated.
In 2011, "Under New Management" was 13 years old. It was time for a change. Then in January of this year, a small fire broke out in the attic of the attraction. The sprinkler system was activated and guests were evacuated. No one was hurt and the blaze was quickly brought under control by the Reedy Creek Fire Department. However, the Iago AudioAnimatronics figure was badly damaged by the fire and other portions of the attraction sustained water damage. This fire and ensuing damage gave Disney the impetus it needed to retire this unpopular show. But what to replace it with?
The Imagineers didn't have to look too far for a new idea – or should I say, an old idea. At Disneyland, the "Enchanted Tiki Room" had experienced increased attendance after it was upgraded for the park's 50th anniversary. Why not do the same thing for the Magic Kingdom's upcoming 40th anniversary and bring back the original. The Magic Kingdom's new show is called "Walt Disney's Enchanted Tiki Room" (the original name at Disneyland). Due to the ever shrinking attention span of the public, the new show is 11 minutes in length rather than the original 17. In this revised production, the slow moving Offenbach musical number was cut. This alone removed two and a half minutes from the show. In addition, the column of water rising up to meet the Bird-Mobile was eliminated and superfluous dialogue was removed.
The Enchanted Tiki Room is also a staple at Tokyo Disneyland. The original show (presented mostly in Japanese) ran from opening day (April 15, 1983) to 1999 when it became "The Enchanted Tiki Room: "Get the Fever!" This second version of the show featured a zany Las Vegas-style nightclub review as it might be staged in the middle of the jungle. Jose, Michael, Pierre, and Fritz were replace by lounge hosts, Danno, Scats, Buddy, and Lava (the first female host bird). The show was presented in a combination of English and Japanese. I saw "Get the Fever!" in 2000 and thoroughly enjoyed it. I remember thinking to myself, "Why did the Imagineers choose to put "Under New Management" into the Magic Kingdom when they already had such a good show they could have used."
"Get the Fever!" closed in January 2008 and was replaced by "The Enchanted Tiki Room: Stitch Presents Aloha e Komo Mai!" which opened on July 25th, 2008. To see my review of this show, click here.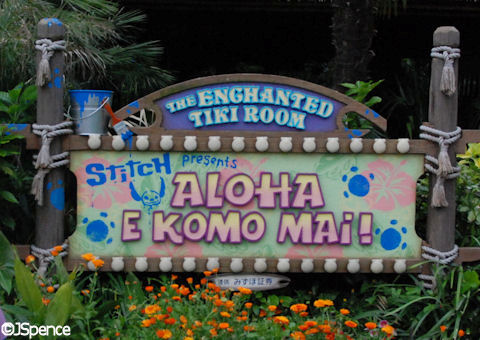 The "Enchanted Tiki Room" is not nearly as exciting as many other Disney attractions, but it is a classic and it's historic. Its AA figures were the beginning of so many other wonderful attractions to follow. It's a charming show that Walt personally supervised its creation. Only the most jaded guest would not be captivated by its simple humor, wonderful melodies, and fantastic characters.