By Guest Blogger Sandi Lamborne!
On Saturday September 18th my husband and I attended the Duffy the Bear passholder special event held at the Odyssey in EPCOT.
We were greeted outside by cast members who checked our names off their reservation list and handed us an admission ticket which once inside could be traded in for a very cool Duffy the Bear Rice Krispie treat. It was a nice surprise. There were also cups and several water coolers so guests could cool off with a cold drink before the presentation.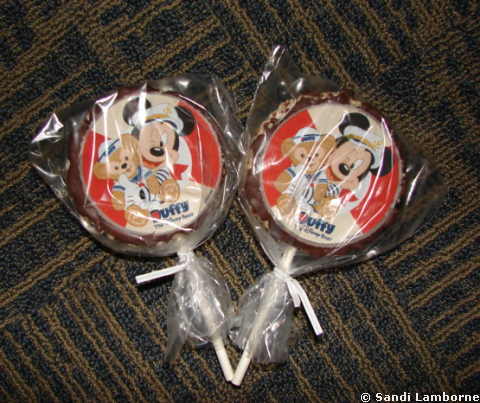 Inside the seating area was a stage set up with Duffy the Bear banners and projection screens on either side showing slides of Duffy the Bear.
When the event started Vanessa Rosas – WDW Ambassador came out to welcome the passholders and soon introduced Dara Trujillo- Manager Synergy and Special Events. She told us not to take pictures (That is why I stopped taking shots and don't have a picture of the Duffy Character) She talked about the character and shared his story: One day, Mickey was getting ready to set sail on a long sea voyage. Minnie made Mickey a special teddy bear to take with him so he would never be lonely. Mickey loved the bear and named him Duffy. Mickey and Duffy sailed around the world. They visited all sorts of exciting places and made a lot of friends along the way.(They showed slides of Duffy meeting Disney characters) Mickey and Duffy took pictures with their new pals and made memories that would last a lifetime. At the end of their voyage, Mickey and Duffy sailed back home to share all their magical memories with Minnie. (This story is on the tag of Duffy's ear after you buy him)
She then introduced Forrest Bahruth-WDW Show director. Forrest worked in Tokyo Disney where Duffy, the six year old bear, is very popular at their US country that is themed after Cape Cod so he is there on a dock. He also has his own stage show there and photo spots where guests can take Duffy's pictures in the countries (Sort of like the photo spots in EPCOT but designed specifially for Duffy). EPCOT is going to use that same approach and set up photo spots for Duffy too.
Dara came back on stage and told us that there would be Duffy stuffed bears of several sizes available and outfits that go with each country in EPCOT. They were very cute. And there are also going to be outfits for holiday seasons like Valentine's day, Fourth of July, Christmas, and a very cute Easter Bunny too. The merchandise coming out first will include a covered coffee mug and popcorn bowl. Yes, there will be pins and vinylmation coming out later.
Duffy will have his own meet-and-greet. It is being built now not far from the Odyssey. Right in front of I believe it is called Gateway Gifts. The gift shop will be remodeled to sell Duffy items, and I think it will be called Duffy Central. It is well positioned to be at the entrance of World Showcase.
Duffy will make his first appearance in EPCOT on October 14th. They will be giving out "I hugged Duffy" stickers after you meet Duffy.
Also the KidCot mask that the kids color and carry around to each country is going to be replaced with a Duffy the bear and the paddle will be stamped in each country with Duffy stamps. Very cool and it makes sense since Duffy is a world traveler.
At the end of the event Duffy came out to greet the crowd and answer a few questions (via Dara of course) He walked around the room and one lucky guest won a free Duffy stuffed Bear. It was hard not to take a picture.
There is going to be a Disney cartoon of Duffy that will be available on the TVs of Disney Resorts. (Which will be a way to introduce Duffy before the kids hit the park)
This is going to be a huge money-maker for Disney as the kids will want a Duffy bear to take pictures in each country and outfits from the countries and grown-up will want the pins etc..(They didn't say this at the event. It is just my thinking)
There is also going to be some type of Duffy food and kids placemats at the restaurants in EPCOT. I think this a great idea too to continue to make EPCOT more kid friendly.
We were allowed to buy a Duffy 18 inch bear and a sailor outfit. The bear was $25.00 and the outfit was $15.00. We were allowed to use our passholder discount and they went like hotcakes. The funny part is that we were led to believe that this was a secret passholder meeting and we weren't supposed to tell anyone but then they let us buy the Bear and walk around the park with it. I think they just wanted us to be the first to know and that is really neat.
Duffy is VERY popular at Tokyo Disneyland! Read Jack Spence's Report.