"Good morning. Good morning. It's great to stay up late. Good morning. Good morning to you, and you and you and you."
Anyone who has made the effort to be at the Magic Kingdom before opening will have this song stuck in their head all day long – or at least until they ride "it's a small world."
I've always advocated being at the parks as early as possible if it's your desire to experience the rides with as little wait as possible. But there is an extra added bonus for you early birds – a show. All four theme parks present a short opening performance before rope drop. All are entertaining, but I think the Magic Kingdom's is the best.
If you want to see this show, I suggest you arrive at the Magic Kingdom (not the TTC) at 8:30. On slow days this might be a little early, but on busier days, you'll be glad you arrived at this time. Once there, proceed through the turnstiles. The show takes place up in front of the train station so anywhere in the courtyard offers good viewing. However, if you plan to take pictures, you might want to move to the right side of this area so the sun is at your back.
To keep the little ones entertained before the show, Disney provides a number of hula-hoops for their enjoyment.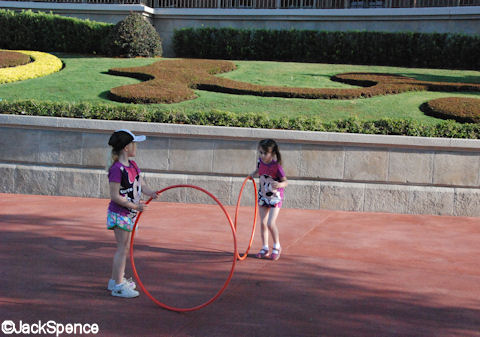 At about 8:50, a citizen of Main Street appears and welcomes everyone to the Most Magical Place on Earth. By the way, Disneyland in California is the "Happiest Place on Earth." The Magic Kingdom is the "Most Magical Place on Earth."
After a short introduction, the Main Street Singers appear and present a lively rendition of "Good Morning." Written by Arthur Freed and Nacio Herb Brown, most of us are familiar with this song from the 1952 movie "Singin' in the Rain," but in reality, it first appeared in the 1939 movie "Babes in Arms."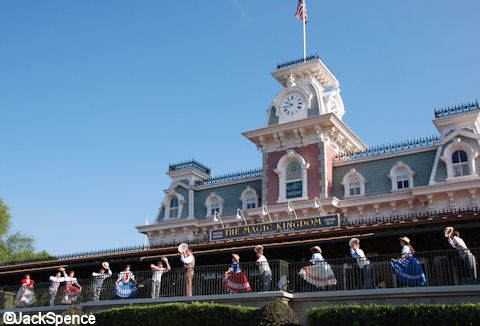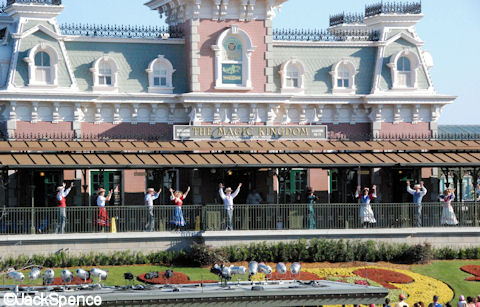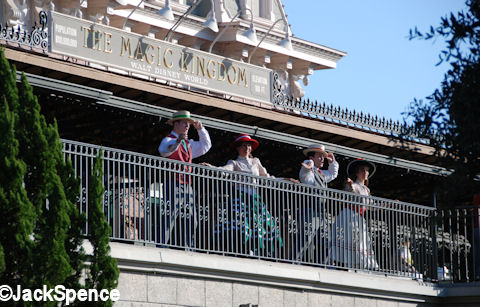 When their number completes, we hear a whistle in the distance. A few moments later a steam train chugs into view to the tune of "Casey Jr." and "Zip-a-Dee-Doo-Dah." Onboard we see Mickey Mouse and a number of his friends waving to the crowd below. Also onboard is the "family of the day."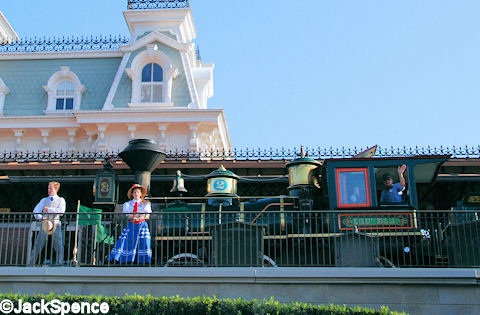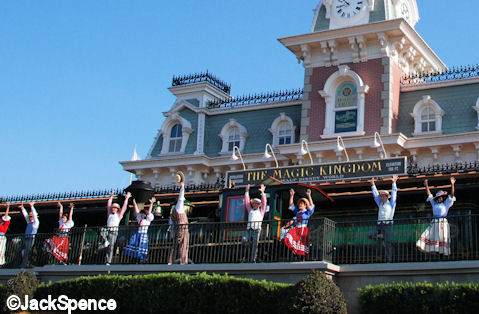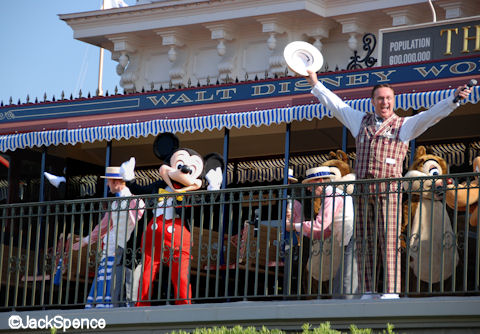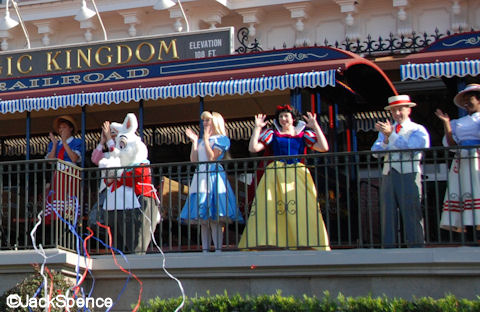 After the guest family is introduced, a backwards countdown from ten proceeds to officially open the park. At zero, the guest family throws pixie dust onto the crowd and canons erupt, sending streamers flying.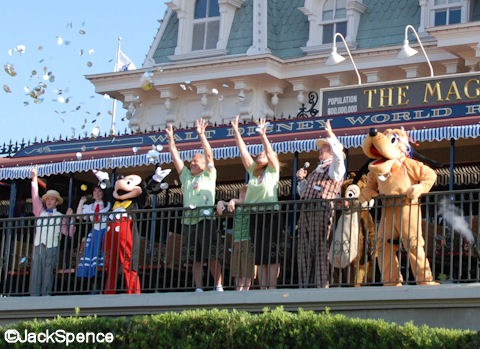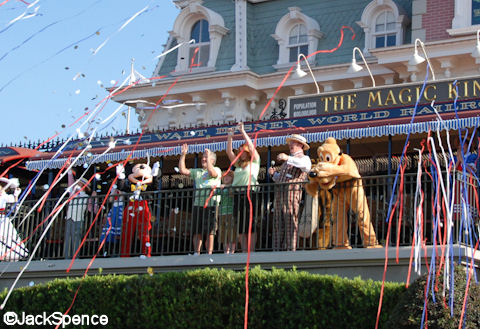 The entire show lasts less than ten minutes, but it's a lot of fun. It also allows your children the opportunity to see some Disney characters first thing which might pacify their urgent need for a few moments.
This show sets the mood for your day to come. If you haven't already seen it, I strongly suggest dragging yourself out of bed a little early one morning and make the effort. You'll be glad you did.