The Orange Bird Magic Kingdom Archives
Lou Mongello's Walt Disney World Wayback Machine –
written for AllEars® Newsletter
November 2007
You know, through the years (and on trips aboard my Walt Disney World Wayback Machine), I've seen some pretty interesting things: A waterskiing Goofy, gunfighters shooting it out in Frontierland, singing fruit, a rapping Mickey, and so much more.
But when I think about some of those things, and some which may seem a bit odd or unbelievable, it's when I ask people of they remember the big orange character with the giant orange head, leaves for arms and a green stem sticking out of his head, most people usually turn and run. Fast.
But seriously, do YOU remember this character? Know whom I'm talking about? If not (or even if you do), climb into my Wayback Machine (I just had it detailed) and let's go back… way back to the very early 1970's in Walt Disney World. Since the Magic Kingdom is still the only park that's there. This is a great place to start…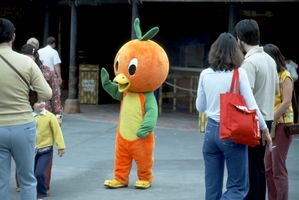 In the past, we've looked at two of Walt Disney World's most beloved characters, the Dreamfinder and his little friend Figment, and on this trip, we're going to look at a somewhat similar character/sidekick connection. Like the Dreamfinder and Figment (for the most part), they can no longer be found in the parks, yet they have a similar sense of nostalgic relevance to many of us with childhood memories of them.
In case you don't know who I'm referring to, I am talking about the little Orange Bird, who was the Figment to Anita Bryant's Dreamfinder.
Now in that one sentence, I mentioned names that maybe some of you youngsters may not recognize at all, especially Anita Bryant, but for some of us old timers, we remember her and the Orange Bird very well.
The Sunshine Pavilion in Adventureland, located between the Enchanted Tiki Room and the walkway to Frontierland, was at one time sponsored by the Florida Citrus Growers. It served, of course, citrus drinks, including the legendary Citrus Swirl, predecessor to the modern Dole Whip.
(Lou takes a break, runs to Aloha Isle, pushes Mike Scopa out of the way, grabs a Dole Whip, and returns to the Sunshine Pavilion)
The Orange Bird was present from the park's opening day for about 20 years or so, but for a variety of reasons, both Anita and the Orange Bird "flew the coop," and the Sunshine Tree Terrace went through a number of changes as well.
But let's first talk about how it all got started ….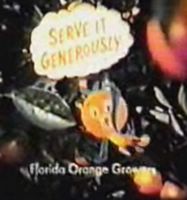 The "Florida Citrus Growers" was the name of the Florida Citrus Commission group that joined with Disney to create a $3M tropical bird attraction in Walt Disney World. In October of 1969, a deal was signed, and a year later, Disney created what would become the official mascot for the Florida Citrus Growers in the park, the Orange Bird. So as you can see, the Florida Citrus Growers had a huge presence in WDW, as they sponsored The Tropical Serenade show (which was inside the Enchanted Tiki Room), the Sunshine Tree Terrace snack stand next door, and basically the entire building, which was known as The Sunshine Pavilion.
The Orange Bird would also be featured outside the park in print and TV ads as well. More importantly, they created him as a walk around character for Disney's new multi-million dollar theme park.
Now, as far as I can remember, this was the first non-animated film character that was ever created for a WDW theme park (although some may have appeared in Disneyland.. remember that our good friend Figment was a later, yet similar development). This was quite a move, considering people were coming there to see Mickey and Minnie… and that Guests were being greeted by a character that they not only were unfamiliar with, but had this freakishly large orange head with a couple of green leaves sticking out of the top and two green leaves for arms.
But in traditional Disney style, they actually created a back-story for him, as was told in the oh-so-memorable song by Anita Bryant.
OK, so many people are saying, who is Anita Bryant? Let's talk about her for a minute: She was a former Miss America contestant who was also the model All-American housewife and official spokeswoman for the Florida Citrus Growers. She was also teamed with the Orange Bird in photos and TV commercials, most of which ended with the line, "…from the Sunshine Tree."
The SONG was quite memorable to those of us that heard it, which means it could only have been written by the masters of theme park music that is so infectious that you can't get it out of your head – that's right – The Sherman Brothers.
Anita sang about how the Orange Bird lived in the Sunshine Tree and had all kinds of sunny thoughts that appeared above him in an orange cloud…. No, really… sing along if you like:
"Orange Thoughts of an Orange Bird" by Richard and Robert Sherman
"Little Orange Bird in the Sunshine Tree,
Won't you think of something sunny just for me?
Think funny thoughts or sunny words,
That will make me happy, little Orange Bird
He thinks beautiful orange pictures and beautiful orange words,
Though his little feet can't even make a squeak
All the thoughts he ever spoke appear in orange smoke,
That's what makes Orange Bird unique
When you're just about green with envy
Or gonna be feeling blue, And you could use
An orange thought or two, When you start in blushing pink
Or your temper turns you red, That is when the Orange Bird, Can see you through
With his beautiful orange feathers, And beautiful leafy wings
He's a fluffy little puffy sight to see, He can turn your frown around
When you see him looking down, The little Orange Bird up in the Sunshine Tree"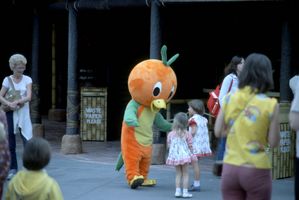 What? You don't remember this little ditty? Didn't you pick up your Orange Bird album (that's like a big black CD, kids – ask your parents) and storybook? No matter… let's move on.
If you DID visit the Terrace back then, you likely remember the fake orange tree behind the counter, complete with hanging fake oranges, and our little buddy the Orange Bird sitting on a perch. And since he couldn't talk, he had a monitor over his head that conveyed his thoughts. Seriously. And no… my citrus drink wasn't spiked… I'm not making this up. Any of it!
So what happened to Anita and the Orange Bird?
In the late 70's, Anita Bryant become a very outspoken about her views towards same-sex relationships, which led to a prominent boycott of orange juice by activists, and was supported by a number of "A-List" celebrities at the time, including Barbra Streisand, Bette Midler, Paul Williams, and Jane Fonda. Bryant's position and public campaigns led to the Citrus Commission quickly ending its relationship with her.
But the Orange Bird survived relatively unscathed, and the Florida Citrus Growers and Disney continued on in their relationship. In fact, they opened another citrus drink location, Fantasyland's Enchanted Grove, in 1983, replacing the Fantasyland Art Festival at the same spot.
The bird was still seen (alone) on merchandise and commercials, but just 3 years later in 1986, the Florida Citrus Commission and Disney ended their relationship, and the bird flew the coop (literally).
But wait! There's more! Let's head back to the present…
The Orange Bird made a mysterious comeback in 2004 – but not in the United States. Tokyo Disneyland began to produce its own, unique Orange Bird merchandise line around that time. Today's Orange Bird looks somewhat similar in proportion to the popular Japanese animated characters with heads disproportionately larger than their bodies. Recently, April 14 has been designated as "Orange Day," in Japan, a new holiday (promoted by Japanese and U.S. citrus growers like Sunkist). The concept is that on "Orange Day" people confirm their love with the objects of their affection by exchanging oranges or orange-colored gifts.
So there you have It – the story of the Orange Bird. Want to hear more (and a clip from the song?). Listen to my WDW Radio Show #30 from September 2, 2007. There, I do a detailed discussion, as well as play a number of wonderful audio clips from Anita and the Orange Bird (not that he talks, of course) and Walt Disney World's past.
See you next time on the Wayback Machine! Who knows where (or when) we'll end up next!
To learn more about the Orange Bird, listen to Show #30 of the WDW Radio Show http://www.wdwradio.com/shownotes/wdwradio030-09-02-07.php
By Lou Mongello
Author of the "Walt Disney World Trivia Book: Secrets, History & Fun Facts Behind the Magic"
www.DisneyWorldTrivia.com
Purchase Lou's Trivia Book here from Amazon.com!