The Guardians of the Galaxy – Awesome Mix Live! – Live Entertainment – Epcot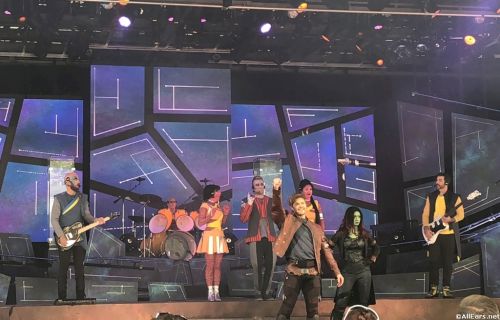 The premise of the new Guardians of the Galaxy show is that representatives of Xandar have come to share their extraterrestrial culture with the people of Epcot, which is known to be a cultural epicenter on Earth. The Xandarian Chamber Orchestra has come to play music with Peter Quill (Star-Lord) as its ambassador. Gamora, the feisty elite fighter of Infinity Watch, makes her first appearance at Walt Disney World in the show. She thinks she is with Quill to save the galaxy and he quips, "You are here to save the galaxy — from bad music!" Baby Groot makes several on-screen appearances and serves as a DJ.
The 20-minute show gives older guests a trip down musical Memory Lane with five songs from the '70s and '80s.
Star-Lord and Gamora will take guests on a musical journey through the cosmos. Shows will feature tunes from Star-Lord's Awesome Mixtapes, the two movie soundtracks. The group will take the stage five times daily (1:30, 2:30, 5:30, 6:45 and 8 p.m., but check the Times Guide to be sure) and the concerts are included in theme park admission.
Here's a video of the full show, taken on its opening day, June 9.
The Guardians of the Galaxy – Awesome Mix Live! debuted on June 9 and runs until August 19, 2018, at the American Gardens Theatre in World Showcase as part of the Incredible Summer at Walt Disney World.