Kim Possible Interactive Game 2006 Guest Beta Testing Epcot
Kim Possible is a new interactive game currently being tested in Epcot.
**********
Sonya – August 18, 2006
My daughter was lucky enough to participate in the Kim Possible interactive game at Epcot on Friday Aug 18. We were told that only 60 families per day are selected. I think the cast member meant to say 60 park guests because we saw quite a range of participants, not all 'families'. When you are first approached by a cast member you are given a time to report to Team Possible Headquarters in Canada to pick up your Kimmunicator.
The Kimmunicator is actually a Motorolla i870 phone programmed for the game, and comes complete with a wrist band and a hefty GPS locator. Each participant chooses a secret agent name when they sign up and must give their agent name upon arrive at HQ. Credit card information (or room key with charging privileges info) is taken from the responsible party, your Kimmunicator is programmed and the functions explained to you and you are sent off to help save the world. In HQ there is a location to have photos taken.
Your first mission begins in the UK with a totally interactive undercover agent in the form of a toy soldier. This experience is great! The technology is very similar if not the same as what is used in Turtle Talk with Crush. The toy soldier is quite witty also.
Mission 1 takes you in and around the UK looking for clues to foil Duff Killigan. Mission 2 takes place in France trying to stop Senor Signor Senor and Senor Signor Junior. My daughter loved this game totally from the word go, but really got into it with the second mission once she had figured out how things worked, and was greatly upset at 'Junior' when it appeared all was lost and Kim & Ron were in trouble. Thanks to quick thinking and Wade's help, the world was saved again.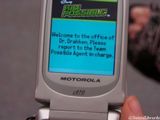 We had two glitches with our programming in France, once the game froze, but was able to reset easily and the second when Mission 3 the final mission was being loaded it totally shut down and had to be restarted. Thankfully it picks up where you left off and we were off to the Imagination Pavillion to infiltrate Dr. Drakken's lair and foil his latest plan. Here you are ushered upstairs and are briefed by Wade-bot before completing your final mission which is total fun. When the mission is complete you are asked to complete a 2 part survey, the first part for the participant, the second for the responsible party. The participant receives a limited edition Kim Possible lanyard pin. For this trip it was my 8 yo Kim Possible Fan, myself and my mom.
We all enjoyed the game and it was awesome for my daughter who has been lucky enough to visit Walt Disney World a few times and was ready for something new and beyond masks in Epcot. The interactive parts are extremely well done. We loved the interactive toy soldier and the cast members who were 'undercover' and in on the game.
The programming on the phone was phenomenal and it was such a good time. It took us a little over 4 hours because we took in lunch and did a little shopping and viewing of attractions. My daughters only complaint was Wade-bot. She said 'mom that was lame, Wade isn't a robot. He's a super busy computer genius so you can only talk to him on web cam or IM. I thought Disney knew that?' The only complaint from the responsible parties was that the France epic criss crosses the pavilion a little too much. A little back and forth is fine, but it seems we were constantly doing an about face and going back to where we just were.
**********
Liz – August 24, 2006
We just got back and we were chosen to play. The kids loved it. A great deal of set up went into this on Disney's end. The toy soldier in the UK actually call each agent by the name they chose. At the end all the agents were given an exclusive Team Possible pin.
This is not for anyone who just wants to do Epcot. It is time consuing and some backtracking. In the end I was hoping just to give the Kimmunicator back and be done instead of having to go back to imageworks.
There is alot of sitting around waiting for those in your party not participating.. We were lucky as Epcot wasn't that crowded that morning and didn't mind letting the kids run around each country by themselves. My dd wanted to do it again the next day. I am sure that with all that Disney put into it Team Possible will run longer than the trial.
**********
Laurie Seubert – August 16, 2006
Our family of three (myself, husband and 10-year-old son) was chosen to participate in the test of the new Kim Possible game on Wednesday, August 16 during our visit to Epcot. We were not required to physically supply a deposit to play the game, but the CM did take credit card information in the event that the "Kimmunicator" was not returned (we would have been charged $299). The suggested time of game play was listed at 45 minutes to 2 hours, and it took us just about 2 hours to complete the game.
The game was a lot of fun, even for us grown-ups! The game play focuses on foiling a master world-domination scheme by Dr. Drakken and his partners in crime (via a weather machine) and has three "chapters," each bringing your "Team Possible" to a different section of Epcot. Two adventures are in World Showcase (UK and France), and the final chapter takes place at the Imagination pavilion. My husband and I were very impressed with the way that the game play details were seamlessly worked into the existing environment — if you weren't playing the game, the interactive elements didn't call attention to themselves at all (unless you happened to be standing next to someone who was playing). The game was a great way for families to really explore France and the UK while keeping the younger set entertained.
At the conclusion of the game, we were asked to complete a survey evaluating the game — one part of the survey was geared toward the children participating, while the other was for the adult(s). The survey took about 10 minutes to complete. Our son received a limited-edition Kim Possible pin for participating in the game. The CM we spoke with at the conclusion of the game let us know that the game test had gone "live" the day before (8/15), and that it had been well-received so far. After the playtest ends, the game goes back to Imagineering for refinement based on guests' reactions and feedback — which means it won't be a permanent addition anytime soon, but could be brought back at a later date. If you're given the opportunity to participate in this, by all means do so! It was time well spent!
**********
Tom Benedict – August 1, 2006
who sheds a little light on last week's item about an upcoming "Kim Possible" interactive experience that's apparently in the works: We recently attended the Undiscovered Future World Tour. During the tour we were taken to the upper floor of Journey into Imagination where they had interactive games years ago. They are currently refurbishing the area and we were told that in a short time they will be opening a Kim Possible meet and greet area there.