Summer is here and that means so is the 2022 EPCOT Food & Wine Festival!
Of course, we were there on opening day trying out all the new foods and drinks, and we even checked out the exclusive merchandise you can expect from the fest this year.  And, even though we discovered some NEW favorites, there are some returning Food & Wine items that we have to talk about.
Here are the returning eats and drinks that still hold up!
These are the ones you don't want to skip, even though they're returning dishes and perhaps not as "flashy" as some of the newbies!
Braised Beef Poutine — Refreshment Port
Perfectly crispy fries, tender beef, and Boursin Garlic & Fine Herbs Cheese Sauce? Sign us up — not only that, but the Braised Beef Poutine also comes with cheese curds and relish all mixed together in one absolutely phenomenal combination. (We could have done without the relish this year, but it was still a tasty dish!)
This was one of our favorite new dishes from last year, and we were THRILLED to see it return to the festival. We seriously wish the Braised Beef Poutine would be added to the menu year-round!
Teriyaki Chicken Bun — Japan
Next up, we're heading to the Japan Booth to check out the Teriyaki Chicken Bun. Flavorful chicken, vegetables, and sweet teriyaki sauce are all wrapped up in a fluffy steamed bao bun.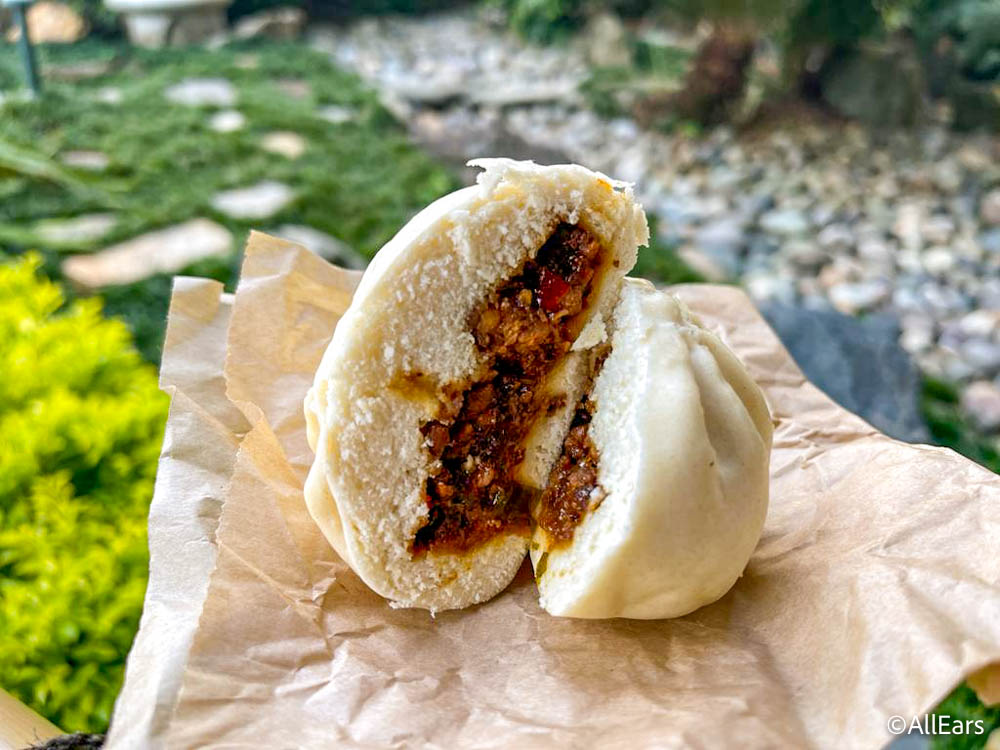 We keep coming back to this snack every year — it's a great little on-the-go treat while you're heading to the next festival booth. Our only complaint is that we wish it was just a little bigger or had more meat. Just prepared to enjoy this one more as a snack than a full meal.
Pão de Queijo — Brazil
Cheese and bread. What's not to love? Pão de Queijo is a traditional Brazilian Cheese Bread, and we think about it all the time. Oh, and did we mention it's gluten-free? Tapioca flour is used to give this bread that light and fluffy texture, and cheese is folded into the dough so it's baked right in (does anyone know how to fold in the cheese?)!
Plus, each serving comes with TWO rolls so it's like you're being rewarded for eating the first one. Or you could share, but you might not want to. 😉
Warm Raclette Swiss Cheese — The Alps
Say it with us:  MORE BREAD AND CHEESE! Are you sensing a pattern? The Warm Raclette Swiss Cheese comes in a few different versions, but one of our favorites has alpine ham, baby potatoes, cornichons, and a baguette.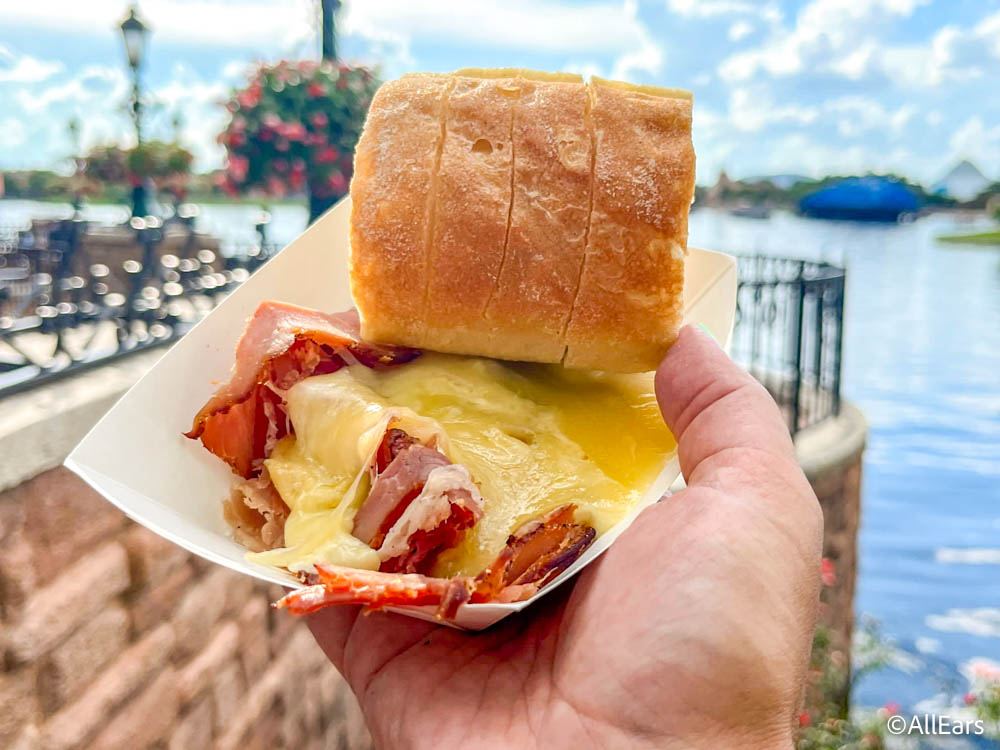 It's essentially just all of those items we mentioned above slathered in a blanket of warm raclette swiss cheese. Plus, there's also a baguette invited to this cheesy slumber party. Our bread was a little dry, but the cheese more than made up for it.
Filet Mignon — Canada
Over at Le Cellier, you'll find some of the finest theme park food around. This Canada Pavilion restaurant serves up steaks, poutine, and more. But, during the EPCOT Food & Wine Festival, you can get their signature Wild Mushroom Beef Filet Mignon at the Canada Booth instead.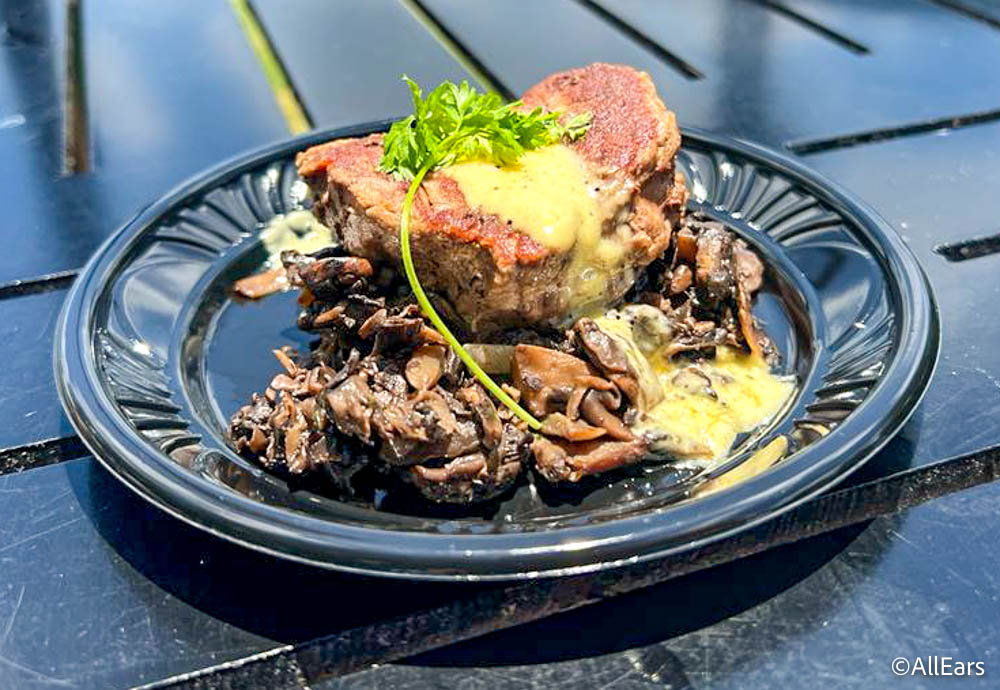 This dish is incredibly flavorful and the truffle-butter sauce on top is creamy and delicious. Fair warning, though — it is on the pricier side of things at $9.25, but it's still soooo good!
Beignet aux Trois Fromages — France
Okay, let us preface this by saying that this snack has our team DIVIDED. The Beignet aux Trois Fromages is a warm pastry filled with three kinds of cheese — what's not to love, right? It's complicated!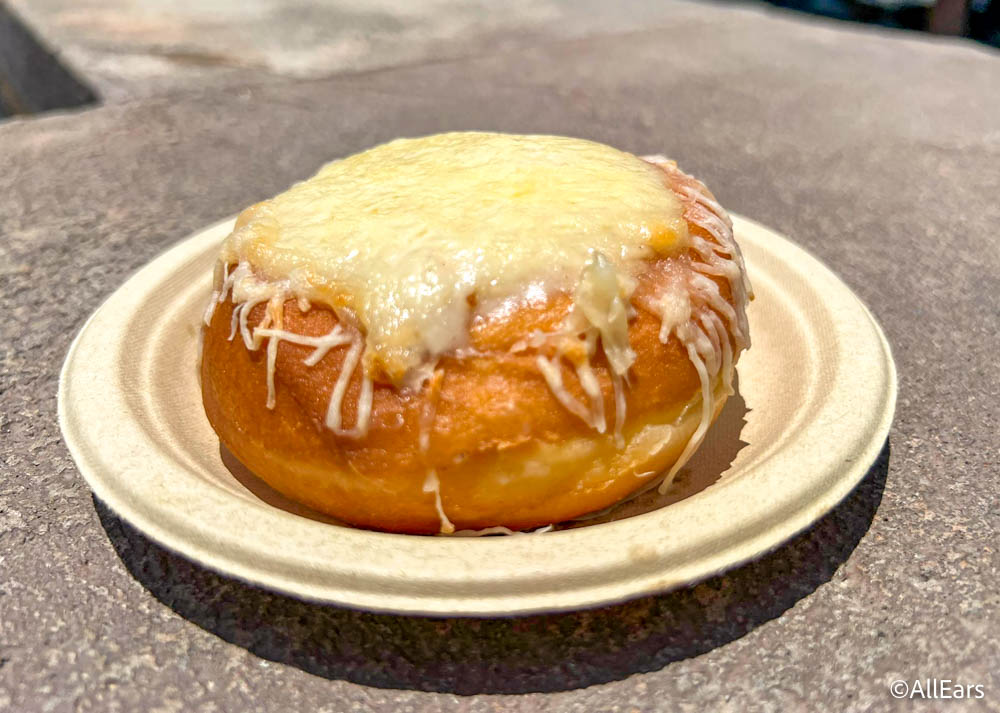 The beignet is a bit sweet, and that makes for an interesting combination with the savory richness of the cheeses. Some of our team love it, some HATE it. What side will you be on? You'll have to try it and tell us!
Freshly Baked Carrot Cake with Cream Cheese Icing — Hops & Barley
You didn't think we'd let this list go without adding a dessert to it, did you? Hops & Barley serves one of our favorite dishes of the entire Food & Wine Festival — the Freshly Baked Carrot Cake with Cream Cheese Icing.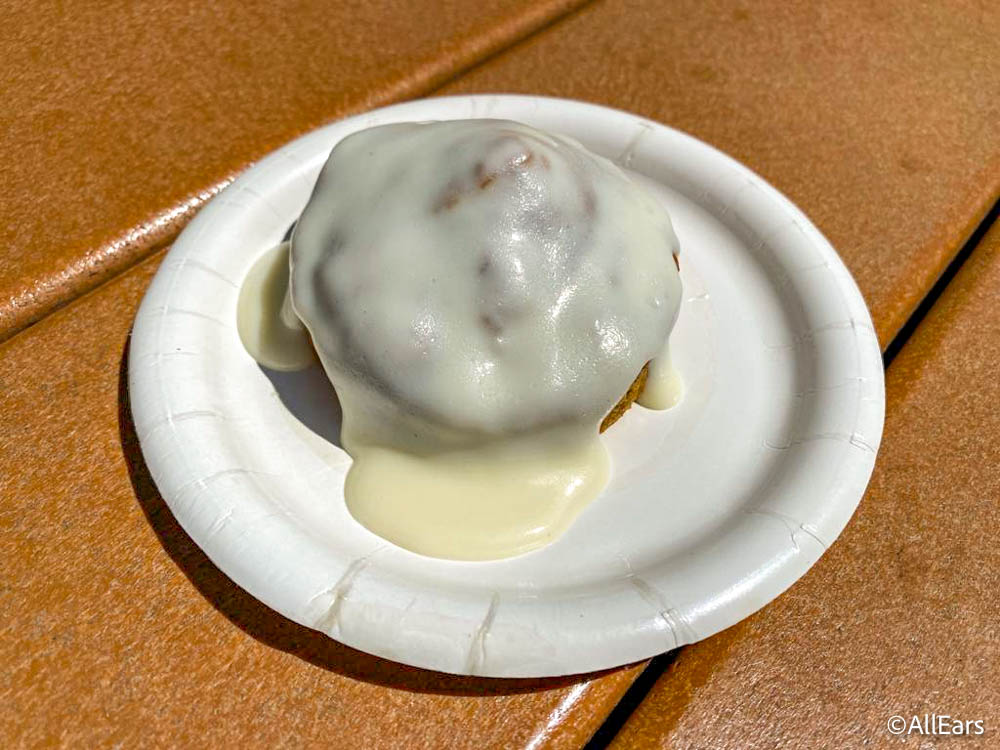 Freshly grated carrots and spices come together to create a bright flavor profile, and the cream cheese icing is the perfect topping — not too sweet and perfectly creamy.
Schinkennudeln — Germany
Noodles, ham, and cheese — what more could anyone possibly ask for? Think of Schinkennudeln as a German macaroni and cheese. Despite other perhaps more refreshing options, we can't help but order this savory, cheesy dish.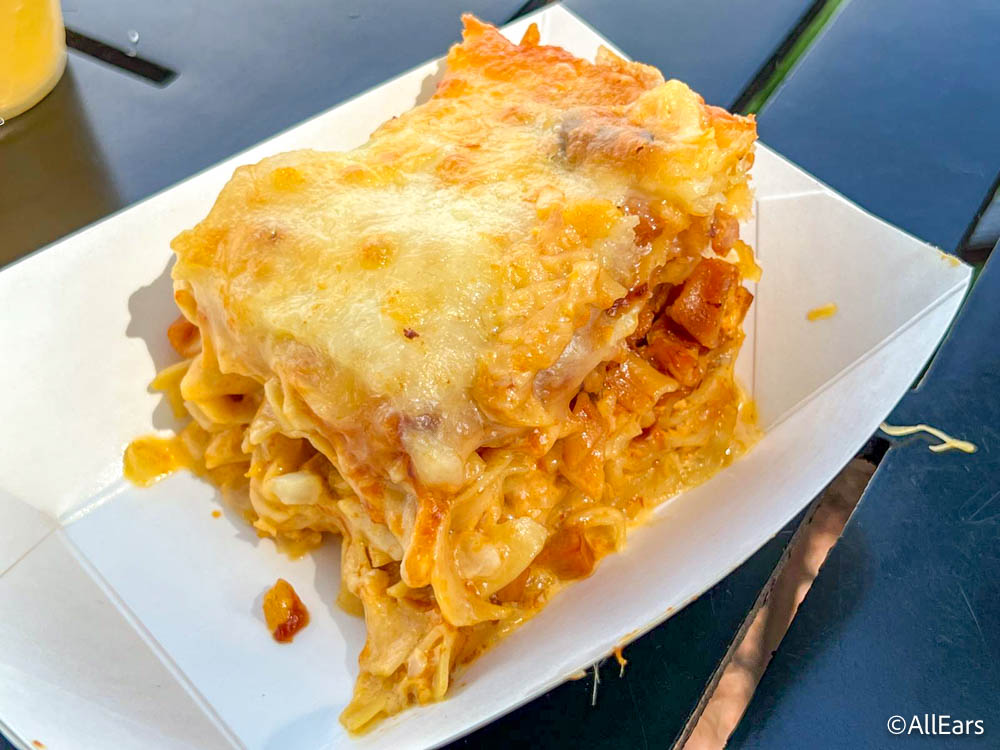 It's a great option for kids or those who are looking for slightly less adventurous eats while at the festival.
Spanakopita — Greece
A light and flaky pastry meets cheese and spinach filling — that's what Spanakopita is and this festival's version is tasty! While this snack might be a little messy and get some crumbs on ya, it's worth it.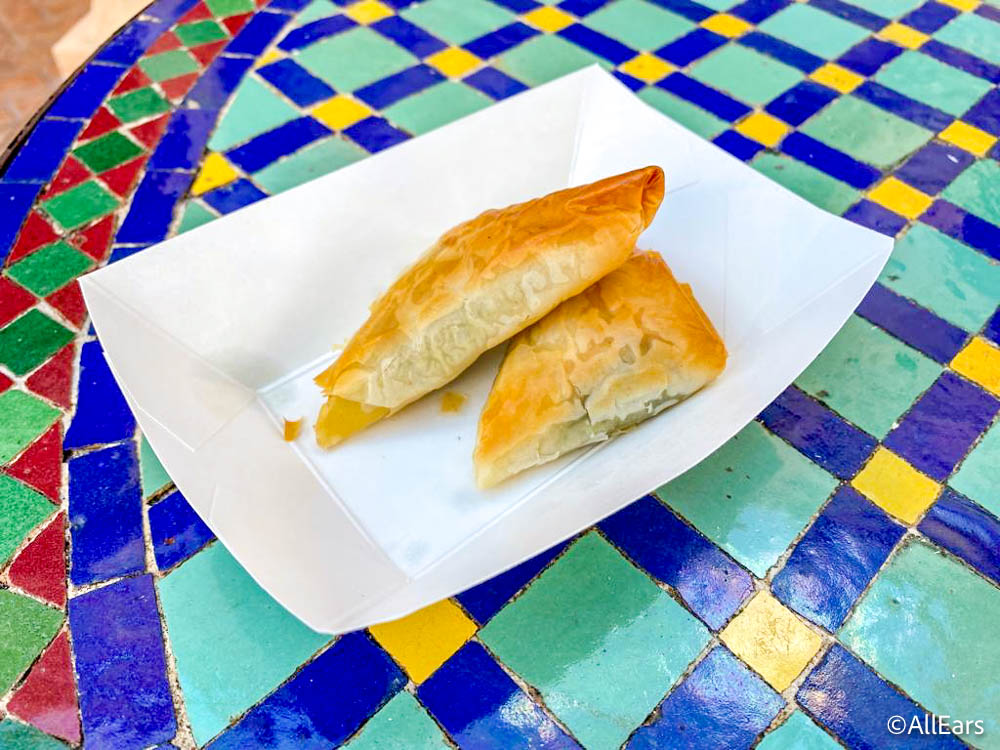 There's a good filling to pastry ratio, which can sometimes be hard to accomplish with filled snacks like spanakopita.
Italian Margarita — Italy
All those eats MUST be making you thirsty! Why not cool down with an ice-cold Italian Margarita from the Italy booth?! This is a frozen alcoholic drink made with tequila and limoncello, and it's been around the fest for a while. This year, it was just as refreshing as ever.
It's definitely on the tart side, though, so if you're looking for something super sweet — this drink might not be for you!
Mimosa Flight — Shimmering Sips
If you are after a sweeter beverage, consider checking out the Mimosa Flight over at Shimmering Sips! You get three different mimosas, and this year the three flavors we got were returning ones — key lime, blood orange, and the tropical mimosa made with POG juice! The tropical mimosa is usually our favorite, but they're all refreshing.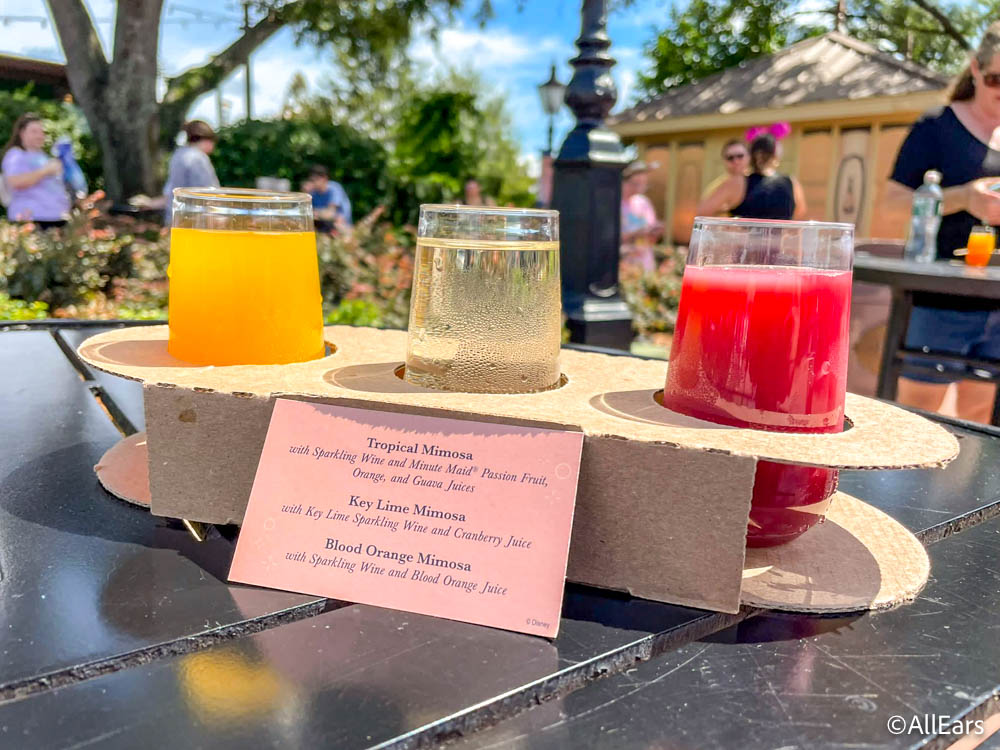 The good eats don't stop here, though — these are just our returning favorites from this year. To check out our BEST of the 2022 EPCOT Food & Wine Festival (including some NEW eats), click the link below and be sure to stay tuned to AllEars for the latest.
Looking for more Food & Wine Festival news? You can check out all the entertainment at the festival here, and if you've got a kiddo who can't wait to do the Remy scavenger hunt, click here for more information about it!
Don't forget that park pass reservations are still required, so keep that in mind before you head out on your Disney World trip!
What's your favorite treat from the EPCOT Food & Wine Festival? Let us know in the comments!