It's finally time for EPCOT's summer festival! We visited EPCOT's Food & Wine Festival on opening day so we could get you ALL the details about this year's eats and drinks.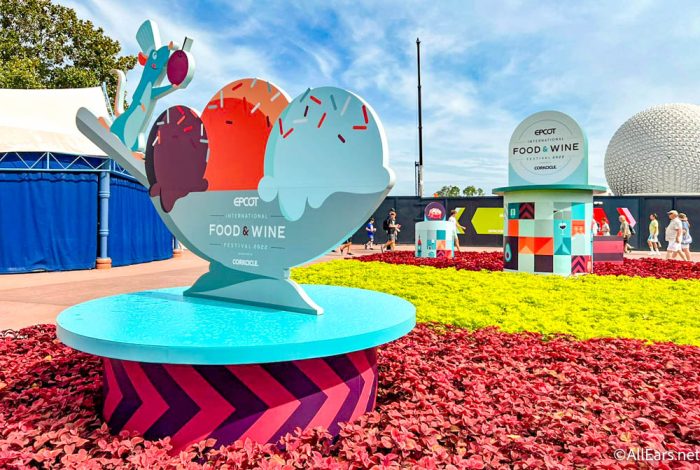 With 29 booths and several menu items at each one, you've got to narrow down your list of must-try items before you arrive so that you know how to prioritize your money and stomach space. Let us help you out with our BEST of the FEST list! These were our favorite eats and drinks at the festival, both old and new.
Best Food
New: SPAM Musubi Nigiri
The SPAM Musubi Nigiri is a new dish at the Hawai'i booth, and it's made with sushi rice, teriyaki-glazed SPAM, spicy mayonnaise, eel sauce, and nori. It costs $6.
We know what you're thinking — SPAM? Really? YES. This dish was SO delicious! The SPAM had a soft texture that almost tasted like raw fish (like in normal sushi), but it brought a meaty flavor as well. The sauces were delicious as well, and overall we thought it was a filling and tasty option that will please both picky eaters and more adventurous palates.
New: Impossible Meatballs
We were surprised by how much we loved the Impossible Meatballs at the Earth Eats booth! These are IMPOSSIBLE "meatballs" with herbed polenta, rustic puttanesca sauce, and basil pesto.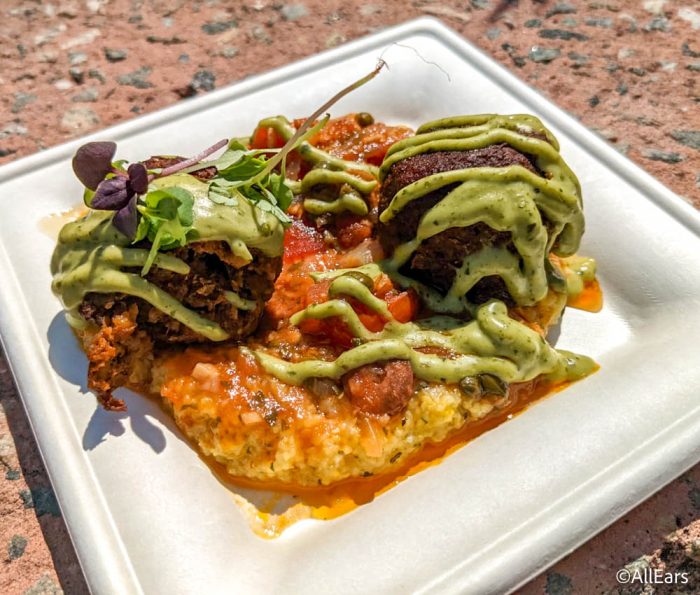 The flavors in the meatballs, sauce, and polenta were all punchy and delicious. We think that plant-based eaters and meat eaters alike will really enjoy this snack, which you can get for $5.75. But if you don't like spicy flavors, you might want to avoid this one!
New: Crispy Paneer
At the India booth, you'll spot Crispy Paneer with mango-curry ketchup. (Paneer is a kind of Indian cheese.) This dish is also part of the cheese crawl! You can get it for $5.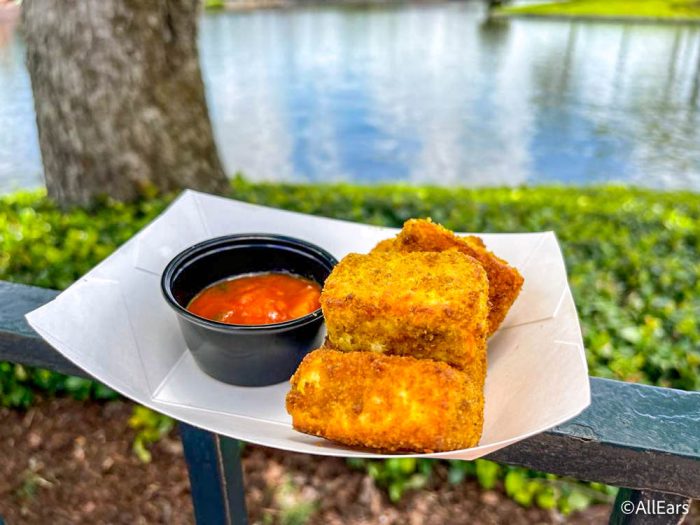 This snack is delicious! The breading was very tasty, and the cheese inside had an unexpected texture. It kind of reminded us of tofu, but with a cheesy flavor. It might sound odd, but we really enjoyed it. Just don't expect mozzarella sticks when you get this! The sauce was awesome, with whole chunks of mango in it and a well-balanced flavor.
New: Adobo Yuca Fries
Another plant-based snack that made our list this year is the Adobo Yuca Fries, served with a garlic-cilantro aïoli. These can be found at the new Fry Basket booth for $5.50.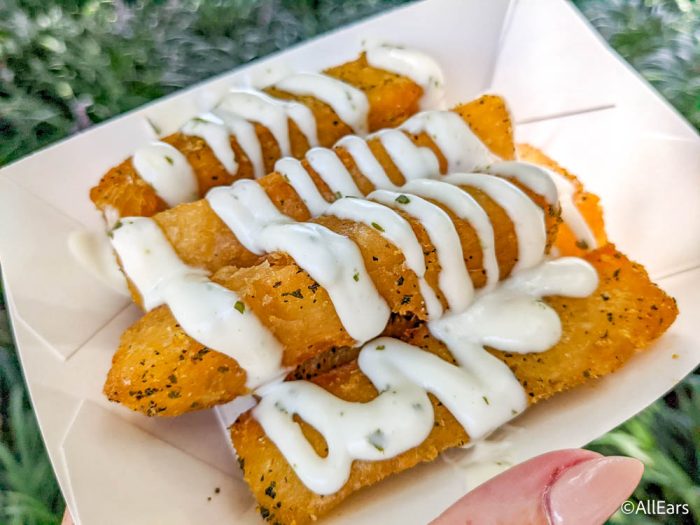 You know thick garlic Texas toast? Imagine that…but as a french fry. That's exactly what these tasted like! They were perfectly crispy on the outside with a lot of seasoning. Just don't expect them to taste like potatoes — the yuca flavor is a little bit different!
New: Gnocchi di Patate
At the Italy booth, you'll find a new dish: Gnocchi di Patate — Potato dumplings with four-cheese sauce and roasted cremini mushrooms for $9. Make sure you get the one with mushrooms — there's another gnocchi di patate dish that we didn't like quite as much as this one!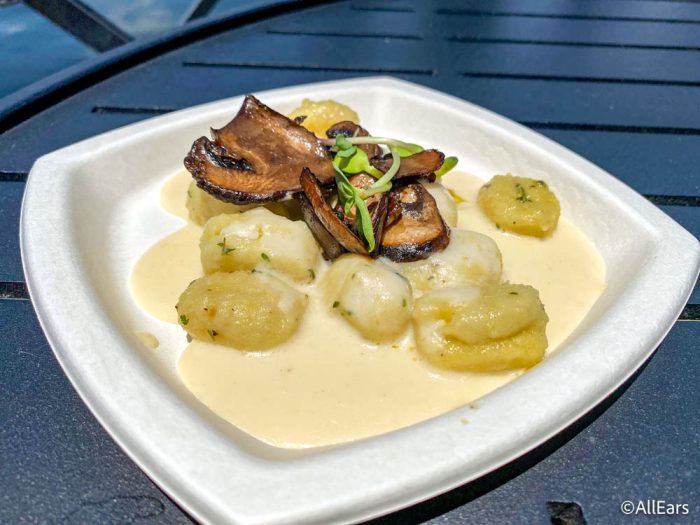 We thought the sauce in this dish was AMAZING. The mushrooms were tender and flavorful as well. The cheesy, garlicky flavor has us completely in love.
New: Feijoada
We're visiting the Brazil booth for the next TWO best dishes. The Feijoada is a new snack made with Black Beans and crispy pork belly, Brazil nut pesto, and Ben's Original Long Grain White Rice. It's available for $6.25.
We loved the combination of flavors in this dish, and we think it tastes super authentic! Overall it's very well-seasoned, tasty, and filling. It's definitely more for the adventurous eaters out there.
Returning: Pão de Queijo
Also at the Brazil Booth is the Pão de Queijo, which is Brazilian cheese bread. It's $4.75 and also part of Emile's Fromage Montage.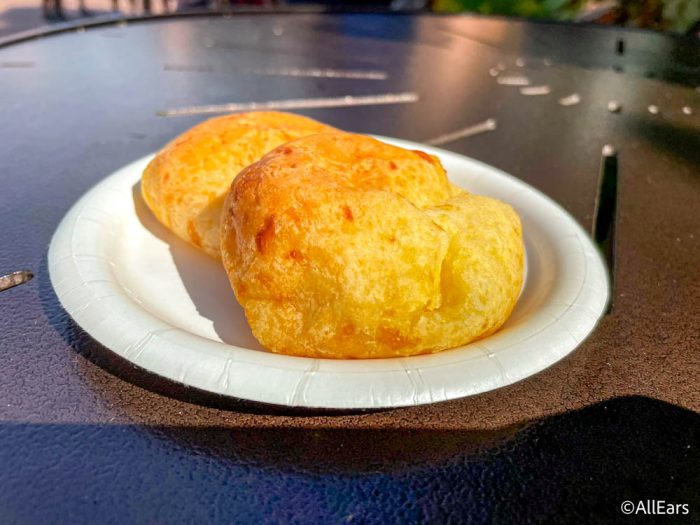 This cheesy bread is so tasty! The texture is gooey and soft, and we think that everyone can enjoy these little buns.
Returning: Cowboy Macaroni & Cheese
Head to the Mac & Eats Booth to find the Cowboy Macaroni & Cheese! This is mac & cheese with smoked pork belly, brisket burnt ends, pickled peppers, and onion straws. The portion size is very generous for its $5.50 price tag, and that pork belly absolutely melts in your mouth.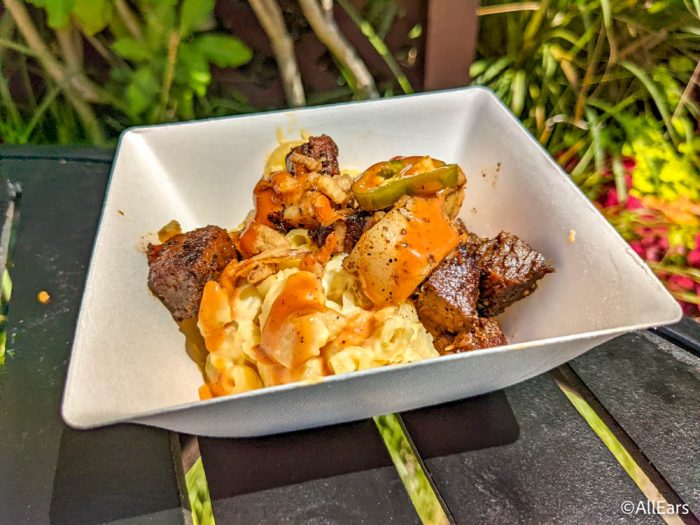 This is a very hearty snack or even a good option for lunch, or you can share with a couple of people to just have a taste!
Returning: Baked Scampi Dip
The Baked Scampi Dip at the Coastal Eats booth is the perfect marriage of cheese and seafood. It's made with shrimp and scallops, and it comes with a baguette for dipping. You can get it for $6.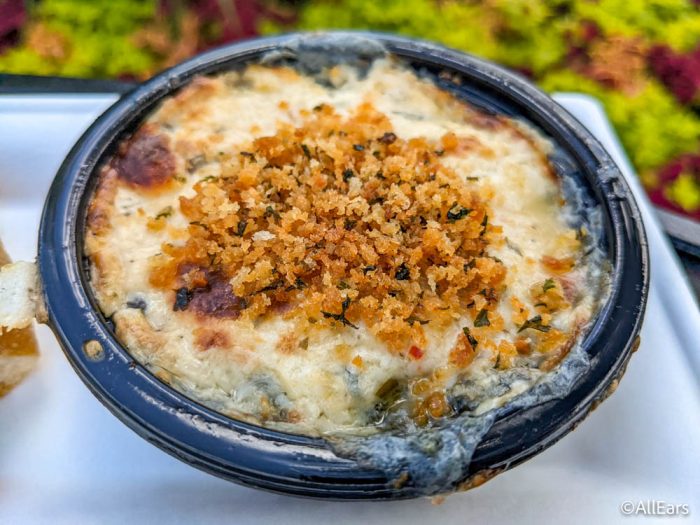 This dip is best for people who really like seafood (it's pretty fishy), but as long as you're not seafood-averse, we think you'll love it! There were plenty of shrimp and scallops in our portion, and it was SO cheesy. Some spinach and breadcrumbs brought more interesting textures and a lighter taste. Seriously, you can forget the baguette — we could eat this dip with a spoon.
Returning: Spanakopita
At the Greece booth, check out the Spanakopita for $4.75.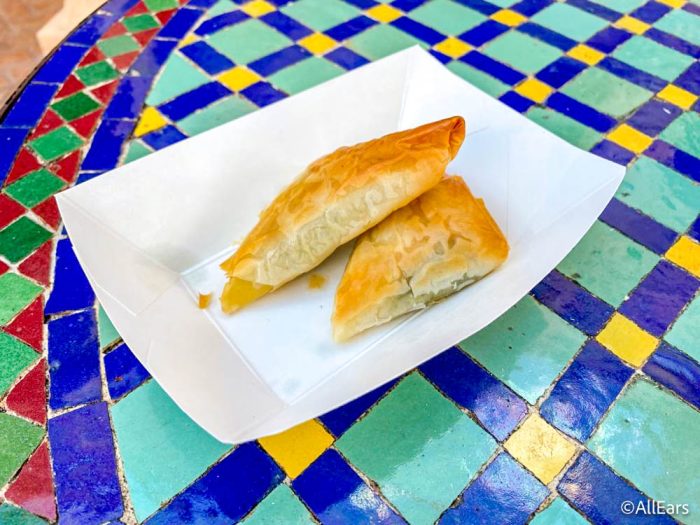 The pastry on this snack is light and flaky, and we loved the cheese and spinach filling as well!
Returning: Warm Raclette Swiss Cheese
Can you really go wrong with melty cheese, ham, potatoes, and bread? Apparently not! The Warm Raclette Swiss Cheese with alpine ham, baby potatoes, cornichons, and baguette is available at the Alps booth for $5.50, and it's not to be missed.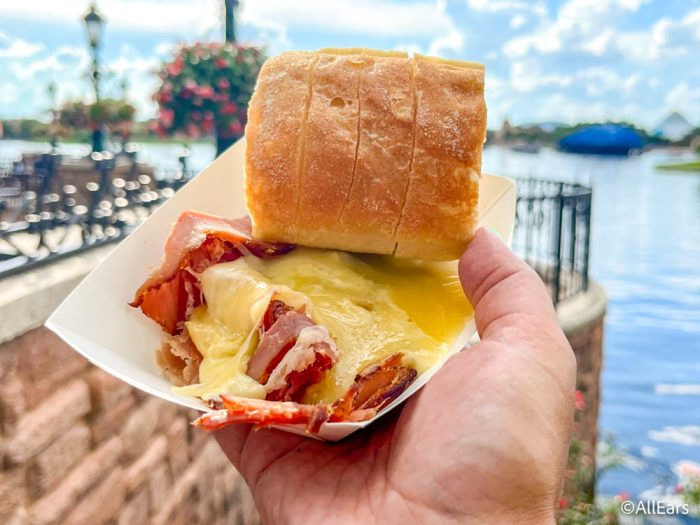 Warm Raclette Swiss Cheese is on the menu in a few other forms here (there are 3 snacks total), but our favorite was the one with ham. We thought the salty ham paired with the creamy cheese beautifully.
Returning: Teriyaki Chicken Bun
Let's head to the Japan booth for the next must-find snack! The Teriyaki Chicken Bun is a steamed bun filled with chicken, vegetables, and teriyaki sauce for $7.50.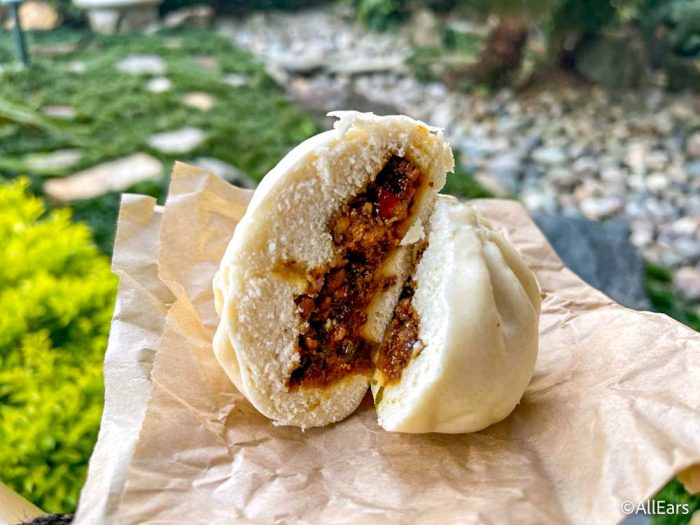 We enjoy this snack almost every year, and it was just as good this time. The sauce is sweet and complements the chicken perfectly. Although it's a little portion, it packs a punch with the flavors!
Returning: Filet Mignon
In the Canada pavilion, you'll find the signature table service restaurant Le Cellier. But if you'd rather not pay $50 for a steak, visit the Canada booth outside to find the "Le Cellier" Wild Mushroom Beef Filet Mignon with truffle-butter sauce for $9.25 instead.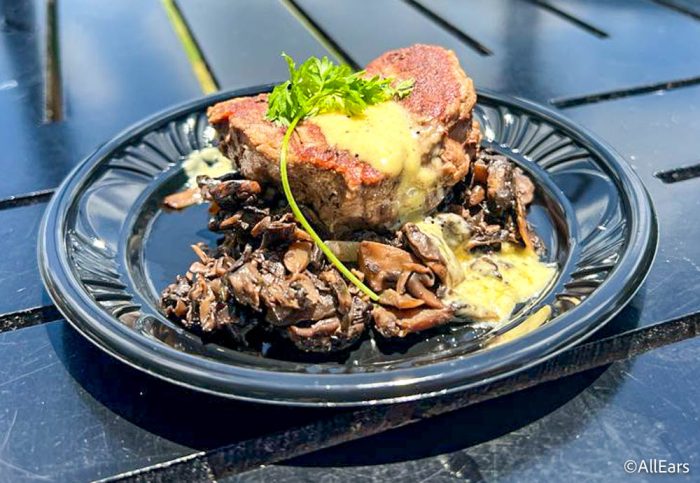 The steak is full of flavor, and the sauce on top adds a very rich creaminess. This is a very hearty dish, so you'd probably be able to share with a friend if you're hoping to sample more snacks around the festival!
Returning: Kalua Pork Slider
The Kalua Pork Slider from the Hawai'i booth has been a long-time festival favorite of ours and it's BACK on our top eats list once again this year! The slider is served with a sweet-and-sour DOLE pineapple chutney and spicy mayonnaise and it's the combination of the moist pork and sweet and spicy flavors that keeps us coming back for more.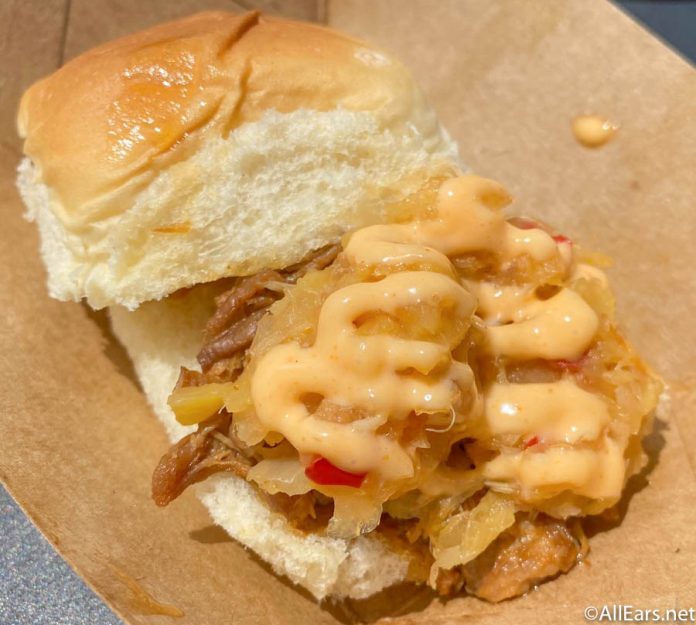 If you've never tried it before (or even if you have) it's worth stopping by and giving it a taste. You can grab one for $5.75.
Returning: Beignet aux Trois Fromages
The France booth is a staple at the Food & Wine Festival, and this is where cheese lovers can rejoice over the Beignet aux Trois Fromages!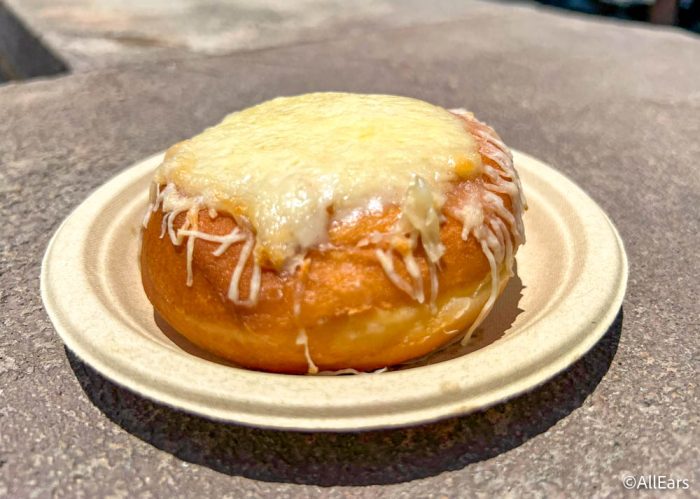 Available for $6, the cheesy dish comprises a warm beignet filled with three kinds of cheese.
Returning: Braised Beef Poutine
Speaking of cheese, there's also a whole lot of it on the Braised Beef Poutine found at Refreshment Port! This dish was new last year, and we're so excited to see it return in 2022.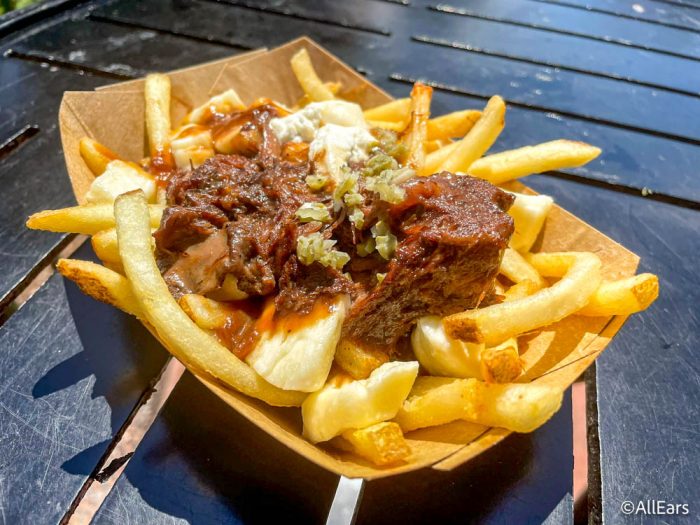 It features French Fries, Boursin Garlic & Fine Herbs Cheese Sauce, Cheese Curds, and Gherkin Relish, all for $9.50. It's that cheese sauce that kicks this dish up a notch. It gives it a more creamy taste, which you don't normally get from the cheese curds in poutine!
Returning: Griddled Cheese
One of our all-time favorite snacks is found at the Greece booth, which is home to the Griddled Cheese! This delight is also part of Emile's Fromage Montage (the cheese crawl). It is a basic slice of cheese topped with Pistachios and Honey for $4.75, but that certainly doesn't make its flavors basic.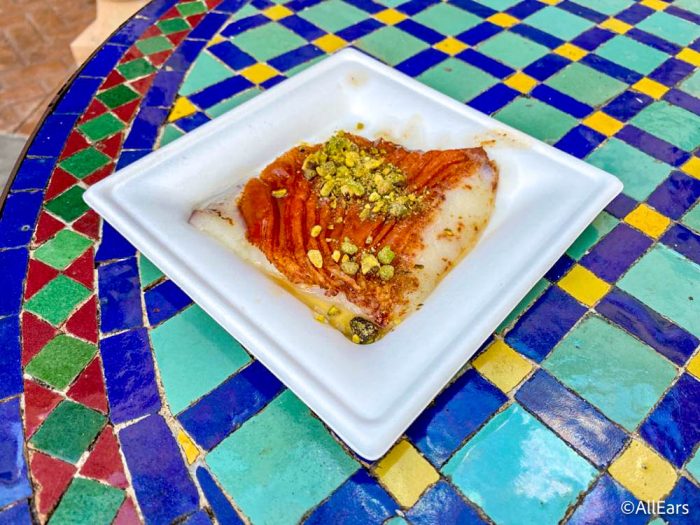 The cheese itself is creamy, and the honey adds a lot of sweetness to the dish. Plus, the nuts not only give it a good crunch, but they also add a nutty flavor that balances well with the rest of the elements.
Best Desserts
New: Guava Mousse
This new dessert from the Shimmering Sips booth is so refreshing! It has a sweet, tropical flavor with some interesting texture added in from the cookie and the coconut.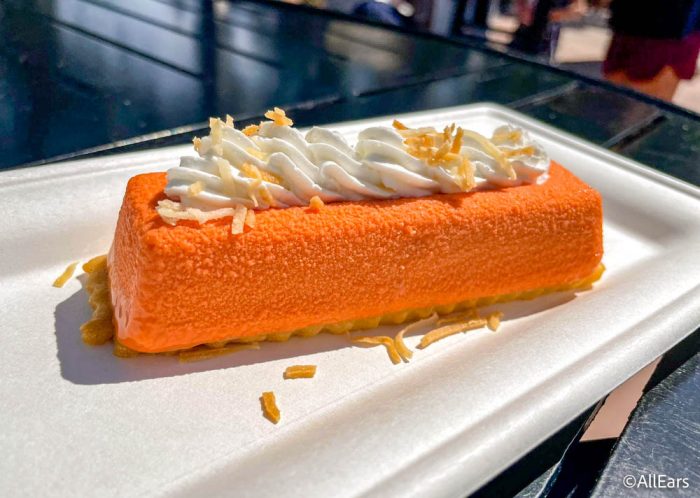 We thought the bright flavors were perfect for a warm Orlando day, and as a bonus, it's also plant-based! You can get it for $4.75.
New: Pińa Colada Mini Funnel Cake
For a "mini" funnel cake, the Piña Colada Mini Funnel Cake (from the Funnel Cake Stand in the American Adventure pavilion) is actually quite a big portion! The price does match the larger size, though, at $9.50. It's a funnel cake with piña colada ice cream, whipped cream, toasted coconut, and maraschino cherry drizzled with coconut-rum sauce.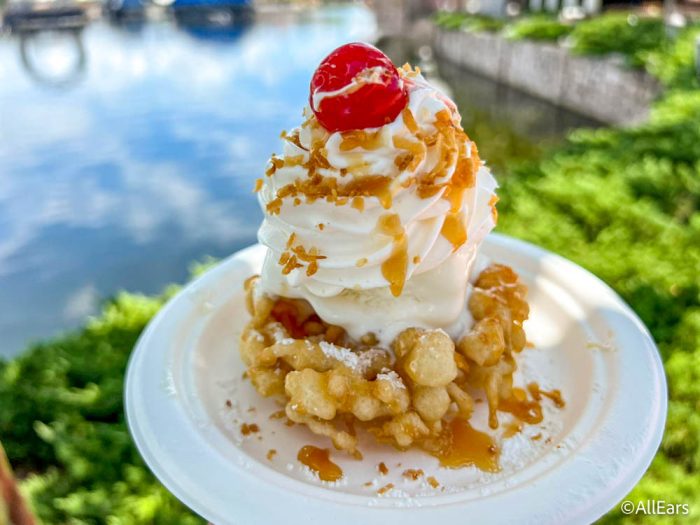 This funnel cake was so good! The ice cream was creamy, tropical, and fresh, and the toasted coconut brought a welcome crunch to the dish. Our funnel cake was nice and warm when we got it, so that contrasted well with the cold ice cream.
Returning: Freshly Baked Carrot Cake with Cream Cheese Icing
Hops & Barley was home to one of our favorite desserts at the festival this year. The Freshly Baked Carrot Cake with Cream Cheese Icing is a returning dish, and it is even better than we remembered!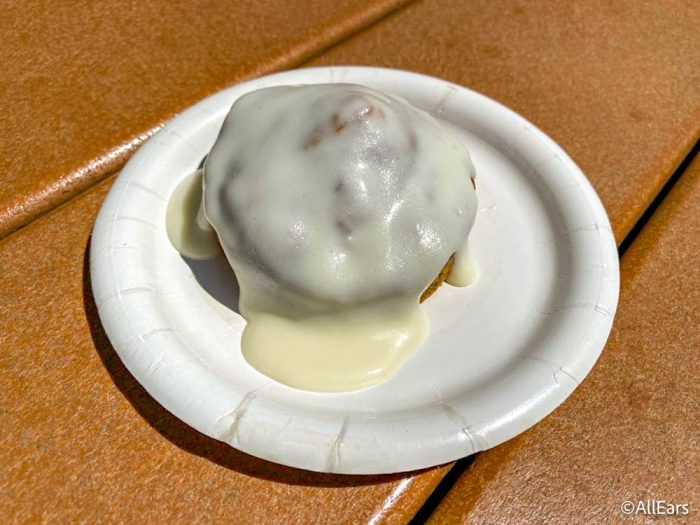 The cake is made with freshly grated carrots and has a great blend of spices that bring the flavors to the next level. Plus, it's topped off with a generous amount of icing, making it a great dish to share between two if you're craving something sweet. You can give it a try for $4.50.
Best Drinks
New: Mocha Madness
To get your caffeine fix before hitting the EPCOT Food & Wine Festival, head to the American Adventure pavilion and find the Joffrey's location there. The Mocha Madness is a Festival drink at this spot, and we thought it was delightful! It's a sweet frozen cappuccino blended with chocolate syrup, and you can add Godiva Chocolate Liqueur to it if you want. It costs $6.39 without alcohol or $13.39 with booze.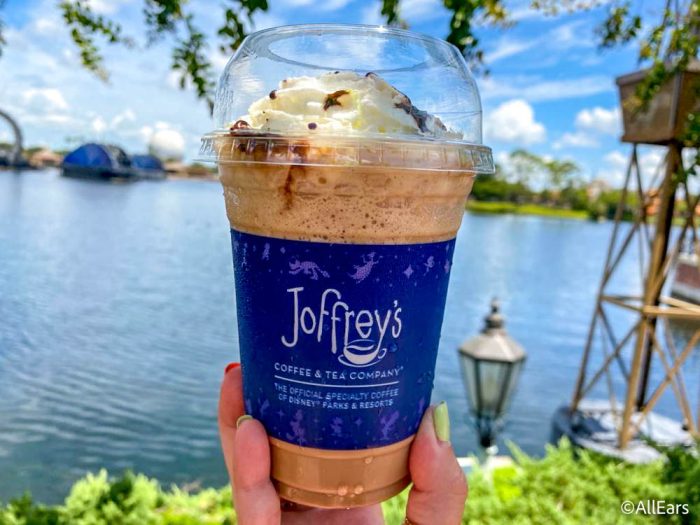 The cappuccino flavor was pretty strong, but that dark chocolate is what lingers after the sip! The chocolate was rich, but since the drink is frozen it was still very refreshing as well. All in all, this is what we want to be sipping on while we endure the heat around EPCOT's World Showcase.
Returning AND New: Cider Flight From Appleseed Orchard
Some of our favorite drinks at previous Food & Wine festivals came from Appleseed Orchard, which is located inside the Canada Pavilion. Last year, we picked up the Cider Flight that features a few different flavors of cider, including the Original Sin Hard Cider McIntosh from New York, NY, and Blake's Hard Cider Co. Saint Chéri Bourbon Barrel Aged Cherry from Armada, MI. This year, a new addition replaced the Collective Arts Brewing Circling the Sun Hard Cider — instead, you can get the Bold Rock Imperial Apple Hard Cider on its own or in the flight. The cider costs $5 for a 6oz pour or $9 for a 12oz pour, or you can get the flight for $10.
Last year we really enjoyed the Original Sin Hard Cider McIntosh and the Saint Chéri Bourbon Barrel Aged Cherry. The Original Sin Hard Cider McIntosh tasted very similar to apple cider, and the Blake's Hard Cider Co. Saint Chéri Bourbon Barrel Aged Cherry (which was our favorite) had a great taste of apple with a hint of bourbon. The Imperial Apple Hard Cider was very crisp and not too sweet. It has a green apple taste, and we thought it was perfect for a hot festival day.
Returning: Aulani Sunrise
The Aulani Sunrise from the Hawai'i booth is a CAN'T MISS for DOLE whip fans! This drink is made with vodka, DOLE pineapple juice, and grenadine, and it costs $14. It's a simple flavor combination, but that pineapple juice makes it taste a lot like a classic DOLE whip treat.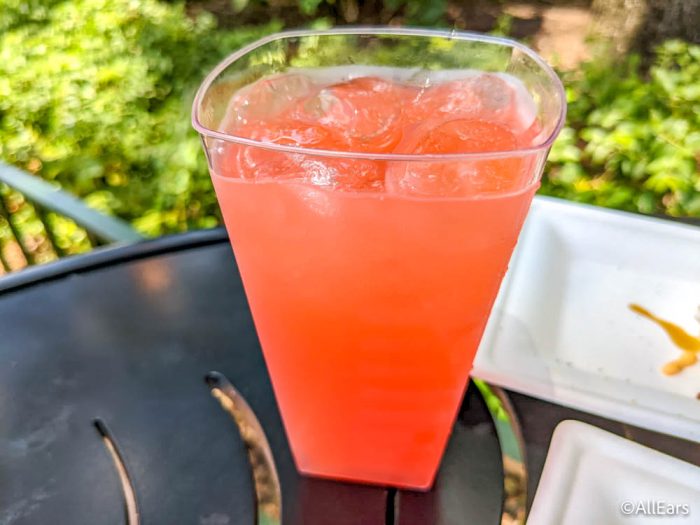 We think this drink will appeal to a lot of people — it's simple and just a little bit sweet, and the flavors are not super unusual. Make sure to give your drink a good stir when you get it, or you might get hit with all the vodka at the very end instead of having it throughout the drink.
Returning: 81Bay Brewing Co. Strawberry and Lime from Tampa, FL
One of our favorite returning beers this year is the 81Bay Brewing Co. Strawberry and Lime from Tampa, FL. It can be found at Hops & Barley and can be purchased as a 6 oz. pour for $5, as a 12 oz. pour for $9, or as part of the Beer Flight for $10.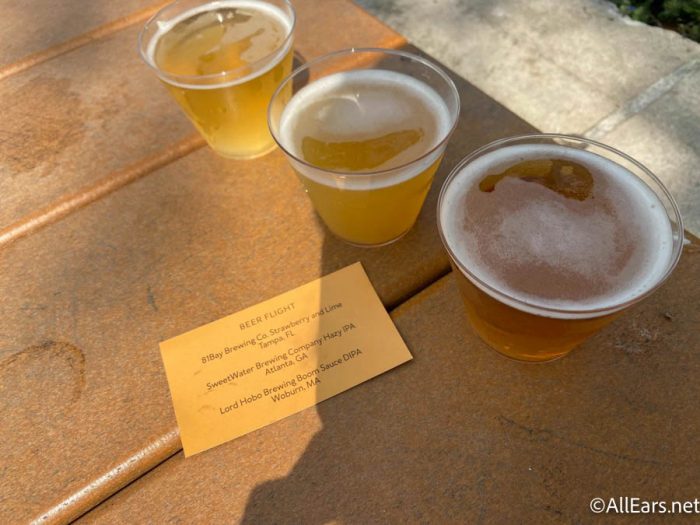 Of all the beers in that beer flight, the 81Bay Brewing Co. Strawberry and Lime was the clear standout — it had a great flavor, and the strawberry and lime didn't make it overly sweet.
Returning: Beer Flight From Brew-Wing
Turns out, just one beer isn't enough! Brew-Wing was a new booth in 2021, and it has returned this year. The wings here are certainly good, but it's the Beer Flight that was the standout menu item here!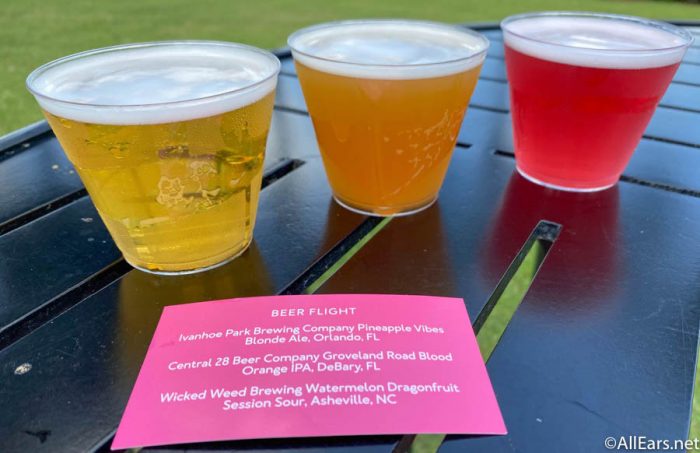 The flight costs $10 and includes the Ivanhoe Park Brewing Company Pineapple Vibes Blonde Ale., the Central 28 Beer Company Groveland Road Blood Orange IPA, and the 3 Daughters Brewing Watermelon Wheat Ale. All of the beers were super refreshing and we would certainly order it again!
Best of the Cheese Crawl
Emile's Fromage Montage has returned once again this year and, if you aren't familiar with the activity, it's a CHEESE crawl! So, you can travel around World Showcase trying out five different cheesy dishes and get a prize at the end.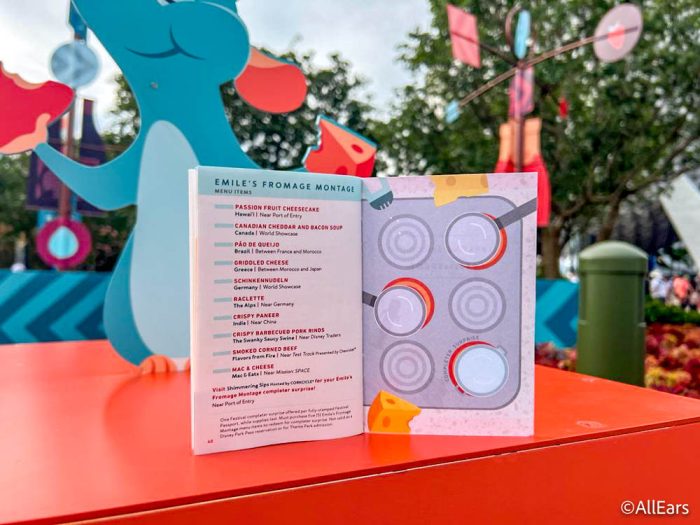 This year, you can choose any 5 of 10 cheesy options as part of the crawl. But our favorites of these snacks were the Canadian Cheddar Cheese Soup and the Smoked Corned Beef.
Returning: Canadian Cheddar Cheese Soup
This soup is just like the one served inside Le Cellier. It's Canadian Cheddar and Bacon Soup served with a pretzel roll for $5.75. You'll find it at the Canada booth, of course!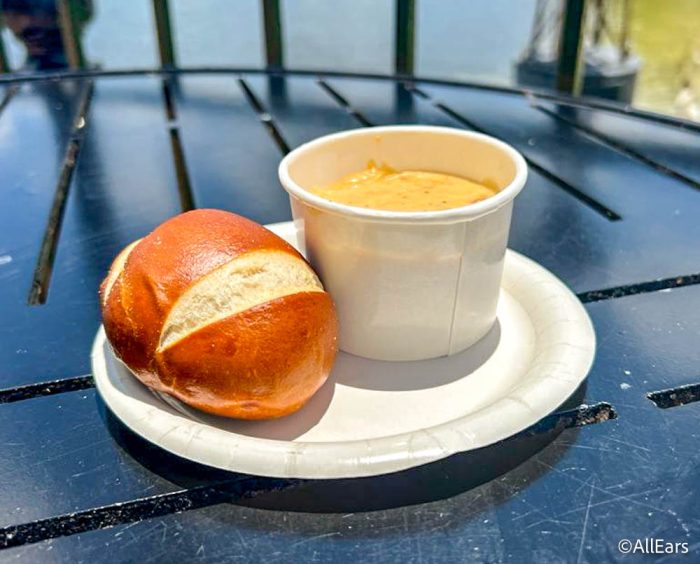 This soup has been a fan favorite for a long time, and we completely understand why. It's creamy and rich, with a great meatiness from that bacon. And the pretzel roll is the perfect complement!
Returning: Smoked Corned Beef with crispy potatoes, cheese curds, pickled onions, and beer-cheese fondue
Previously called the Corned Beef Corner Route, this snack is one of our favorites at the Food & Wine Festival! It can be found at Flavors of Fire hosted by the NFL on ESPN for $5.50. All of those tasty ingredients go great together –and how can you go wrong with so much cheese?
This is another returning snack at the festival, but the pairing of the salty beef, creamy cheese, chips, and pickled onions keep us coming back again and again.
Best for Kids
Returning: Schinkennudeln
If you'll be taking on the EPCOT Food & Wine Festival with kids, we think that they're really going to enjoy the Schinkennudeln from the Germany booth! It may sound like a complicated dish, but it's just pasta gratin with ham, onions, and cheese for $5.
The pasta is tender but has some crispiness on the edges and the ham adds some saltiness to each bite. And, of course, there's lots of cheese in this one! The simple flavors make it a great option for little ones who may not be interested in unfamiliar foods.
It's also part of Emile's Fromage Montage, so whether you're a kid or an adult, it's worth a try (and hey, you'll be one step closer to a prize)!
Returning: Apple Strudel
The Germany booth is just a great spot for kids! This is also where you'll find the Apple Strudel with vanilla sauce for $4.25. This strudel has pretty simple flavors (what's not to love about apple and vanilla?), so we think kids will enjoy the familiarity. And the portion size you get is pretty big as well! It's definitely bigger than we've seen in years past, so that's an upgrade.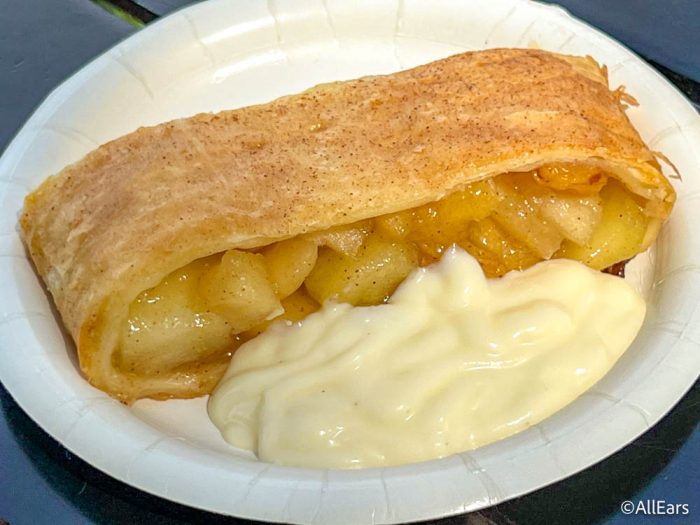 We know that sauce on the side looks a bit odd…but we promise it's not mayonnaise! It's a tasty vanilla custard-like sauce that goes really well with the strudel. Another benefit of this dish is that it's not served super hot. The sauce is served cold, and the strudel was room temperature when we got it, so there's no worry about burning mouths.
Returning: Belgian Waffle with Warm Chocolate Ganache
This treat is going to be a huge hit with kids! The waffle (found at the Belgium booth) is pretty simple, but it's tasty, filling, and sweet.
In short, it's everything a kid could want! You can get one for $5. There's also a waffle with a berry compote and cream, but we think most kids would be very interested in the chocolate option.
Underrated Best
We've covered some of the best eats, drinks, and desserts at this year's Food & Wine Festival. But before we go, we want to highlight one of the most IMPORTANT things you can get while you're tasting your way around EPCOT: WATER.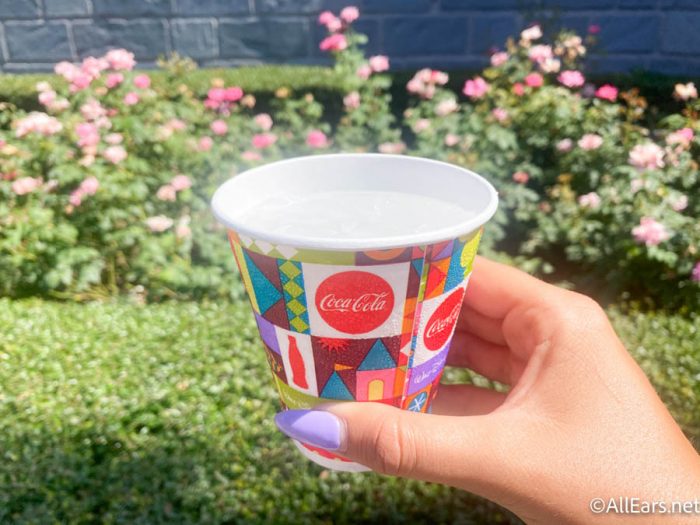 This is only kind of a joke, because it's HOT out there, folks! With bigger crowds in EPCOT for the festival, you might not get as many chances to take a seat in the shade or inside. So make sure you stay hydrated by picking up a free cup of water whenever you grab a snack!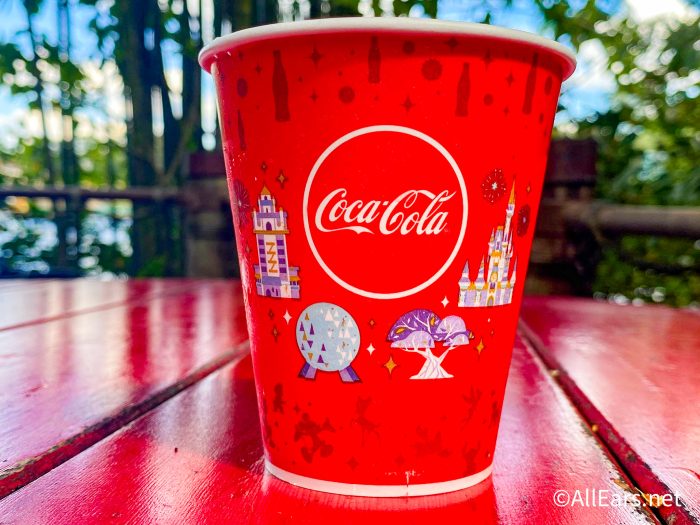 And that's it! That's our 2022 Food & Wine Best of the Fest list. If you're headed to the festival, be sure to also check out the entertainment and new merchandise in this park. And of course, don't forget to head over to Guardians of the Galaxy: Cosmic Rewind to experience Disney World's newest roller coaster. Stay tuned to AllEars for all your Food & Wine news!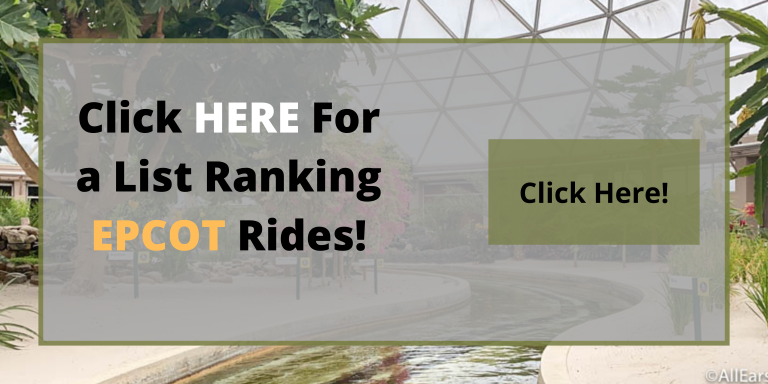 What are you most excited to try at this year's festival? Let us know below!