Disney's All-Star Resorts are sometimes known as spots where you can get the most inexpensive rooms on property. Many know these hotels for how cheap they are and how busy they can get, particularly when youth sports teams used to come into town.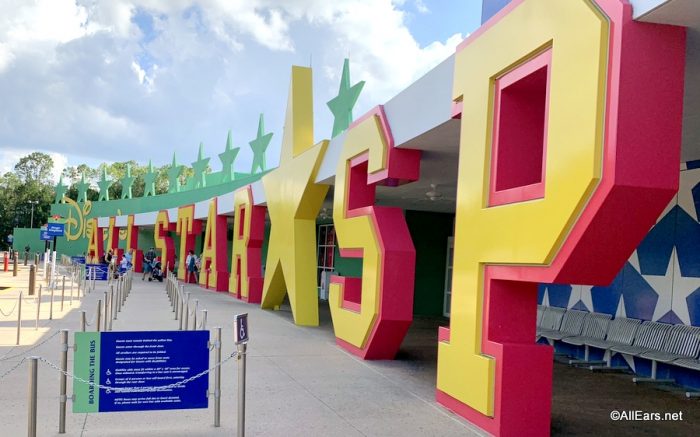 But if you've avoided staying at the All-Star Resorts or you've only really stayed there to sleep between LONG park days, you might have missed TONS of fun little (and big) details all around the hotels.
Today we're breaking down some top reasons why you might actually WANT to visit Disney's All-Star Resorts (aside from their cheaper room prices).
1. Larger Than Life Decor
If you've never been to the All-Star Resorts or if you never really took the time to walk around them, you might have missed all of the ridiculously huge, larger-than-life decor. Truly, all of these unique decorations are reason enough to visit! Let's go through some of the cool stuff you could spot!
All-Star Sports Resort
All-Star Sports was the first Value Resort built in Disney World and opened in 1994. All-Star Sports has areas themed to surfing, basketball, football, baseball, and tennis.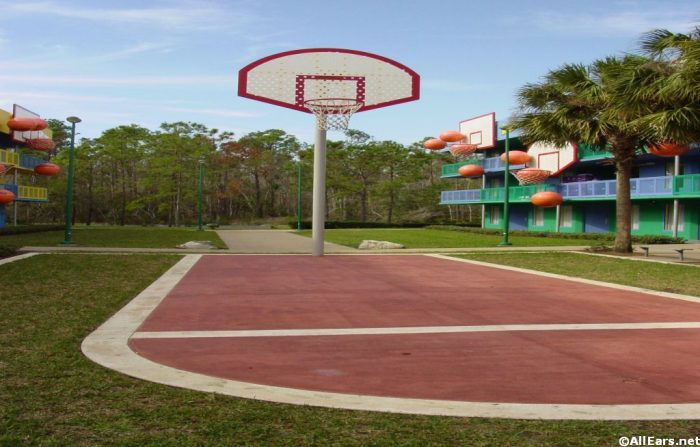 In each area you'll find a whole bunch of IMMENSE items. You could run through a giant football field, complete with goal posts and football helmets. How big would you have to be to fit into one of those helmets? Oh, you'd only have to be about 200 feet tall!!!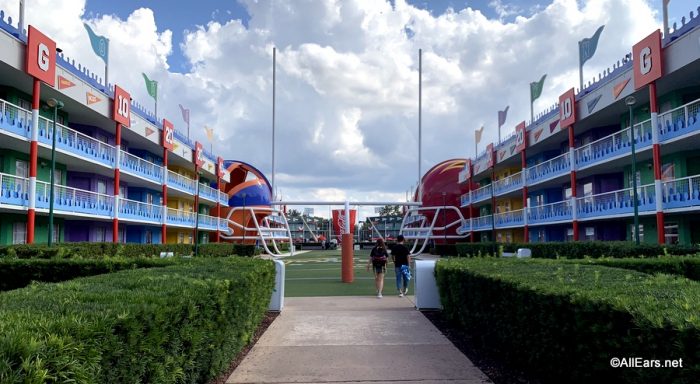 In the tennis area of the hotel, there are tennis ball cans. To fill just one of the giant cans, you'd need nearly 9.5 MILLION tennis balls!!!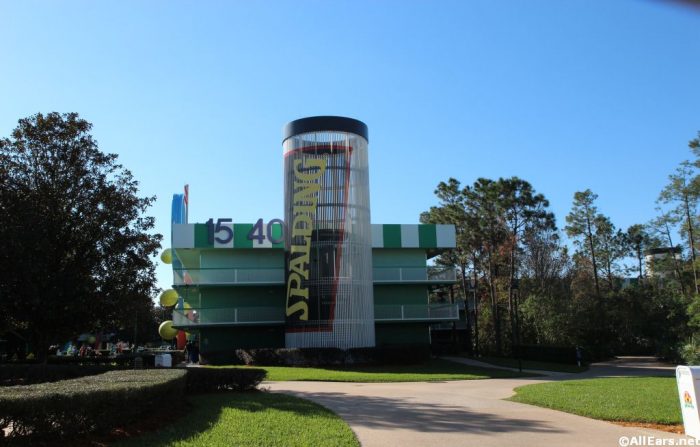 Think you're the ULTIMATE Coca-Cola fan? Then you'll want to check out the GIANT coke cans in the baseball section of the hotel. It would actually take more than 20 MILLION 12-ounce cans of Coke to fill just one of these containers!! That's a LOT of Coke.
In the surfing part of All-Star Sports, you'll find shark fins marking the buildings' main entrances. These shark fins are 38 feet high. Fins this big would belong to a 300 FOOT LONG Great White Shark. If you're one of those who OBSESSES over shark week, you're gonna want to stop by this area to take a selfie with this GIANT shark fin! Start practicing your scared pose now!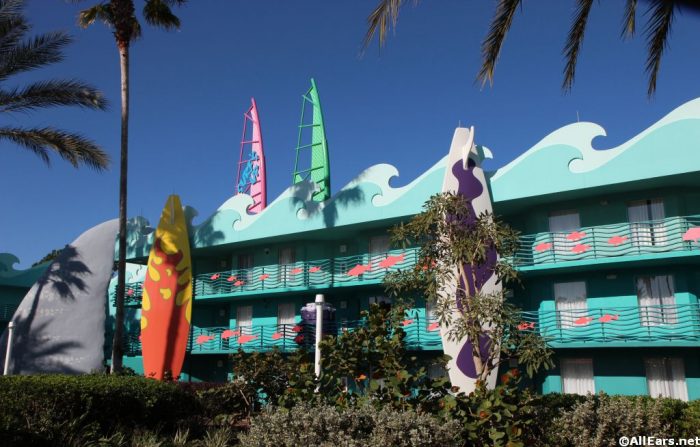 One unmistakable thing about All-Star Sports is that GIANT star in the entrance and all of the stars that are on the main building. The star out front is actually 55 feet tall and weighs more than 55,000 pounds!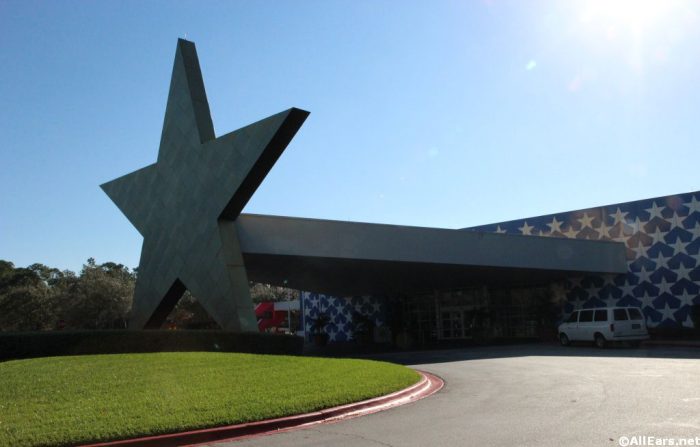 On the exterior and interior of the building, there are 727 stars covering the space. That's a LOT of stars (and a lot of cool facts you can totally impress your family with the next time you visit this hotel).
All-Star Movies Resort
Over at All-Star Movies, there's even MORE to see. As D23 notes, All-Star Movies opened in 1999, and its units are themed to Mighty Ducks, One Hundred and One Dalmatians, The Love Bug, Fantasia, and Toy Story.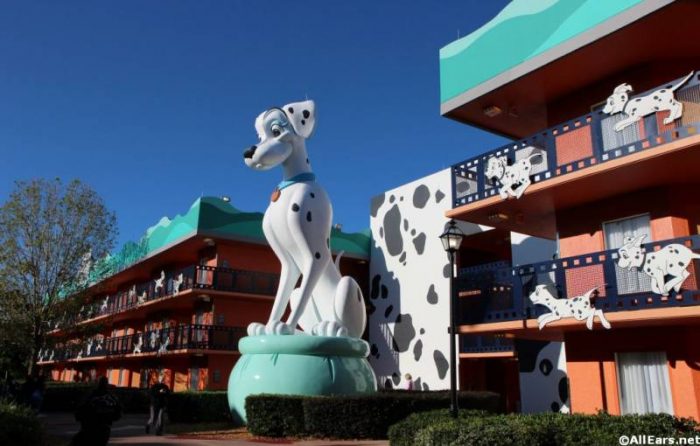 The Mighty Ducks is such an oddly specific '90s film to choose, walking into that area can kinda feel like walking into a time capsule. But, hey, good things don't die at Disney. Now we're getting a Mighty Ducks-inspired TV show on Disney+. Maybe by the next time you stay here, you'll have watched the original Mighty Ducks with your family as well as the new show!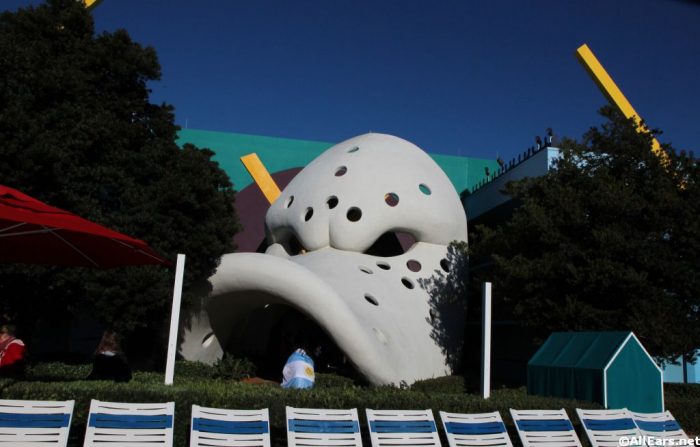 Around the hotel, you'll find all kinds of giant characters like a humongous Woody…
…part of the wall and even a giant door from Andy's room…
…a photo op where you can sit INSIDE of RC Car…
…and even enormous icons from Fantasia.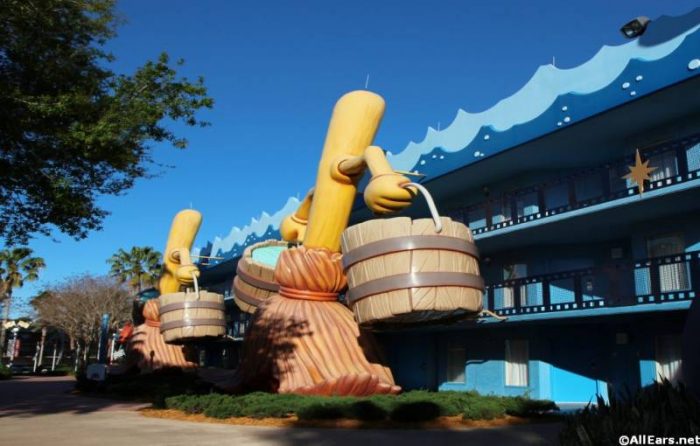 Basically, if you love Disney movies, you're going to LOVE walking around this hotel and taking selfies with all of these larger-than-life decorations.
All-Star Music Resort
The All-Star Music Resort began opening in November 1994. Each unit here is themed to a different type of music. As D23 notes, the units are named Calypso, Jazz, Rock Inn, Country Fair, and Broadway.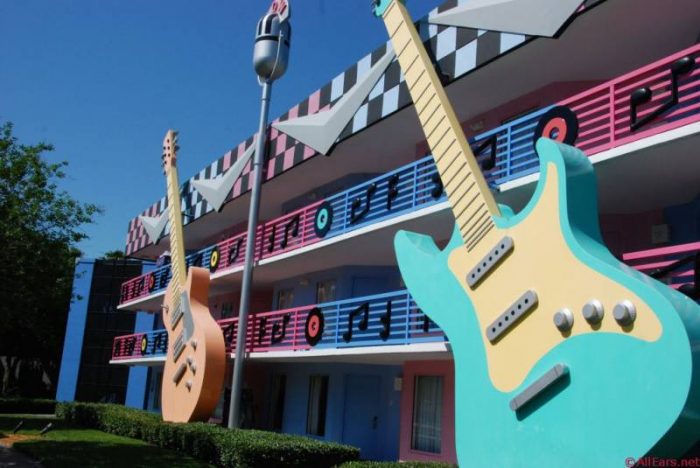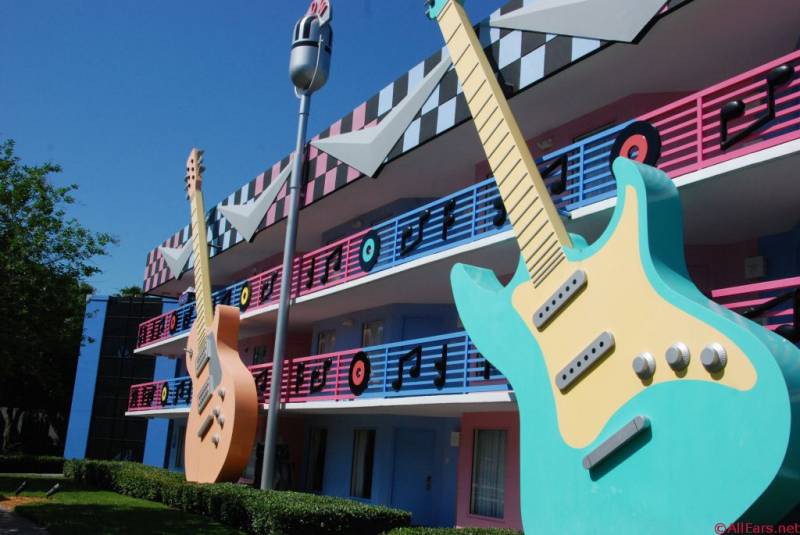 In the different areas, you'll find giant maracas…
…a HUGE jukebox…
…giant musical notes, some ridiculously large boots…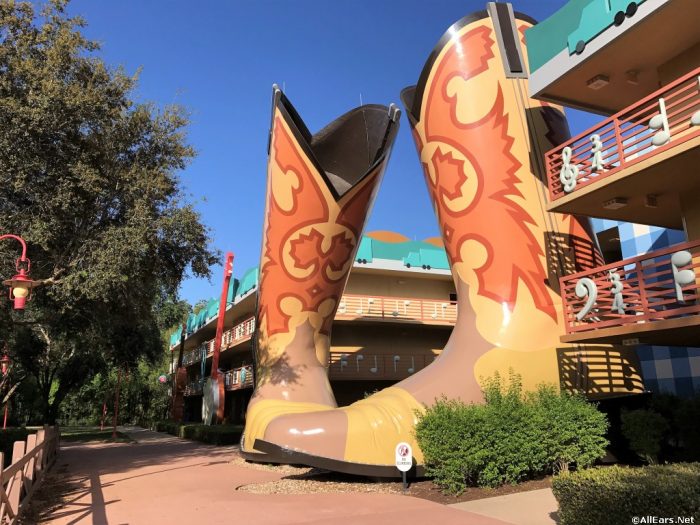 …and a whole section full of Broadway posters for all you Broadway fans!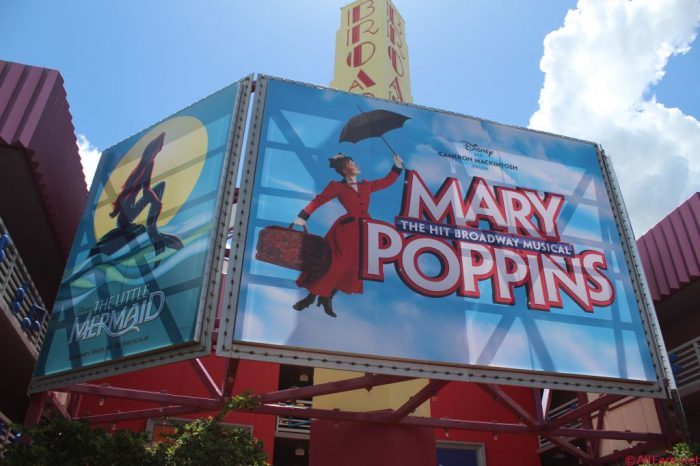 Really, the Instagram photo opportunities at all of the All-Star Resorts are ENDLESS! You could spend an entire day just roaming around each hotel, trying to get photos with every single one of the unique icons. If you haven't really taken the time to explore these hotels and their GIANT icons, you might want to consider visiting them the next time you're in Disney World.
2. Hidden Mickeys
You probably spotted some hidden Mickeys already in the photos above, but (and this will probably not come as a shocker to anyone) there are LOTS of hidden Mickeys scattered all throughout the All-Star Resorts. You can see some on the boots in the photo above. You'll also find a hidden Mickey at the Jazz Inn courtyard in All-Star Music.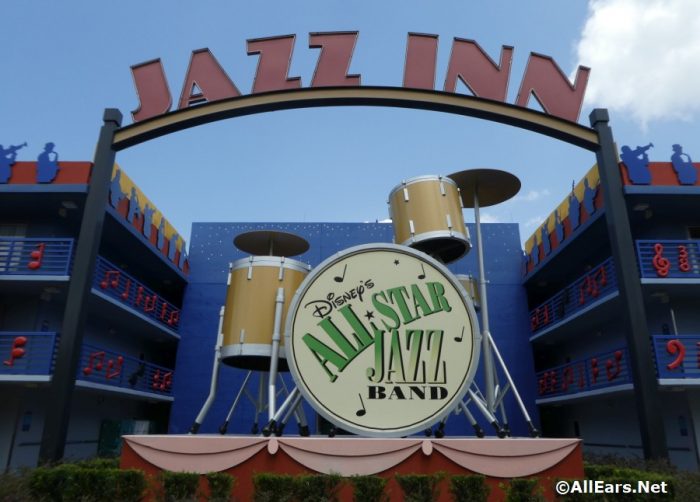 It's hard to see in the photo above, but if you look closely when you're there, you'll see a little hidden Mickey on the top of cymbals!
But what's even BETTER is that there's actually a hidden STEVE in All-Star Sports. What's a hidden Steve? Well, Steve Barrett is the Hidden Mickey extraordinaire who has written several guides about finding hidden Mickeys all over the Disney parks. He's also written quite a few articles for us here at AllEars giving you some of the must-know hidden Mickey details.
A few years ago, the All-Star Sports dining area was refurbished. In the refurbished dining area for the End Zone Food Court, there was a design pane added near the back exit from the food court.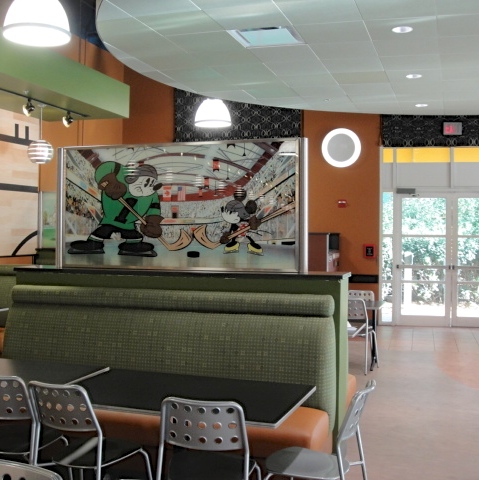 In that pane, behind Minnie Mouse, you could find an image of Steve holding his hidden Mickey book with a magnifying glass and classic Mickey on his shirt!
That's a SUPER hidden detail that makes this food court special.
But wait, there are MORE awesome things to check out at the All-Star Resorts!
Other Cool Things to See at All-Star Sports
3. Grand Slam Pool
One cool feature at All-Star Sports is its Grand Slam Pool. The pool itself is designed to look like a classic baseball diamond.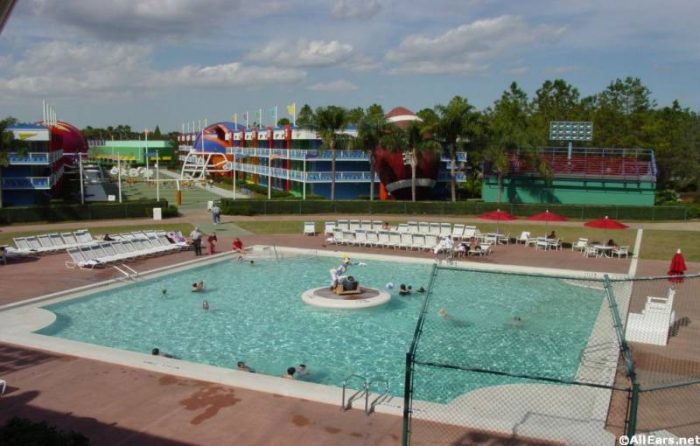 You'll even see Goofy on the pitcher's mound in the center of the pool.
Looks like he's ready to pitch his very best and strike you out!
4. Mickey's Winner Podium
Another cool feature is Mickey's Winner Podium.
It's a great spot to get a fun photo-op with the one and only Mickey Mouse and feel like a true winner. If something special happens during your trip (like a little one's first time conquering a Disney roller coaster) or you're celebrating something special, this is a great spot to get a fun family photo.
Other Cool Things to See at All-Star Movies
5. Food Court Design
At All-Star Movies, you might just walk into their food court — the World Premiere Food Court — with such a strong hunger for Mickey Waffles that you'll totally miss the cool design.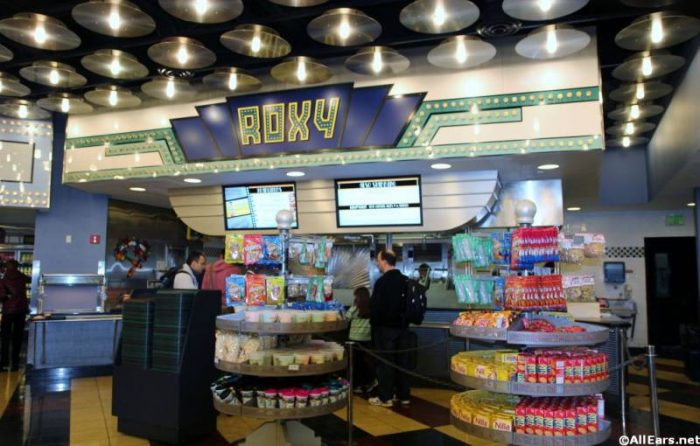 The food court here is stylized after a movie theater lobby. Be sure to look up and all around at the retro movie theater style signs and lighting!
6. The Pools
The pools at All-Star Movies, like the rest of the resort, are also heavily themed, making them a great place to check out! There's a Fantasia-themed pool which has a fountain based off of Mickey's appearance in The Sorcerer's Apprentice…
…and there's a Duck Pond Pool, inspired by The Mighty Ducks and modeled after a hockey rink.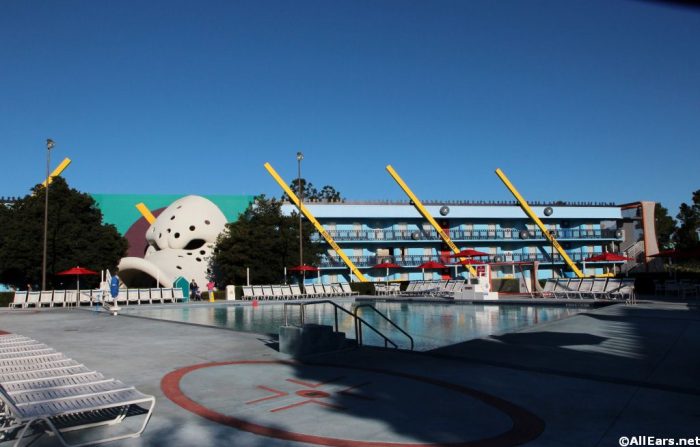 If you're looking for some fun in the sun surrounded by lots of great theming, these are some spots you'll want to stop by.
7. Updated Rooms
All-Star Movies also has updated, remodeled rooms with a much more modern feel.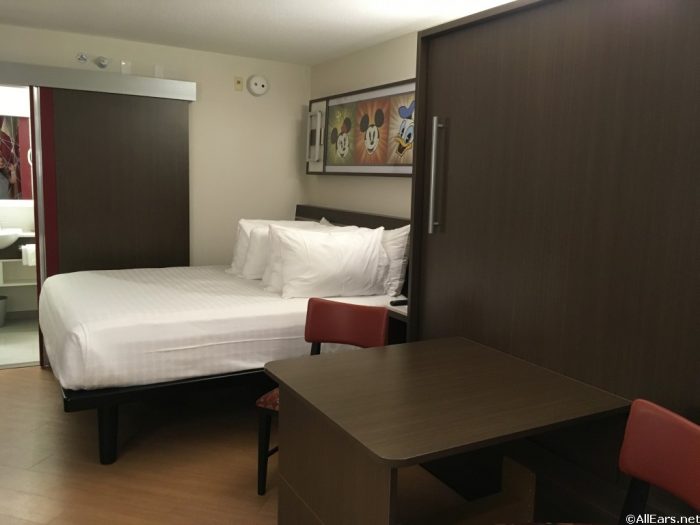 The rooms now have a queen sized bed along with a Murphy bed.
There's also laminate, wood-grain looking floors instead of carpeting, space for storage underneath the queen bed, a larger TV, and more. There's also quite a bit more shelving and storage in the bathroom and other helpful features.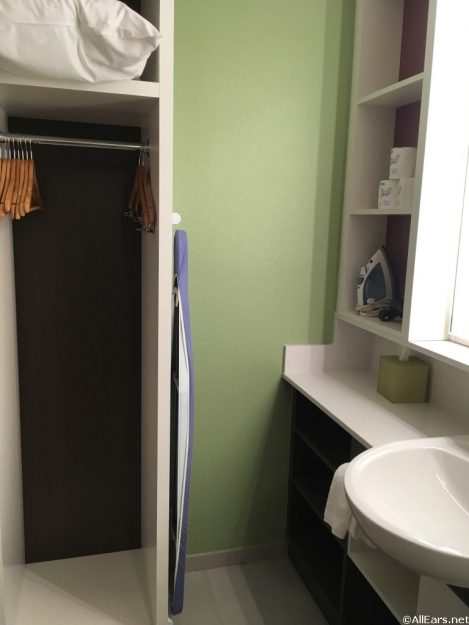 If you're looking for all the fun of a heavily-themed Disney resort on the outside but modern touches on the inside, these rooms might be a good fit.
8. Secret Menu
Prior to the park closures, All-Star Movies' food court also had…(whispers) a secret menu located inside of VIEWMASTERS!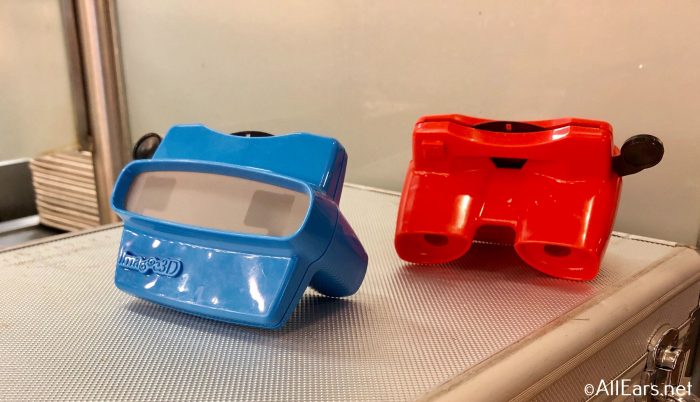 Previously, you used to be able to pop by the ROXY counter, and ask a Cast Member about the secret items, at which point they would bring out the Viewmasters in a secret briefcase (they really went all out here)! The secret menu items previously available were:
Poutine with Gravy and Cheese Curds,
Bacon Mac and Cheese Dog, and
Cinnamon Bun and Candied Bacon Cheeseburger!!!!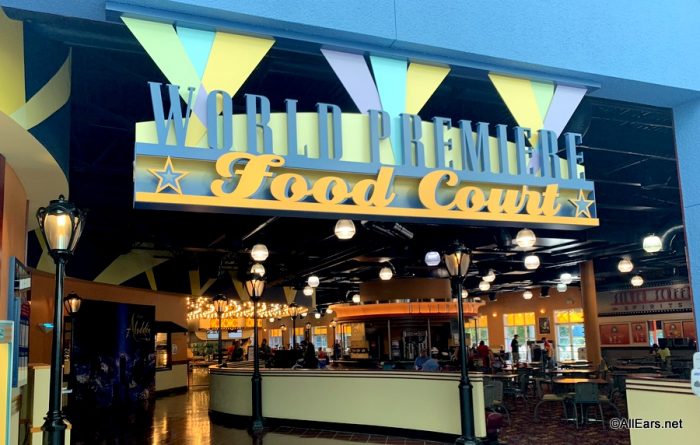 All-Star Movies has just reopened recently, and the secret menu may not be available at this time or during your future visit due to menus being more limited at this time. But we'll keep an eye out for more details!
Other Cool Things to See at All-Star Music
9. Listen to the Music
In All-Star Music, the different sections of the resort are themed to different musical styles like jazz, calypso, rock, country, and Broadway. And while the GIANT decor will tell you where you are, you can also close your eyes and listen to the sounds around you to get a clue! The music played in each zone actually matches the area it's played in.
You could totally just take a walk around the resort to see if you can hear the music changing all around you!
10. The Pools
The pools here are also really fun in terms of their themes. There's a piano pool, which is shaped like a grand piano, complete with the keys!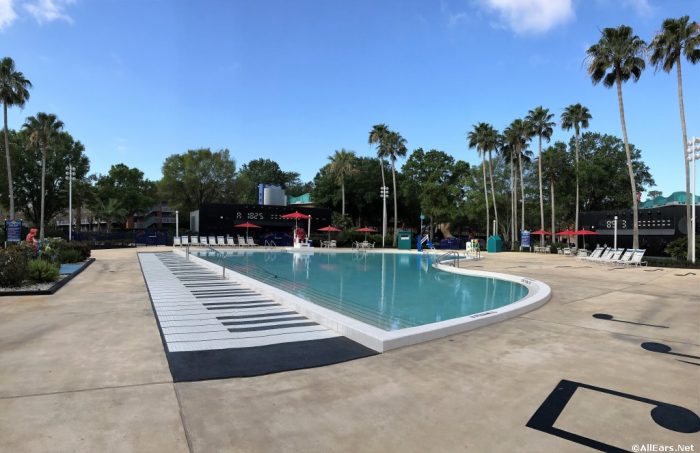 If you love the Three Caballeros, though, you'll want to stop over by the Calypso pool! The pool itself is shaped like a guitar, and it's got the Three Caballeros in the center.
Just be careful though! These birds sometimes shoot water out at you!
11. Family Suites
One of the really nice features of All-Star Music is that it actually has family suites. These suites sleep up to 6 and come with 1 queen bed, 1 twin-size sleeper chair, 1 double-size sleeper sofa, and 1 twin-size sleeper ottoman.
If you've got a larger family or are traveling in a larger group, these family suites could be a good option for you.
12. Music Notes
And finally (for this list) one of our favorite features at All-Star Music are those music notes scattered throughout the resort. You might just think that the music notes are random, but some of them are in a very particular order for a specific reason! Some of the music notes in part of the Intermission Food Court actually make up part of the tune for "Be Our Guest."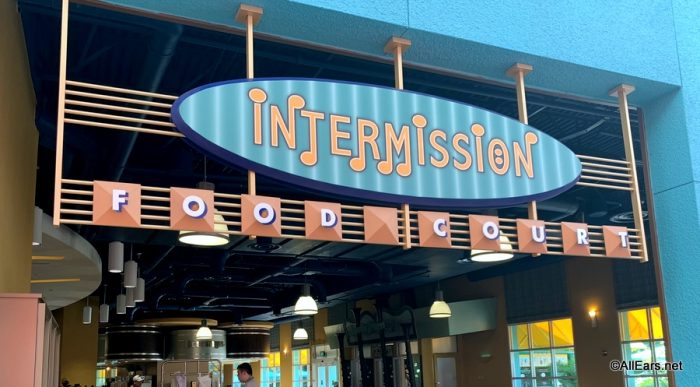 Other music notes scattered around the resort may also form part of other classic Disney songs. If you read music, this could be quite the exciting scavenger hunt!
And these are just SOME of the cool things at Disney's All-Star resorts. All-Star Movies also has a covered area to watch movies at (so you can still catch those outdoor movies even if Florida decides to rain all day), and there are lots of other little details and references scattered throughout the hotels.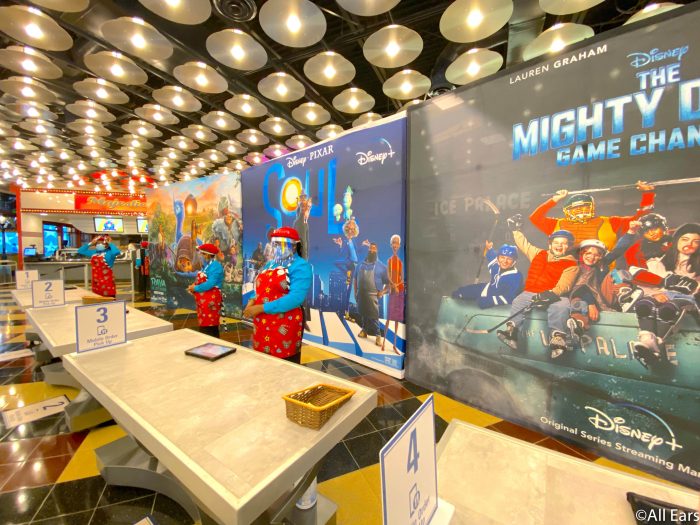 It just goes to show you, there is quite a bit more to Disney's Value Resorts than a cheap stay. While you might not have thought too much about visiting these hotels or what fun details they might contain, you might now want to consider visiting these hotels to check out some of these awesome features!
Join the AllEars.net Newsletter to stay on top of ALL the breaking Disney News! You'll also get access to AllEars tips, reviews, trivia, and MORE! Click here to Subscribe!

What is your favorite part about the All-Star resorts? Tell us in the comments!