Yes, I know it's been weeks, but we're still thinking about WandaVision here at AllEars.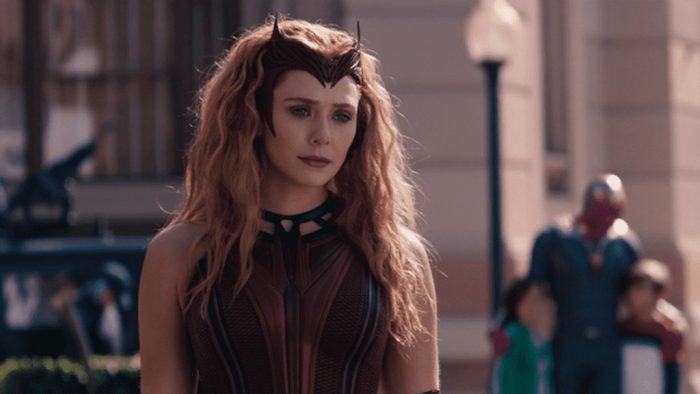 Just last week, Ulta dropped a new WandaVision makeup line inspired by the show, and I thought I'd give some of the products a try. Are they worth buying for the price? Let's take a look!
Here's our review of the WandaVision x Ulta makeup collection!
About the Collection
The WandaVision x Ulta collection features over a dozen items inspired by the various decades of the show. It's all moderately priced with most items between $10 and $30.
We picked up the 5-Piece Brush Set, the WandaVision Eyeliner Duo, the WandaVision Lip Gloss, and the WandaVision Red Lip Kit.
Brush Review
Let's start with taking a look at these brushes. The set features a powder brush, stippling brush, concealer brush, blending shadow brush, small shadow brush, and a bonus cosmetic bag.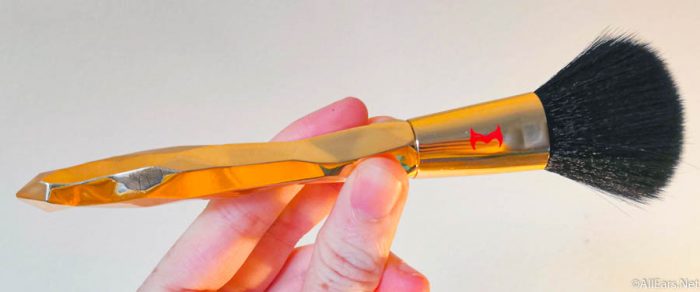 Altogether, it ran us $28. The brushes are fairly high quality and feel soft against the skin. I'd consider them similar to Ulta brand or Sephora brand brushes.
The real standout about the set, though, is the design of the brushes. They're gold and polygonal.
Plus, there's the icon of Scarlet Witch's headdress near the bristles.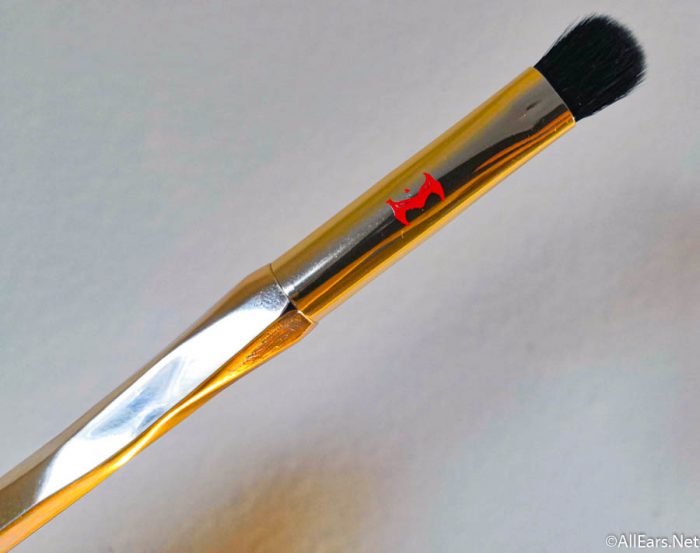 And again, it all comes in this beautiful makeup bag. We love the rich red with the gold zipper.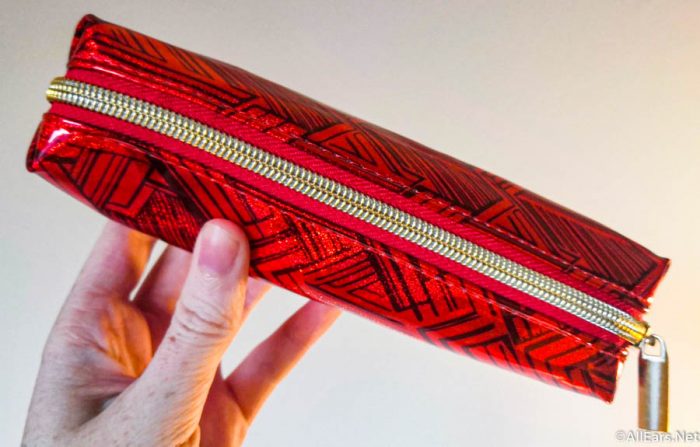 The brush set was the most expensive thing that we bought, but $28 feels fair for five good quality brushes and a bag to carry them. Plus, the design made me feel WAY cooler when I was putting my face on.
Eyeliner Review
Next up, we had to grab the eyeliner. This kit comes with a felt tip eyeliner pen and a wingtip stamp. Yep, it's a tiny stamp to add a flick!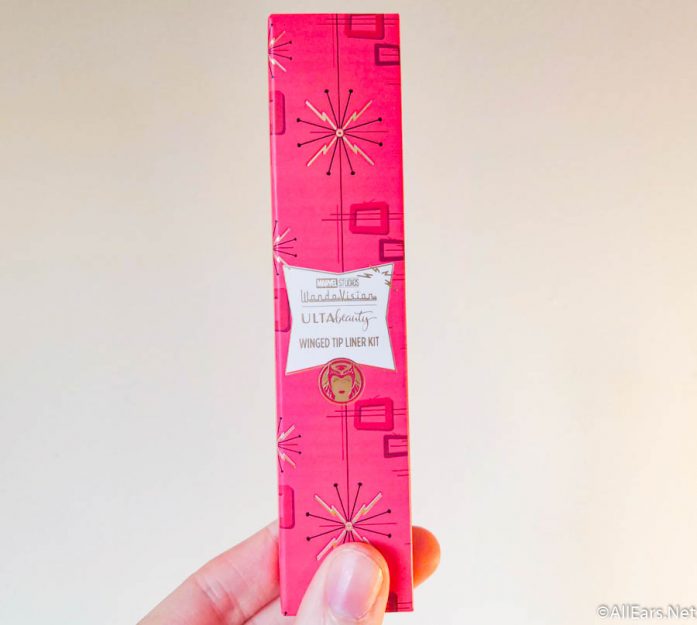 The bright red and gold packaging is used here. I am super critical of eyeliner since I found a favorite (Kat Von D Tattoo Liner), so I was pretty eager to see how this one stood up.
The brush is a felt tip, as I mentioned. This is my personal favorite type of eyeliner applicator because it lets you do a clean liquid line without needing as precise of a hand as a brush might need.
I have to say, I loved this liner! It glided on just like the Kat Von D liner I use, and it stayed super neat even though I'd packed on the scarlet eyeshadow for this experiment. Plus, at $12, it was about $10 cheaper than my usual purchase!
And it came with this wing stamp. I was so skeptical of being able to stamp a perfect wing on my eye and expected this to be a disappointment. As you can see, each end of the stamp features a wing, one for your left eye and one for your right.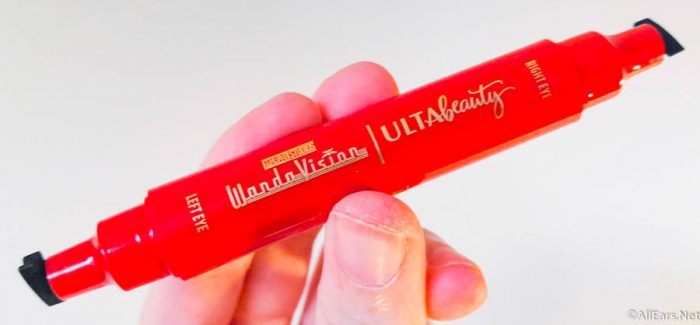 Boy, was I wrong! It took two tries, but once I got the hang of placement it looked like I had accomplished the perfect wing. Seriously! This is such a time-saver and it makes doing a wing so easy.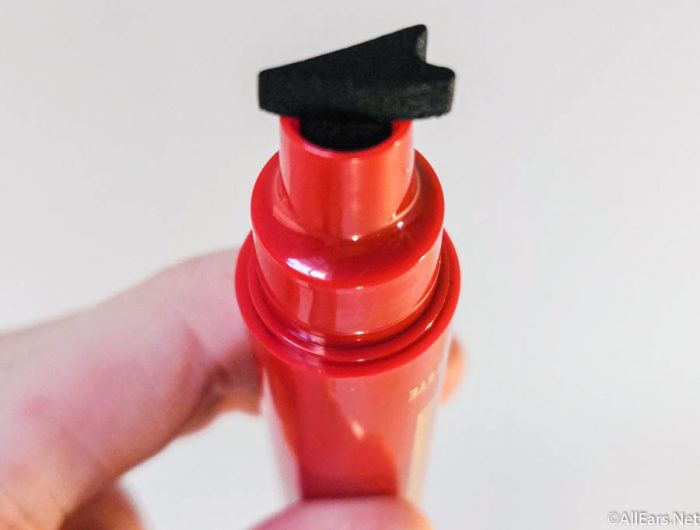 I'd highly recommend this set for anyone who struggles with winged liner or just wants to speed up their beauty routine. I'm hopeful this collection sticks around because this liner kit was good enough to become my new favorite!
Lip Gloss Review
Let's move on and check out the lip options! First, we tried out the plumping lip gloss in a shimmery pink color.
I, personally, like a matte lip but I know gloss is coming back in so I was excited to add this to my collection. Still, pinks can be difficult depending on your skin tone so I wasn't sure.
The applicator is a typical soft lip applicator. Consistency-wise, the gloss is sort of sticky, pretty much like any other gloss. The pink color has a good amount of shimmer to it.
Here you can see what it looked like on! I'm actually a fan because I think it adds just enough color without looking like makeup makeup. I'd recommend the gloss to anyone who's looking for something a little more natural and very easy to apply.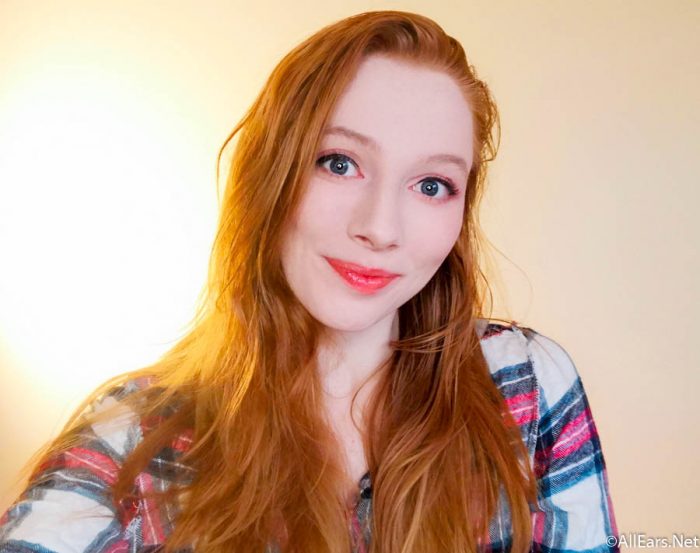 The gloss ran us $12!
Lipstick and Lipliner Review
But let's swap over to the red lipstick kit which includes a matte liquid lipstick and a lipliner for $16.
The lipliner was a bright, orange-based red. Lip liners are kinda hard to tell apart, but this one seemed to do the job. I wouldn't necessarily go out of my way for it, but it was fine!
I was more curious about the liquid lip! A red lip is classic and can be hard to achieve — especially for redheads like me. I was hoping that Wanda, a fellow redhead, could deliver.
Like I mentioned, this lipstick is a more orange-based red which is good for those with redder pigment in their skin. Still, it was one of the more versatile and classic shades so I think it would work for most. If you like something a little more in the maroon area, you might want to stray away, but otherwise, it seemed like an iconic shade.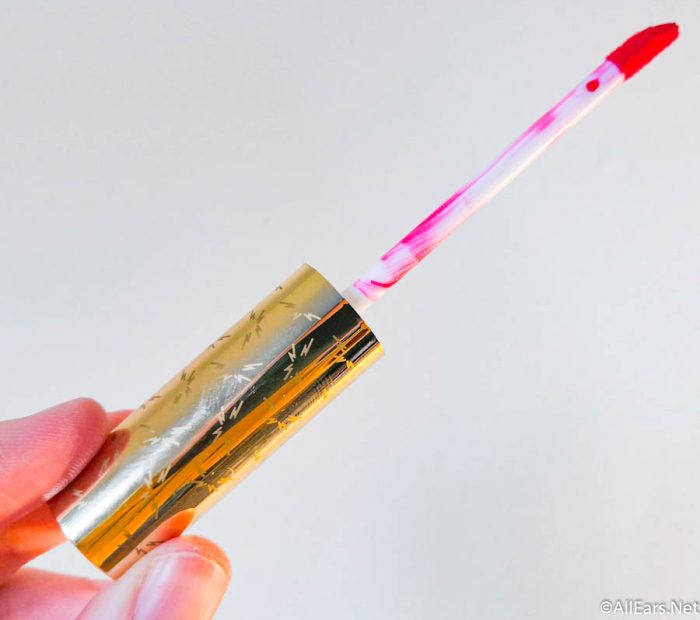 Here's my full face with the red lipstick! A red lip is bold, and I totally commend ladies who pull this off on the regular. I think the formula for the WandaVision lipstick is pretty good, but it's definitely not the best I've used. A big pro was that it didn't dry my lips out as much as other matte lipsticks can, but it had the negative of not being as long-lasting.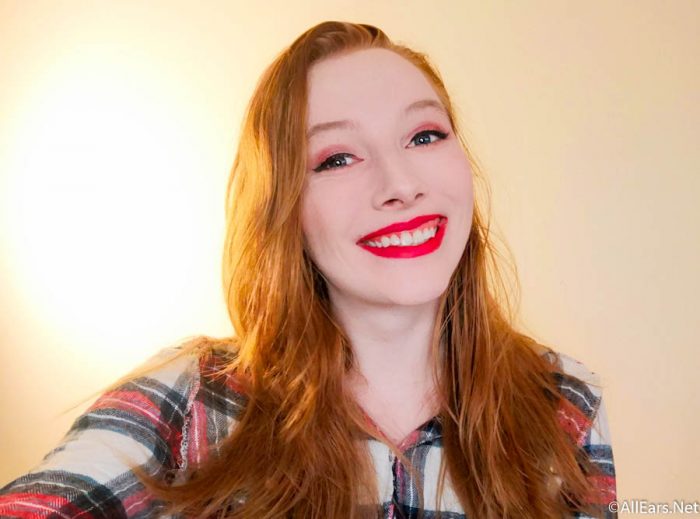 If you're looking for a classic red color for a shorter time, this option is a pretty good one. Just keep in mind that if you're eating or wearing a mask, you're going to need to reapply. It wasn't the worst ever after some wear, but it was calling for some touch-ups.
Overall
Overall, I was pretty pleased with the items I snagged from the collection. And did they make me feel like I had Wanda's very-cool, reality-altering powers? You tell me.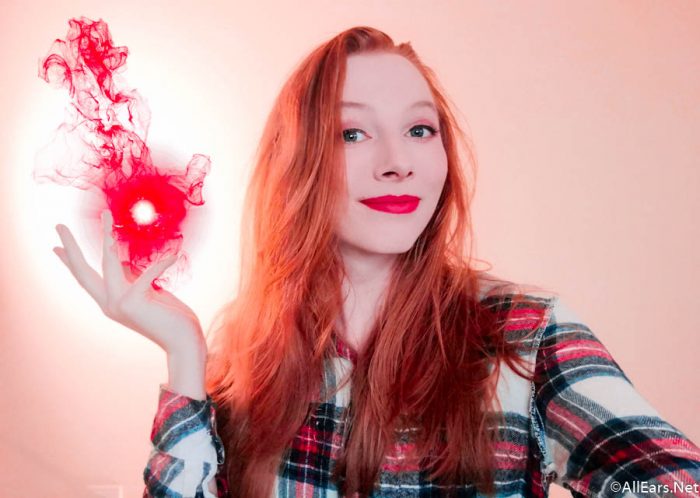 After I applied the makeup I went out to grab a Poutine and a Dole Whip at Disney Springs (for science!) and spent a few hours out on a humid Florida night. When I got home, my lipstick needed a new coat, but the eyeliner looked like I had just applied it. In my opinion, these items are of fair quality for the price and are totally worth it for a big Wanda fan like me.
Will you be trying out the WandaVision makeup line? Want to see more Disney-themed makeup reviews? Tell us in the comments! 
Join the AllEars.net Newsletter to stay on top of ALL the breaking Disney News! You'll also get access to AllEars tips, reviews, trivia, and MORE! Click here to Subscribe!