Mickey hides all around the Disney Resorts. I visited Disney's All-Star Resorts recently to check on some of their Hidden Images. Display window images change at times and Hidden Mickeys may be lost, but the one in an outside window at All-Star Movies is still there! A small black classic Mickey is at the lower right of a mural in this window in front of the gift shop next to the lobby. Here I am crouched in front of the window.

The Hidden Mickey is on the front of an orange book with the title "Future Plans."

Next, I visited the Jazz Inn courtyard at All-Star Music.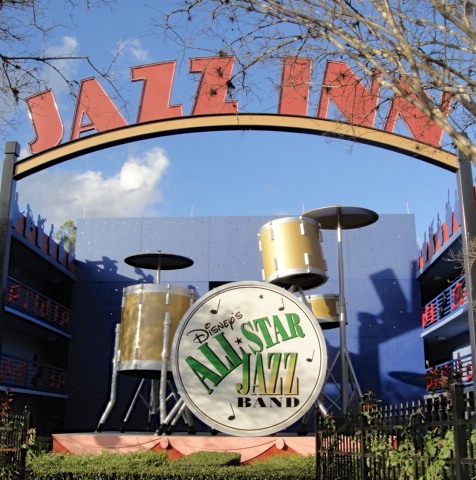 Classic Mickey ears usually sit atop most of the cymbal stands. Each is a winged nut that holds a cymbal in place.

Over at All-Star Sports, I walked to Mount Mickey, which is behind Stadium Hall and just past the Surf's Up section of the resort. A large Mickey statue usually stands directly over a classic Mickey (white head and black ears) in the cement. Alas, the Mickey statue was not there and only his cement pedestal was present! I was told that the statue is being cleaned and repainted.

As you know, carpet Mickeys can disappear when carpets are replaced, but this Hidden Mickey has been maintained for a number of years now. It's a repeated Mickey image in the main building gift shop carpet at All-Star Sports. It's composed of a baseball with two circles for ears.

Now for the Hidden Steve. An Imagineer told me that a hidden caricature of me would appear at the All-Star Sports food court! The dining area was refurbished a few weeks ago, and of course I checked it out. I found my image on the last design pane near the rear exit from the food court. I'm sitting in the stands behind hockey player Minnie Mouse, and you can find me on both sides of the pane. Needless to say, I'm incredibly honored by this!

It's me holding a yellow Hidden Mickeys book with a magnifying glass on the cover, and a tiny classic Mickey is on my shirt!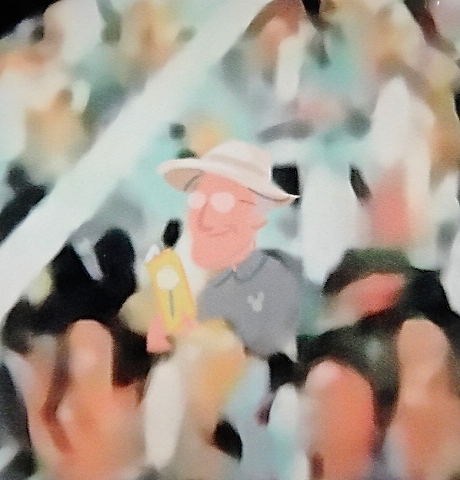 It does resemble me a little, don't you think?