April 21st, 1998, dawned warm and sunny in central Florida … perfect weather for the dedication of a new park on Walt Disney World property.
I was fortunate to be in attendance as Disney's Animal Kingdom – proudly dubbed "a new species of theme park" – swung open its gates for thousands of invited members of the press [the park officially opened to the general public on April 22nd, which is Earth Day].
Michael Eisner, then CEO and chairman of the company, carried on a decades-old tradition that was born on a steamy July afternoon in 1955 when Walt Disney read from a plaque as he dedicated Disneyland.
Eisner, one of the chief proponents of a Disney park devoted to animals and conservation, read:
"Welcome to a kingdom of animals … real, ancient and imagined; a kingdom ruled by lions, dinosaurs and dragons; a kingdom of balance, harmony and survival; a kingdom we enter to share in the wonder, gaze at the beauty, thrill at the drama … and learn."
He went on to honor the park's advisory board, a team of naturalists, environmentalists and zoologists who had worked behind the scenes to ensure that Animal Kingdom met the highest standards of animal care and environmental awareness.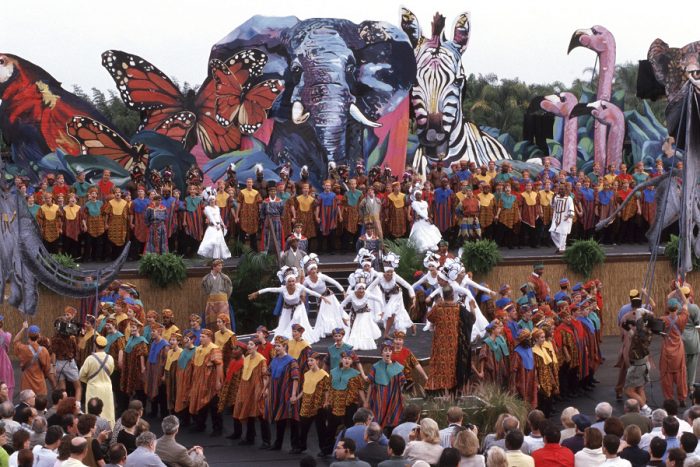 Several other speakers waxed poetic about the new park, including Roy E. Disney, who first made a name for himself in company ranks thanks to his contributions to the True-Life Adventures nature series in the 1950s.
Then it was time for us to begin exploring the wonderous new creation. The first thing I noticed upon entering the park was how old and weathered everything looked…and this was on Day 1!
There were cracks in the walkways, while animal hoof and paw prints, as well as leaf and tree branch impressions, were visible in the concrete. In addition, authentically recreated buildings appeared to have been on the property for decades.
The other thing I noticed was how lush and green everything was. The trees in the park were tall and mature; flowers were blooming and other plant life flourished.
This, of course, was by design. Disney's planners, led by Imagineering's Joe Rohde, had years to develop Animal Kingdom and in doing so, wanted to give guests as authentic an experience as possible without ever having to travel out of the country.
On opening day, Disney's Animal Kingdom consisted of seven themed lands: The Oasis, Safari Village, Africa, Conservation Station, DinoLand U.S.A., Asia and Camp Minnie-Mickey.
[Safari Village has since been renamed Discovery Island, Conservation Station is now Rafiki's Planet Watch and Camp Minnie-Mickey was torn down to accommodate Pandora: The World of Avatar.]
The icon of Disney's Animal Kingdom was an enormous man-made structure called The Tree of Life, located in the heart of Safari Village and visible from miles away.
After passing through the turnstiles, we walked up an incline and made our way through The Oasis, an entry portal to the park which also was home to many exotic birds and animals, all in a natural setting of babbling streams and lush plant life.
TREE OF LIFE DOMINATED THE PARK'S LANDSCAPE
At the top of the incline, the stunning Tree of Life dominated the view ahead. Once we posed for the obligatory photo with the leafy tree in the background, we walked into Safari Village, which was ablaze in vibrant colors and dozens of whimsical wood carvings of animals.
As we walked closer to The Tree of Life, we took notice of the scores of animals etched into the bark of the tree – a brilliant way to show us how all creatures on our planet are interconnected.
Located under the tree was the wildly entertaining It's Tough to be a Bug! show, which was a clever blend of vintage film clips and larger-than-life Audio-Animatronics bugs.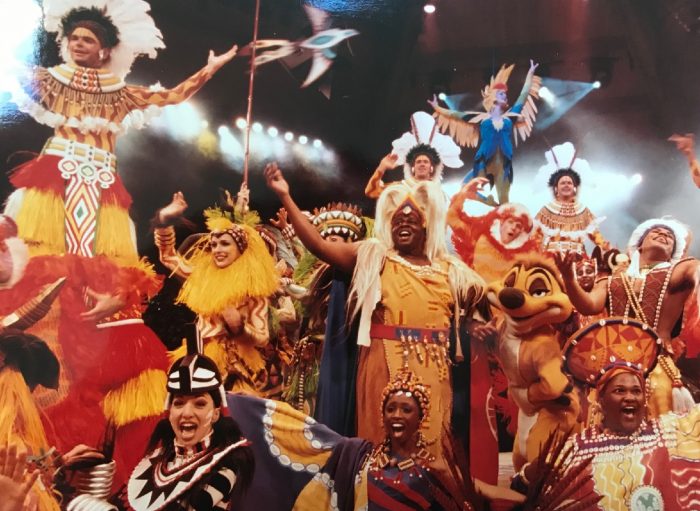 From Safari Village, we walked into Camp Minnie-Mickey, which consisted of the Festival of the Lion King stage show, a low-budget Pocahontas-themed live show, Colors of the Wind, and a bunch of photo-op stations.
While the Festival of the Lion King show was a high-energy, Broadway-quality, music-filled production in an open-air theater, the rest of the "land" left a lot to be desired.
As we would find out years later, an area devoted to mythical creatures was the original intent of Camp Minnie-Mickey; a shortage of funds forced the creative team to dial those expectations way back.
We next made our way to the Africa section of the park, where we experienced the "eyes up, jaws down" effect Disney planners hope for every time they create something new and unique.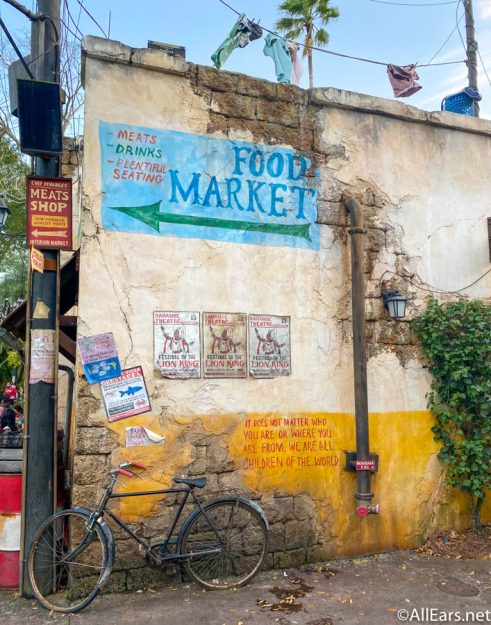 They got that reaction from me as I walked into the immaculately crafted village of Harambe. I was truly taken aback by the level of detail throughout the village, from the thatched roofs to the writings and posters on the walls … to the drooping electrical wires to the weathered buildings … right down to the band of musicians who performed pulsating rhythms.
My eyes were, in fact, way up and my jaw was noticeably down as I walked through magnificent Harambe, which was a true work of art. We walked out of Harambe and onto the queue for Kilimanjaro Safaris, where we boarded one of the 32-passenger, open-air safari trucks and headed out for the adventure of a lifetime.
During our rugged two-mile long trek, we saw a thick, green forest and cascading waterfalls. We traveled over a rickety bridge and finally made our way onto the stunning Serengeti grasslands.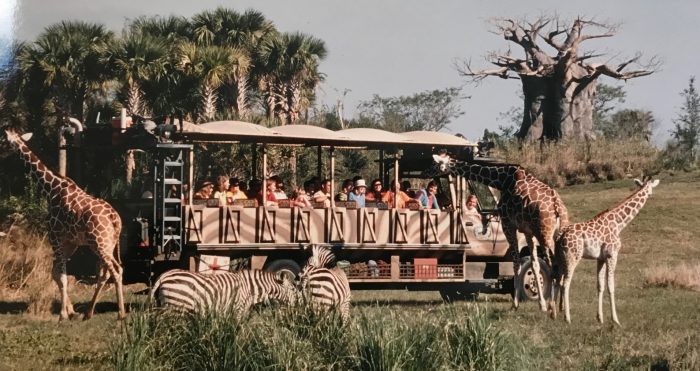 Along the way, we saw an abundance of animals … many diverse species, all enjoying a protected life, flourishing in the care of Disney's devoted animal care staff. They roamed about their natural habitat freely, without fear from being hunted for sport.
To me, Kilimanjaro Safaris embodied everything Animal Kingdom was about: Teaching conservation while celebrating the world's vast wildlife. We saw gentle giraffes to pods of hippos, zebra and elephants, crocodiles lazing in placid water and lions looking down proudly from atop a giant rock formation.
POWERFUL CONSERVATION MESSAGE
The ride ended with a powerful message as the members of our safari helped our guide "Wilson" track down a group of illegal elephant poachers. From Africa, we headed onto the Gorilla Falls Exploration Trail, a winding, shady walkway where we encountered majestic silverback gorillas enjoying life, and watched hippos swimming from our below-the-waterline vantage point.
We also observed African birds, insects and mole rats and we received in-depth information from experts on these creatures. Next, we climbed aboard the Wildlife Express train, bound for Conservation Station. Here, guests got to interact with several docile animals in petting zoos and then we observed veterinarians as they worked with a variety of animals.
After returning on the Wildlife Express [where many of Animal Kingdom's backstage animal care facilities are visible to guests], we decided to switch modes of transportation and hopped on a Discovery River boat, which gave us a "grand circle tour" around Safari Village.
The river boats were inspired by the Jungle Cruise in the Magic Kingdom, complete with a wise-cracking skipper. Aside from an Audio-Animatronics dinosaur, who was positioned near DinoLand U.S.A., there wasn't much else to see during the trip [the ride was discontinued a few months later]. We did pass under all five bridges that connected the park to Safari Village.
The still-under-construction land of Asia consisted of one attraction on opening day, a trained bird show called Flights of Wonder. On our way over the DinoLand U.S.A., we checked out the Journey Into Jungle Book live stage show in the open-air Theater in the Wild. It was lively, entertaining … and way too warm to my liking. DinoLand was our last stop and it, too, was a work in progress.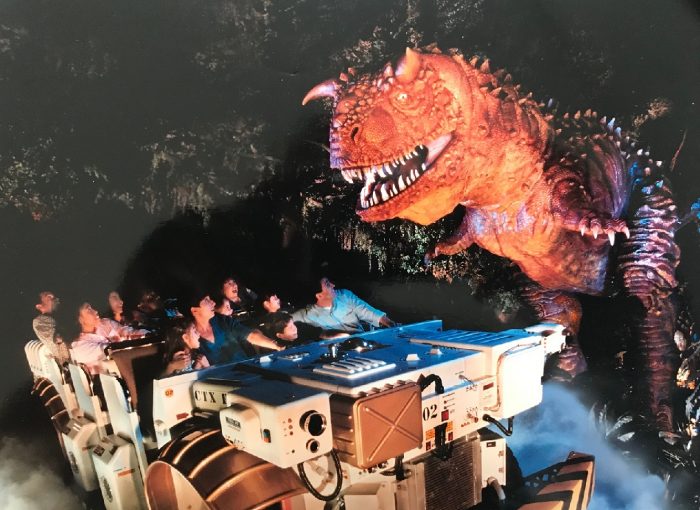 The featured attraction was Countdown to Extinction, which took us on a rough-and-tumble trip back 65 million years, dodging flaming meteorites, to save the world's last dinosaur. Later, we watched outside The Boneyard as youngsters had fun searching for dino bones in the recreated dig site.
Also in DinoLand was the 1998 Dinosaur Jubilee and the Fossil Preparation Lab, where guests could view dino artifacts and original remains.
FIRST IMPRESSIONS OF DISNEY'S ANIMAL KINGDOM IN 1998:
I had been to several zoos before experiencing Animal Kingdom, and this place was definitely not a zoo. I was impressed with the care the animals received, as well as the vast habitats they lived in, where they were allowed to roam about freely.
As with all of Disney's parks, thrill rides were in short supply when Animal Kingdom opened. In fact, Countdown to Extinction [later renamed Dinosaur] was perhaps the most E Ticket-worthy attraction in the park.
Unlike other Disney parks, we discovered that Animal Kingdom was the type of place where you should take your time. It is a park where you get the most enjoyment out of observing the smallest details.
During the press preview day, guests were given pins when they entered the queues of each major attraction. Those pins are now valued collector's items.
During Opening Day, we watched the March of the ARTimals parade, which featured performers in artsy animal costumes. It lasted a little more than a year. By contrast, Mickey's Jammin' Jungle Parade, which ran from 2001 to 2014, is the longest-running daytime parade in WDW history.
Final installment in the series on Walt Disney World, which celebrates its 50th anniversary on Oct. 1.
Chuck Schmidt is an award-winning journalist who has covered all things Disney since 1984 in both print and on-line. He has authored or co-authored seven books on Disney, including his most recent, "The Beat Goes On," for Theme Park Press. He has written a twice-monthly blog for AllEars.Net, called Still Goofy About Disney, since 2015.
For a more in-depth look into the creation of Disney's Animal Kingdom, check out Chuck Schmidt's Disney's Animal Kingdom: An Unofficial History, published by Theme Park Press.