For the better part of 40 years, Kevin Rafferty got up before the crack of dawn each weekday and made the nearly 40-mile drive from his home in Orange, California, north to his office in Glendale.
On April 1, however, Rafferty – one of the most prolific members of Walt Disney Imagineering – pumped the brakes on that daily trek, as well as his heralded Disney career, leaving behind a legacy that few, if any, will ever match.
While one less car on the always congested California highway system may not make much of a difference, traffic-wise, one less Imagineer – particularly an Imagineer of Kevin Rafferty's stature and stellar track record – will leave some pretty large shoes to fill.
What does Kevin Rafferty's Imagineering resume look like?
Here's a sampling of the attractions he had a hand in creating:
The Pan Galactic Pizza Port [in Tokyo Disneyland], The Twilight Zone Tower of Terror, Typhoon Lagoon and Blizzard Beach water parks, It's Tough to be a Bug!, Test Track, Mickey's PhilharMagic, Toy Story Midway Mania!, MuppetVision 3D, Cars Land, and last but certainly not least, Mickey & Minnie's Runaway Railway.
Needless to say, the attractions landscape in Disney parks worldwide would be vastly different – and possibly far less intriguing – had Rafferty not pursued, and ultimately failed, in his dream of becoming a Disney animator in the 1970s.
He applied for a job with Walt Disney Animation, but despite having earned a shiny new art degree from Cal State-Fullerton, was rejected.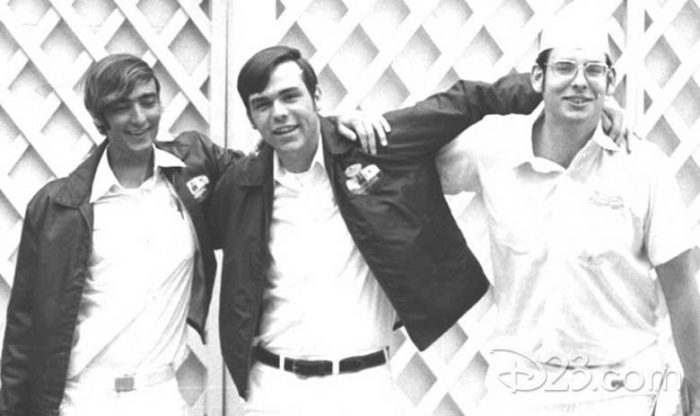 Instead, he was offered a job as a dishwasher in Disneyland's Plaza Inn, which he took.
Kevin's long and winding road from a dish room at Disneyland to prominence at Walt Disney Imagineering is detailed in his wonderful Disney Editions book, Magical Journey: My Fantastical Walt Disney Imagineering Career.
There are many, many fascinating, behind-the-scenes stories contained in the book, some of which I revisited with Kevin during a recent interview.
I was particularly interested in his experiences in masterminding Cars Land, the mind-blowing addition to Disney California Adventure, which not only celebrates the Disney and Pixar movie Cars and the Golden State's classic car culture, but also the Southwest's stunning natural beauty and the charm and charisma of Route 66.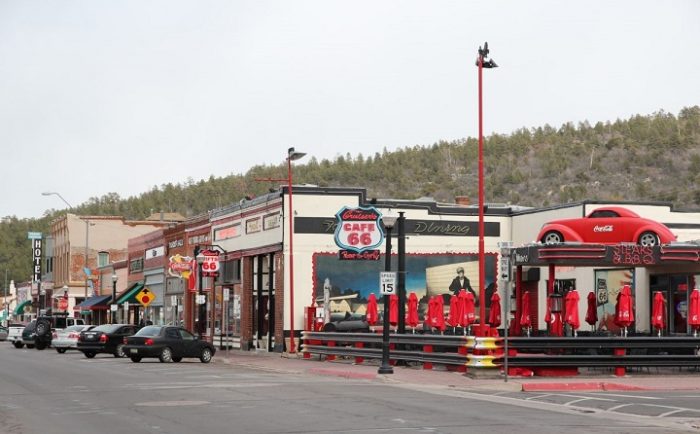 That interest was heightened recently after a memorable road trip of my own while motoring through Williams, Arizona, with my wife Janet and our friends Cathy and Rich Reynolds.
You see, Williams, Arizona, is home to a section of the fabled Route 66. It was one of the many stops Kevin and a small band of Imagineers made during their epic fact-finding tour in researching Cars Land, which opened to rave reviews in 2012.
"We flew to Amarillo, Texas, and we had dinner that first night at the Big Texan Steak Ranch, where if you ate a four-pound steak, you got it for free," Kevin said. "We tried, but none of us could do it."
It was probably the one and only disappointment during the trip.
10 DAYS MOTORING ALONG THE MOTHER ROAD
The next day, they rented three SUVs and headed from Amarillo east to Erick, Oklahoma, before turning around and motoring west along Route 66 all the way back to California, a trip that took 10 days and made innumerable stops to soak in the local culture.
The group included Rafferty and the core Cars Land team: Kathy Mangum, Greg Wilzbach, Tom Morris, John Sorenson, Emily O'Brien and Joe Kilanowski; as well as two folks from Pixar Animation, Roger Gould and Liz Gazzano.
"We had a representative from a lot of the key disciplines for the design and development of Cars Land on the trip and, boy, did that really pay off," Kevin said.
Importantly, they were joined by Michael Wallis, who wrote the book on Route 66.
Literally.
"It was like having our own personal tour guide," Kevin said of the man who authored Route 66: The Mother Road and who provided the voice of the Sheriff in the Cars film.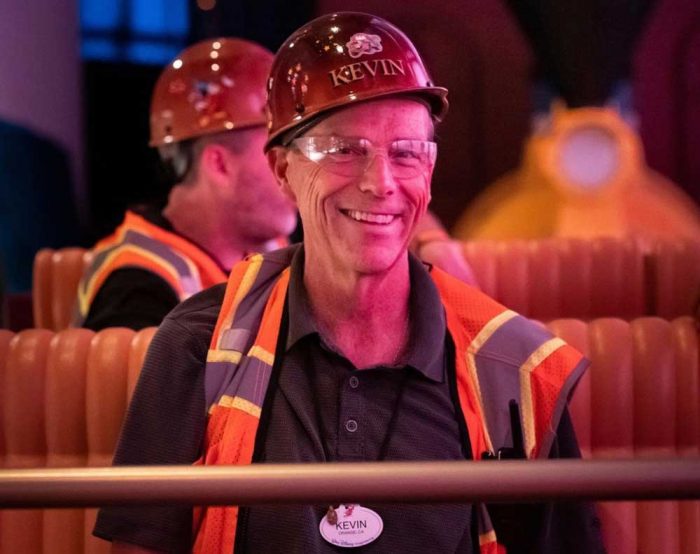 "No one knew the back stories of the people and the legends and the places better than Michael," Kevin said, adding that you may take a trip down Route 66, "but you won't get all the intimate details that Michael gave us."
During the trip, "We took lots of photographs and filled lots of sketchbooks and we were able to compliment what was in the Cars movie," Kevin said.
"The interiors and exteriors of everything that went into that land were inspired by that road trip. We had to make it legitimate. All the textures and all the stonework. It had to be very believable."
'HIDDEN GEMS' KEVIN HAS PLACED IN HIS CREATIONS
Switching subjects, I asked Kevin about Imagineers' penchant for putting "hidden gems" into their creations, clever messages or humorous references that add a personal touch to their works.
"Well, I'm responsible for a few of them," he said with a laugh, "but I think probably my favorite one is in the Radiator Springs Racers, on the Ramone's paint side. You know, when you get into Ramone's storage room where Doc Hudson is.
"In the back right corner, up on the top shelf, there's a cardboard box up there and it's very subtle.
"In fact, most guests have never seen it, but it says K & P Paints and then right underneath, there's what appears to be a serial number."
It turns out K & P Paints stands for Kevin and Patty [Kevin's wife] and the serial numbers are the anniversary of their wedding date.
"It's hard to see, but it just fits with the theming of the room. If anybody does see it, they would never think anything of it."
Kevin went on to reveal that his two sons' birthdates appear on the business license in Luigi's shop across from Ramone's.
During his career, Kevin saw a myriad of technological advances in relation to attraction development, changes that might have intimidated some people. Kevin took those changes in stride.
"For me, personally, I'm analog," he said. "I'm old school. I'm from the generation between the hula hoop and the microchip. It's been quite a learning experience."
When Kevin made his way out of the dish room and landed a position with WED Enterprises [the forerunner of Walt Disney Imagineering], he was working in a pre-technology, nuts-and-bolts world.
"When I started at WED, you could still smell oil paint and everybody did everything by hand, sculpted by hand and built models by hand," he said. "Then, technologies came along that allowed us to tell stories in the ways that we needed to."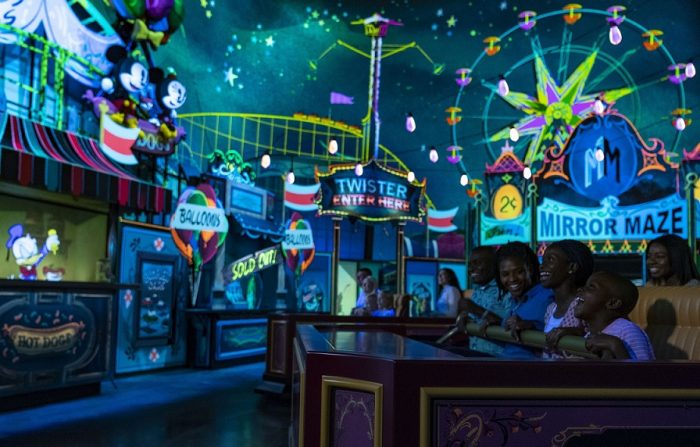 Kevin cited the use of new technology in designing Mickey & Minnie's Runaway Railway at Disney's Hollywood Studios, which debuted in March of 2020 and proved to be his attraction swan song.
"The theatrical illusion technology that we have in Mickey & Minnie's Runaway Railway is a pretty new thing. It's been developed over the past decade in kind of baby steps and they finally arrived at a point where we could really showcase it in a major attraction.
HE SAW MANY CHANGES OVER THE YEARS
"I've seen a lot of changes in that regard over the years, always to enhance the design and development experience, so we can deliver the best attraction possible for our guests.
"Fortunately, I've been able to adapt."
During his life, Kevin has nurtured a strong appreciation for, among other things, classic cars, writing, fine art and music.
He spent more than eight years restoring a 1956 cascade green Corvette Sandra Dee car … he's proven himself as a skilled wordsmith in writing scripts for numerous attractions [and let's not forget his Magic Journeys book] … and his background in fine arts enhanced his appreciation of the works of such legendary Disney artists as Herb Ryman.
But his song writing skills may come as a surprise to some people.
"When I was a kid, I had so many interests related to TV and theater and music … all the kinds of things that relate to Imagineering," he said.
TAUGHT HIMSELF TO PLAY THE GUITAR
"One of the things I picked up was the guitar. I taught myself how to play it and just dabbled around with writing fun little songs."
Like many young people his age, he had visions of becoming a rock star and joining a band, "but I never really took it anywhere."
"I never really explored a career in music, per se, because I got more into the visual arts and the storytelling arts in the theater, but music just kind of became a little side hobby.
"I just started playing around with writing songs as I progressed in my career at Imagineering and attractions came along and I had the opportunity to write some songs for them, like 'It's Tough to be a Bug!' and 'Junkyard Jamboree.'"
And the theme for Toy Story Midway Mania! … at which point, Kevin broke out in song:
"Midway Mania … This game is so insane-ia!"
"If songs can help move the story along," he added, "then all the better.
"In kind of a roundabout way, I was able to take one of the hobbies I had as a kid and actually bring it to live, in-the-park experiences. I really love writing songs," he said, adding:
"What's really fun is when you call someone in the company and you're put on hold and you hear one of the songs you wrote being played as the hold music!"
PEOPLE WHO INFLUENCED KEVIN'S CAREER
There have been a wide variety of people who have influenced Kevin's career, all of whom he holds in the highest regard.
"Every single person I've worked with at Imagineering is inspirational and influential," he began.
"I think the key people, the ones who really made the most difference in my life so that I could turn around and make a difference, you know, with continuing Walt's legacy are Marty … Marty Sklar, and Randy Bright, who was creative vice president during the development of EPCOT. He wrote the American Adventure show.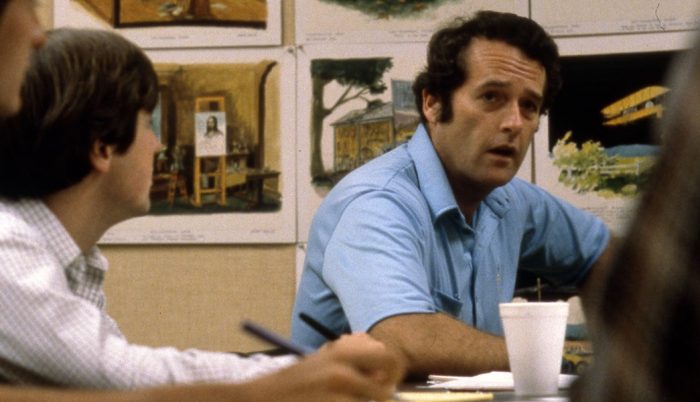 "Randy's the one who brought me into creative and into show writing and kind of took me under his wing and let me explore my capabilities and made me understand that I kind of had the chops to do this kind of work.
"From a storytelling perspective, Tom Fitzgerald was very influential, and Bob Weis, who's our president. Bob and I go back many, many years. I have a lot of lot of respect for him. He's a great leader because he's been there and done that and he's delivered on many major projects, like Marty.
"And, of course, there's Kathy Mangum, who was the executive producer of Cars Land. I worked with Kathy for over 30 years on various projects, all the water parks. Kathy and I also go way back.
"There are so many other people. I think the most influential friend and colleague has been Rob't Coltrin, who was a show set designer, but also was an amazing storyteller. We have a pretty good track record together. He looks at things from kind of a visual, how things fit together, perspective.
"He's the guy who said, 'You know, we need to go through the California Screamin' coaster track to build Midway Mania behind that.'
"He's very good with spatial relationships and staging and theater and Rob't had a blast coming up with Radiator Springs Racers and Toy Story Midway Mania! and the Many Adventures of Winnie the Pooh.
"Rob't's many talents and theatrical chops set the stage for many fun attractions.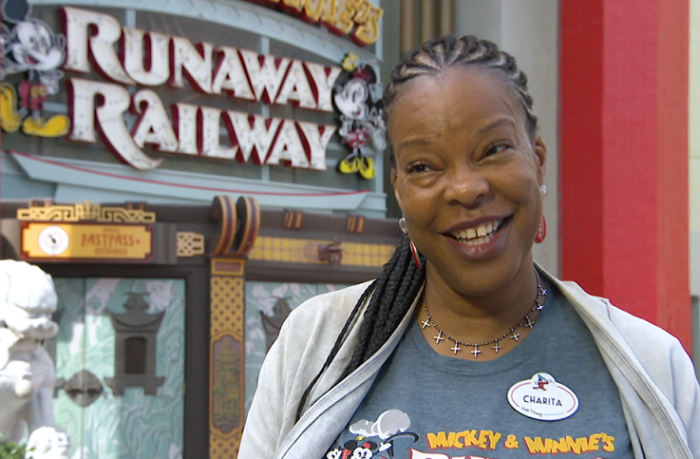 "I also have to say Charita Carter … the great Charita Carter, who was the producer of Mickey & Minnie's Runaway Railway. I didn't really work with her on an attraction or related things over the years, until our experience on Mickey & Minnie's.
"She's a great producer and a great friend and a great colleague who has great instincts and was another big influence on my career."
For her part, Charita had high praise for Kevin at the opening of Mickey & Minnie's Runaway Railway.
"I always say that working with Kevin is like I'm taking a master class," she said. "We have really taught one another throughout the process and it's just been absolutely wonderful working with him."
Christopher Willis, who composed the ride's marvelously catchy "Nothing Can Stop Us Now" theme song with his wife Elyse, added: "If Kevin has a super power, it's his capacity to present a very clear vision of exactly what we wanted to do."
Marty Sklar's widow Leah, and his daughter Leslie, offered their own takes on Kevin and his career.
"It seems most appropriate to let Marty have his say about Kevin," Leah said, "as he did in One Little Spark!" She shared this excerpt from Marty's second book "with affection":
Kevin's talent as a writer, producer and developer of new concepts is the stuff of … well, legendary Disney projects. I think of Kevin as the prototypical Imagineer – selfless team player, a wellspring of creative ideas, teacher of young talent. … He is passionate, loves to collaborate, is sought after as a mentor, and is always stretching to dream up new concepts … and do them!
Added Leslie:
"In his remarkable career, Kevin went from learning the Imagineering way by creating records of attractions to defining the Imagineering way by creating some of the most memorable experiences at the Disney parks.
"My own acquaintance with Kevin, from his stint as a WED van pool driver to his contribution to the D23 panel introducing my father's book Travels with Figment [when Kevin's own delightful memoir Magic Journey also made its debut], has been nothing but laughter and joy.
"I can't wait to see how Kevin's next journey unfolds – but it's sure to be magical!"
I asked Kevin if he has a favorite among all the attractions he's worked on.
"They're all my favorites," he said. "Cars Land is epic and I still to this day can't believe that that dream literally came true, and I love it dearly for many, many reasons.
"Especially for the fact that when I was a kid at Disneyland, I'd dream about what I would do if I ever could work on anything for any of the parks like this … and I did!
"But as jaw-droppingly beautiful as Cars Land is, I have to say it's kind of on par with Mickey & Minnie's Runaway Railway, for so many reasons.
"It's colorful and it's musical and it's happy and I like to do things that are happy.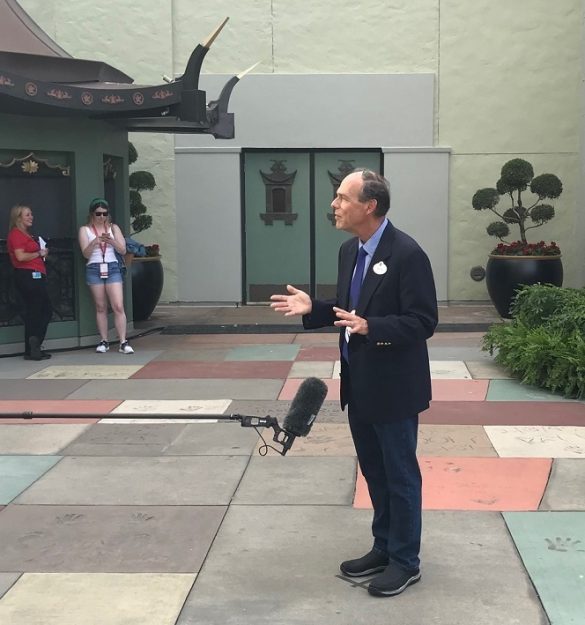 "I'm not a big action adventure or horror movie fan. I like happy movies … movies with happy endings that make you feel good.
"Mickey & Minnie's Runaway Railway makes people happy and as an Imagineer, that's just what we really strive to do."
Kevin has referred to his work on Mickey & Minnie's Runaway Railway as "the cherry on top of the cake that is my wonderful Imagineering career."
While it may be the cherry on top of the cake, it's also an exclamation point on a career that is sure to be topped off again somewhere down the road with the type of recognition reserved for a select few Disney cast members.
Chuck Schmidt is an award-winning journalist who has covered all things Disney since 1984 in both print and on-line. He has authored or co-authored seven books on Disney, including his most recent, "The Beat Goes On," for Theme Park Press. He also has written a twice-monthly blog for AllEars.Net, titled Still Goofy About Disney, since 2015.