I spent 48 years of my life working as a journalist for the Staten Island Advance newspaper.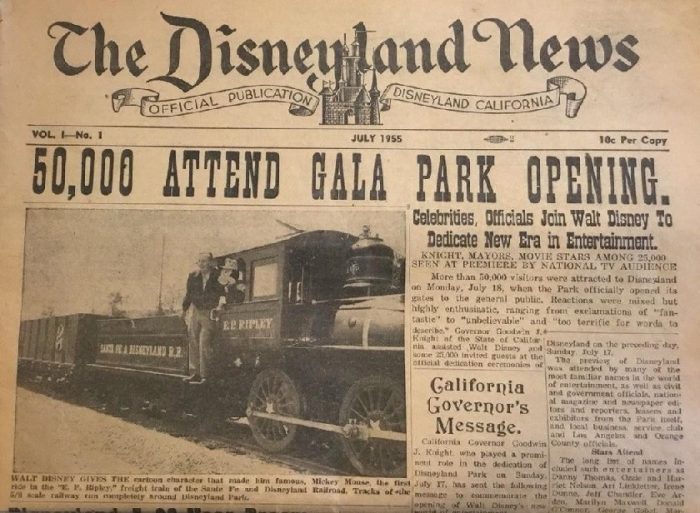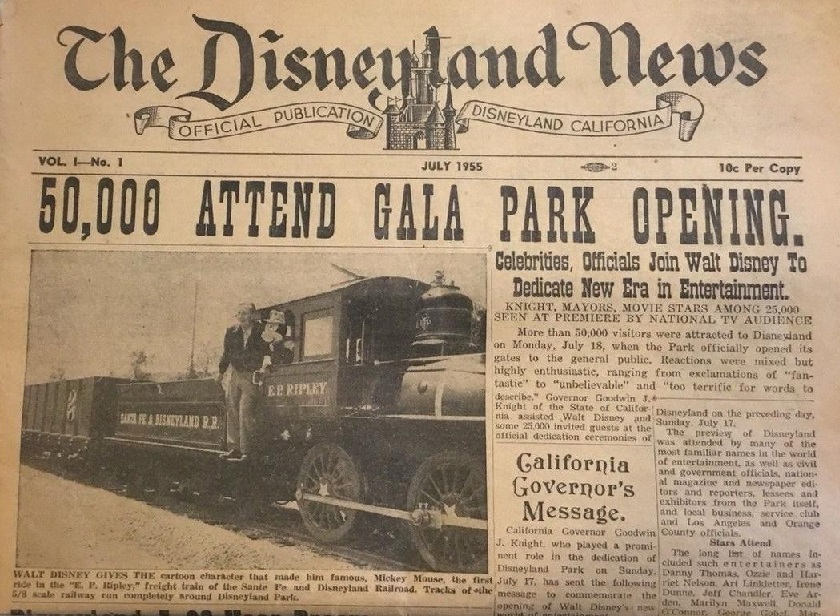 I began my career in 1967 as a copy boy [look it up; it was an actual title for a low-level newspaper job] during a time when newspapers were in their heyday. Indeed, they were just about everyone's No. 1 source of news and information.
Back then, most families would have the early edition of their local newspaper delivered to their doorsteps each morning … or folks would head off to work and grab a copy of the paper before boarding a bus or a train or a ferry. I retired in 2015 as the Sunday News Editor of the Advance during a time when newspapers were in the midst of an agonizingly slow, painful decline, having been replaced as a key source of news by 24/7 cable television, the Internet and social media.
We bring this up because it turns out that newspapers – at least newspapers in their heyday – played a prominent role in the lives of many key people within the Walt Disney Company ranks over the years.
It started with Walt Disney himself. After the Disney family sold their farm in Marcelline, Missouri, they moved to Kansas City in 1909. Walt's father bought a distributorship for the morning edition of the Kansas City Times, and for the evening and Sunday editions of the Kansas City Star…a total of 700 subscriptions.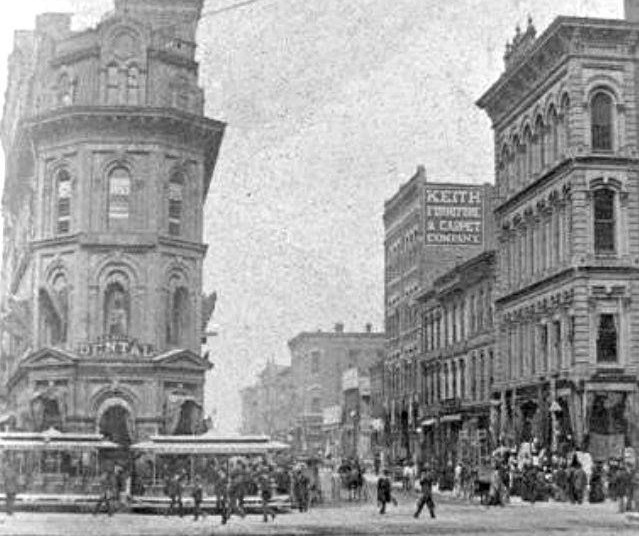 Those papers needed to be delivered, so Walt [who wasn't even 10 years old] and his older brother Roy, as well as a few local youngsters, would distribute the papers to subscribers before heading off to school.
The Disney brothers would rise at 3:30AM each morning and pick up the papers after they were dropped off by a delivery truck driver at 4:30AM. After those morning papers were delivered, it was off to school.
After school, the evening papers needed to be distributed. All those deliveries were made seven days a week, rain or shine, sometimes in rain storms or blizzards. And it was exhausting. There were no such things as child labor laws back then. In his six years as a newspaper delivery boy, Walt missed a total of four weeks because of illness.
Fast forward several decades and Walt Disney, now an Academy Award-winning movie mogul, was on the brink of opening a theme park venture known as Disneyland in the sleepy Los Angeles suburb of Anaheim, California.
Weeks before the grand opening in July of 1955, Walt thought back on his days of delivering newspapers and decided he'd like to offer a hometown-type newspaper to guests as they walked into the park, something that would blend seamlessly with Main Street USA's turn-of-the-20th-century's ambiance.
That newspaper became The Disneyland News and its creation and success helped launch the legendary career of Martin A. Sklar. At the time, Marty was a student at UCLA and had just been named editor of The Daily Bruin, the school's student newspaper. During his tenure at The Daily Bruin, Marty covered the school's many sports teams and even had dreams of one day becoming a professional sportswriter.
It turns out that a fellow named Johnny Jackson, who had been executive secretary of the UCLA Alumni Association, but who had left UCLA to join Disney, recommended Marty for the position of head writer and editor of The Disneyland News.
Marty was interviewed for the job by Card Walker, then the head of marketing and publicity for the Walt Disney Company. "It was a meeting that would change my life," Marty would say at the end of his 54-year career with Disney.
He was hired about a month before Disneyland opened. His job was to produce a 28-page newspaper that would encapsulate Disneyland, its attractions and its many endearing qualities.
Marty was tasked with writing and editing the stories, designing the pages, and supervising the printing. "Fortunately, Walt liked it," said Marty, who would go on to become the creative director and leader of Walt Disney Imagineering.
Marty put his writing skills to good use after graduating from UCLA in 1956. He secured a job in Disneyland's publicity department, where he was called on to write scripts, speeches and presentations for Walt Disney, in addition to coming up with a variety of clever park promos.
After retiring in 2005, Marty returned to his writing roots, authoring three wildly popular books, each taking a deep dive into his long and illustrious Disney career, while offering sage advice to would-be Imagineers.
Unbeknownst to Sklar in 1955, there was a young paperboy hawking those first editions of The Disneyland News who, like Marty, would go on to become a Disney Legend. Tom Nabbe was no stranger to newspapers … or Disneyland, for that matter.
As a young lad, Nabbe had a paper route in Los Angeles. But when his family moved to Anaheim, he had to scramble to find another route. He eventually secured a part-time gig near a bustling construction site.
"Whatever Sunday papers my newspaper manager had left over, he'd give to me," Tom said. "I'd then go to the Disneyland site where the workers would walk out after their shifts and I'd sell them the papers."
During that time, as Disneyland was transitioning from fields of orange groves to a theme park, Tom became friendly with brothers Ray and Joe Amendt, who had been contracted to run a concession stand inside Disneyland called Castle News.
In addition to stroller and wheelchair rentals, Castle News would be selling copies of The Disneyland News. Tom and the Amendt brothers reached an agreement. "The deal was that I would get 100 papers to sell outside the park, and once I did that, I'd be allowed into the park to sell more papers," he said.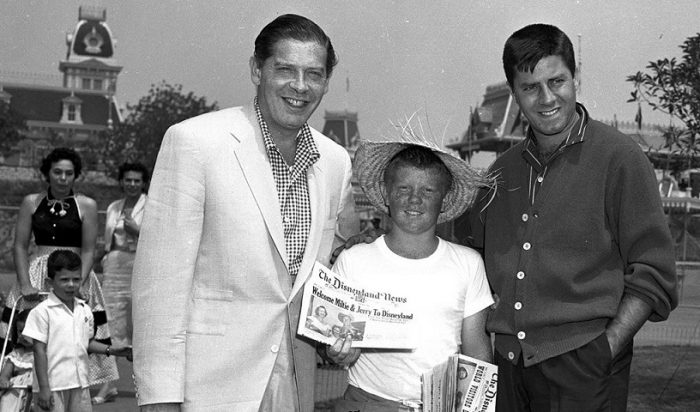 Tom became somewhat of a celebrity during those first few weeks the park was open, often posing for photos with guests. When Walt Disney began talking about building an island within Disneyland themed to Mark Twain's Tom Sawyer stories, it was suggested by more than a few people that the red-haired Tom Nabbe would be a perfect fit to play the role of Tom Sawyer once the island was open.
After much hemming and hawing, Tom secured the part and flourished. In fact, his photo appeared on the cover of Parade Magazine, with the heading "Luckiest boy in the world." After he outgrew the role several years later, Tom worked his way up the management ranks, first in Disneyland, then at Walt Disney World, where he served as the supervisor of the monorail on opening day.
He would go on to become a key behind-the-scenes supervisor at WDW, specializing in logistics. In 1963, Marty Sklar was asked to leave his post in Disneyland PR department. He joined WED Enterprises [the forerunner of Walt Disney Imagineering], and devoted all his energies to Disney's 1964-1965 New York World's Fair effort.
The job opening at Disneyland PR needed to be filled. And there was a veteran newspaperman who had covered Disneyland for years waiting to fill that void.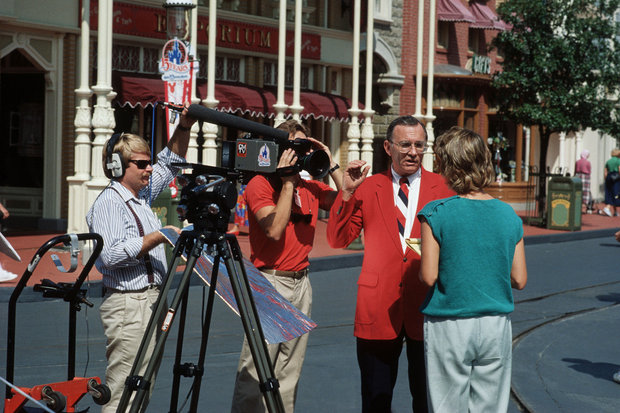 Charlie Ridgway grew up in Missouri and, as a youngster, used to tag along with his dad, who was the agricultural editor for the Chicago Tribune. "I used to travel with him during the summers when he'd go out to pick up material for stories," Charlie said.
Like his dad, Charlie earned his degree in journalism from the University of Missouri. After graduating, Charlie's dad offered him some rather prescient advice. "Newspapers are bound to be a dying breed," Frank Ridgway told his son, and he suggested that Charlie get into radio.
Charlie began his radio career as a news announcer for a small station in Illinois. He moved on to another station in Pennsylvania before landing a job with the Erie Dispatch, his first as a newspaper reporter.
In 1952, even though the job market out West was flooded with journalists, Charlie moved his young family to Southern California. They bought a house in a quiet suburb south of Los Angeles called Anaheim.
After landing a job with the Los Angeles Mirror-News as a general reporter, Charlie would often drive past the construction site that would eventually become Disneyland. He had an inkling that this new amusement venture would be something special.
Even though he had a hard time convincing the paper's editorial staff, Charlie eventually wrote a feature story on Disneyland a few weeks before it opened and was invited to the now-infamous press preview day on July 17, 1955.
During the next few years, Charlie found great human-interest stories in Disneyland, which ran in the Los Angeles Mirror-News and, after that paper folded, the Long Beach Press-Telegram. When Marty Sklar departed Disneyland's PR department, Charlie Ridgway was approached to take his place.
Although reluctant at first, Charlie quickly adapted to his new job, dreaming up a number of now-legendary park promotions, including the swashbuckling opening event for Disneyland's Pirates of the Caribbean attraction in 1967.
Charlie teamed up with Jack Lindquist and Eddie Meck to devise what became known as "press events," where members of the media would be invited to new park attraction openings or special celebrations to "see for themselves" what made Disneyland so special. He was so good at his job, that when Disney decided to create another "amusement enterprise" in central Florida, Charlie Ridgway was the obvious choice to head up the publicity department there.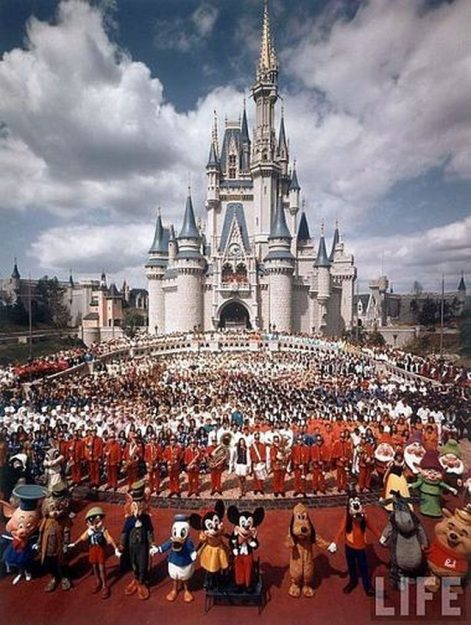 It was Charlie's idea to put together the "gang photo" of hundreds of Walt Disney World cast members prior to WDW's opening, the now-iconic photograph that appeared on the cover of Life Magazine.
Indeed, Charlie's newspaper pedigree came in handy when he was putting together his PR staff at WDW. "My radio and newspaper background helped me to understand what the reporters needed and how best to work with them," Charlie said.
"Charlie certainly sourced from newsrooms to build his little PR shop," said Rick Sylvain, himself a former travel writer for the Detroit Free Press who worked for decades with Charlie in his 'little PR shop.'
"From journalists he got a special culture of publicist who wrote succinctly, kept the PR fluff to a minimum. And they honored deadlines – Charlie's and the media's. Media who we called on during visits simply related better to our journalist pedigree. Any doubts were chased away when they knew we'd 'been there.' With that Great Wall down, the pitch became easier."
In addition to Rick Sylvain, other successful hires who segued from the world of journalism to the Walt Disney World public relations team were Dave Herbst, Michelle Baumann, Gary Buchanan, Craig Dezern, Bob Mervine, Pam Brandon and Jennie Hess.
Included on Charlie Ridgway's resume are WDW's elaborate 15th and 25th anniversary celebrations and the opening of EPCOT, where Disney and TV stations around the country partnered to carry the event live thanks to the first-ever use of satellite uplink.
Bob Gurr is yet another Disney Legend who gained experience as a newspaper carrier. As a youngster living in Southern California during World War II, Gurr had to grow up quickly.
His father had passed away, "leaving only debts in his wake," according to Bob. To help his family, he cultivated his own vegetable garden, raised goats to sell their milk and started delivering The Hollywood Citizen News.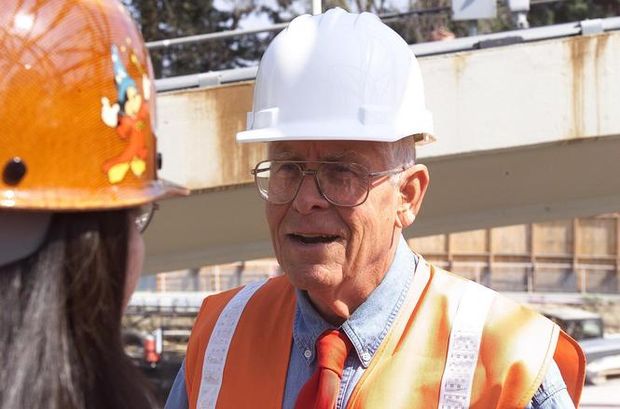 Being a paperboy required him to deliver 440 papers six days a week in the afternoon, plus 1,000 copies of The Shopping News and 1,000 advertising sheets in the mornings, twice a week.
"It didn't matter if you got sick, or if it was raining, the papers had to get delivered and the goats had to be milked," Bob said. "Many times, I arrived at school so drenched I was wet all day, but I had to get back out on the paper routes in the afternoon."
And talk about it being a small world. One of the folks on his paper route was a guy named Ub Iwerks. Yup, the same Ub Iwerks who was Walt Disney's chief animator at the fledgling Disney Brothers Studio in the 1920s. Bob became friends with Ub's son Dave, who was a fellow car aficionado.
HAD SUNDAY DINNER WITH THE IWERKS FAMILY
In the early 1950s, after spending time in Detroit designing cars, Bob returned to Southern California. He renewed his friendship with Dave Iwerks and was sometimes invited to Sunday dinner with the Iwerks family in their Van Nuys home.
Ub would often talk about a new project Disney was working on, a planned amusement park. And he mentioned how the folks at Disney were working on a miniature car ride for the park. It turns out they needed a car body designer … which was right in Bob's wheelhouse.
Bob would go on to design the first Autopia cars for Disneyland, as well as "everything else that moved on wheels." From there, he lent his expertise on the Matterhorn bobsled attraction, the monorail, the submarine voyage, the development and mass production of Audio-Animatronics, the PeopleMover and the Omnimover, as well as the trams used in the parking lots.
Another prominent Disney executive who got his start in the business world by delivering newspapers was Jay Rasulo, former company CFO and chairman of Parks and Resorts. And it turns out, Jay delivered my old paper, the Staten Island Advance, bending the rules along the way.
"I guess the statute of limitations is over," he said with a hearty laugh during an interview in 2010, "but I was underage. You had to be 12 to deliver the Advance and I guess I was only 10."
He started with 77 customers on his route and peaked at 108 before he handed over the route to his brother in 1972. "Unfortunately, in getting to 108 customers, those last eight were a 20-minute expedition by bike, I was getting so far-flung."
Jay credits his strong work ethic to those humble beginnings, delivering newspapers door-to-door. "I recommend for every young person, at some point in life, to take on an enterprise where you are an independent businessman," Jay said. Taking it a step further, there are two Disney attractions where newspapers are used as props.
In the Carousel of Progress in the Magic Kingdom, one of the scenes features the Father character sitting in a chair, clutching a newspaper in his right hand. And in EPCOT's Spaceship Earth, Gutenberg's printing press, which allowed for the mass production of printed materials, is celebrated.
And who can forget the young "newsie" hawking the latest edition of the paper: "Extra! Extra! Read all about it!" he shouts as the ride vehicle passes by.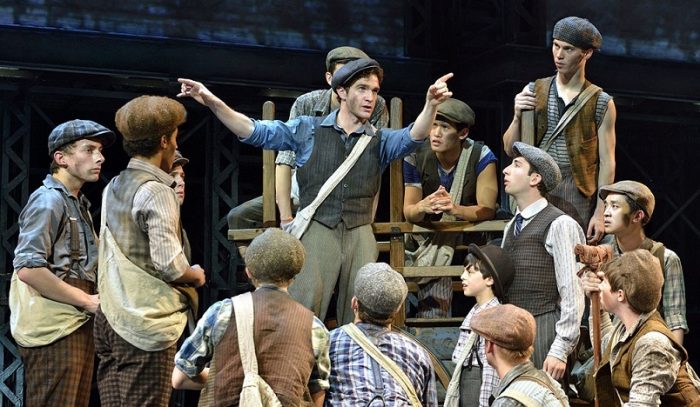 Speaking of young news carriers, Disney took a deep dive into that rough-and-tumble world, circa 1900, with the feature film Newsies, a musical comedy-drama that was released in 1992.
The movie drew a strong cult following and ultimately was adapted into a successful Broadway stage production, garnering eight Tony Award nominations. While newspapers played a huge roll in the lives of so many Disney leaders, they also told the world of their deaths.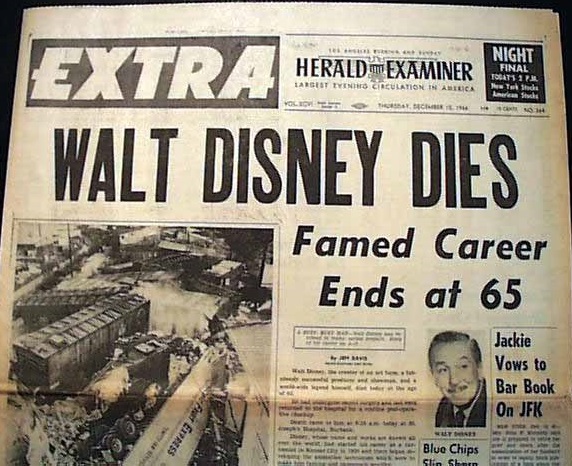 For instance, when Walt Disney died in 1966, news of his passing made Page 1 of most papers around the world. And as you might expect, California's papers told the story with bold banner headlines.
In a sense, those headlines took Walt full circle, from humble Midwestern newspaper delivery boy to world-famous entertainment giant whose death warranted front-page coverage worldwide.
Chuck Schmidt is an award-winning journalist who has covered all things Disney since 1984 in both print and on-line. He has authored or co-authored seven books on Disney, including his most recent, "The Beat Goes On," for Theme Park Press. He has written a twice-monthly blog for AllEars.Net, called Still Goofy About Disney, since 2015.