Okay, let's get real! While there are so many great Quick Service and Table Service restaurants around EPCOT, the fish and chips from Yorkshire County are a true standout.
While we'll definitely be making a few rounds on the weekends when the fish and chip shop opens, there's still a way you get your fish and chip fix (other than heading to the Rose and Crown Pub).
As we hopped around the UK Pavilion to admire the buildings, breathe in the smell of the flowers, and maybe grab a pint, we stopped into The Tea Caddy to check out what was inside. And, the fish and chips craze has continued to spread throughout EPCOT because there's a whole line of new houseware, kitchenware, and apparel to go in your home (even if you're American).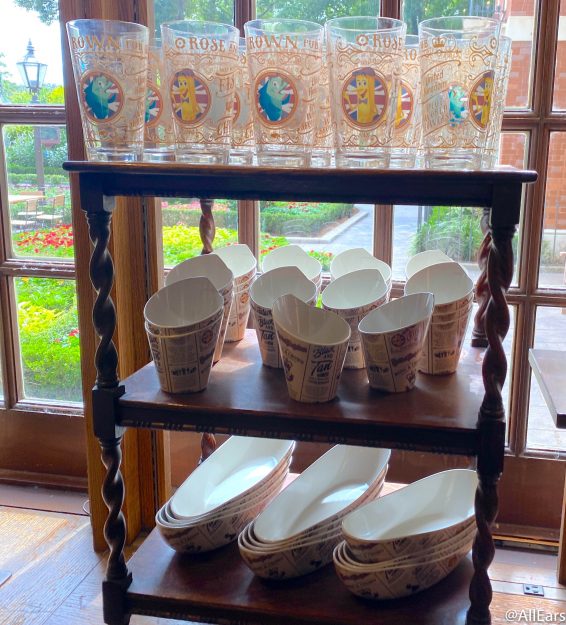 If you try your hand at your own homemade chips (or fries, for anyone who doesn't know the term), you can put them Fish and Chips Fry Holder for $9.99…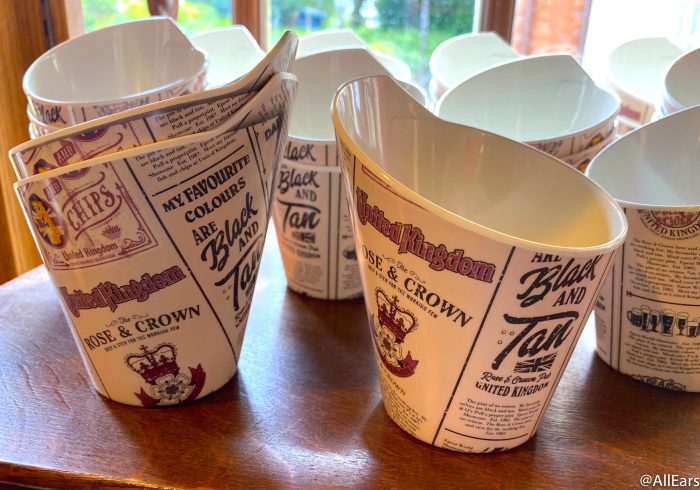 …as you bake your own battered and fried fish to place inside the elongated Fish and Chips Bowl to complete your meal for $12.99.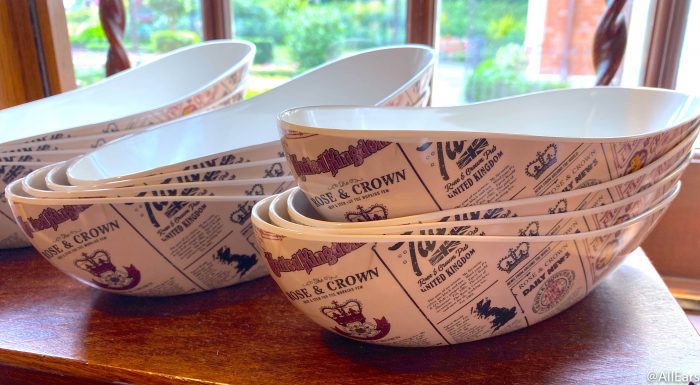 What's fish and chips without a great beer to pair with your lunch or dinner? You can drink some Guinness or your favorite sips in the Fish and Chips Glass for $13.99…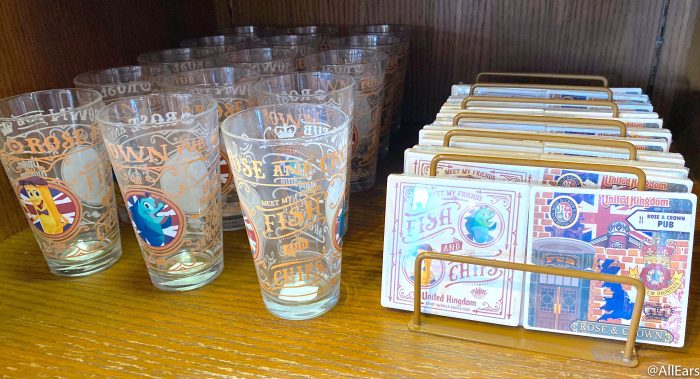 …but don't forget to place it on one of the Fish and Chips Coasters! While you can see the sweet fish and chip doodles as well as the Rose and Crown Pub on one side…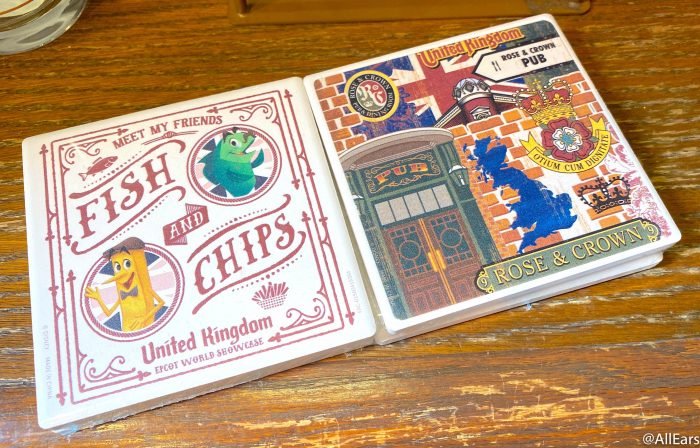 …the logo for the restaurant and a look at some beer are drawn on the other side for $19.99.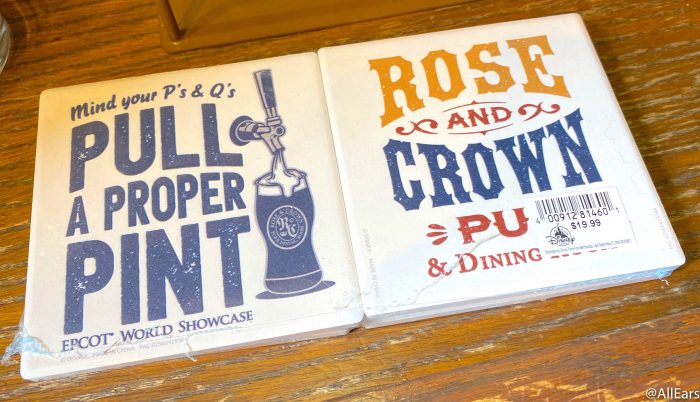 As you're baking in your kitchen, you can add a little flair to your recipes from the UK with the Fish and Chips Kitchen Towels for $19.99, Oven Mitt for $12.99, and Pot Holder for $12.99.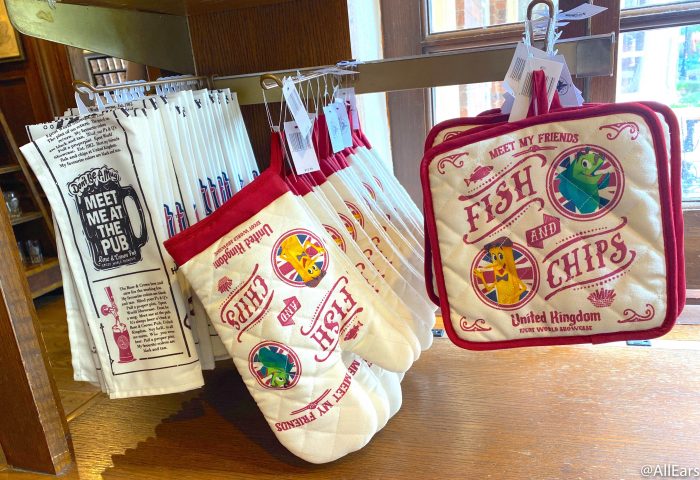 And, we definitely think you need to be fashioning the Fish and Chips Apron as you flip your fish out of the pan and into the fryer for $29.99.
Whether you're chilling at home or strolling around the World Showcase, you can show off your favorite meal in the Fish and Chips V-Neck for $29.99, Fish and Chips Raglan for $36.99, and Fish and Chips Kids' Shirt for $19.99…
…along with your ADORABLE new Fish and Chips Ears for $29.99 with newspaper, the Union Jack, and other sweet details!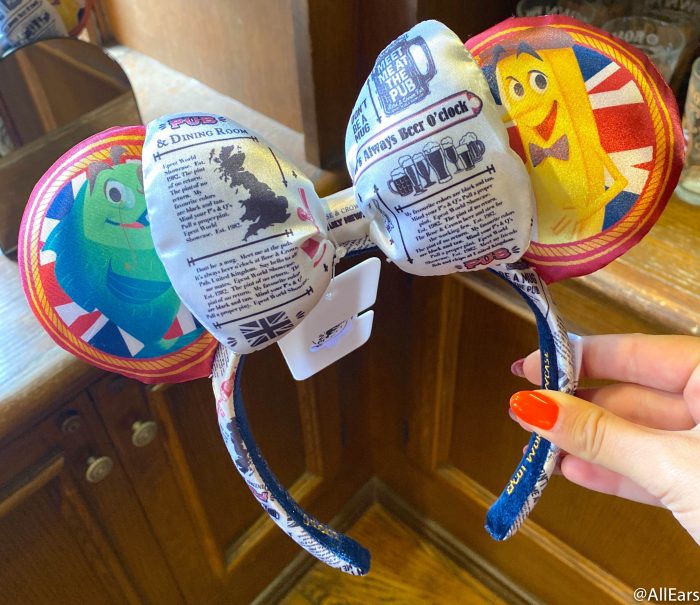 Although all this themed merchandise is great on its own, nothing beats a fresh, hot batch of fish and chips when you're in EPCOT! So, be sure to head to the UK Pavilion on the weekends to stop by Yorkshire County (and then the Tea Caddy for all the kitchenware your trolley can carry).
What's your favorite snack to get in the World Showcase? Let us know in the comments below!