It has been quite the week over in the Japan Pavilion of EPCOT!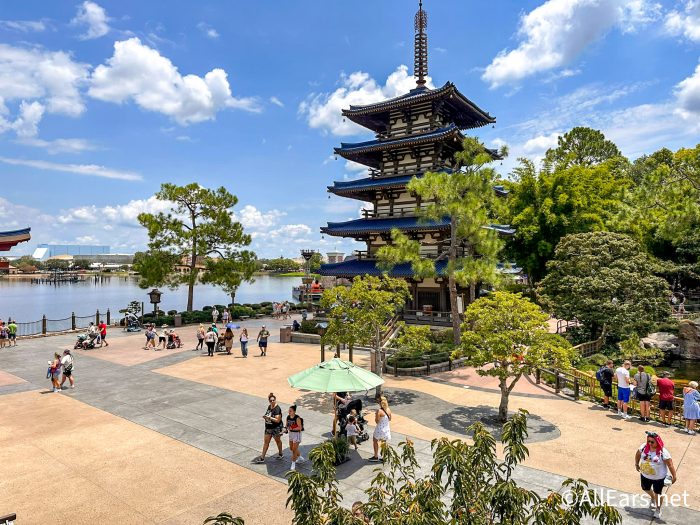 Shiki-Sai: Sushi Izakaya is the brand new sushi bar and grill that has replaced Tokyo Dining in the Japan Pavilion. Within the past few days, we've gotten a first look at the menu and all the prices, advance dining reservations opened for the restaurant's official opening date on August 28th, and on top of all the news, we learned that the restaurant was already open for walk-ups! Of course, we had to check it out. The best part? We're taking you with us!
Background
You'll find this new restaurant on the second floor of the Japan Pavilion, above the Mitsokoshi store, where Tokyo Dining once stood. It's meant to be a one-of-a-kind experience, with a rotating menu based on Japan's seasonal festivals. Disney says that the new spot will "festive dining experience in a sharable Izakaya-style."
Upon arrival, you'll already see some of the seasonal decor that's up for the summer festival: the Tanabata Festival. Shiki-Sai shared that the people of Japan celebrate Tanabata by making decorations, preparing and eating noodles, and writing their wishes on paper strips called tanzaku, which are then hung on bamboo branches — which you can see here! When you visit, you are welcome to add your own wish to the tree.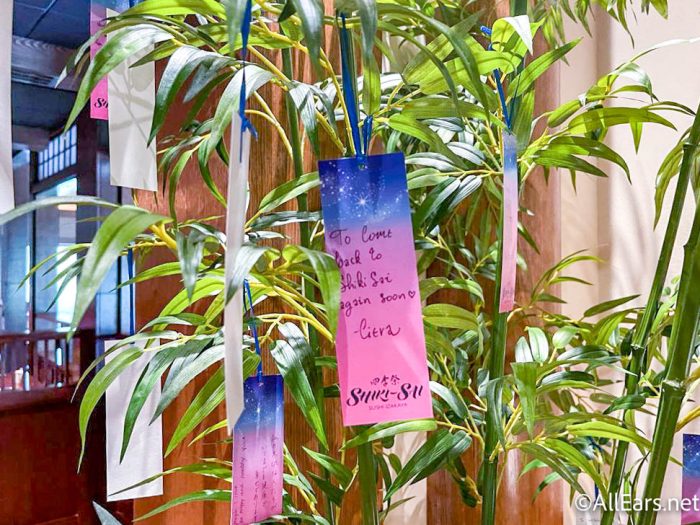 The restaurant is filled with elements of Japanese culture, from the lanterns that adorn the ceiling to the trellis near the sushi bar, which is "inspired by the roof of the Phoenix Hall in Kyoto."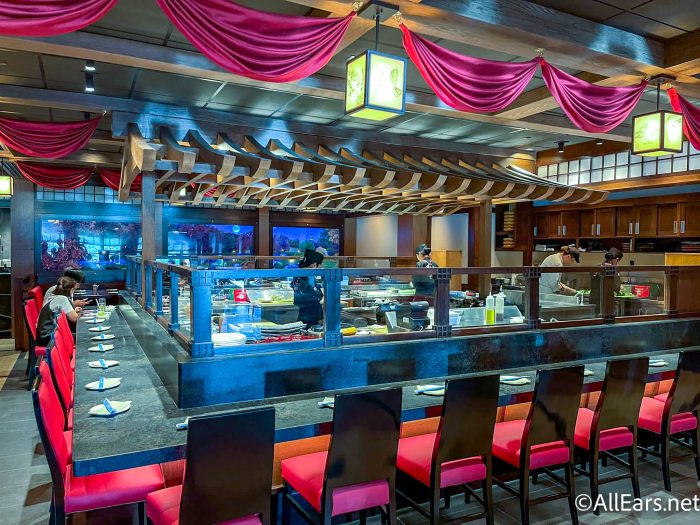 Plus, the restaurant is hosted by Cultural Representatives from Japan. This makes the experience even more special.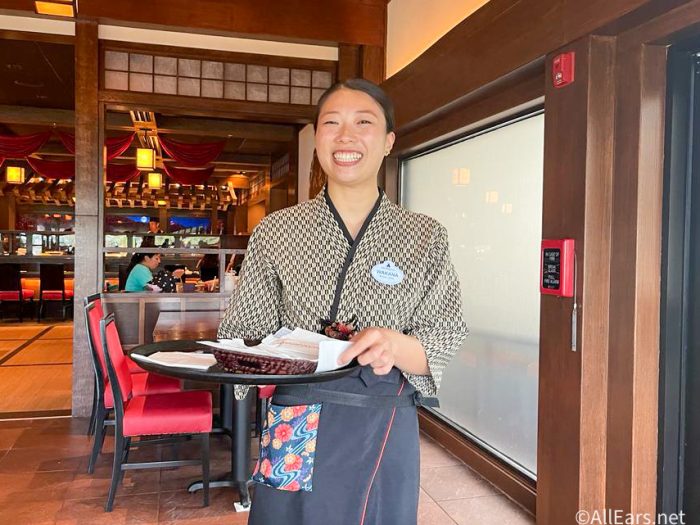 Now that we've taken a look at the atmosphere and background of the restaurant, let's try some food!
Food and Drinks
Drinks
First up, we started off with some drinks! We tried the Violet Yuzu Lemonade for $12. This is a lemonade made with Yuzu juice and blue butterfly pea flower.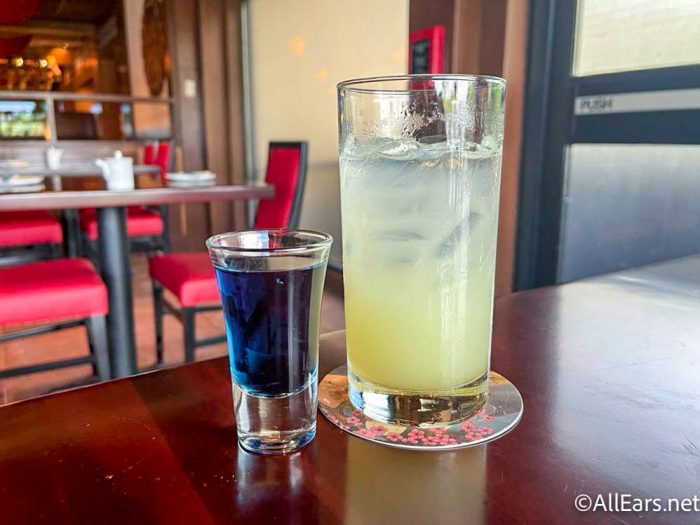 This one tasted more like a real juice as opposed to a soda or a syrupy concoction that you might find elsewhere in the parks. The lemonade and Yuzu was a really special flavor combination and it didn't compare to violet sake or violet lemonade. It's something that we really wish we could walk by and pick up at a quick service location. To us, the Yuzu tasted like a combination of tangerine and lemon — not overwhelmingly sweet at all. It's a very interesting yet delicious lemonade option.
We also tried the Gari Gari Sour Ramune for $16. This drink is a shochu and ramune-flavored popsicle with soda.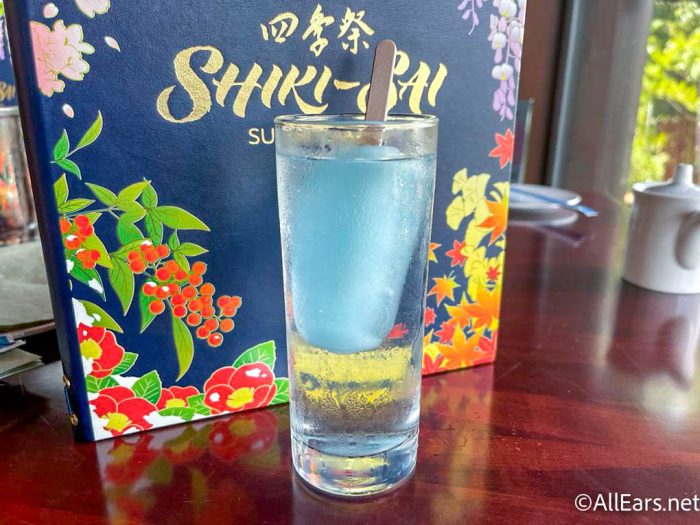 This carbonated drink reminded us of a less sweet sprite with a bit of blueberry syrup. The aftertaste reminded us of medicine but overall, it's a simple, sweet drink. The alcohol flavor was barely there, so this could be a great option for those who don't enjoy the taste of liquor.
For our last drink, we got the Summer's End for $16. This is a cocktail that features strawberry, sake, apple juice, and a splash of citrus juice.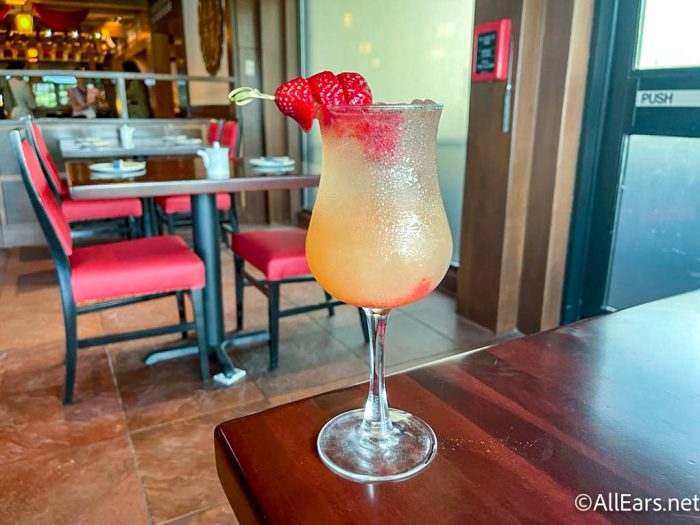 We found this drink very fruity and refreshing. It's sweet, but in the way strawberries are sweet, not the way super sugary tiki drinks are.  You can taste the sake for sure, but this drink is a great way to experiment with the flavor of sake if you're new to the drink or if you haven't enjoyed it in the past.
Now, let's move on to the fun part! The FOOD!
Food
First, we tried the Chef's Special Sushi and Sashimi Fune for $300. This is brought out in a boat presentation and features an array of sashimi and sushi. While it's easily the best sushi we've ever had in Disney World, we can't recommend it simply because of the price. Yes, the array and quality of fish was impressive. Yes, it looks beautiful. However, there are great options for sushi and sashimi on the menu that don't require that you spend $300.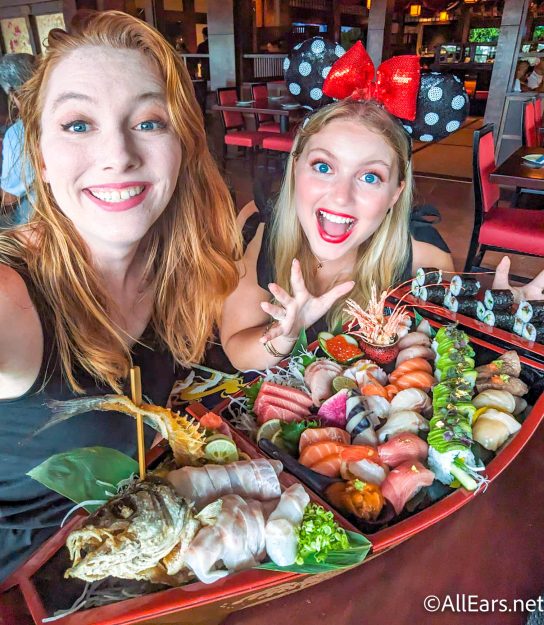 Now that we've started off with some sushi, let's try some apps!
Starters
Here's a look at the Agedashi Tofu for $14. This is one of the vegan appetizer options. The fried tofu was absolutely, perfectly cooked, and it provided a really rich protein to this dish. What we first believed to be a miso base ended up being Dashi, which is a Japanese-style soup stock. There was a sweetness to this dish that we loved with the savory flavors, as well and a variety of mushrooms that really felt luxurious.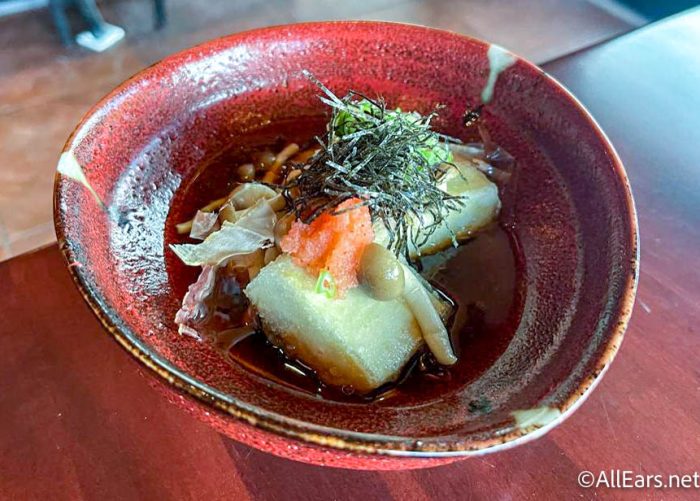 We also tried the Grilled Waygu Gyoza for $20. Y'all, these dumplings were to die for! They were so soft and juicy. The meat was the main flavor. It was almost a buttery, fatty flavor. Not the best time to try wagyu, but it was a very delicious dumpling. 
Next, we had the Kara-age Chicken, which is $12. This is Japanese-style fried chicken flavored with garlic and ginger and served with lemon.  This chicken was so flavorful! We weren't initially as excited for chicken compared to the sushi, but this was so, so tasty! The skin was incredibly crisp and the chicken itself was juicy and buttery. It melted in our mouth and was very easy to eat. Quincy pointed out that not everyone would like the texture compared to traditional Disney chicken tenders, though, as these were more like chicken thighs.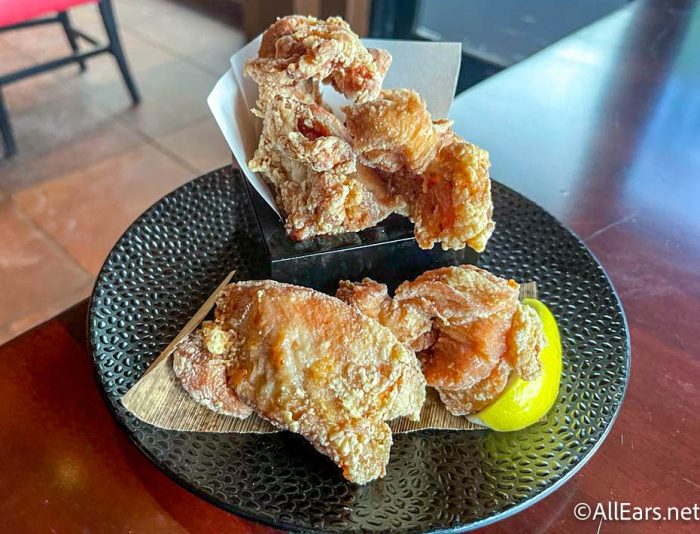 Now that we've had some starters, let's move on to entrees!
Entrees
We decided to try the Okonomiyaki for $28. This is a Japanese savory pancake filled with bacon. It tasted like a scallion pancake! We think that this is a great option for pickier eaters, as the biggest flavor here is bacon. There are lots of pieces throughout the dish. We also loved the sweet soy-based sauce!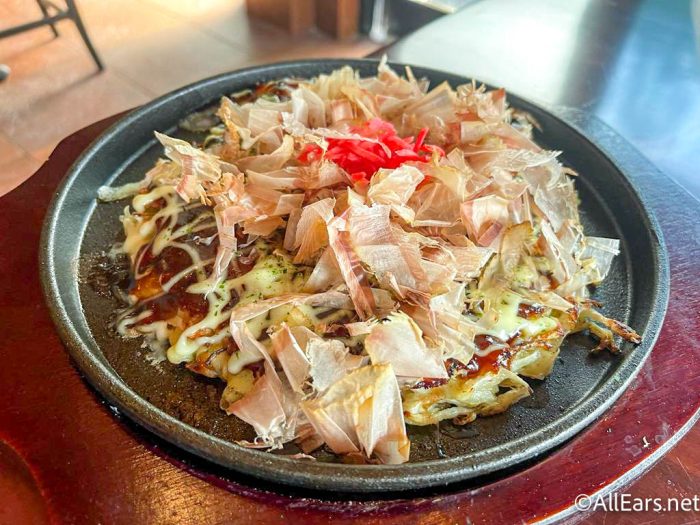 Next, we tried the Vegetable Nabeyaki Udon for $24. This udon was incredible! The broth was so savory and flavorful and it made the Udon even more incredible. There were so many different types of mushrooms, which added different textures and flavors. $24 is a very fair price for the amount and quality of this dish.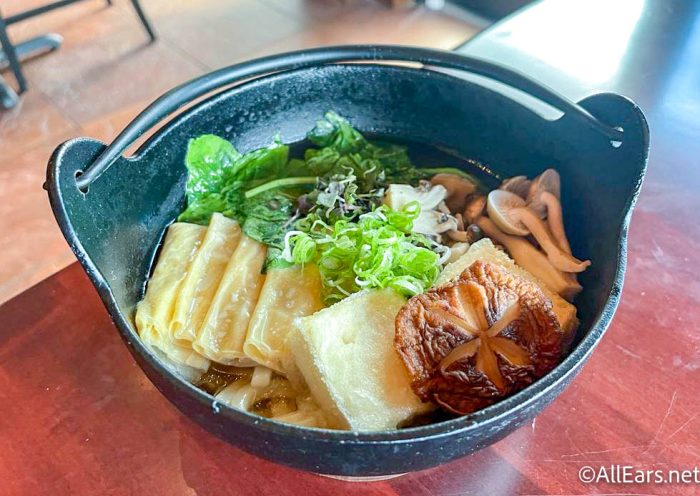 Now, on to the Ishiyaki Sukiyaki Rice! This dish is $28 and WONDERFUL. They brought the bowl and dish to our table and showed us how the rice and beef were cooked in the hot dish. The beef was nice and tender, although it lacked a bit of seasoning. The rice was very flavorful and almost sweet at times. The rice almost has a crunch to it thanks to the fact that it cooked in the bowl, which really brought the entire dish together. Absolutely wonderful!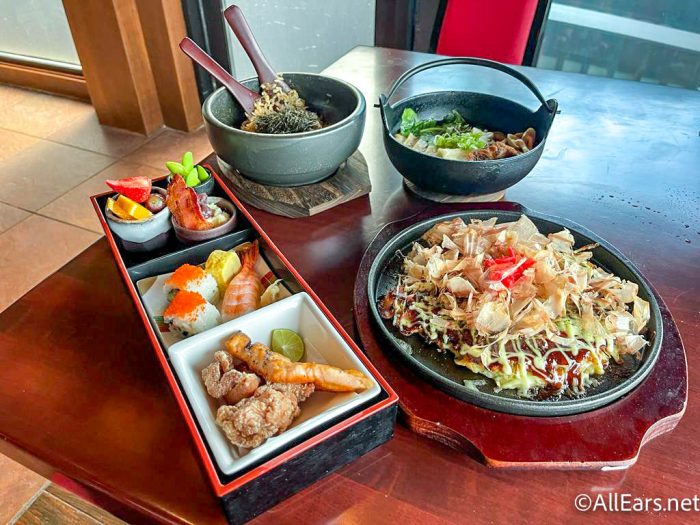 Also shown in the above photo is the Kids Bento for $20. We were really impressed with this kiddos option! It had salmon, chicken, California Rolls, a shrimp nigiri, an egg roll, fruit, edamame, and Japanese potato salad. The salmon was super crispy, along with the chicken. The rolls were high-quality for a kid's option, which really impressed us. The fruit and edamame were fresh, but the Japanese potato salad was fairly plain with some interesting chunky textures. Overall, it was a great balanced meal and definitely adventurous for kids. Not all kiddos will be excited about this offering because it's pretty different, but we were really impressed. This could even be a great option for adults.
Now that we've had our entrees let's try some dessert!
Dessert
We got the Ichigo Parfait for $18. This parfait was nothing overly special, but it was delicious! The cheesecake was almost lemony, and the acidity worked really well with the sweetness of the strawberries. The strawberries were also very fresh. The ice cream was simple and acted as a vessel for the other ingredients. We also really enjoyed the crunchy cereal pieces for added texture in the parfait.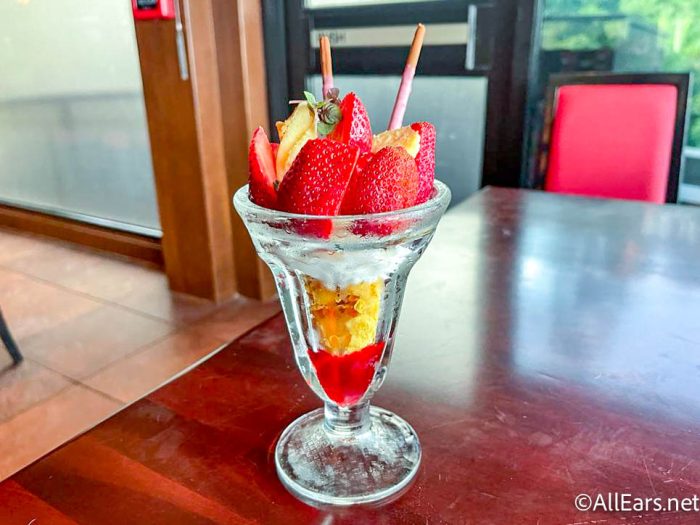 Should You Go?
Overall, we were very impressed with our experience here. What makes this restaurant great is the fact that there are items on the menu that appease every palette and budget. Plus, the quality and amount of food that you get is amazing for the price.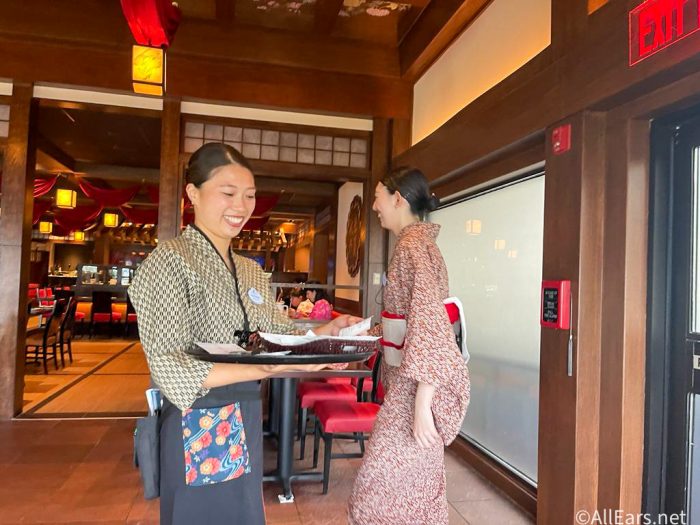 While it might be difficult to find menu items for younger kiddos who don't yet have those adventurous palettes, this is a great place for those of you who love Japanese food. This is a great date night spot, lunch, or dinner option for families with older kids, and could even be a great way to come in and enjoy some drinks. After all, there IS a pretty great view.
We definitely recommend this restaurant to anyone and everyone who loves sushi, noodles, and rice, and we will definitely return — even if we don't get the $300 sushi boat!
We were lucky enough to be invited back for a media preview and got to try even more delicious food and drinks! To drink, we got to try the Tokyo Sunset. We found this drink to be very sweet and fruity. This drink is a sunset-colored cocktail that has pineapple, coconut rum, and orange juice with a splash of grenadine. You can order this drink for $16.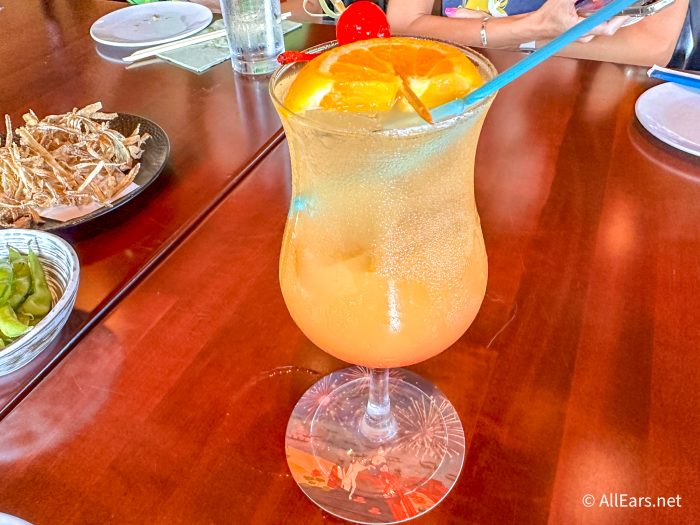 On our second visit, we also tried two versions of their Edamame — the Spicy Garlic Edamame and Wasabi Edamame. You can order these for $8. First, the Spicy Garlic Edamame was really flavorful. We found these to be very garlicky with a hint of spice.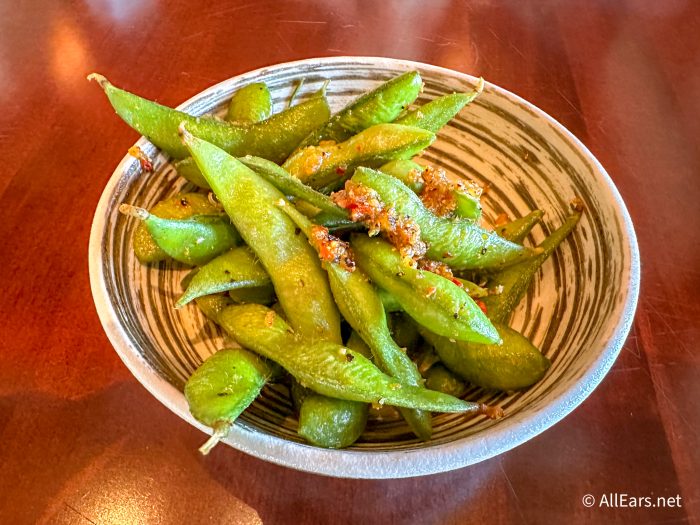 The Wasabi Edamame had a light wasabi flavor and didn't have much of a kick, which we thought was nice for those who might be intimidated by wasabi. We could snack on these all day.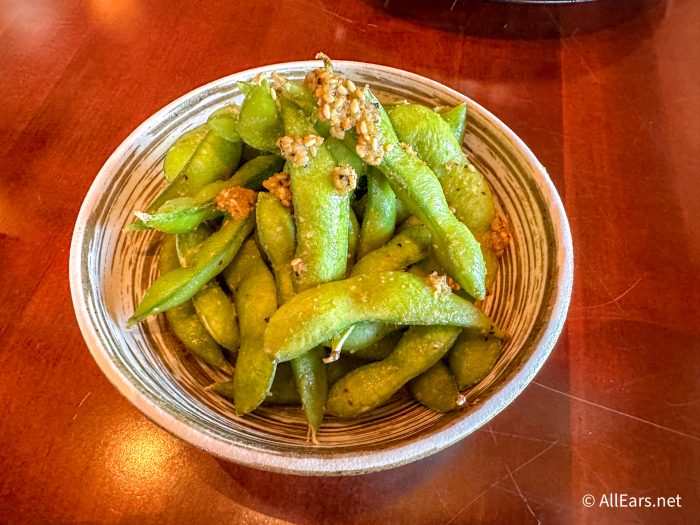 Up next, we tried the Gobo Chips. These are strips of crispy fried burdock root seasoned with salt and aonori. You can grab these for $8. These were really crispy and were easy to eat. They aren't filling but will give you something to snack on while you wait for more food.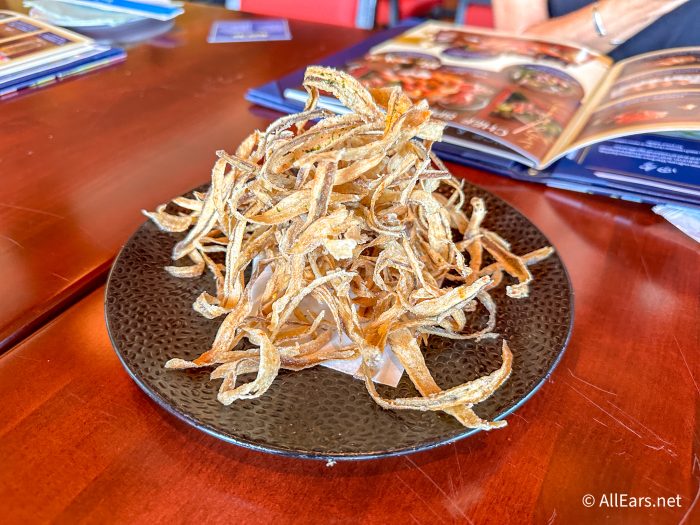 One of our favorite foods from this visit was the Tomato Garden Salad. This costs $12 and comes with tomato, avocado, and grilled mushroom tossed in truffle oil with creamy goma dressing. It was very fresh and light.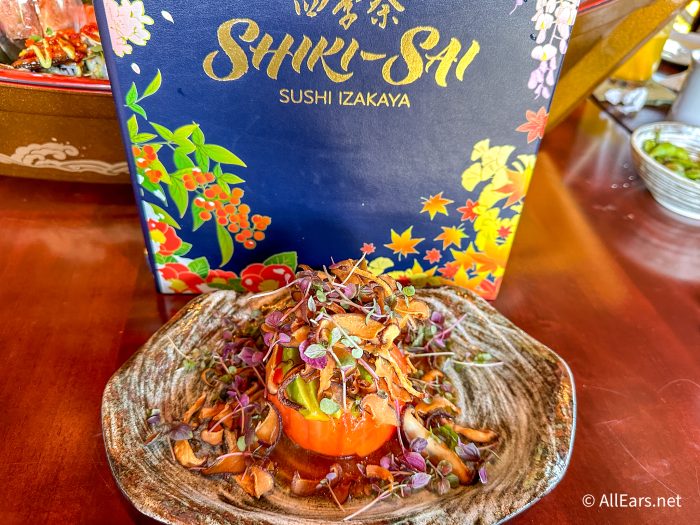 We also got to try the Tokyo Negi Roll, which is green onion tempura rolled with tuna tataki and topped with jalapeño aïoli, shredded carrot, and sliced jalapeño. You can order this dish for $20. Even our reporter, who isn't a big sushi eater, loved this item. It was delicious with a great amount of spice.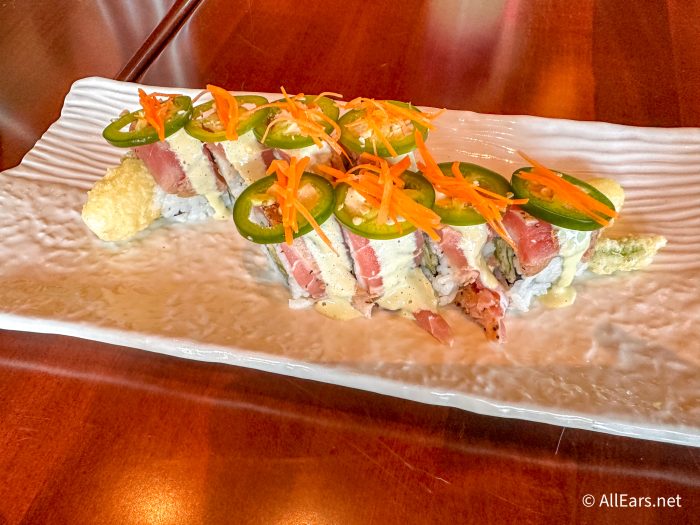 Next, we had the Kushi Assorted, which came with six signature skewers featuring two each of beef, chicken, and shrimp. All of the skewers were nice and tender and were tossed in a delicious ginger sauce. These were delicious and if you want to try something outside of sushi, this is a great option.
We also tried 6 of the Vegetable Skewers. Ours was served with zucchini, tomatoes, shishito peppers, eggplant, asparagus, and mushrooms. You can order an Individual Kushi — Seasonal Vegetable for $6. We really enjoyed these! These had great flavors, and the flavor really stood out since they were grilled so well.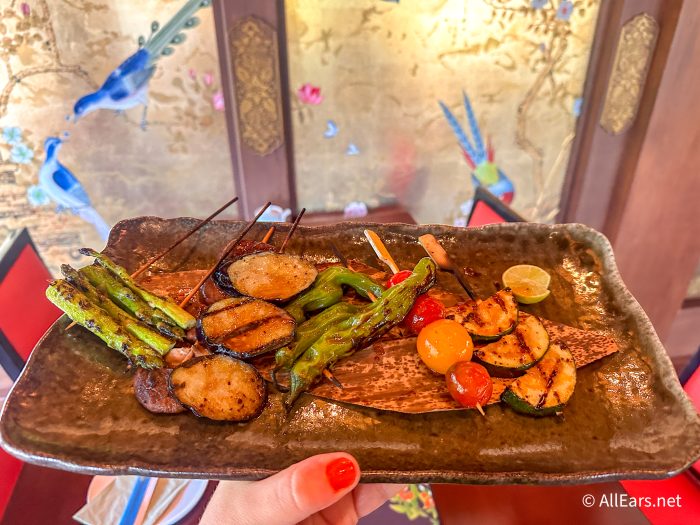 There were also three different preparations of Wagyu Beef that we got to sample! First, we had the Wagyu Tataki, which is thinly sliced Wagyu, seared on the outside and rare on the inside, and tipped with green onions and garlic.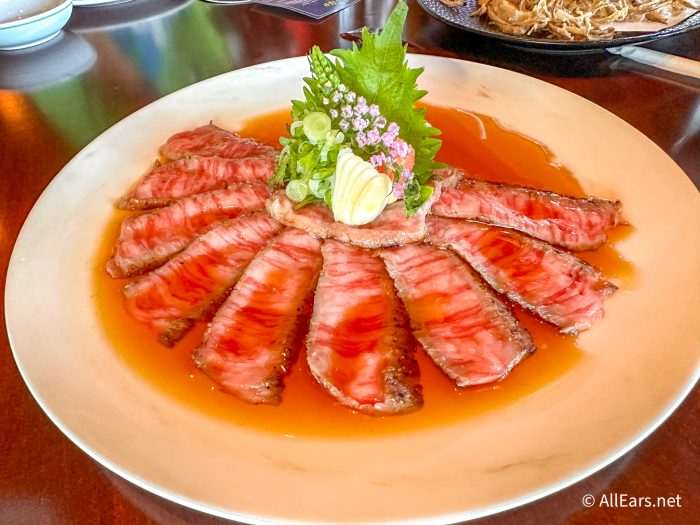 Then, we tried the Wagyu Nigiri, which was cuts of Wagyu served over rice and with a side of wasabi. This was also served rare on the inside, but the addition of the rice made this taste tender.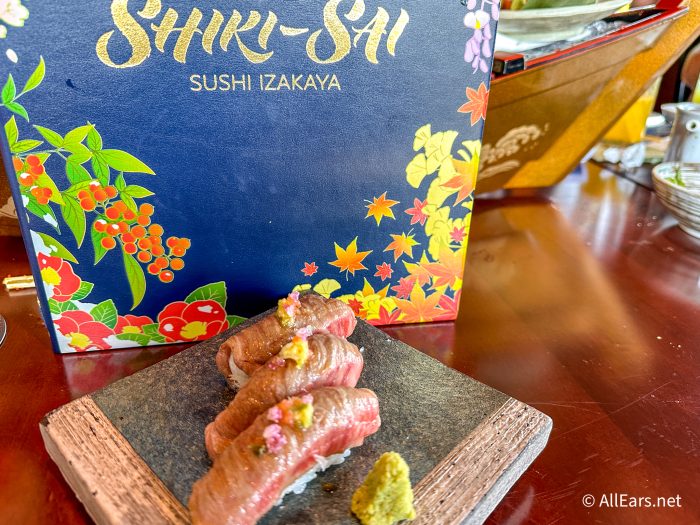 And lastly, the Wagyu Steak, which came with sliced potatoes and a side of wasabi salt. The meat was perfectly cooked. It was tender and flavorful, and the wasabi salt really made us love this.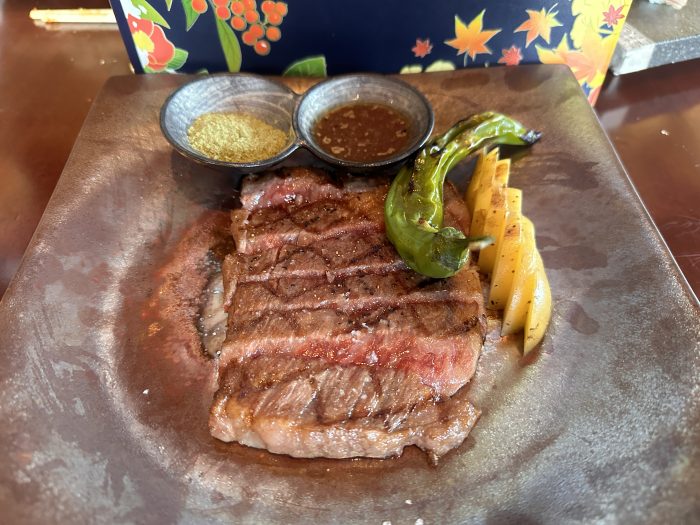 Next, we were also served the Mentaiko Udon, which was served with creamy udon noodles topped with spicy cod roe. You can order this for $28, and it's a generous portion! This was creamy and very flavorful.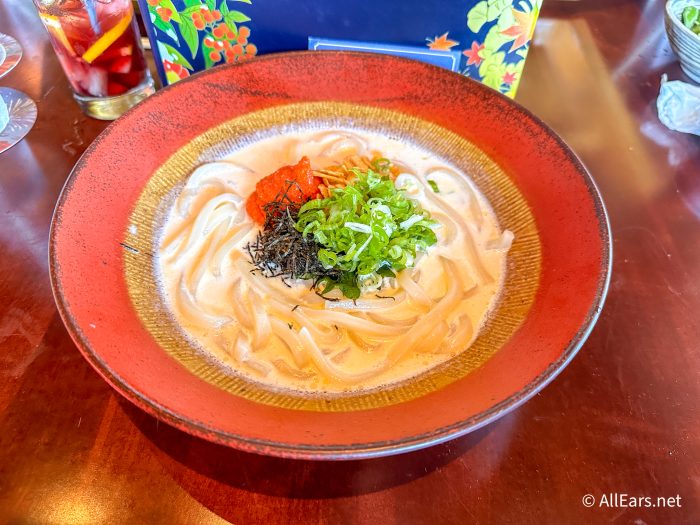 Lastly, we got to try a few desserts! Look at those gorgeous colors.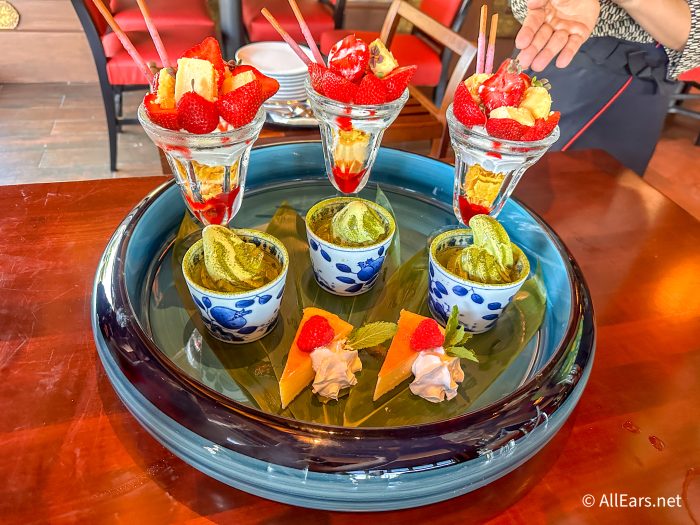 We tried the Ichigo Parfait again, which we thought was bright and delicious. This parfait was filled with delicious strawberries, vanilla ice cream, and cheesecake.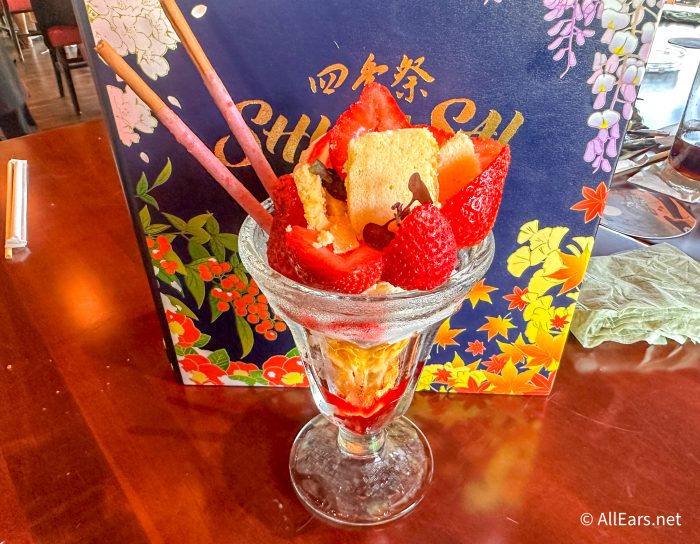 Next, we had the Green Tea Soft Serve Ice Cream, which you can order for $6. This was creamy and decadent. It was sweet but not overpowering.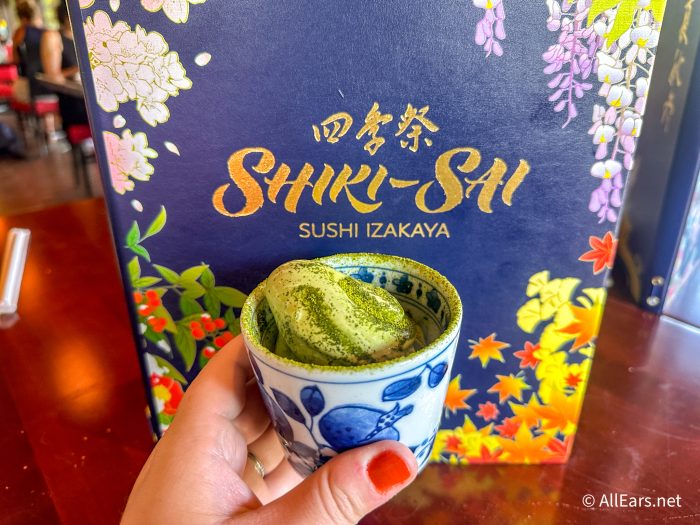 Lastly, we tried the Yuzu Cheesecake, which was amazing. You can order this one for $10. It was creamy and rich, and the yuzu sauce on top added the perfect acidic sweetness to brighten it all up. This is the perfect light dessert.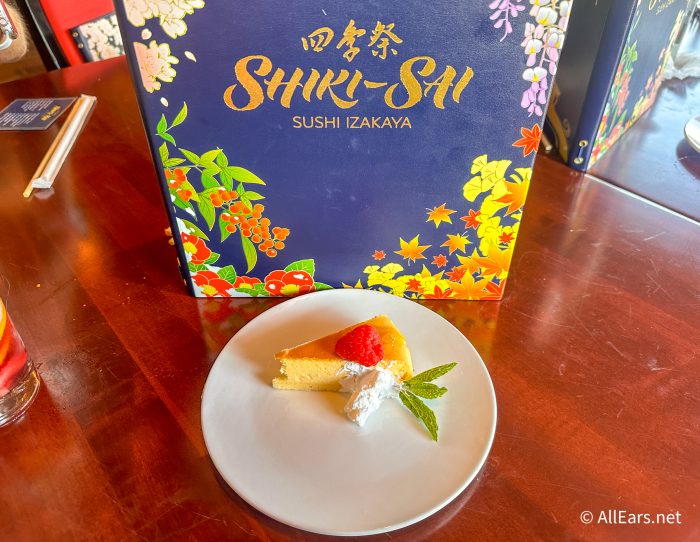 If you do end up trying this new sushi spot, make sure to drop a review on our site so that other readers can hear your thoughts! You can leave a review by clicking the link below.
We'll continue to keep you updated as we post more food and snack reviews, so make sure to follow along for more so that you don't miss anything. See you next time!
Join the AllEars.net Newsletter to stay on top of ALL the breaking Disney News! You'll also get access to AllEars tips, reviews, trivia, and MORE! Click here to Subscribe!

What do you think? Would YOU visit this restaurant? Let us know in the comments!
Disclosure: We were invited by Shiki-Sai to attend the media event. This did not affect our reporting of the event — our opinions are our own.