Is it really Halloween if you haven't watched Hocus Pocus at least three times?
While the movie puts a spell on your for another year in a row (with the new Hocus Pocus Cookies for the occasion), there's three drinks brewing up at Starbucks that will have you saying "Bubble, bubble, I'm in trouble!"
The Sanderson Sisters may have had to wait 300 years for a virgin to light the Black Flame Candle, but you can get your Starbucks order quicker than Winifred can yell "SISTAAAAHS!" with these drink hack tutorials we spotted on Delish!
The Winifred
Since Winifred's outfit is a bright green that goes wickedly well with her red locks, it's only fitting that the Winifred Frappuccino does the same!
How to order:
Start with a Green Tea Frappuccino
Add one pump of white mocha syrup
Add one pump of peppermint syrup
Make sure to put whipped cream on top
Include crushed strawberry as the finishing garnishes
The Winifred drink was one of the sweeter out of the three with an extra kick of white chocolate from the white mocha, even though you don't taste the coffee too much. The drink has a LOT of peppermint (which we GUESS can pass as a Halloween candy??), so it'll leave you with a nice minty aftertaste!
The Mary
Mary's the odd one out of the Sanderson Sisters, and we can't help but love her for it! Since Mary's iconic brunette do' is styled into a swirl, the Mary Frappuccino got to have some sort of treat that's shaken and stirred to go with her red dress too!
How to order:
Start with a Strawberries and Cream Frappuccino
Switch out the sweetener for white mocha syrup
Ask for strawberry purée on the top AND bottom of the drink
Add strawberry inclusions
Finish it with a mocha drizzle on top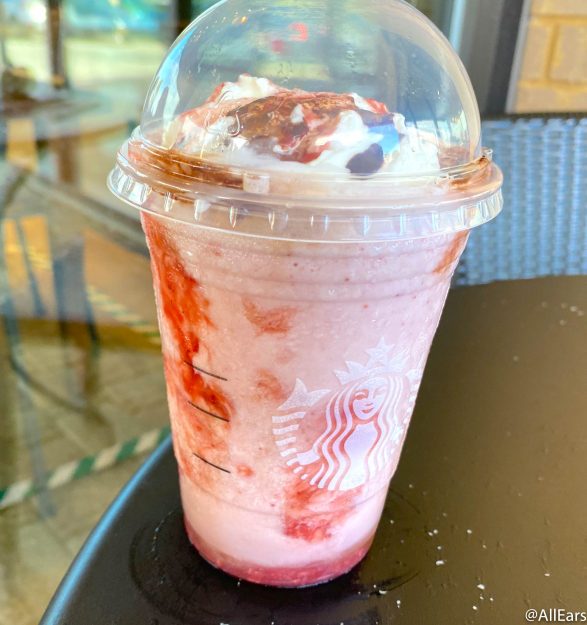 The Mary actually tasted like a chocolate covered strawberry since it was practically dessert in the cup! Although mocha drizzle on top was a nice touch, we were surprised at how fresh the strawberry flavor was in the Frappuccino. But, be warned — she's totally sweet and might put a spell on your tastebuds!
The Sarah
We only expect the Sarah Drink to make our taste buds run amuck, amuck, amuck! And, if you're a fan of sweet berries like the color of Sarah's iconic dress and lipstick, you'll love the flavors in this one! Just don't forget the ginger on top to go with Sarah's long, blonde hair.
How to order:
Start with a Violet Drink
Add in extra berries
Switch out the coconut milk for soy milk
Ask for the drink to be double blended
Top it with ginger powder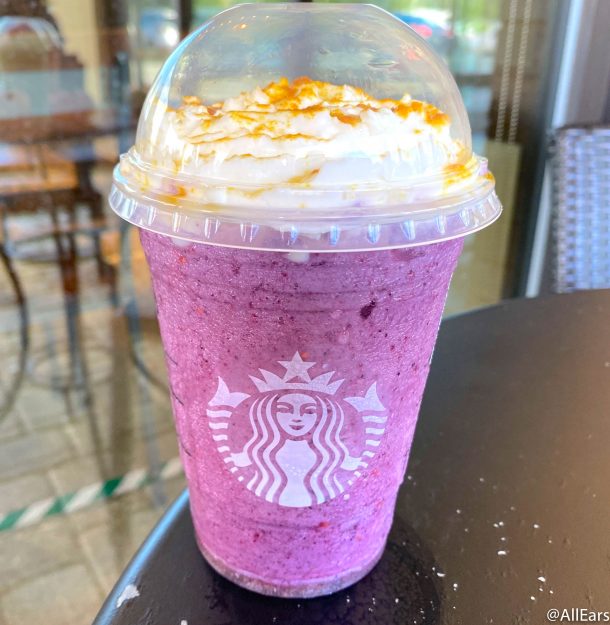 If you're a fan of soy milk, then you'll love The Sarah! However, the switch from coconut to soy milk takes away some of that sweetness from the Violet Drink that so many people love. We think that you could definitely keep the regular Violet Drink as is with its original coconut milk and do all the other steps for the same drink, just with a bit more sweetness.
While Mary isn't normally everyone's favorite Sanderson Sister, she happened to be the WINNER in our opinion! We couldn't get over how great the strawberry flavor was in every sip, which was a perfect treat as one of the Sanderson Sisters' concoctions this Halloween! But, if you're more of a coffee person, we suggest getting a black coffee to say it was inspired by the Black Flame Candle.
What Halloween treat are you looking forward to having the most this Halloween season in Disney World? Let us know in the comments below!
Join the AllEars.net Newsletter to stay on top of ALL the breaking Disney News! You'll also get access to AllEars tips, reviews, trivia, and MORE! Click here to Subscribe!