Humanity has witnessed many age-old battles: Montagues versus Capulets, Hatfields versus McCoys, Tom versus Jerry.  But the one we want to talk about today is Disneyland versus Walt Disney World.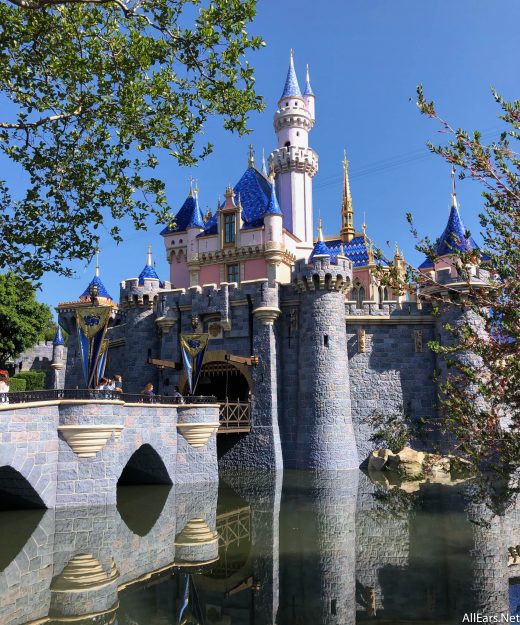 The parks have so much in common, including many of the same attractions. But anyone who's ridden attractions on both coasts knows they're rarely exactly the same. 
So we're digging in to determine

which of the shared attractions are better

.
Pirates of the Caribbean
This one has a winner clear as the crystals you'd find in a stolen treasure chest.  Both rides have gone through a lot of changes, including the addition of a more powerful, feminist (albeit controversial) "Redhead" in the form of the pillaging pirate Redd. While the Pirates of the Caribbean in Magic Kingdom creates an awesome atmosphere beginning at its queue, Disneyland's version of the classic boat ride is nearly twice as long.  We know that quality is more important than quantity, but in this case, Disneyland delivers ― the extra ride time allows for a second drop and extra scenes.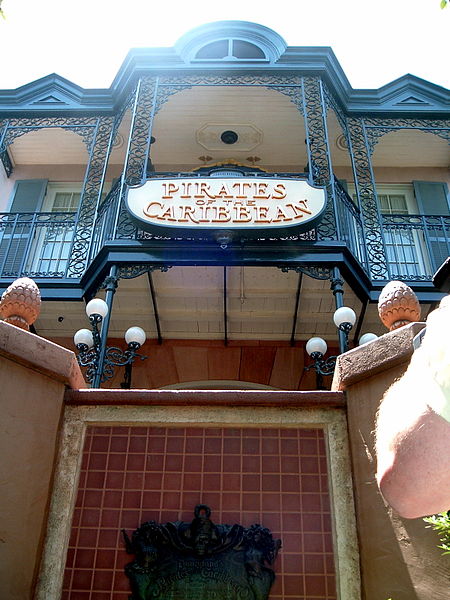 Winner: Though the charm and storyline of the ride are virtually the same, Disneyland just does it better.
Haunted Mansion
Disney-goers love the Haunted Mansion on both coasts.  Disneyland's is an antebellum house in New Orleans Square, while Magic Kingdom's is an English Tudor-style building up on a hill in Liberty Square.  The exterior of the World's ride already gives a sense of foreboding and is generally more intimidating than its predecessor.  The queue is also more interactive, and it introduces you to some of its 999 haunts before you even enter the ride.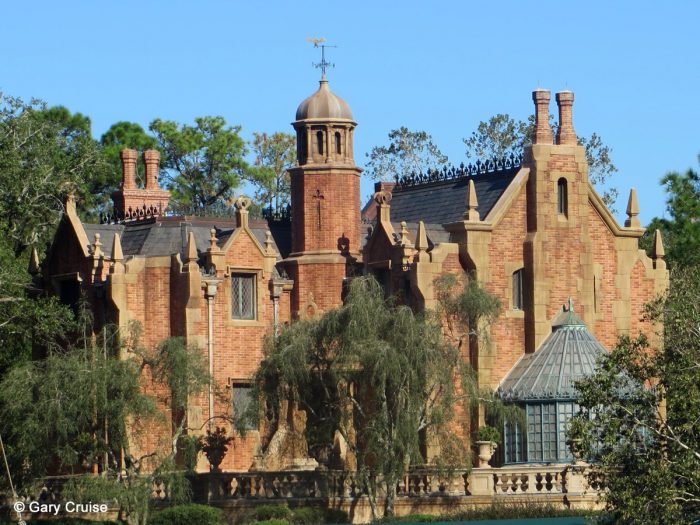 Disneyland's version does have the Hatbox Ghost and the Haunted Mansion Nightmare Before Christmas Holiday overlay going for it, which is really a treat.  However, Disney World's version of the ride is longer, with additional scenes and recent updates.
Winner: Between the architecture, extra scenes, and overall creepiness factor, Disney World wins this round.
"it's a small world"
"it's a small world" is another Disney classic, first debuting at the New York World's Fair in 1964.  While both versions of the boat ride feature a lot of the same scenery (and the famous impossible-to-get-out-of-your-head tune), they're actually pretty different.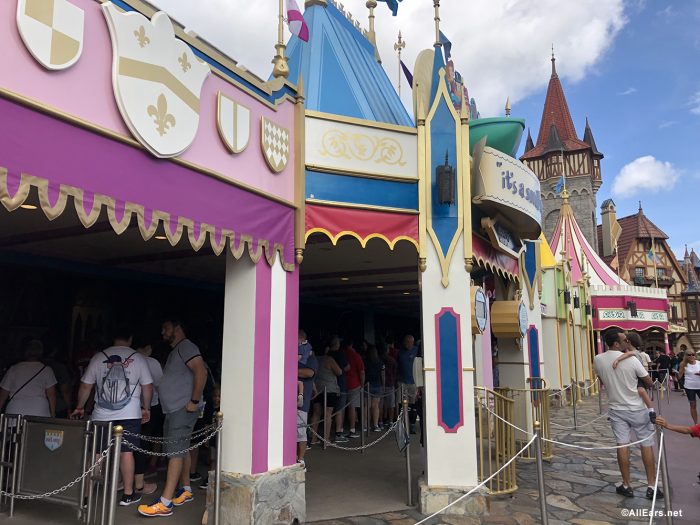 Take Disneyland's version: it's a whimsical building with sparkles and moving parts with an exterior so large that there are now projection shows done on it.  In Disney World, however, "it's a small world" is tucked away in a building that is, quite frankly, underwhelming.  Sure, this is likely necessary due to Florida's rainy weather, but it still doesn't measure up to Disneyland's, especially during the holidays, when you'll find seasonal tunes and an overlay on the west coast version.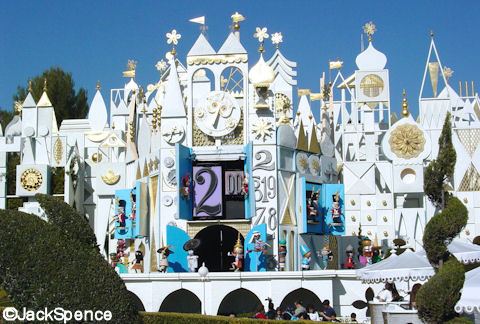 Disneyland also has a fun bonus inside the ride. Beloved characters like Lilo and Stitch, Cinderella, and Alice can be found in scenes that match the setting of their movies.  It's a fun twist without allowing the ride to be monopolized by IPs.
Winner: Disneyland, hands down.
Dumbo the Flying Elephant
Though the ride is the same in both parks, Disney World's has the extra theming of the circus tent, which goes along perfectly with the Storybook Circus are of Fantasyland.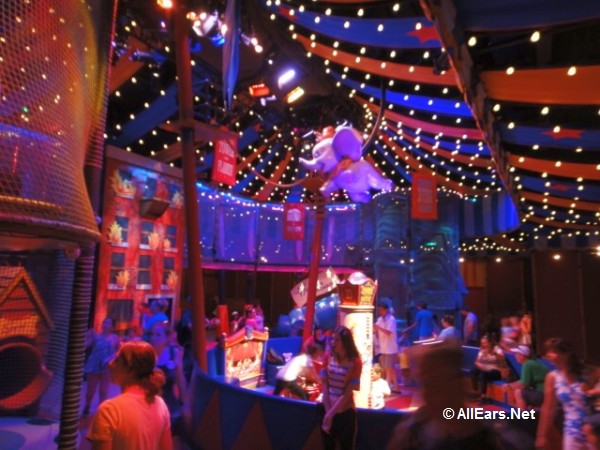 The tent is home to a playground where children can play while the adults in the party hang onto a buzzer that will tell them when it's their turn.  Finally, Disney World has two Dumbo spinners, cutting down on wait times.  Disneyland's, while a classic, doesn't quite have the same flair.
Winner: Disney World
Astro Orbiter
This situation is pretty similar to Dumbo's.  Both coasts have the same ride — a basic spinner — but at Disney World, you get the bonus of riding from an elevated platform, making it the perfect place to look out over the park (and challenge your fear of heights).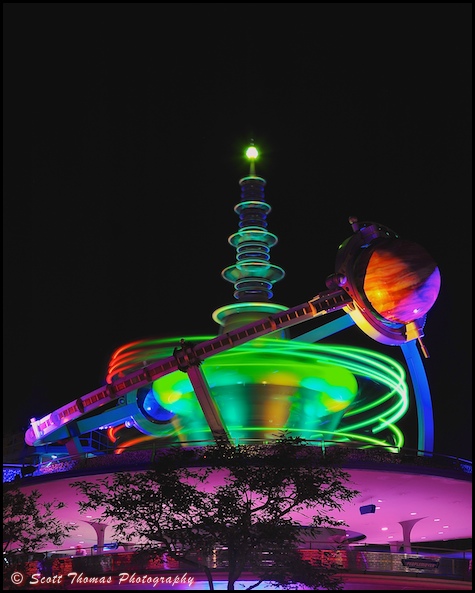 Pro tip: ride Astro Orbiter at night for a breathtaking nighttime view of Magic Kingdom!
Winner: Disney World
Soarin' Around the World
Soarin' Around the World started as Soarin' Over California in Disney's California Adventure and then showed up in Epcot.  Both rides flew guests over iconic California locations, ending right in Disneyland for a fireworks show.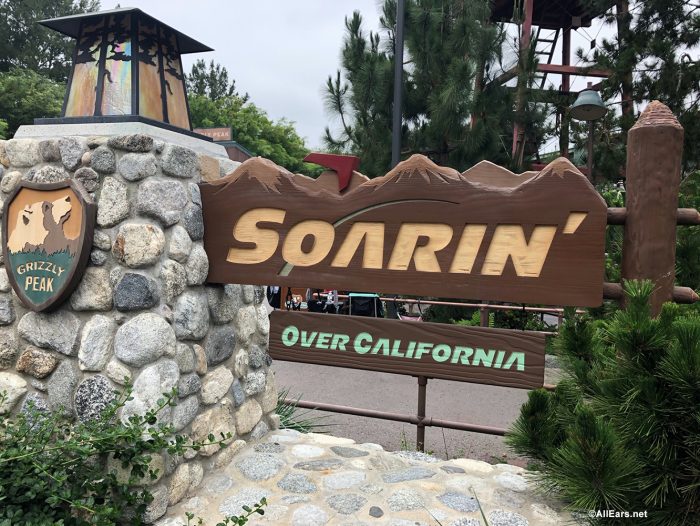 When they transitioned to Soarin' Around the World in 2016, guests had the opportunity to fly over places like Paris, the Great Wall of China, and Monument Valley.  The only difference in the rides is that California Adventure's film ends in Disneyland, and Disney World's fittingly ends at Epcot.
Most of the differences are in the atmosphere of the rides.  For example, California Adventure's queue is appropriately themed as an aircraft hangar, where aviator history hung around the line.  Epcot's queue, while sleek, is rather generic and doesn't have the same charm. California Adventure also brings back the original version of the ride every so often!  This is a great way to be able to experience Soarin' Over California again.
Winner: Disneyland
Buzz Lightyear's Astro Blasters vs. Buzz Lightyear's Space Ranger Spin
This Tomorrowland ride, again, is super similar on both coasts.  The main differences here are the targets and the blaster itself. Magic Kingdom's Space Ranger Spin features are only circular targets.  Meanwhile in Disneyland's Astro Blasters, there are three different shapes, and the different shapes have different point values.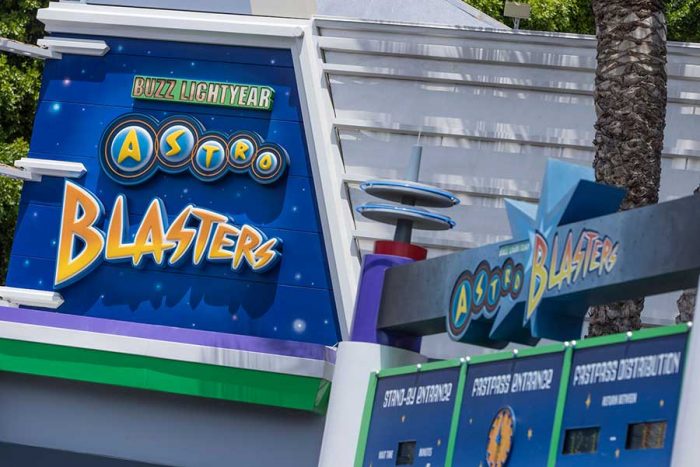 More importantly, in Disneyland, you can actually lift your blaster to aim it.  In Disney World, the blasters are stationary, which makes things a little less complicated for those with poor aim.  For gamers and people with good coordination skills, being able to lift the blaster really helps and makes the experience even more fun.
Winner: Disneyland
Twilight Zone Tower of Terror vs. Guardians of the Galaxy – Mission: BREAKOUT!
Guardians of the Galaxy – Mission: BREAKOUT! is essentially the little brother of the Twilight Zone Tower of Terror.  The truth here is: they both deliver.  Despite having the same ride system, they each have vastly different themes, making them harder to compare than most of the other rides on this list.
Tower of Terror is classic ― and terrifying!  The preshow sets the scene with a spooky story of lightning that once struck the now-abandoned hotel.  Everything from the queue to the Cast Members do a great job of giving guests the creeps, and the pitch black of the ride only amplifies this feeling.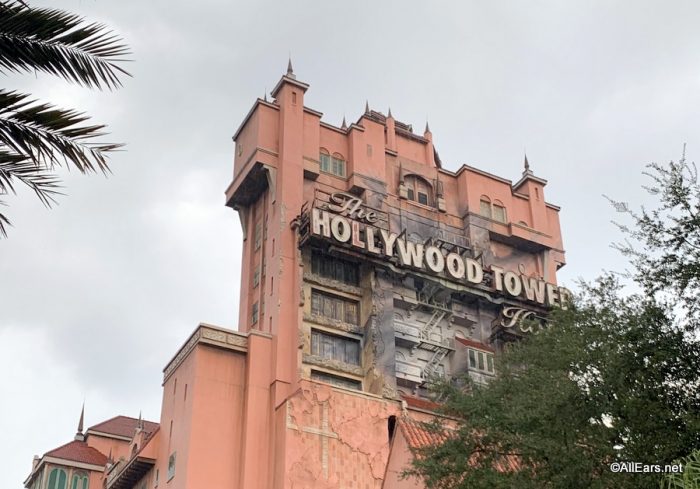 Meanwhile, Mission: BREAKOUT! creates the exact opposite atmosphere: guests are there to help Rocket rescue his fellow Guardians, and he's going to make sure you have fun while you do.  From the colorful lighting and amusing scenes of the Guardians to the awesome mix playing as you drop, the ride gives off an entirely different feeling.
Winner: Tower of Terror die-hards will hate this answer… but Disneyland.  The vibe is so different and so fun―overall, a great update.
Radiator Springs Racers versus Test Track
This is essentially another case of Tower of Terror versus Mission Breakout.  Both Test Track and Radiator Springs Racers are awesome, and they're both two of the more thrilling Disney attractions. The tracks, of course, are super similar. Racers, however, only hits 40 miles per hour at its top speed while Test Track actually hits 65 miles per hour.  Point for Disney World, butttttt Racers has way more personality to it.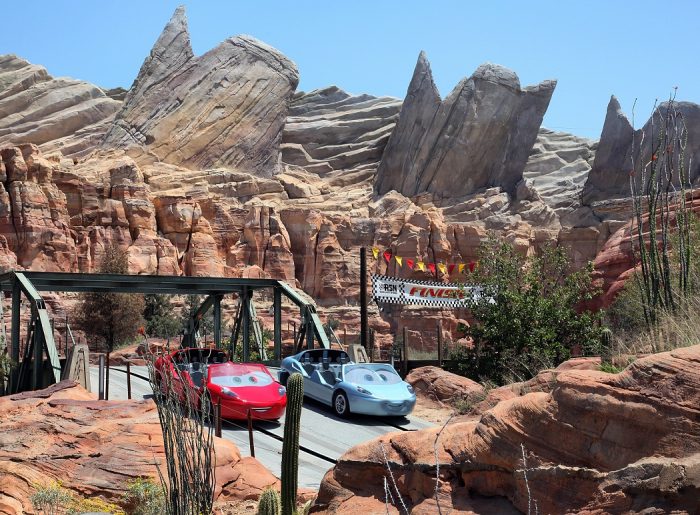 Test Track, right now, is sponsored by Chevrolet and has a futuristic/sports car vibe going on.  Meanwhile, Racers' theme is very concrete: Pixar's Cars.  On Racers, you come bumper-to-bumper with your favorite Cars characters in animatronic form, and they are some top-notch animatronics.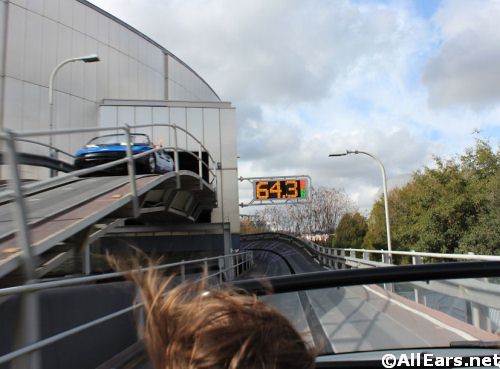 Not everybody loves the incorporation of IPs, but the reality is that the theming and atmosphere of Racers are lighthearted and welcoming…which you don't really get from Test Track.
Winner: Sure, you can build a car in Epcot, but Radiator Springs is where it's at.
Dinosaur versus Indiana Jones: Temple of the Forbidden Eye
Similar to Test Track and Radiator Springs Racers, Dinosaur in Animal Kingdom and Indiana Jones: Temple of the Forbidden Eye in Disneyland utilize the same track system and vehicles.  However, their themes are completely different, and honestly, we love them both.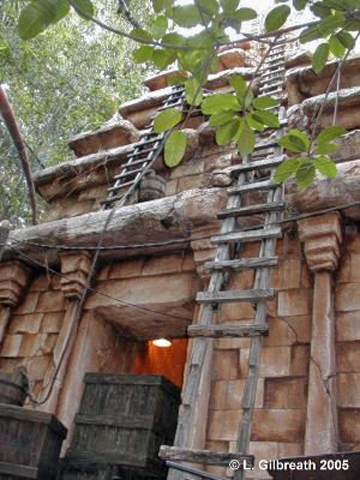 Dinosaur has a lot of charm to it―not only does the queue line feature a voiceover from Bill Nye the Science Guy, but its preshow introduces guests to lovable rule-breaker Dr. Seeker and his mission to bring a particular iguanodon back to the present from the Cretaceous period.  It's a genuinely fun time travel storyline that brings you face-to-teeth with friendly and ferocious dinosaurs.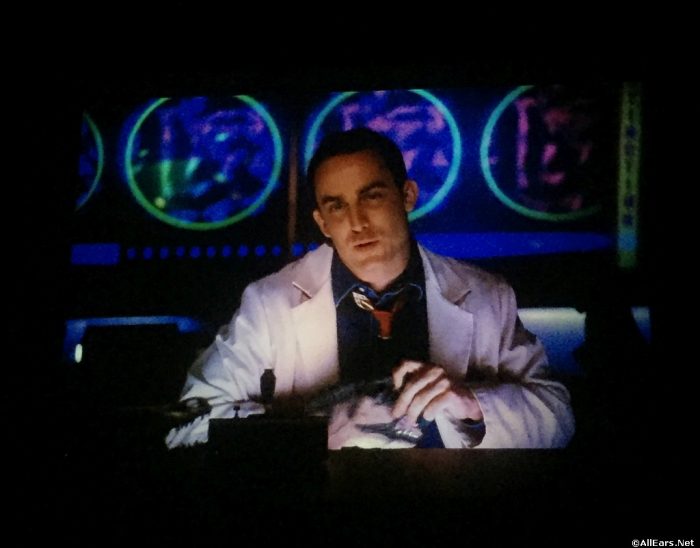 Indiana Jones is the pinnacle of adventure, starting with the queue line, which sets the mood with low lighting, stalagmites, and booby traps.  The ride itself takes guests through a tour of the temple, until, of course, something goes wrong, and suddenly things get much more dangerous. Each chamber brings a new threat, including the infamous boulder that chases Indy.
These are both more thrilling than the average Disney rides, and they are certainly not for the faint of heart or those prone to motion sickness.  Overall, though, Indiana Jones has the better effects.  Indy's creepy crawlies and audio animatronics feel a lot more real than Dinosaur's.
Winner: No matter how much we love Dr. Seeker, Disneyland is the winner here.
Fantasmic!
Just like these rankings, Fantasmic! Is the perfect way to end a night in the parks.  Even though the shows are similar, they're not quite the same. The biggest difference between the two Fantasmic! shows is probably their locations within each park. In Hollywood Studios, there's a whole amphitheatre dedicated to the show, while in Disneyland, it takes place on the Rivers of America.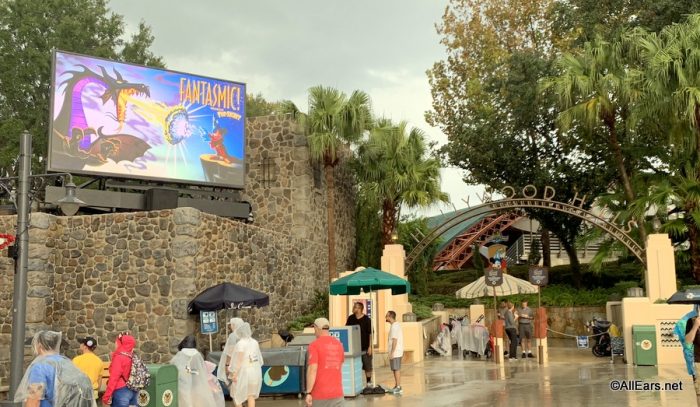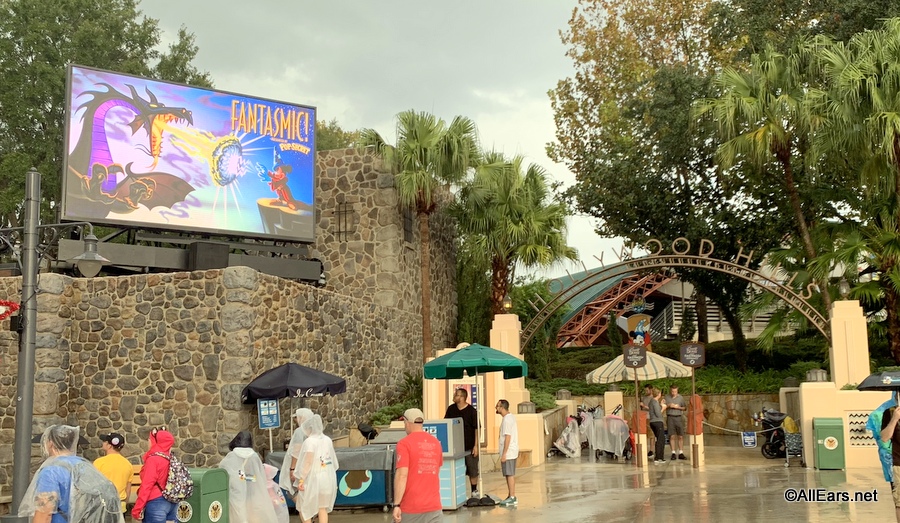 While the seating in Hollywood Studios is definitely a plus, Disneyland's location allows the show to be observed by passers-by, and being surrounded by other attractions gives it a more Disney feel to it.  And, even though Disney World has larger effects, Disneyland has better effects―they were recently revamped, nicknamed "Fantasmic! 2.0"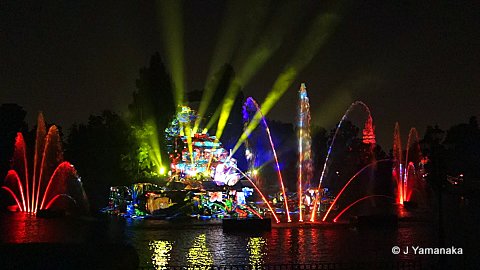 Finally, the overall scenes in Disneyland's are more exciting.  Hollywood Studios features Pocahontas, but Disneyland features Pirates of the Caribbean, allowing for more great effects and the use of the sailing ship Columbia.
Winner: Disneyland
In the end, we've got eight attractions that are better at Disneyland and four at Disney World.  Will that stop me from loving Disney World and everything it has to offer? Absolutely not, but even I've got to admit that Disneyland has a real knack for not just building amazing rides but also for building them better.
What do you think about the debate?  Disneyland or Disney World? Weigh in with your opinion in the comments!
Join the AllEars.net Newsletter to stay on top of ALL the breaking Disney News! You'll also get access to AllEars tips, reviews, trivia, and MORE! Click here to Subscribe!