Fantasmic! Rivers of America Disneyland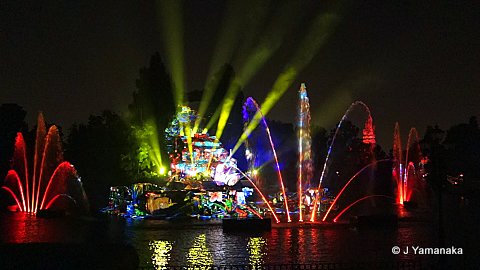 Introduction | Attraction | Touring Tips | Kids/Characters | Dining | Shopping | Interesting Facts
INTRODUCTION
Taking place on the Rivers of America, Fantasmic! is a nighttime show where the power of Mickey's imagination comes to life in an amazing spectacle of pyrotechnics, lasers, water screens, animation, fire and water effects and live action sequences featuring many favorite Disney characters and villains.
ATTRACTION
FANTASMIC! As the show begins the Rivers of America are dark and quiet. Mickey Mouse appears on the stage on Tom Sawyer Island and "conducts" the river to life in a blaze of lights, water fountains and fireworks. Three giant water screens rise from the river and a series of animations are projected on them.
The animated scenes shift to the African savanna. Out on the stage Kaa, the huge snake from the Jungle Book, slithers across the island. On the river, floating barges carry King Louie and his cavorting day-glo-colored monkeys around the river.
Other scenes combining stage action and water screen animation include the pink elephants from Dumbo, the Genie performing "Friend Like Me", scenes from "The Little Mermaid" and "Finding Nemo", and Monstro the whale.
There's the sound of cannon fire as the Sailing Ship Columbia, which has been transformed into an eerie pirate ship, comes around the bend. In an action-filled scene, Captain Jack Sparrow duels skeletal pirates high in the rigging, while ghostly pirates pursue a damsel in distress on the decks below.
Fog rises on the island as Jasmine and Aladdin float above the clouds on their flying carpet. The "Whole New World" theme gives way to a medley of "Tale as Old as Time", "Part of Your World", and "At Last I See the Light" as the "dream come true" couples float by — Beauty and the Beast, Ariel and Eric, and Flynn Rider and Rapunzel.
The Magic Mirror appears on the mist screens and appears to trap Sorcerer Mickey in the Mirror. Suddenly the Wicked Witch from Snow White appears on stage and conjures up a series of villains to take over Mickey's dream. Ursula, Chernabog and other nightmarish images appear on the water screens until there is a burst of flame on-stage. Sorcerer Mickey is freed from from the mirror but left to deal with Maleficent. Pointing at Mickey she laughs and in an amazing transformation sequence she becomes a 45′ dragon who breathes fire and sets the water ablaze.
But Mickey is equal to the task and in a burst of pyrotechnics he defeats the dragon, who vanishes in a shower of pixie dust.
The water screens again rise and Tinker Bell flies on screen, waving her wand. Amidst a flurry of fireworks the Mark Twain Riverboat comes into view, and a host of Disney characters wave banners as they float by, with Steamboat Willie at the helm.
As the riverboat disappears, Sorcerer Mickey appears high on the island stage and conducts a series of lasers and fireworks. He vanishes in a flash of fireworks, and Mickey Mouse appears on stage. He says: "Some imagination, huh?", and on a final musical note the lights go out.
You can read about Walt Disney World's version of Fantasmic! HERE.
FANTASMIC! VIEWING
Fantasmic! is a 25 minute show. It is presented seasonally — every night during the summer and peak times. In the off-season it usually is presented only on weekends. There are usually two shows per night, and on very busy nights a third show may be added.
As of late 2014, a Fastpass is required to view Fantasmic!. Viewing spots along the Rivers of America are no longer available on a first come-first serve basis, and these areas will be roped off several hours before showtime.
Each performance day, starting at park opening, Fastpasses are available from a kiosk near the Mark Twain dock. Each Fastpass designates a return location and a recommended return time. If there are multiple shows, all Fastpasses for the first show will be distributed before those for the second show become available. Guests may only hold one Fantasmic! Fastpass per day – you can not get a Fastpass for the early show and then later obtain one for the second show. Within each Fastpass area, viewing location is first come, first serve, so the earlier you line up, the better viewing you will have.
Some viewing locations require that everyone sit on the ground, and some require that everyone stand. Seating is on cement and pavement, so you might consider bringing something to sit on.
If you're close to the water you may get sprayed with mist from the water screens.
There is some standby viewing for those who do not have Fastpasses. Some is on the upper tier of the viewing area, and some is off to the side with a more limited view. The locations seem to change, so ask a cast member for assistance.
FANTASMIC! DINING PACKAGES
Fantasmic! is free with park admission, but there are several dining packages available for those who wish to guarantee themselves a Fastpass and a better viewing location. All of these packages can be booked up to 60 days in advance by calling Disneyland Dining or booking online at disneyland.com. In the descriptions below, the prices do not include any applicable tax or gratuity.
The Blue Bayou offers a 3-course dinner package: appetizer, entree, and dessert. It is $65 for adults and $25 for kids ages 3-9. A Fantasmic! foam seating pad is included.
Review of the Blue Bayou Dining Package
Blue Bayou Dining Package Menu
Through September 4, River Belle Terrace also offers a 3-course meal: $45 for adults and $25 for kids ages 3-9. A premium option is also available. For an additional $15/person, guests will dine at 8:00 and watch the 9:00 Fantasmic! show from their tables on the outdoor patio. This option is only available by calling Disneyland Dining directly at 714-781-3463.
Review of the Blue River Belle Terrace Dining Package
River Belle Terrace Dining Package Menu
From September 5 through November 16, Cafe Orleans will offer a Fantasmic! dining package. The three-course meal is $45 for adults and $25 for kids.
An On-the-Go meal is available at Hungry Bear Restaurant. $29.99 for adults and $19.99 for kids. When making the reservation guests will schedule a time to pick up their meal, sometime between 12:00 p.m. and 7:00 p.m. The meal is served in a to-go tray, with a bottled beverage. A dining area is available at the Hungry Bear Restaurant, and it's expected that most guests will choose to eat there. Pending availability, guests may also walk up and order a meal and receive the Fantasmic! Fastpass.
TOURING TIPS
The area around the Rivers of America gets extremely crowded and congested before and after Fantasmic! Before and during the show Cast Members maintain a walkway all the way around so that there is some flow of traffic, but afterwards the area can turn into complete gridlock where it's impossible to move. Keep your parties together as best you can and especially keep a tight hold on children – it's very easy to become separated.
If you see the first show, stay in place, and you will be able to see the Disneyland fireworks. There will be projections on the mist screens similar to those you would see on Main Street.
Fantasmic! takes place during the night-time hours and is very dark in some places. Some scenes, especially those including the giant snake and the black dragon, and also the "nightmare" water screen sequence, may be too intense for children and some adults.
There are viewing areas available for guests in wheelchairs/ECVs and their parties – see a Cast Member for assistance.
Visitors with hearing impairments can arrange for a complimentary sign language interpretation of this show by calling Guest Relations at least a week in advance at 714-781-7290, or 714-781-7292 (TTY).
KIDS AND CHARACTERS
During the show, kids will be delighted to see Mickey in a tuxedo and as Sorcerer Mickey. Some favorite Disney character couples — Belle and Beast, Ariel and Eric, and Flynn and Rapunzel — drift by on brightly lit floats during one dreamy sequence. The pirate ship scene features Captain Jack Sparrow. During the finale, a parade of characters sail by on the Mark Twain, ranging from classic favorites like Donald Duck, Minnie Mouse, Mary Poppins and Cinderella, to more recent faces such as Tiana and the Toy Story gang.
As mentioned above, the area can be very dark — parents of children with a fear of the dark should be aware of this. In addition, there are lots of people crowded into a relatively small area — please be sure to keep your children near to you at all times.
DINING
There is a wide variety of counter service restaurants available in the New Orleans Square area. These restaurants get extremely busy and with the crowds it can be very difficult to get back to your party with food, so you might want to consider eating well before the show — or before you stake out your spot for the show.
SHOPPING
Le Bat en Rouge in New Orleans Square may offer some Fantasmic! merchandise.
INTERESTING FACTS
Fantasmic! premiered at Disneyland on May 13, 1992. A newer version of the show, which introduced the fire-breathing dragon, premiered on June 12, 2009. The current version premiered on July 17, 2017.
The Florida version of the show opened at Disney-MGM Studios in October 1998 where it is presented in the specially designed Hollywood Hills Amphitheater which seats 6500 people.
Fantasmic! features a cast and crew of over 100. Most of the performers have multiple rolls.
Kaa the snake is 100 feet long and the Maleficent dragon is 45 feet tall.
The three water screens are 30 feet tall and 60 feet wide.
Additional water effects include 21 fountains and six "whale tails" in the scene when Monstro the whale charges across the Rivers of America.
If you have comments or tips to share with others about touring Disneyland, please email us. Thank you.