Hi, AllEars readers! If you would like to read more information regarding the temporary closures at the Disney Parks, please
click here for a list of closures at the Disney Parks
, or
click here for some of our most FAQs
. From all of us at AllEars, our thoughts are with those affected. While the Disney Parks are closed, we will continue to write articles and bring you AllEars TV videos to enjoy and for our readers to use once the parks reopen. 
With the parks closed we are going through some serious Disney World dessert withdrawals. Luckily, AllEars has compiled an extensive list of Disney World recipes for you to make from the comfort of home!
While we've already taken a look at some comfort food, as well as healthier options, today we're indulging our sweet tooth and looking at recipes for some of our favorite Disney desserts!
We've scoured our database of Walt Disney World recipes from the theme parks, resorts, and beyond to put together our list of….
Disney World Recipes to Try at Home: Desserts Edition
If you haven't made it over to Pop Century Resort before, you're missing out on the delicious Tie-Dyed Cheesecake! This colorful cheesecake comes with a red velvet cake base, and it tastes as amazing as it looks. Here is the step by step recipe on how to replicate this rainbow dessert at home.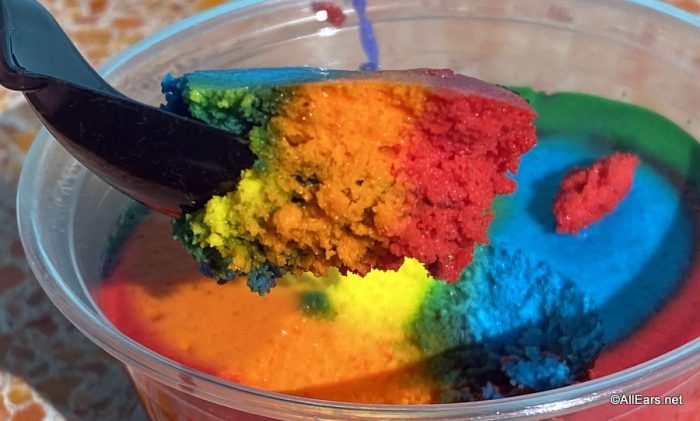 Ingredients
Red Velvet Cake Base
1/4 cup butter, softened
3/4 cups sugar
1 egg
1 tablespoons cocoa
1 ounce red food coloring
1/2 teaspoon vanilla
1/2 teaspoon salt
1/2 cup buttermilk
1 cups flour
1/2 tablespoon vinegar
1/2 teaspoon baking soda
Cheesecake Filling
1 1/2 lb. Cream Cheese
1 1/3 C. Sugar
5 Large Eggs
16 oz. Sour Cream
1/4 C. Flour
2 tsp. Vanilla
2 tsp. Lemon Juice
* All above ingredients should be at room temperature before you begin.
Red Velvet Preparation
Preheat oven to 350 deg F. Grease the bottom and sides of a 9″ springform pan.
Cream together butter, sugar and eggs. Make a paste of cocoa and food coloring. Add the paste to the creamed mixture. Mix salt and vanilla in buttermilk and add alternately with the flour. Mix soda and vinegar separately, add last, folding in. Do not beat after adding soda mixture. Pour batter into prepared pan. Bake at 350 for 30 minutes or until tester comes out clean. Cool cake in pan.
Lower oven temperature to 325 degrees Fahrenheit.
Cheesecake Filling Preparation:
Start by beating the cream cheese until light and fluffy. Keep the mixer on a low setting throughout the beating and mixing process. Add the sugar a little at a time and continue beating until creamy. Add one egg at a time and beat after each egg. When eggs have been mixed into the cream cheese add flour, vanilla and lemon juice, mix well. Add the sour cream last and beat well.
Divide the batter into 6 bowls and color each one purple, red, yellow, light blue, green, and orange.
Drop large spoonfuls of the colored batters randomly atop the red velvet cake in the springform pan. Swirl each layer slightly. Place on the top rack in the middle of a 325 degree preheated oven for one hour and 15 minutes. When time is up, prop open oven door and leave in oven for one hour. After one hour, remove from oven. Let cool enough before the cheesecake is put into the refrigerator for 24 hours.
The beignets at Port Orleans French Quarter have been a draw to the resort for a long time. If you are unfamiliar with beignets, they are a fried doughnut that is covered in powdered sugar — and they are heavenly! Below is how to make your own at home. You can even make 'em Mickey-shaped for an extra dose of Disney magic!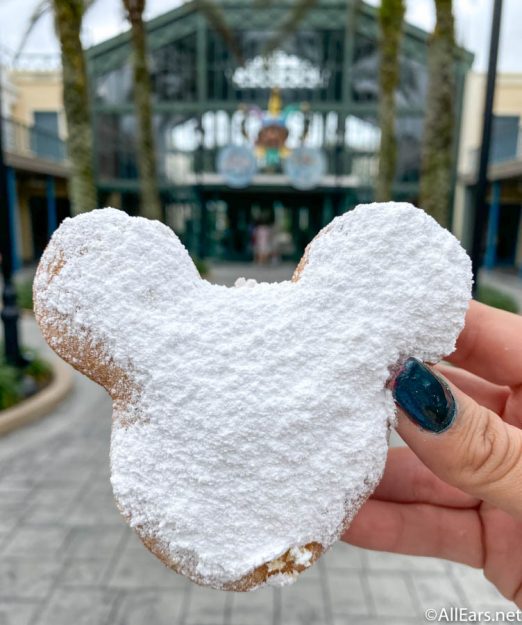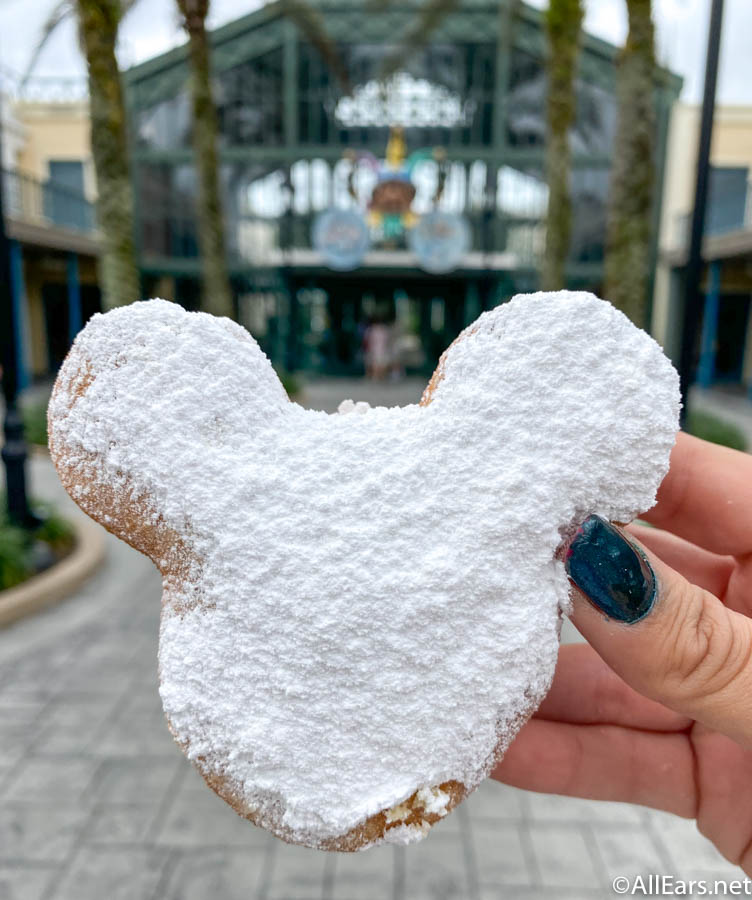 Yield: 2 dozen small beignets
Ingredients
1/2 teaspoon dry yeast
1/4 cup warm water (105º)
1/4 cup sugar
2 tablespoons vegetable shortening
1/2 teaspoon salt
1/2 cup heavy cream
1 egg
4 cups all-purpose flour
1/2 cup boiling water
Vegetable oil for frying
Powdered sugar
Preparation
1. Sprinkle yeast over warm water in a small bowl, stirring to dissolve. Let stand for 5 minutes.
2. Combine sugar, shortening, salt, heavy cream, egg, flour and boiling water in a large bowl; stir in yeast mixture. With the dough hook attachment of an electric mixer on medium speed, mix the dough just until combined and smooth. Let dough rest for 30 minutes.
3. Roll to 1/4-inch thickness and cut individual beignets into 2 x 3-inch pieces. Cover with a towel and let dough rise until doubled in size in a warm, draft-free area, about 1 to 1 1/2 hours.
4. Pour enough oil into a deep-sided pot until it reaches 2 inches up sides; heat oil over medium heat to 350ºF.
5. Lightly press beignets to flatten slightly.
6. Add a few beignets to oil; fry until golden brown on both sides, turning once.
7. Remove from hot oil with a slotted spoon and place on a baking sheet lined with paper towels.
8. Dust with a generous amount of confectioners' sugar before serving.
NOTE: Dough keeps well in refrigerator for several days. Cover bowl with plastic wrap and punch down occasionally.
Few Disney desserts can be considered at the same iconic status as the bread pudding from 'Ohana at the Polynesian Resort!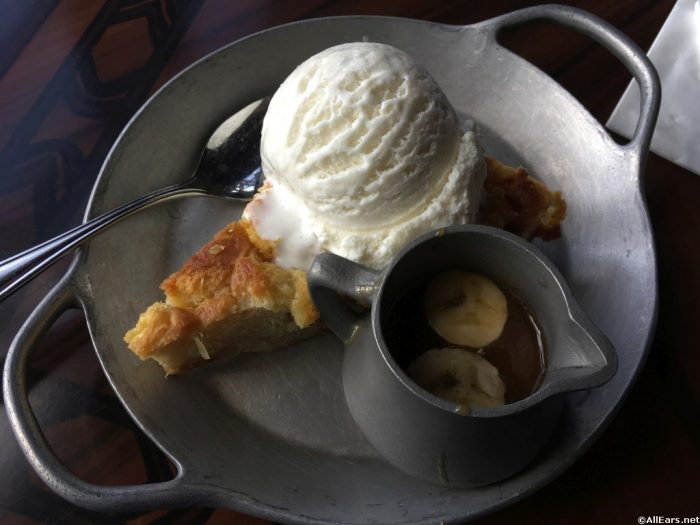 Ingredients
5 eggs
3 cups whole milk
1/2 tsp salt
1/2 tsp nutmeg
1 1/2 cup sugar
8 cups french or 'Ohana breakfast bread
Preparation
1. In bowl mix eggs, milk , salt, sugar and nutmeg. Set aside.
2. Cut bread in medium pieces, place on cookie sheet pan put in 350 degree oven.
3. Bake bread until lightly toasted, about 15 minutes. Remove bread and place in egg and milk mixture.
4. Place mixture in a greased 10-inch cake pan and bake at 325 degree for 1 hour.
5. Let stand 5 minutes, serve hot with ice cream.
Banana Foster Sauce
4 oz sugar
4 oz brown sugar
4 oz corn syrup
4 oz unsalted butter
1cup heavy cream
1 tsp vanilla extract
1cup spiced rum
1cup banana slices
Preparation
1. Combine sugar, brown sugar, corn syrup, butter and half of heavy cream in a large pan. Bring to a boil and slowly add remaining heavy cream keeping mixture at a steady boil.
2. Add spiced rum and flambe.
3. Candy will brown slightly; cook 3 minutes until candy forms into a firm ball in cold water. Remove from heat and add vanilla. Add sliced bananas. Serve warm.
This shake is a blast from the past! The PB&J Milkshake is one of the signature milkshakes from the 50's Prime Time Cafe. Now you can enjoy this frosty beverage in the comfort of your own home. For those with peanut allergies we recommend trying this one with a nut free spread, like a sunflower seed butter.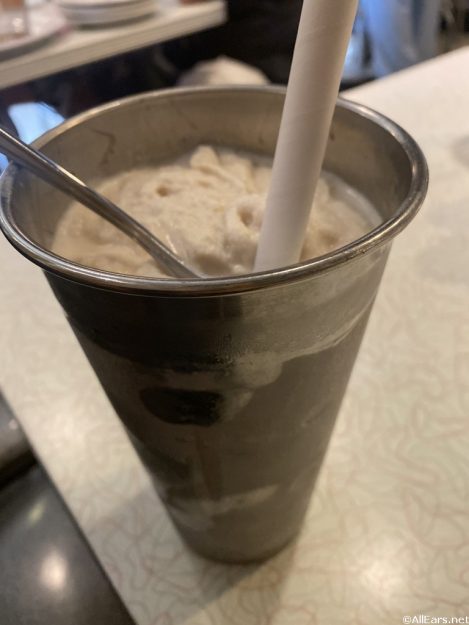 Yield: 3 3/4 cups
Ingredients
1/4 cup creamy peanut butter
3 tablespoons grape jelly
1/4 cup milk
3 cups vanilla ice cream, softened
Preparation
1. Combine peanut butter and jelly in a small bowl, mixing well.
2. Combine milk, ice cream, and peanut butter mixture in container of an electric blender.
3. Process mixture until smooth, stopping once to scrape down sides.
Most people don't think dessert when they think sushi, but you have to try this fruity sweet combination. Normally
Frushi
can only be found at the
Epcot Flower and Garden Festival
, but now you can make it at home!
Ingredients
2 cups sushi rice, cooked per package directions
1 tablespoon cream of coconut
16 soy wrappers
16 fresh strawberries, hulled and quartered
1/2 cantaloupe, cut into four-inch-long by 1/4-inch-wide rectangles
1/2 pineapple, peeled and cored cut into four-inch-long by 1/4-inch-wide rectangles
toasted coconut, for garnish
Preparation
1. Let sushi rice cool slightly; stir in cream of coconut. Set aside to cool to room temperature.
2. Lay one soy wrapper on a flat surface. Place about 1/4 cup sushi rice on the soy wrapper, pressing with moistened fingers to cover the whole sheet.
3. Place one piece each of pineapple and cantaloupe, and four pieces of strawberry in the center of the rice-covered sheet.4. Starting at one end, fold about 1/3 of the roll up, then roll the sheet into a cylinder, keeping the fruit in the middle. Moisten soy wrapper to seal.
5. Cut into 4 equal pieces. Repeat with remaining ingredients.
6. Garnish with toasted coconut.
Rice Cream is a classic Norwegian dessert that you can get at Akershus in the Norway Pavilion in Epcot. This is a cold dessert that is similar to ice cream and has a strawberry sauce on top.
Ingredients
1 pound short-grain white rice (not instant)
1 teaspoon salt
3 cups water
4 cups milk
2 cups heavy cream
4 tablespoons sugar
2 teaspoons vanilla extract
Strawberry sauce:
2 cups strawberry preserves
1 cup water
1 tablespoon lemon juice
Preparation
1. Cook rice with water and salt for 15 minutes, covered. Add milk and cook for 30 minutes or until rice is tender and the mixture is thick. Chill rice in the refrigerator.
2. Whip cream and sugar and vanilla. Gently fold whipped cream into chilled rice. Set aside in refrigerator.
3. Place sauce ingredients in the work bowl of a blender. Mix until combined.
4. Spoon rice mixture into serving cups. Garnish with strawberry sauce.
The chocolate chip cookies at the Grand Floridian are delicious. Below is the recipe from Chef Erich at the Grand Floridian Resort. And just remember — you can add a scoop of your favorite ice cream between two of these for the perfect ice cream sandwich!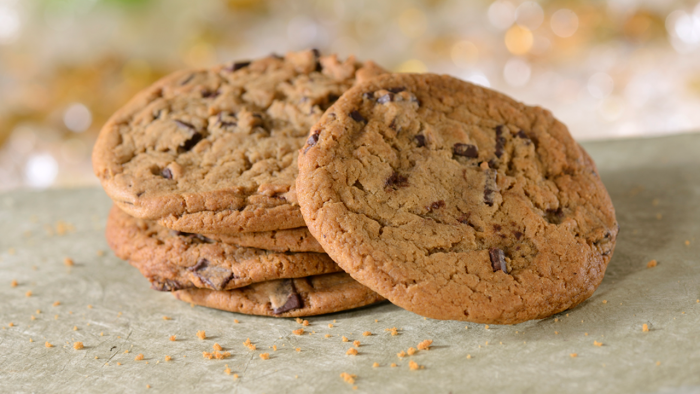 Ingredients
2 1/2 cups flour
1 teaspoon baking soda
1/2 teaspoon salt
10 tablespoons (1 1/4 sticks butter), softened
1 cup packed brown sugar
3/4 cup powdered sugar
2 eggs
2 teaspoons vanilla extract
12-ounce bag semi-sweet chocolate chips
Preparation
1.Preheat oven to 330°F.
2. Sift flour, baking soda and salt into a large bowl and set aside.
3. Combine butter, brown sugar and powdered sugar in a separate bowl and cream with electric mixer until fluffy.
4. With mixer running, add eggs, one at a time, then add vanilla. Mix until combined, scraping sides of bowl.
5. Slowly add flour mixture, scraping sides of bowl. Stir in chocolate chips.
6. Scoop 1 tablespoon dough for medium cookies and 2 tablespoons for large onto ungreased baking sheet.
7. Bake until light golden, 10 to 12 minutes for medium cookies, 12 to 14 minutes for large.
This hunk of chocolaty goodness will put some pep in your step. The giant Paw Print Brownies from Boma at the Animal Kingdom Lodge are legendary. They look like giant paws and are packed with gooey chocolate in ever bite.
Yield: 20 servings
Ingredients
Brownies
9 oz. bittersweet chocolate
1 lb. butter
6 eggs
4 cups sugar
1 TB vanilla extract
1 3/4 cup cake flour
Frosting
1 cup heavy cream
6 oz. white chocolate
8 oz. semisweet chocolate
1/3 cup cocoa powder
Stencil with a paw-print design cutout
Preparation
1. Melt chocolate and butter in a bowl set over a pot of hot water on the stove.
2. In a mixing bowl fitted with a whip, place the eggs, vanilla extract and sugar, and mix at medium speed. Continue whipping for about 3 minutes until light in color. Change the machine attachment to a paddle. Once the chocolate and butter have melted, add them to the whipped eggs.
3. Add the flour until well combined but do not overmix.
4. Pour the batter on a 12×16-inch baking sheet lined with parchment paper.
5. Bake in 350º F oven for 30-35 minutes. (This can be done a day ahead and kept in the refrigerator.)
6. To make the frosting, chop the white and semisweet chocolate into 1/2-inch pieces and place them in a bowl. Heat the heavy cream in a small pot. Once it is very hot, pour into the chocolate pieces to melt them. Stir constantly until all pieces are dissolved and cool to room temperature.
7. Ladle the frosting on the surface of the brownies and smooth evenly with an icing spatula. Place the brownies into the refrigerator to set the frosting.
8. Once the frosting is set, cut brownies into 3×3-inch squares and separate them. Place the paw-print stencil on each brownie. Place the cocoa powder into a sifter and dust the center of each brownie with the cocoa to create the paw-print design.
Dole Whip is one of the most iconic desserts in Disney World. You can get it at a few different places, including Aloha Isle at Magic Kingdom. We actually just made our own at home, which you can check out here!
Ingredients
1 cup pineapple juice, frozen in an ice cube tray
1 Banana, peeled and frozen
2-1/2 teaspoons powdered sugar
1/4 to 1/2 cup unsweetened coconut milk beverage
Preparation
Combine the pineapple juice, banana, and powdered sugar in a blender. Cover; blend until smooth, gradually adding coconut milk and scraping down sides if necessary. Serve immediately….and then we usually make some more and eat a second helping.
Plant-Based Cookie Fries
There is something simply magical sounding about "cookie fries"! While Beaches and Cream at the Beach Club might be most well known for the Kitchen Sink, if you're looking for an entirely plant-based option, these Plant-Based Cookie Fries are a fun one to try!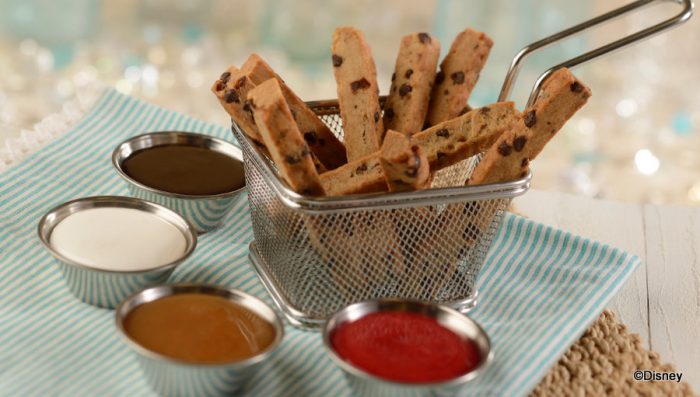 Ingredients
2 3/4 cup all-purpose flour
1/2 cup plus 1 tablespoon powdered sugar
1/2 cup plus one tablespoon plant-based margarine, softened
7 tablespoons warm water
5 tablespoons liquid egg substitute
1 tablespoon molasses
1/2 cup dairy-free mini chocolate chips
Preparation
1. Combine flour, powdered sugar, and plant-based margarine in bowl of electric mixer fitted with paddle attachment. Beat on medium speed until smooth.
2. In small bowl, combine warm water and egg substitute. Add egg substitute and molasses to mixer. Mix on medium speed until smooth.
3. Fold in chocolate chips.
4. Place in an 8×8-inch pan and refrigerate for 30 minutes.
5. Preheat oven to 325°F. Line two baking sheets with parchment paper or silicone baking mats.
6. Cut into 32 strips that are 1/4-inch wide and 4 inches long. Place 16 strips on each baking sheet.
7. Bake for 20-22 minutes, until crunchy.
Chef's Note: Serve with your favorite plant-based chocolate, strawberry, and marshmallow dipping sauces! 
Chocolate- Hazelnut Lunch Box Tarts
Woody's Lunch Box is one of the best places to get a snack in Hollywood Studios. You can get Lunch Box Tarts, which are basically fancy Pop Tarts, and Potato Barrels, tater tots. What more could someone need out of this world? Now you can make the Chocolate-Hazelnut one at home.
Yields: 8 Tarts
Ingredients
Tart and filling
4 cups all-purpose flour, sifted
1/2 cup sugar
1/2 cup brown sugar
2 1/4 teaspoons coarse salt, divided
3  sticks unsalted butter, chilled and cubed
1/4 cups coconut oil
3 eggs, divided
10 tablespoons water
1/2 cup chocolate-hazelnut spread
Icing
1 cup confectioners' sugar
2 tablespoons milk, divided
1 teaspoon lemon juice
Garnish
4 strips bacon, cooked and crumbled
Preparation
For tart and filling
1. Combine flour, sugar, brown sugar, 2 teaspoons of salt, butter, coconut oil, and 2 of the eggs in the bowl of an electric mixer fitted with a paddle attachment. Mix on medium speed until combined.
2. Add water and mix on a low speed for 1 minute. Increase speed and blend until dough is smooth. Do not overmix.
3. Divide dough into two even balls and wrap in plastic wrap. Rest in refrigerator for 45 minutes.
4. Preheat oven to 375°F.
5 .Mix remaining egg and 1/4 teaspoon salt in a small bowl. Set aside.
6. Lightly flour a large cutting boar and roll first ball of dough into a 1/4 inch thick rectangle. Cut into eight 2 by 6 inch rectangles.
7. Place rectangles on a baking sheet lined with parchment paper. Brush with reserved egg wash. Spread 1 tablespoon of chocolate-hazelnut spread on the rectangle.
8. Roll remaining ball of dough into a 1/4 inch thick rectangle and cut into eight 2 by 6 inch rectangles. Place on top of chocolate-hazelnut covered tarts and seal edges with a fork. Brush top of tarts with egg wash.
9. Bake for 17 minutes, until golden brown. Cool completely.
Icing
1. Mix sugar, 1 tablespoon of the milk, and lemon juice in a small bowl. Slowly add remaining milk until icing is smooth and spreads easily, but is not runny.
2. Spread icing on each cooled tart and top with bacon pieces.
What are some of your favorite Disney World desserts? Let us know in the comments.
Join the AllEars.net Newsletter to stay on top of ALL the breaking Disney News! You'll also get access to AllEars tips, reviews, trivia, and MORE! Click here to Subscribe!