Hi, AllEars readers! If you would like to read more information regarding the temporary closures at the Disney Parks, please
click here for a list of closures at the Disney Parks
, or
click here for some of our most FAQs
. From all of us at AllEars, our thoughts are with those affected. While the Disney Parks are closed, we will continue to write articles and bring you AllEars TV videos to enjoy and for our readers to use once the parks reopen. 
While we are certainly missing the magic of Walt Disney World during these uncertain times, we are finding our own ways to bring a little bit of that magic into our homes as we practice social distancing in order to help flatten the curve!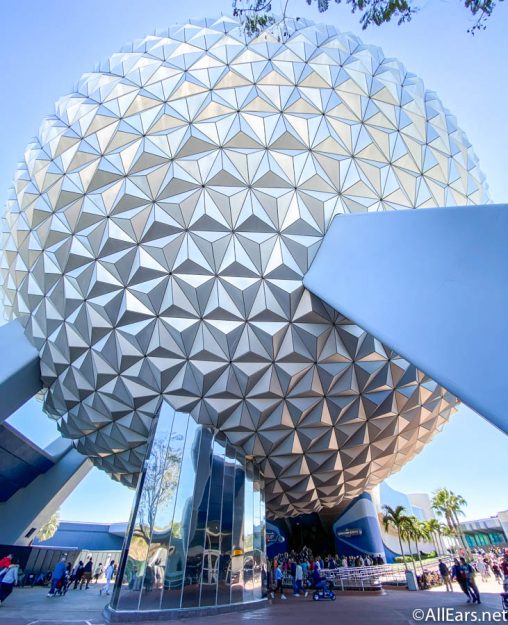 While we're home with our families focusing on our safety and well-being, we can continue to work towards living our best lives yet and those New Year's resolutions.
We've scoured our database of Walt Disney World recipes from the theme parks, resorts, and beyond to put together our list of….
Disney World Recipes to Try at Home: Healthier Options Edition
Brown Derby Famous Cobb Salad
This salad has been  around since the dawn of time. Okay… maybe that's not true BUT it is a staple in our diet while visiting Walt Disney World. You can easily make this satisfying and iconic Cobb Salad from The Hollywood Brown Derby at home.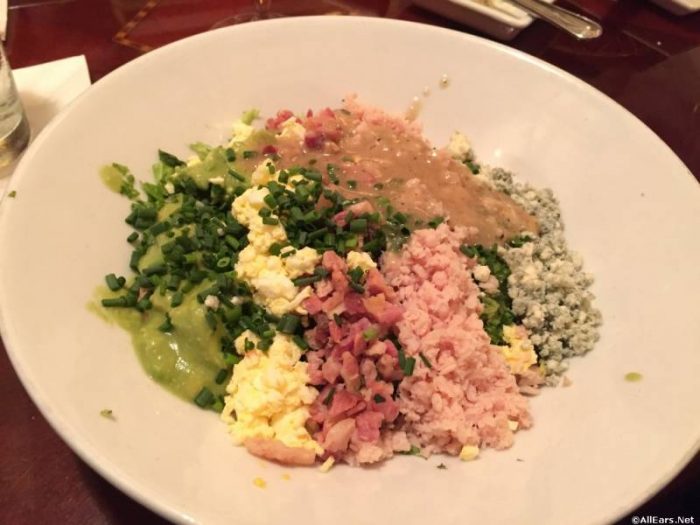 Cobb Salad Recipe
INGREDIENTS:
1/2 head iceberg lettuce
1/2 bunch watercress
1 small bunch chicory
1/2 head romaine lettuce
2 medium tomatoes, blanched & peeled
1 1/2 cups cooked turkey breast, diced
1 avocado
3 eggs, hard-cooked
1/2 cup blue cheese, crumbled
6 strips crisp bacon, crumbled
2 tablespoons chopped chives
METHOD:
Chop all greens very fine (reserve some watercress for presentation) and arrange in salad bowl. Cut tomatoes in half, remove seeds, and dice fine. Also dice the turkey, avocado, & eggs. Arrange the above ingredients, as well as the blue cheese and bacon crumbles, in straight lines across the greens. Arrange the chives diagonally across the above lines. Present the salad at the table, then toss with the dressing (below). Place on chilled plates with a watercress garnish.
Brown Derby Old-Fashioned French Dressing

1/2 cup water
1/2 teaspoon sugar
1 1/4 tablespoons salt
1 1/2 teaspoons Worcestershire sauce
1 clove garlic, chopped
1/2 cup red-wine vinegar
Juice of 1/2 lemon
1/2 tablespoon ground black pepper
1/2 teaspoon English mustard
1/2 cup olive oil
1 1/2 cups salad oil
Blend all ingredients except oils, then add olive oil and salad oils and mix well. Blend well again before mixing with salad.
Mozzarella Tomato Stack
It's a good time to stick to the basics. The  Fresh Mozzarella Tomato Stack from Mama Melrose's Ristorante Italiano utilizes simple and fresh ingredients. This fool-proof recipe combines everyday items found in the kitchen resulting in a dish bursting with flavor.
Fresh Mozzarella and Tomato Stack Recipe
INGREDIENTS:

2 tomato slices – 3 oz each
2 fresh Mozzarella cheese slices – 2-1/2 ounces each
1 ounce julienne Prosciutto
3/4 ounce greens mix
1-1/2 ounces dressing
1/2 ounce Balsamic reduction
1/4 ounce toasted pine nuts
METHOD:
Alternate layers of tomato and cheese. Top with prosciutto.
Season tomato and cheese with salt and pepper and extra virgin olive oil.
Cut mozzarella and tomato stack in half. Place lettuce mix in center of plate, cover with cheese and tomato stack. Drizzle with dressing, drizzle reduction around plate and top with nuts.
Seared Marinated Tofu with Mango Glaze
Our sedentary selfs may be craving a lighter way to take in our protein. The  Seared Marinated Tofu from The Sci Fi Dine-In at Disney's Hollywood Studios gives you substance without all that bulk.  Versatile as it is light, add this to your salad or pair with veggies and rice for an easy meal.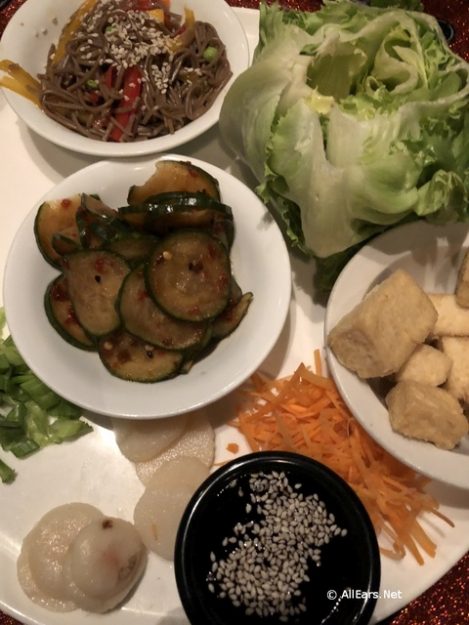 Marinated Tofu Recipe
INGREDIENTS:
1 cup Olive oil
1 Tablespoon Fresh garlic
3 Tablespoons Lemon juice
1 Tablespoon Cajun seasoning
1/8 teaspoon Salt
1/8 teaspoon Ground pepper
8 ounces tofu
METHOD:
Mix all spices, oil and juice in a bowl. Slice tofu into 8 equal pieces and cover with marinade. Place all ingredients in pan. Steam on top of stove in a double steamer. In a sauté pan, place 1 ounce olive oil. Brown tofu on both sides.
Mango Glaze
INGREDIENTS:
3 Tablespoons Mango puree (1/2 ripe mango & 3 tbsp water in blender)
1 Tablespoon Soy milk or 2 % milk
1 Tablespoon Honey
1/8 teaspoon Fresh cilantro
METHOD:
Mix all ingredients in a bowl. Top sautéed tofu with mango glaze
Grilled Verlasso Salmon with Quinoa Salad and Arugula Chimichurri
This dish may come from yesteryears of Epcot's International Food and Wine Festival, but it's the perfect balance of flavor and deserves our attentions for this list. The Grilled Verlasso Salmon with Quinoa Salad and Arugula Chimichurri was a favorite at the Patagonia Kitchen Marketplace thanks to the earthy chimichurri that accompanied the dish (And had us licking the plate).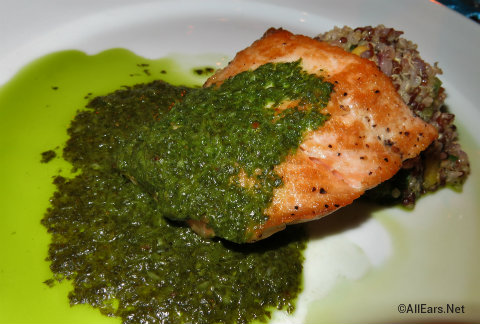 Grilled Verlasso Salmon Recipe
SALMON INGREDIENTS:
1 teaspoon garlic salt
1/4 cup lemon juice
1/4 cup olive oil
6 (5- to 6-ounce) Verlasso salmon fillets, skin removed
CHIMICHURRI INGREDIENTS:
1/2 bunch fresh cilantro, including stems, coarsely chopped (about 1 cup)
2 cups coarsely chopped fresh arugula
1/2 cup olive oil
1/4 cup packed fresh mint leaves
3 tablespoons lime juice
1/2 teaspoon crushed red pepper flakes
1 teaspoon minced garlic
1 tablespoon red wine vinegar
Coarse salt, freshly ground pepper, to taste
QUINOA SALAD DRESSING INGREDIENTS:
1/2 cup olive oil
1/4 cup lime juice
1 teaspoon minced garlic
1 teaspoon white wine vinegar
1/4 teaspoon cumin
Coarse salt, freshly ground pepper, to taste
QUINOA SALAD INGREDIENTS:
3/4 cup uncooked quinoa, cooked per instructions (makes approximately 3 cups cooked), cooled
1/2 red pepper, diced
1/2 green pepper, diced
1/2 red onion, diced
1 small tomato, diced
1/4 cup corn kernels
1/4 cup chopped cilantro
Coarse salt, freshly ground pepper, to taste
METHOD FOR SALMON:
Combine garlic salt, lemon juice, and olive oil in small bowl. Place salmon in large zip-top bag and add liquid, turning fillets to evenly coat.
Refrigerate for 30 minutes. Remove salmon from refrigerator at least 10 minutes before cooking.
Preheat oven to 400˚ F. Cover 15 x 10-inch baking sheet with aluminum foil and lightly spray with non-stick cooking spray. Place salmon on baking sheet in a single layer, evenly spaced.
Bake 15 minutes or until the salmon easily can be flaked apart with a fork.
METHOD FOR CHIMICHURRI:
Place all ingredients in blender or food processor. Blend for about 10 seconds on medium speed or until ingredients are evenly blended. Season with salt and pepper. Store in a sealed container and refrigerate until ready to use.
METHOD FOR DRESSING:
Whisk all ingredients together in a small bowl. Season with salt and pepper. Set aside.
METHOD FOR QUINOA:
Mix all ingredients together in large bowl and toss with Quinoa Salad Dressing.
SERVE:
Equally divide Quinoa Salad between serving plates, top with salmon fillet and drizzle with Chimichurri Sauce.
Cook's note: Verlasso salmon is sustainable and farm-raised; you can use any fresh, high-quality salmon in this recipe.
Flank Steak Marinade
Looking to cut back on those carbs while still keeping the flavor amped up? Thanks to this delicious Flank Steak Marinade courtesy of Boma at Disney's Animal Kingdom Lodge, that's accomplished easily with flavor stemming from lots of spices, no fatty additives here. We think you deserve a few Zebra domes with this one (you can find that recipe HERE).
Flank Steak Marinade Recipe
INGREDIENTS:
1/4 cup Ginger
1/4 cup Garlic
1/4 cup Sugar
1 Tbsp Cardamom, ground
2 Tbsp Coriander, ground
1 Tbsp Turmeric, ground
2 Tbsp Thyme
1 Tbsp Crushed Pepper
1 cup Worcestershire Sauce
1 cup Soy Sauce, low sodium
1/4 cup Balsamic Vinegar
1/2 cup Malt Vinegar
1/4 cup Safflower Oil
1/2 cup Olive Oil
1 Flank Steak
METHOD:
Mix all ingredients in a large bowl. Add flank steak and marinate for 24 hours.
Note: This marinade can be made up to three days in advance and stored in a refrigerator.
Honey Lime Dressing
'Ohana means family, it is also one of our favorite all-you-care-to-dining spots on property. Located at Disney' Polynesian Resort, 'Ohana serves up a delightful Hawaiian-inspired feast that kicks off on a lighter note. Their Honey Lime Dressing can be used to 'dress up' any greens you can find in your kitchen.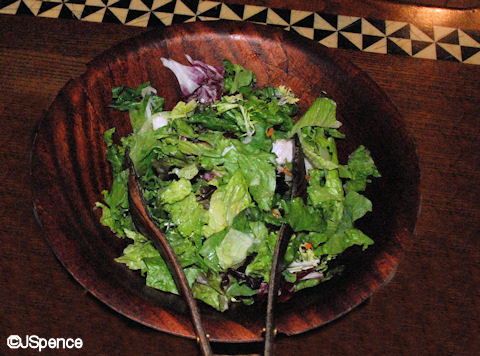 Honey Lime Dressing Recipe
INGREDIENTS:
1/2 C honey
1 tsp dry mustard
1 tsp salt
1/2 C cider vinegar
1/4 C lime juice
1/4 C diced onion
1 C canola oil
METHOD:
Place all ingredients except oil in food processor and blend until
smooth. Slowly add oil until it is well incorporated into the
dressing. Makes 2 Cup.
Pumpkin Soup
Looking for a creamy and hearty soup that's packed with flavor yet somehow light? This Pumpkin Soup, that's served at Sunshine Seasons in Epcot's Land Pavilion, fits the bill! Thanks to ingredients like cinnamon and light agave syrup your tastebuds and waistlines with both be happy.  Added bonus? It's also Vegan!
Pumpkin Soup Recipe
INGREDIENTS:
2 tablespoons olive oil
1 small white onion, diced
1 cup diced butternut squash (skin and seeds removed)
3 cups canned pumpkin (approximately 1 1/2 15 ounce cans)
1 tablespoon light agave syrup
2 cups water
1/4 cup apple juice concentrate
2 teaspoons vegetable bouillon
1/2 teaspoon curry powder
1 teaspoon coarse salt
1/2 teaspoon white pepper
1/2 teaspoon cinnamon
1 cup coconut milk
METHOD:
Heat olive oil in large pot over medium high heat. Add onion and butternut squash and sauté for 8 to 10 minutes or until tender. Add remaining ingredients. Stir to combine and bring just to a boil. Reduce to medium low heat. Simmer for 30-45 minutes until completely cooked and tender. Stir occasionally. Transfer soup to a blender and puree until smooth.
Stay safe and healthy out there friends! And let us know what YOUR favorite Disney recipe is in the comments below!
Join the AllEars.net Newsletter to stay on top of ALL the breaking Disney News! You'll also get access to AllEars tips, reviews, trivia, and MORE! Click here to Subscribe!

What's your favorite lighter option while visiting Walt Disney World? Let us know!