Villas at Disney's Beach Club Fact Sheet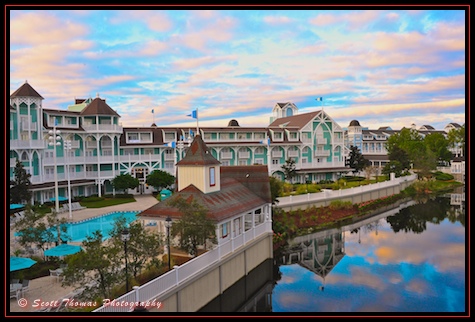 BEACH CLUB VILLAS HIGHLIGHTS:
Walking distance to Epcot and Disney's Hollywood Studios (also accessible via Skyliner and Boat)
Stormalong Bay — an amazing outdoor section with sand bottom pool, lazy river, and pirate ship slide
Disney Vacation Club Rooms at Beach Club are Villa Style Accommodations.
What are the Beach Club Villas (BCV)?
The Beach Club Villas are Disney Vacation Club villa style accommodations that are an extension of the Beach Club Resort.
The resort consists of studio, one and two bedroom villas. The resort have pastel colors and wooden porches, and are themed to be oceanfront homes built in the early 20th century in New England.
The Villas share many of the facilities of the already established Beach Club resort including the valet, bell services, front desk and lobby concierge services.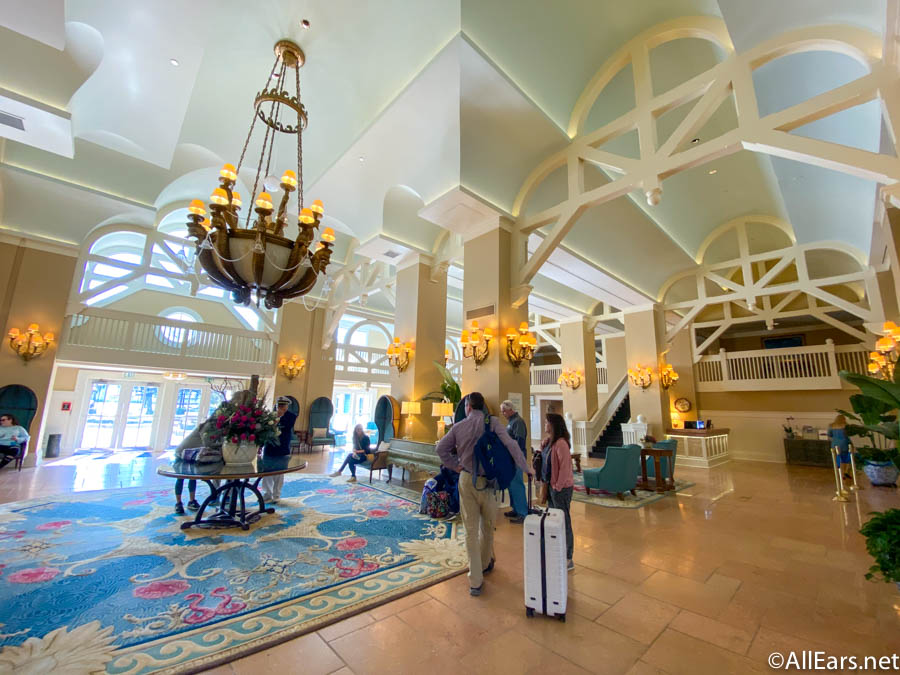 Wait – I am not a DVC Member. Can I stay here?
Yes! Anyone can stay at a DVC Resort or in a DVC Villa Room as long as there is space available. You can book it like any other Disney hotel room — either on Disney's website, calling Disney's Reservation Line, or with a travel agent.
Where are the Beach Club Villas located?
The Beach Club Villas are located in the Epcot resort area adjacent to the Beach and Yacht Club.
What are the different room options?
There are Villas that include Studios, 1 and 2 Bedroom Villas. All units feature either a garden or pool view.
Studio Villas:
One-Bedroom Villas:
Sleeps up to 4 adults

Master Bedroom with King Bed
Queen or Double Size Sleeper Sofa in Living Room

Split bathroom with two sink areas
Fully-equipped Kitchen with stove, microwave, and dishwasher
In-room laundry with washer and dryer
Private Balcony
Two-Bedroom Villas:
Sleeps up to 8 adults

Master Bedroom with King Bed
Additional Bedroom with Two Queen Beds
One Double or Queen Sized Sleeper Sofa

Two full baths
Fully-equipped Kitchen with stove, microwave, and dishwasher
In-room laundry with washer and dryer
Private Balcony
Note: Some of the Two-Bedroom Villas are dedicated (entities unto themselves) and some are "lockouts" meaning a one-bedroom and a studio are combined for a two-bedroom.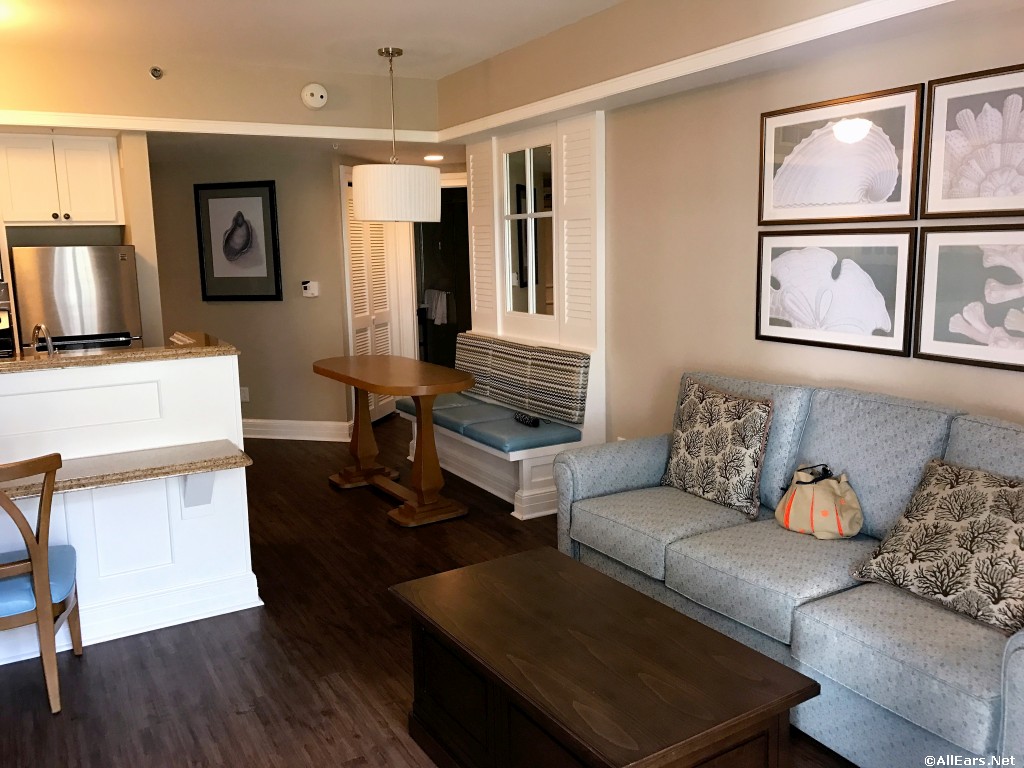 For more photos of a Beach Club Two Bedroom Villa, please visit our photo gallery.
What are the room prices if not paying with DVC Points?
Walt Disney World Resort rates vary by season (there are nine seasons now), and also by day of the week. The holiday season is the most expensive time of the year. It runs from mid-December to early January as well as during Easter Week.
These are regular rate prices and do not include the Florida Sales Tax nor the county resort tax.
The rates for a:
— Deluxe Studio range from $488 – $828
— 1 Bedroom Villa range from $676 – $1090
— 2 Bedroom Villa Room range from $1014 – $1874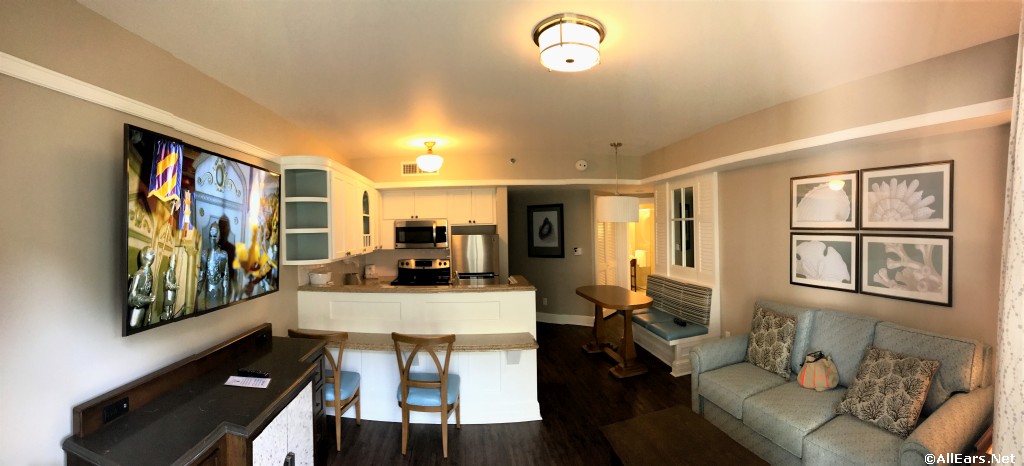 Is there a fee to park at the Beach Club Villas?
Disney Vacation Club Members – will not be charged for standard overnight self-parking when staying at a DVC Deluxe Villa, regardless of whether they use vacation points or another form of payment. Members also will not be charged to park when using vacation points to stay at a Walt Disney World Resort hotel.
Click HERE for current pricing and other parking-related information.
Is there WiFi in the room?
Walt Disney World Resort has complimentary Wi-Fi service available in all of its hotels. See our Internet Access page for details.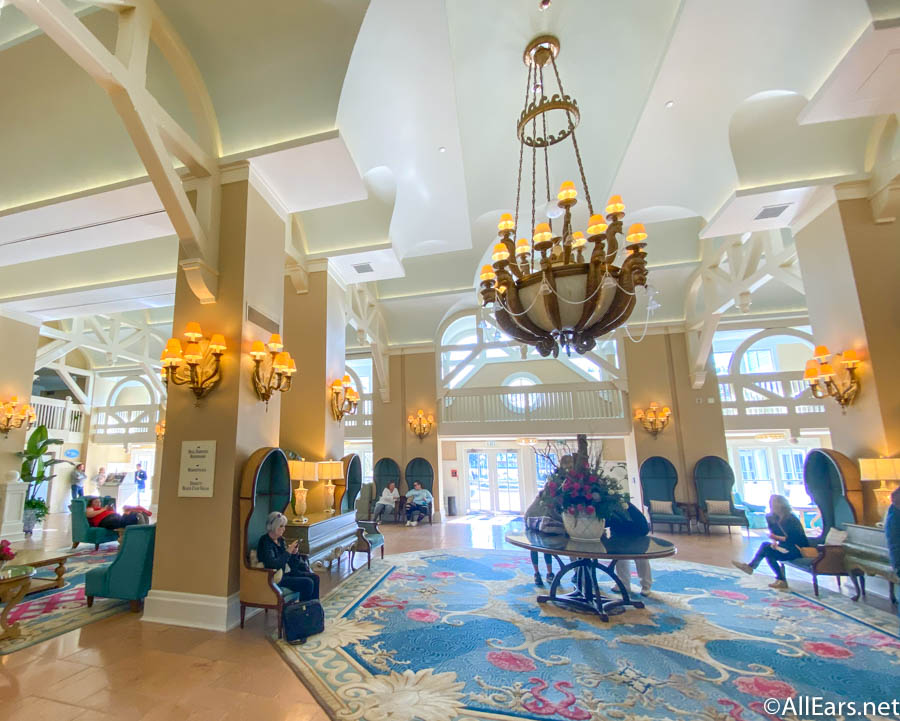 Where do I check in?
You check in at the Front Desk in the lobby of the Beach Club.
I hear that there are no more room key cards at Disney resort hotels. How do I get into my room?
Walt Disney World has converted their room keys and admission tickets from plastic cards to MagicBands, flexible plastic wristbands, resembling a watch or bracelet, that use Radio Frequency (RF) technology. Your MagicBand is linked to your My Disney Experience (MDE) account and acts as your Disney resort room key. Simply touch the Mickey symbol on your MagicBand to the RFID reader near your room door to gain entry. Read about using MagicBands for park admission, FastPass+ and more.
How does Check-in and Check-Out work?
Online Check-in is available through the My Disney Experience App. Look for the special Online Check-in line at the resort's front desk.
Check-in is at 4pm. Upon arrival head to the front desk to check-in. Rooms are not guaranteed to be available until 4pm, but you can request Early Check-in when you do Online Check-in.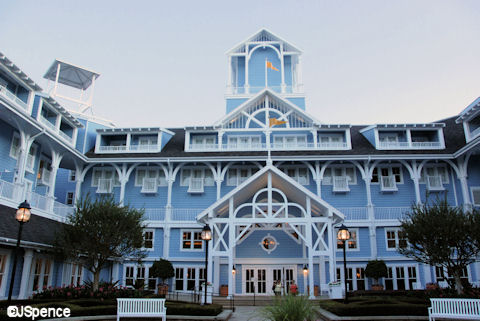 Check-out time is 11am. Express Check-out is available to all guests paying with a credit card, arrange for this service at check-in. A detailed hotel bill is delivered to your door by 7am. If the bill is correct you simply leave. Your Magic Band serves as a Disney souvenir. Late Check-out of noon can be requested without additional cost (very limited availability). If you need Late Check-out, request it at Check-In and as soon as possible the morning of check out (the number of eligible rooms are limited).
Resort Airline Check-In Service at your Disney resort is only available if you are flying domestically (includes Puerto Rico) on specific airlines It is a complimentary (free) service and allows you to check your luggage.
How do I get to the theme parks, water parks, and Disney Springs?
Magic Kingdom – The Magic Kingdom can be reached by taking a bus from the front of the hotel. Note, the depending on the time of day, the bus may stop at the Yacht Club or Boardwalk Inn before or after picking up guests.
Epcot – You can take a short walk (10 minutes) to Epcot and enter via the International Gateway. Although World Showcase does not typically open until 11am, you can enter earlier and walk through the park to Future World. You can also take a boat from the dock on the lagoon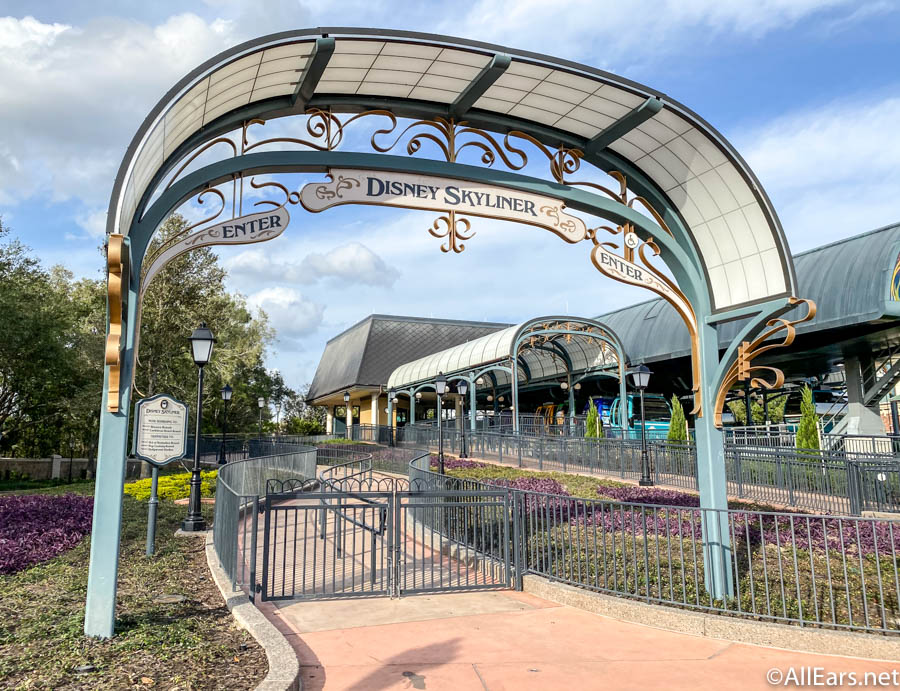 Disney's Hollywood Studios – There are several ways to get to Hollywood Studios from the Beach Club.

If you walk to International Gateway, you can board the Disney Skyliner. You'll need to transfer at the Caribbean Beach Skyliner Station to the Hollywood Studios line.
On the Waterside of the resort is the transportation boat dock. Note that this boat makes additional stops for guests at the Boardwalk resort and Swan and Dolphin.
You can also walk to the Disney's Hollywood Studios via the walkway behind the Boardwalk Villas. It's about a 20 minute walk.
Disney's Animal Kingdom – Disney's Animal Kingdom can be reached by taking a bus from the front of the hotel. The bus will usually stop at the Beach Club; however sometimes it will also stop at the Boardwalk, the Swan and the Dolphin resorts. The tends to happen during the middle of the day or during low crowd times. Depending on traffic, buses can take 10-20 minutes to reach the Animal Kingdom.
Disney Springs and for the Water Parks – Go to the Bus Depot for transportation. The same bus that goes to Disney Springs may very well take you to Typhoon Lagoon. Some trips were non stop and some went via PI/DD. There is a separate bus for Blizzard Beach. Buses also travel to the Yacht Club and Boardwalk.
Note that the hotel bus service route sometimes includes stops at the Boardwalk and Yacht Club and then Beach Club. Some Bus runs include stops at the Swan and Dolphin, others do not. The water routes include one stop for the Yacht and Beach Club Marina, the Boardwalk, and the Swan and Dolphin.
What are the restaurants like?
The Beach Club has quite a variety of restaurants to fit your dining needs
Beaches and Cream is a '50s type hotshop serving burgers, hot dogs, soups, grilled cheese, and of course ice cream. There are a few small tables and chairs outside Beaches and Cream you can also sit at.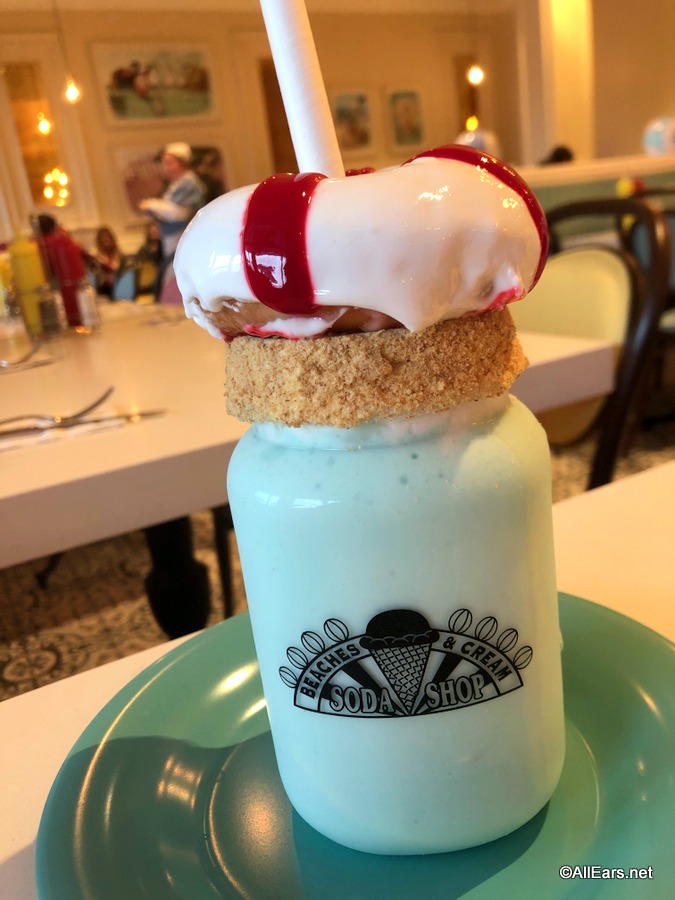 Beach Club Marketplace – Opened April 2005 and offers some made-to-order sandwiches, as well as prepackaged sandwiches and salads, desserts and drinks.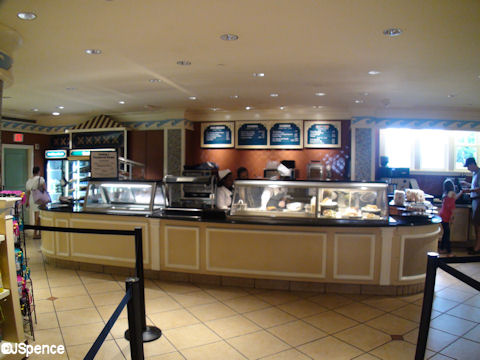 The Cape May Cafe hosts a daily character breakfast buffet (7:30 – 11:00) featuring Beachy Goofy and his friends. In the evening, the Cafe hosts a Clam Bake buffet. This is a great choice for seafood lovers, as the buffet features Crab Legs.
For an evening cocktail, Martha's Vineyard has a full-service bar offering wine flights. The lounge is located behind Cape May Cafe, next to Ariel's Private Use Room.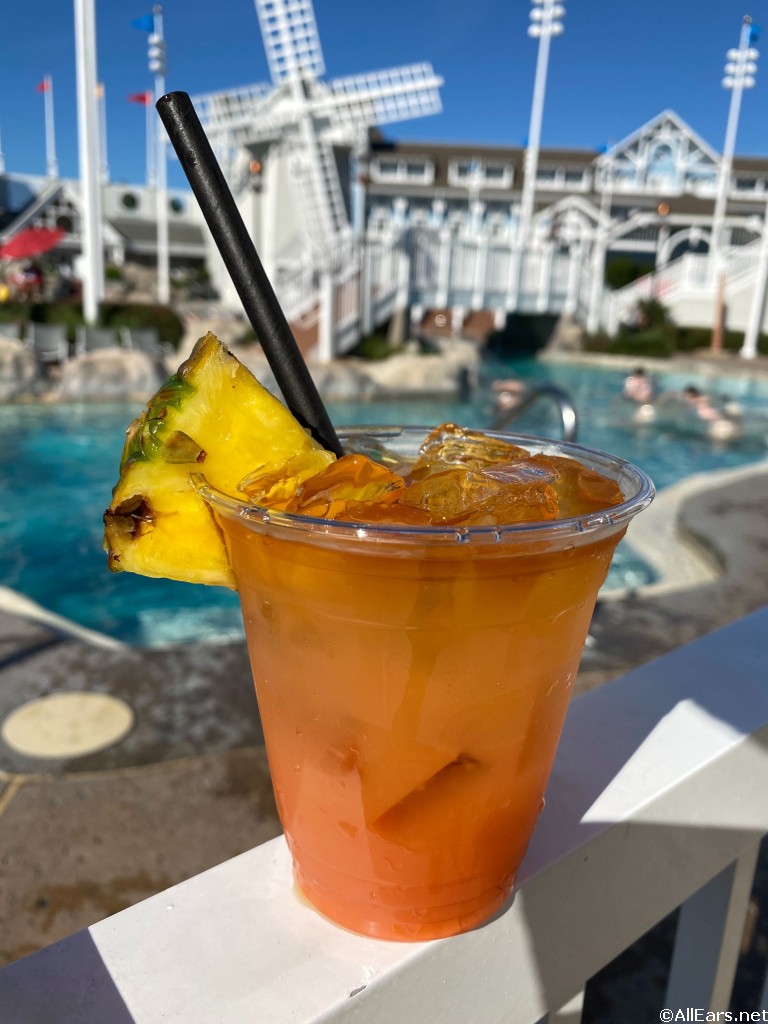 Hurricane Hanna's Waterside Bar and Grill is a poolside full-service bar which also serves food, such as burgers, sandwiches, and salads.
There are also several dining options at the Beach Club's sister resort, the Yacht Club.
For a signature meal and great steak, visit the Yachtsman Steakhouse. The Yacht Club also has the Crew's Cup Lounge where you can get alcoholic beverages and light snacks.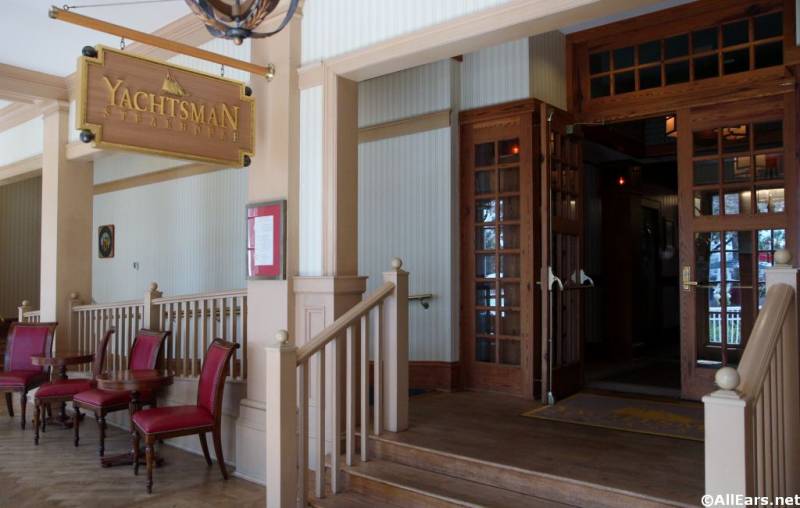 The Ale & Compass Restaurant serves breakfast, lunch and dinner. There is a lounge at the Ale & Compass too with cocktails and appetizers.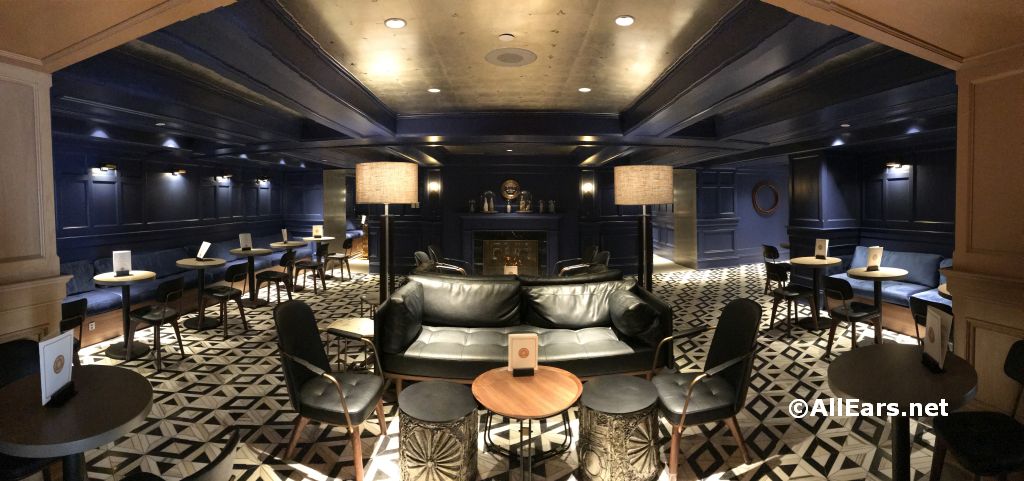 Within walking distance are the Dolphin/Swan, Boardwalk and all the Epcot restaurants.
Does the Beach Club Villas have a pool?
Yes! There is a quiet leisure pool at the Beach Club Villas. Additionally, you have access to the other two leisure pools at the Yacht and Beach Clubs, as well as Stormalong Bay.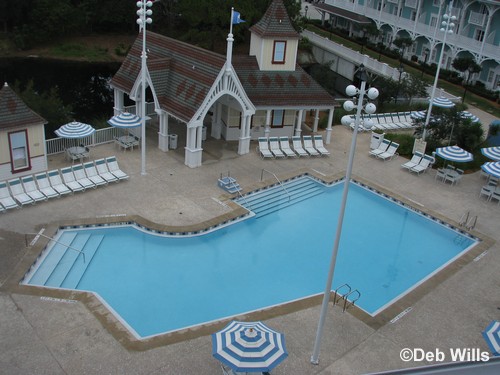 What is Stormalong Bay and is it as great as everyone says?
Stormalong Bay is the large, outdoor water area at the Yacht and Beach Club. It features a sandbottom pool, pirate ship slide, and lazy river.
And it is truly awesome. Where else can you bask in the warm sun in such beautiful surroundings and still have SAND in the bottom of the pool. Take a look at our Stormalong Bay Photo Gallery.
There are actually several sections to the pool; the Yacht Club and Beach Club sections are separate and different so be sure to try both. There is a deep circular area with jets that push you like a river current around the pool. There is also the larger area where the the water slide empties out (The water slide is not to be missed! but sometimes the line gets long) In addition, the *sinking sand* area delights both kids and adults. There are several 'hot tubs' located in secluded locations around Stormalong Bay . A separate wading pool area (yes with sand) is located near the ShipWreck water slide entrance for small children and includes a kids water slide. StormAlong Bay is over 3 acres large.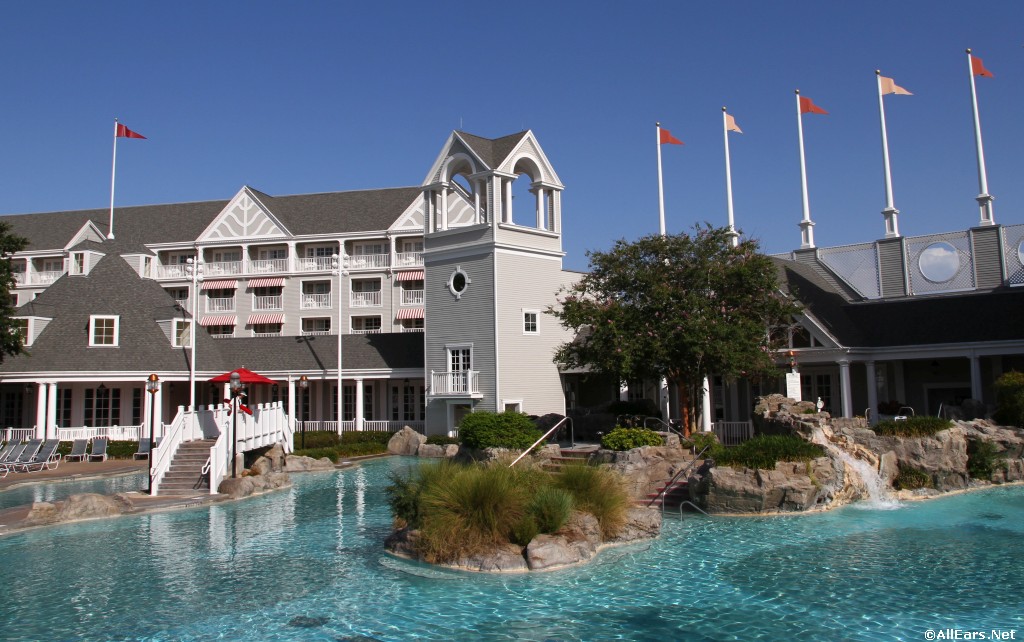 In 1997, a white fence was built to surround the StormAlong Bay complex. This was done due to the large amount of non-resort guests that were using the pool. Access to the Pool area is now extremely limited; one entrance is just outside Martha's Vineyard; one entrance at the Yacht Club; and one entrance near Hurricane Hanna's. To visit Hurricane Hanna's you must carry your resort ID with you in order to return to the pool area. Each person in the party does not need their ID to enter (if you all enter together) but keep in mind you need the ID if you exit and re-enter the Pool area! You do get stamped upon entering.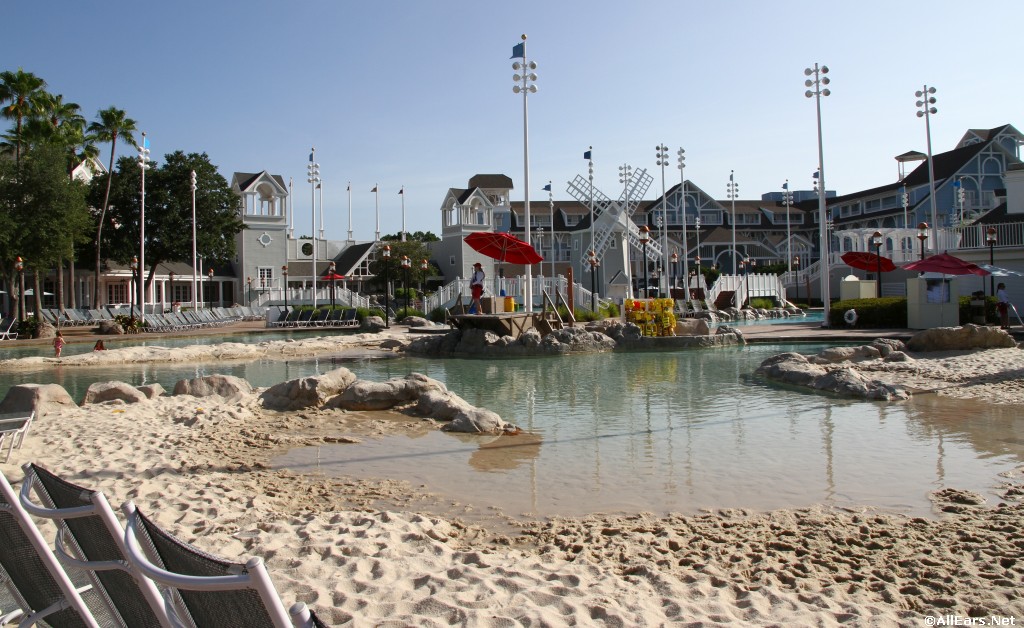 There is a beach shack which rents tubes and noodles, suntan lotion, film and you can get your towels here (towels are free, the other items are not).
For those who arrive at the BC before checking time and would like to use the pool, there is a restroom next to Beaches and Creams where you can change into bathing suits. You just have to make sure that you have already been given your your Resort ID at the front desk.
Is there a leisure pool?
Yes, on the side of the Beach Club that is closer to Epcot is a courtyard with a Quiet Pool. The quiet pool has it's own supply of towels. There is no lifeguard at the Quiet Pool. The Yacht Club has a similar quiet pool. These pools are great for adults who want to read or enjoy a quieter pool experience.
Is there a beach at the Beach Club?
Yes! There is a lovely sand beach along Cresent Lake. You cannot swim in the lake, however there are swinging benches and beach chairs in the sand for your enjoyment.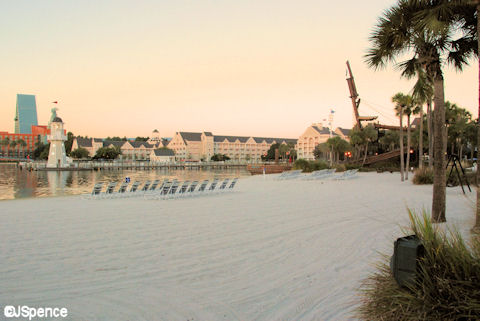 What types of recreational options do I have?
Be sure to request the Recreational Activities flyer. There may be activities like Water Volleyball, Campfire Sing-along, or Movie Under the Stars.
Tennis Courts – two lit, hard surface courts are available complimentary to BC/YC guests. The courts are on the Beach Club side and are open from 7am to 10pm daily. Complimentary equipment rental for BC/YC guests are available at the StormAlong Bay Towel Window.
Ship Shape Health Club – is located between the Beach and Yacht Club resorts next to Lafferty Place Arcade and open from 6am to 9pm. Equipment includes Nautilus, Hammer Strength and aerobic machines as well as a spa, steam room, sauna and massage therapy. Massages by appointment only.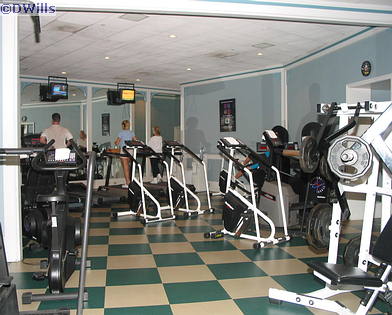 Beach Club resort guests (age 14 and older) can use the fitness center at no additional charge for the duration of their stay. A parent or legal guardian must accompany children under 17. In addition, Disney Vacation Club members will be allowed to use the fitness center at any Disney Vacation Club resort, as long as they are staying at a Walt Disney World resort.
Jogging – Jogging route maps are available from Guest Services or the Ship Shape Health Club.
Volleyball – a sand court is located on the Beach Club side of the complex. Equipment use is complimentary for BC/YC guests and may be obtained at the StormAlong Bay Towel Window.
Lafferty Place Arcade – is located next to the Beaches and Cream Soda Shop.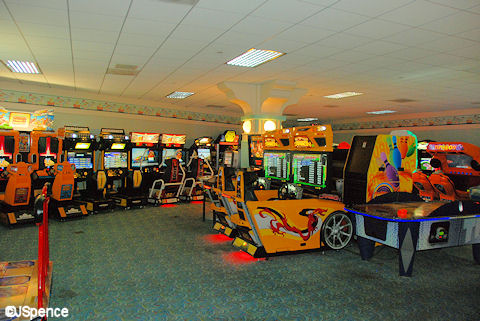 Bayside Marina – located in a small building to the right of the pier (facing the lake) services guests from both the Yacht Club and Beach Club daily from 11am to 5pm. To reserve cruises or fishing excursion call 1-407-WDW-PLAY.
For up-to-date prices on other water activities, visit our Boardwalk Area Entertainment page.
What is the gift shop like?
The Beach Club Marketplace has Beach Club logo-merchandise, swimwear and resort wear, books, sundries, suncare, candy, some snacks and same day film processing as well as a Gelato Bar and some prepackaged fresh food to go. The Yacht Club also has the Fittings and Fairings Clothes and Notions store located off its main lobby. If you still can't find what you are looking for; check the Swan and Dolphin and Boardwalk stores.
Can I watch Epcot Fireworks from the BCV?
A few of the BCV rooms on the fifth floor face Epcot's World Showcase. These rooms do have an obstructive view– only the highest fireworks can be seen.
You can sit on the Beach and see the high Fireworks from Epcot. With the addition of the bridge to the Boardwalk, there is another good viewing area for the show. You can also see the fireworks from Disney's Hollywood Studios. Walk over the to Boardwalk and stand near the BoardWalk Fries vendor cart and you can see the fireworks from MK too! These won't be full views but it's still fun!
Another option is to rent a Pontoon Boat for an Fireworks Cruise . This is a premium experience.
For more information, and to go on a tour of the Yacht and Beach Club resorts, check out this AllEars TV Video!
How do I get to the Beach Club Villas?
Take I-4 to Exit 67. Follow signs to Epcot Resorts/Disney's Hollywood Studios. Turn right at the 5th traffic signal (Epcot Resorts Blvd) and Disney's Beach Club will be about 1 mile on the right. Due to construction at the WDW resort, directions may change. Be sure to follow road signs.
The Beach Club Villas are located at 1800 Epcot Resorts Blvd. Lake Buena Vista, FLA 32830. Main number is 407-934-8000 and the Fax – 407-934-3850.
Overview
Phone: 407 934-8000
Address: 1800 EPCOT Resorts Boulevard,  Lake Buena Vista, Florida 32830
Transportation Options (2)
Activities & Recreation (9)
Boat Rental
Kid's Club
Playground
Arcade
Running Trail
Poolside Movies
Tennis Courts
Gym
Health Spa
Room Options (3)
Deluxe Studio
1 Bedroom Villa
2 Bedroom Villa