Dumbo the Flying Elephant Fantasyland Disneyland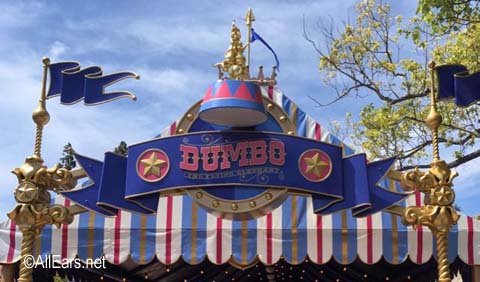 Introduction | Attraction | Touring Tips | Kids/Characters | Dining | Shopping | Interesting Facts
INTRODUCTION
One of the best-loved and most popular attractions among younger visitors, Dumbo the Flying Elephant takes them soaring around Fantasyland, and the best part is the joystick that lets them control how high or low he flies.
ATTRACTION
Dumbo the Flying Elephant is located in the back of Fantasyland between Monstro the whale (part of Storybook Land) and Casey Jr. Circus train.
The queue winds around behind the attraction. It is mostly shaded by circus tent canopies. There are 16 Dumbos to choose from, wearing a variety of different colored hats and blankets.
The ride is short, only about a minute and a half long.
Read about Walt Disney World's Dumbo attraction HERE.
TOURING TIPS
This is a very popular attraction and it's best to ride it early in the day to avoid long waits.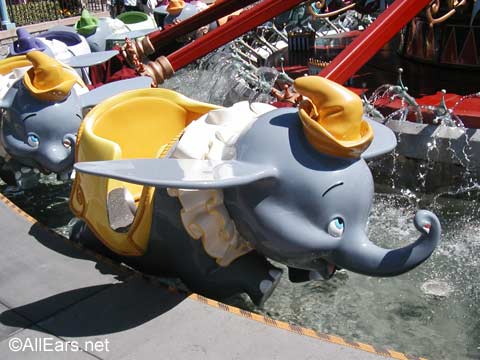 Each Dumbo holds two average-sized adults, so one adult and two children can fit, but it's better if each child can have their own Dumbo to avoid squabbles over the control stick!
There is no height requirement. All guests are secured by a seat belt.
ECV or wheelchair users must transfer out to ride this attraction.
A Dumbo vehicle is located on the raised area next to the ride, which offers guests better photo opportunities than they have while on the ride.
The closest restrooms are located next to the Red Rose Taverne, along the exit to Frontierland.
KIDS AND CHARACTERS
Dumbo is a favorite with kids, especially preschoolers.
There are no characters in this part of Fantasyland. The Disney princesses can be found in the nearby Royal Hall at Princess Fantasy Faire. Sometimes Belle and Gaston stroll around through Fantasyland.
DINING
Red Rose Taverne serves burgers, sandwiches, and flatbreads.
SHOPPING
Bibbidi Bobbidi Boutique – Prince and Princess makeovers as well as Princess clothing, dolls, toys, and accessories.
Mad Hatter sells a variety of character hats, including Mickey ears and Peter Pan hats with personalized embroidery.
Stromboli's Wagon – This cart sells candy, snacks, and other small souvenirs.
INTERESTING FACTS
Dumbo is an original Disneyland attraction and opened in July 1955.
In 1957 former President Harry Truman refused to ride Dumbo because the elephant is the symbol for the Republican party.
The Timothy Mouse figure on top orginally held a whip, but now he holds a feather.
For Disneyland's 50th anniversary celebration, a golden Dumbo was added to the ride.
If you have comments or tips to share with others about touring Disneyland, please email us. Thank you.