Haunted Mansion Liberty Square Magic Kingdom
 INTRODUCTION
A Magic Kingdom classic! Since it debuted with the opening of the Magic Kingdom on October 1, 1971, the Haunted Mansion has been one of the best-loved attractions at Walt Disney World Resort. Located atop a hill overlooking Liberty Square, this spooky house is home to 999 happy haunts — and eagerly awaits visitors willing to defy becoming Ghost #1,000.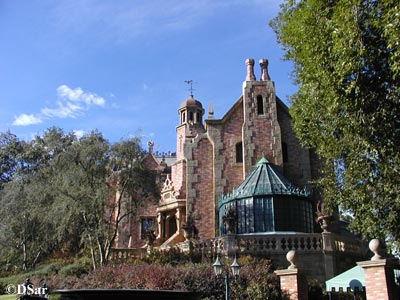 ATTRACTION
Queue: Themed after the English Tudor style found in lower Hudson River Valley in New York, the stately Haunted Mansion looks down on Liberty Square. Visitors make their way up a winding path, and through the wrought-iron gates, eventually passing a small graveyard with an assortment of tombstones engraved with punny epitaphs. The names featured on the tombstones are those of some of the attraction's original designers and developers: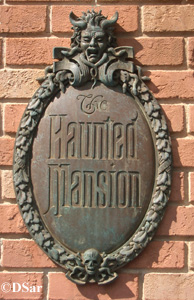 • Rest in peace, brother Huet. We all know you didn't do it.
• R.I.P., good friend Gordon. Now you've crossed the river Jordan.
• Master Gracey laid to rest. No mourning, please, at his request. Farewell.
• At peaceful rest, he's brother Claude. Planted here beneath this sod.
• Here lies good ol' Fred. A great big rock fell on his head.
• Here rests Wathel R. Bender. He rode to glory on a fender.
• Dear departed brother Dave, He chased a bear into a cave.
• Here lies a man named Martin. The lights went out on this old Spartan.
Be sure to note one of the newest tombstones, on your left just before you enter the mansion, which honors the late Walt Disney Imagineer Leota Thomas (her maiden name was Toombs). Every few minutes, the lovely Leota's sculpted head leans forward, opens its bright green eyes almost imperceptibly, then closes them again.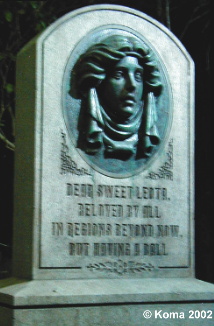 The Haunted Mansion: When the darkly attired Cast Member invites you inside, you enter the foyer of the mansion and are greeted by your invisible host… your "Ghost Host," voiced by Paul Frees. (You might recognize the voice — Frees provided the voice of characters for many animated cartoon classics, including Boris Badenov from the the Rocky & Bullwinkle Show.)
You're then directed into an octagonal room with unusual paintings encircling the walls. Before your eyes, the paintings change — they seem to grow longer and longer, even though the floor and ceiling aren't moving, and as they stretch, slightly macabre and/or humorous images emerge. One portrait even ages, Dorian Gray-style!
From this room, you'll exit to a dark passageway, where you'll be shown to your "Doom Buggy" ride vehicle to tour the mansion. Synchronized speakers inside each doom buggy allow your Ghost Host to explain the supernatural scenes that unfold around you. Your egg-shaped vehicle glides silently through the library, conservatory, hallways, ballroom, attic and even graveyards. In the ballroom scene especially, note the holographic images that dance and cavort around the room. The ghosts appearing here are caused by a variation on an illusion known as "Pepper's Ghost."
Guests ride past a séance being held by Madame Leota, a disembodied head projected from a crystal ball. The face is that of the late Leota Thomas, and the voice that of Eleanor Audley, who also provided the voices of other well-known Disney movie characters: Sleeping Beauty's Maleficent and Cinderella's Lady Tremaine.
Your doom buggy turns sideways, and you pass in front of a mirror. Thanks to a little Disney magic, an eager, "hitchhiking" ghost appears inside each doom buggy, sometimes right in your lap!
As the ride nears its end, look up to the right and see Little Leota, the small figure perched on the ledge above urging you to "hurry back…hurry baaa-aaack…" Her form and voice also both belong to Leota Thomas.
Mini-Review: An original, and still one of the best attractions in the Magic Kingdom — perhaps even in all of Walt Disney World! The animatronics, the special effects, the attention to every detail make this ride worth visiting again and again. Put Haunted Mansion on your must-do list!
TOURING TIPS
HIDDEN MICKEYS ALERT:
Ballroom scene—arrangement of plate and adjoining saucers on the banquet table. Graveyard scene—left hand of the grim reaper forms a Mickey outline with his fingers.
The ride system at Haunted Mansion is a continuous-loading OmniMover, which allows for a steady flow of guests. Although this is a slow-moving, smooth ride, each "Doom Buggy" vehicle is programmed to dip and turn at specific moments, thus directing your attention to important show elements. Be aware that at some points your "Doom Buggy" travels backwards as it goes downhill.
The Doom Buggies can seat two comfortably, although it is possible to squeeze two adults and a small child (or 3 children) into one.
Be very careful as you exit your Doom Buggy; not only is it dark, but the Doom Buggies can move a bit as you step out.
Child Swap is available at this attraction. This allows one guardian to wait with a child while another rides, then they can switch so the other guardian can ride without having to wait in the line again. Ask a Cast Member for the current procedure.
Guests using an ECV or a wheelchair must transfer out to ride this attraction.
There are no height or age restrictions for Haunted Mansion, but many children are fearful of its darkness and scary scenes.

It takes about 7.5 minutes for your Doom Buggy to make its way along the 960-foot track of this attraction.
Don't miss the old-fashioned hearse drawn by an invisible horse at the entrance to this attraction.
Look for the horseshoe embedded in the pavement.
Don't miss the pet cemetery — it's on your left on the hill as you exit the Mansion.
Some Captioning Available. Ask at Guest Relations.
KIDS AND CHARACTERS
The premise of the Haunted Mansion is obviously that of a creepy haunted house, but the ride is intended for the entire family. Many of the scenes are more humorous than frightening, but since every child has different fears, parents should be aware that the attraction features lots of dark rooms, spooky noises and voices, and a few potentially scary scenes with skeletons, bats, spiders, and lots of ghosts and ghouls.

There are no Disney Characters associated with this attraction. There are other character "meet and greet" opportunities throughout the Magic Kingdom, however. Check your daily Times Guide for exact times and locations.
Magic Kingdom Characters At A Glance
Character Meet and Greet FAQ!
DINING
Columbia Harbour House, a counter service restaurant, is located across from this attraction's entrance in Liberty Square.
Magic Kingdom Restaurants At A Glance
Menus From Around the World
Vegetarian and Other Special Diets
SHOPPING
Memento Mori is a great Haunted Mansion merchandise location. It is located across from the attraction's entrance.
INTERESTING FACTS
The Haunted Mansion is the only attraction featured in different lands at each of the four Disney theme parks worldwide:
Disneyland — New Orleans Square
Magic Kingdom — Liberty Square
Tokyo Disneyland — Fantasyland
Disneyland Paris (where it is known as Phantom Manor) — Frontierland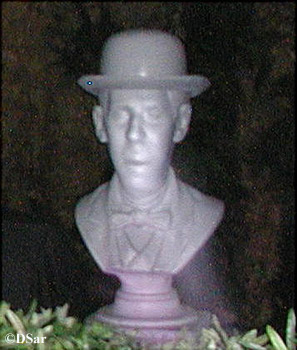 The singing busts in the graveyard scene warble the attraction's theme song, "Grim Grinning Ghosts." Though sometimes mistaken for Walt Disney, the face on the bust on the left actually belongs to Thurl Ravenscroft, the song's soloist. Ravenscroft is best-known as the voice of Tony the Tiger, the mascot of Kellogg's Frosted Flakes cereal. In addition to Ravenscroft, the Singing Busts include Jay Meyer, Verne Row, Bob Ebright, and Chuck Schroeder.
Grim Grinning Ghosts, with lyrics by X Atencio (who also wrote the Ghost Host's script) and music by Buddy Baker, was recorded by the Mello Men, a singing group made up of Bill Lee, Max Smith, Bob Stevens, and Thurl Ravenscroft. The group also provided the vocals in many of the Disney films and theme park attractions.
Legendary voice artist Paul Frees — known to many as Boris Badenov from "The Rocky & Bullwinkle Show"– is the attraction's narrator, or "Ghost Host." He also provided the voices for most of the rogues in Disney's Pirates of the Caribbean attraction.
The following names are found in the crypt at the exit to The Haunted Mansion:
Asher T. Ashes
Wee G. Bord
I. Trudy Dew
Dustin T. Dust
Manny Festation
Metta Fisiks
Pearl E. Gates
Rusty Gates
Hail N. Harty
C.U. Later
Hal Lucinashun
Rustin Peese
I.M. Ready
Hap A. Rition
Emma Spook
Paul Tergyst
M.T. Tomb
Love U. Trudy
Clare Voince
Bea Witch
If you have comments or tips to share with others about the Magic Kingdom or the Haunted Mansion, please email us. Thank you.