There are so many hotels to choose from in the Orlando area, how do you know which one is right for you? Even if you narrow it down to Walt Disney World Resorts, you still have about thirty options!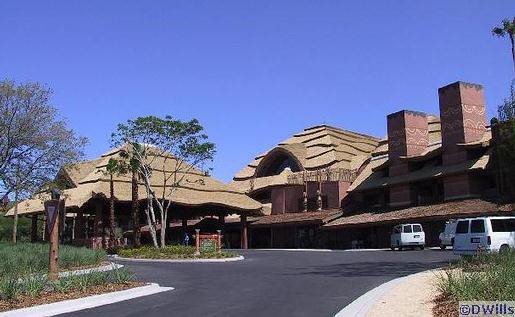 Click here to view AllEars listing of accommodations in and around Walt Disney World!
While all of the Disney World Resorts have their virtues (and drawbacks), we're going to take you on an adventure, sharing four ways Disney's Animal Kingdom Lodge totally nails it as a Resort.
Immersive Decor
When you go to Walt Disney World, you expect to be transported to another another place and time. You want to escape from your daily cares and feel like you're experiencing something new and different. Animal Kingdom Lodge does this from the moment you step inside the cavernous lobby.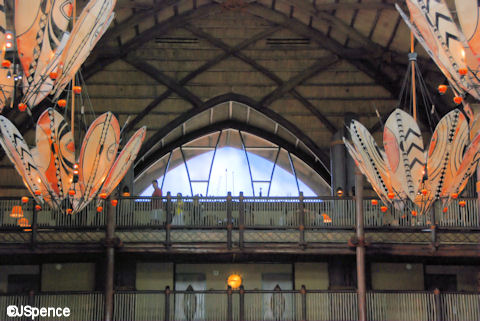 You immediately have a feeling of space and openness, and as you look around and see all the design details, you realize, you're not in Kansas — or Florida for that matter — any more. First there's the huge picture window that looks out over 30 acres of savanna populated by roaming wild animals. The suspension bridge above you and the rough-hewn wood and detailed carvings around you add to the ambiance.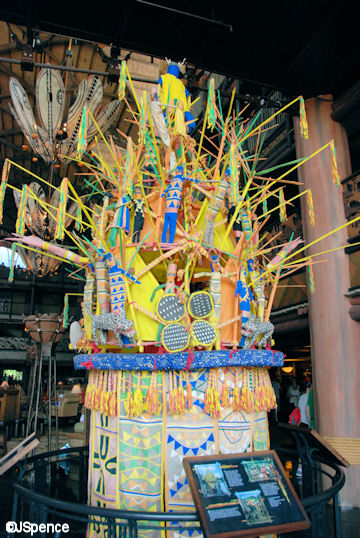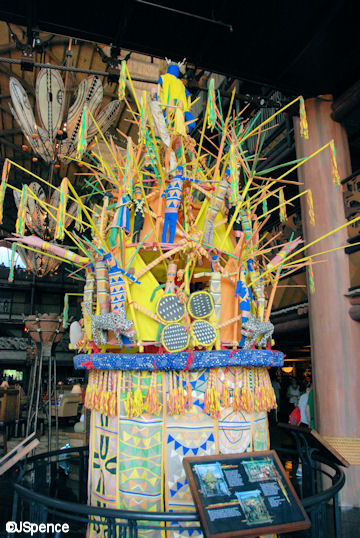 You'll also notice the massive 16-foot-tall Igbo Ijele Mask that dominates the rear left corner of the lobby. This ornate, hand-crafted piece made of brightly colored fabric and other materials comes from the Igbo people of Nigeria (and elsewhere) and represents an important event or celebration.
Opposite the Ijele Mask is Ogun's Firepit, an indoor gas fireplace, around which are several very sturdy wooden rocking chairs. The immersion is immediate and enveloping and warm.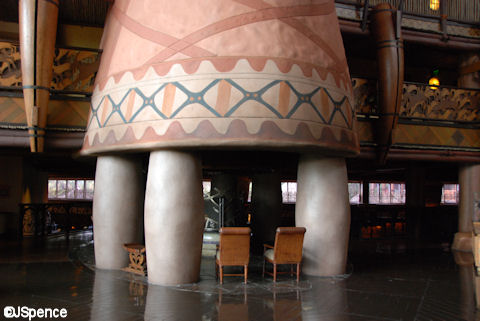 So Many Activities
While this is definitely a family-friendly resort, there are so many unusual activities for the kiddos (and adults, too) at Animal Kingdom Lodge they may forget there's a whole world of Disney just beyond the hotel's doors. Activities include (but certainly are not limited to):
flamingo feedings at the Flamingo Pond
animal tracking at Arusha Rock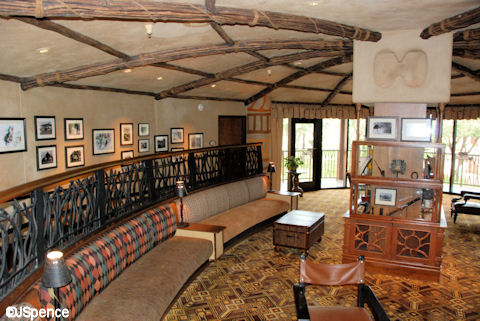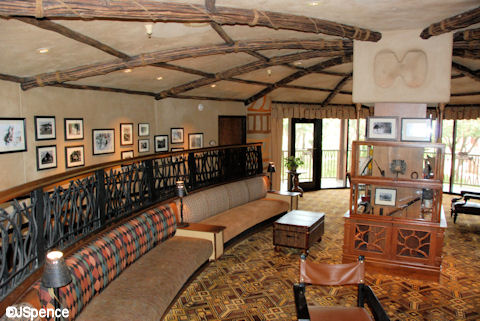 wildlife games and cultural safari in the Sunset Lounge
African games and crafts on the Uzima Pool Deck
animal viewing with Night Vision
Adventure Camp for children 6-14 that includes ostrich egg painting, private lodge tour, and lunch overlooking the savanna.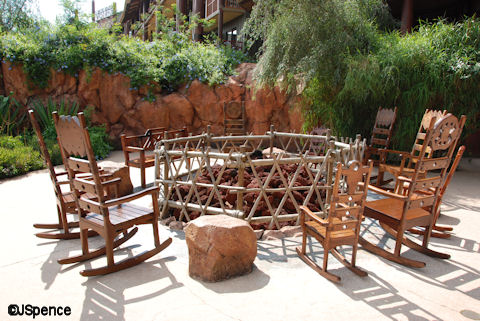 Also, outside at the Arusha Rock fire pit, there is nightly African storytelling. (Storytelling is held indoors in the event of inclement weather.) If you have the opportunity, take the time to speak with the storytellers. It's unusual experiences like this that you won't find at the nearby I-Drive hotel, and that makes Animal Kingdom Lodge such a stand-out.
Out-of-the-Ordinary Dining Experiences
If you're a more adventurous diner — or you're looking to push beyond your comfort zone culinarily — Animal Kingdom Lodge is the place for you (although, don't worry, more conservative tastebuds are not forgotten).
You're bound to love the array of choices on the buffet at Boma, Flavors of Africa. From the exotic — Bobotie, Fufu, Ghanian Oxtail Stew, Buerwors Sausage Stew — to the more traditional Roast Turkey and Rotisserie Chicken, you're sure to find something to satisfy your appetite. But when you're at a resort themed to represent Africa, you should expect to find traditional dishes of the area, and Boma does not disappoint.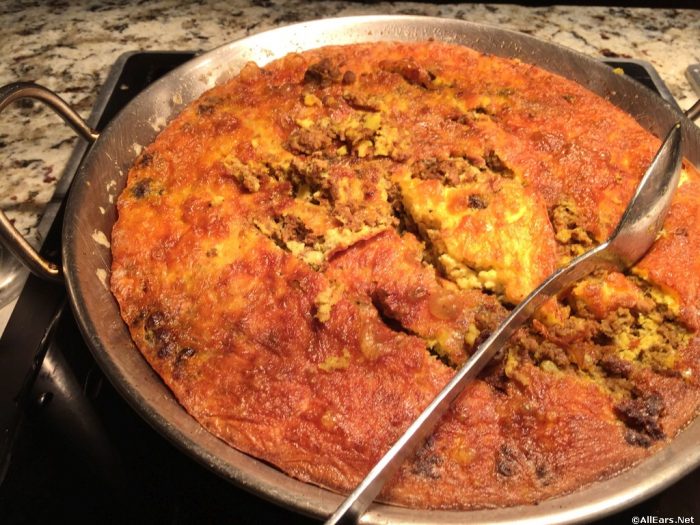 But if you really want to take it up a notch, cross the hall and visit Jiko, The Cooking Place, a signature dining experience with some of the finest food and wines on Disney World property. Yes, it can be a little on the offbeat side, but that's what you want to go with the resort's theme, right?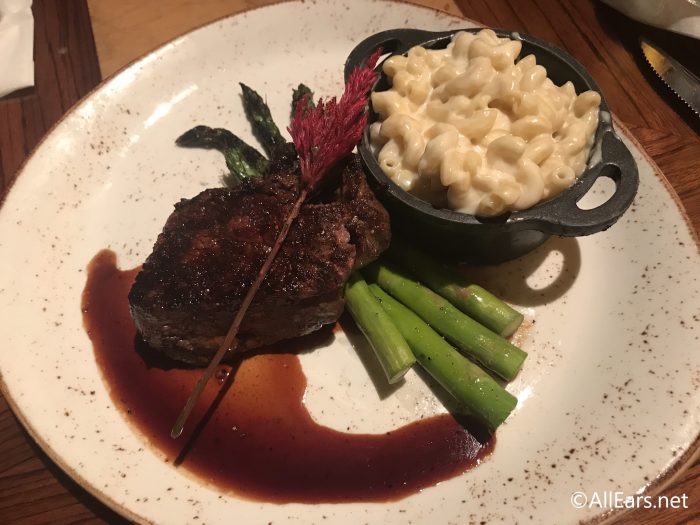 Jiko's signature filet with mac and cheese
At Jiko, you'll be able to try dishes like Grilled Wild Boar Tenderloin, Bo Kaap Malay Seafood Curry, and Cocoa-Crusted Bison. Or play it safer (deliciously) with the restaurant's signature filet mignon with mac and cheese. Pair these with one of Jiko's myriad of South African wine selections for a memorable meal you won't find at any other Disney restaurant. You won't go wrong in any case!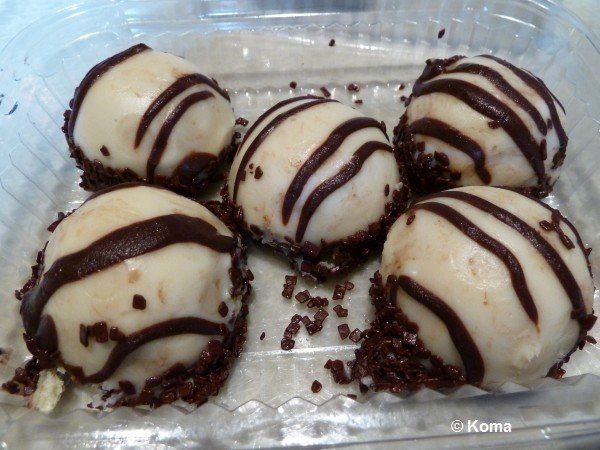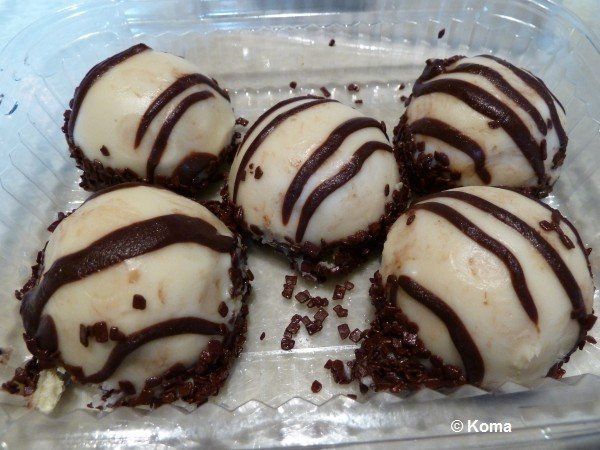 Zebra Domes at The Mara
Even The Mara, the quick service spot at Animal Kingdom Lodge, is somewhat unconventional, serving up sandwiches like Tamarind Barbecued Pork and Vegetarian Falafel on Pita, as well as African Stew "Potjie" and Braai Chicken Flatbread. These are not your run-of-the-mill burgers and fries, for sure. And while you're there, don't forget to pick up their signature Zebra Domes, a creamy and sweet dessert treat that you can only find here or at Boma. (They've even usually got a gluten free version, too!)
Awesome Animals
Finally, the number one thing that Disney's Animal Kingdom Lodge gets right is… the animals! I mean, how awesome is it to wake up in the morning and look out your window to see a giraffe nibbling on a tall tree close by? Or to see a couple zebra drinking from a small puddle beneath you? This an experience I don't think you'll find in very many places outside of Africa itself!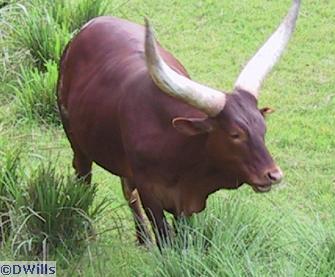 And there are so many different types of animals to see! The iconic Ankole cattle, also known as Watusi, with their enormous horns. The aforementioned Grant's Zebras and Reticulated Giraffes. All the other "hoofed stock," like the Greater Kudu, Impala, and White-Bearded Wildebeest. And if you're into winged creatures you may spot Abyssinian Ground Hornbill, East African Crowned Crane, Greater Flamingo, Marabou Stork, Ostrich, and Pink-Backed Pelicans among others!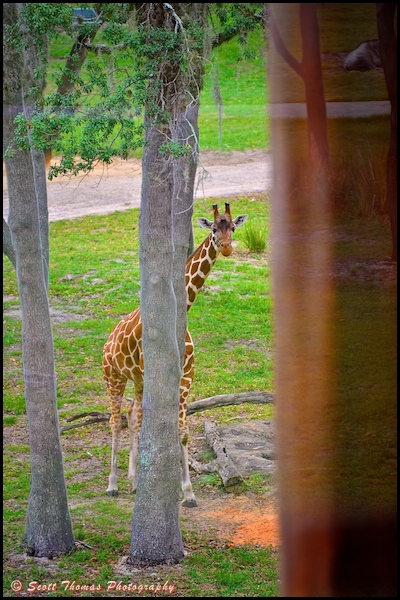 Not only are there are so many animals to see on the resort's various savannas, there are so many places to see the animals from. Yes, if you get a savanna-view room that's nice — watching the animals from your balcony while you have your morning coffee or tea is an awesome benefit to staying at this resort.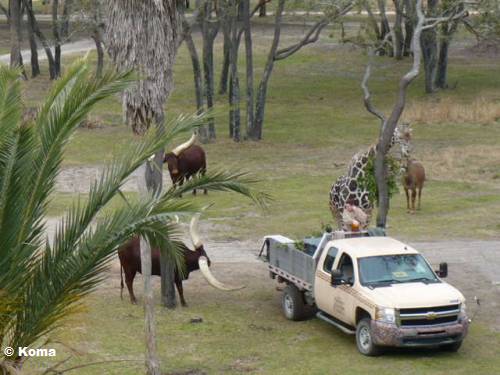 But even if you don't have your own private viewing area, the Lodge has made sure that there are enough public viewing areas for you to enjoy the main attraction — the critters!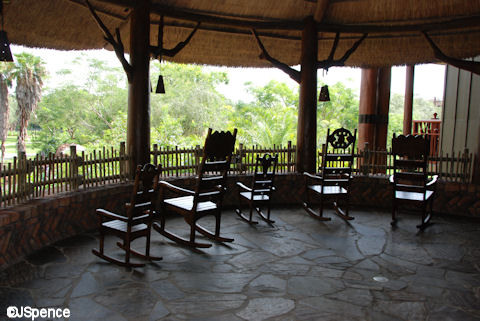 There are several viewing areas like the Sunset Savanna overlook, complete with rocking chairs, scattered around the resort. And if you go ground-level, you can walk around and find plenty of spots to take in the flora and fauna.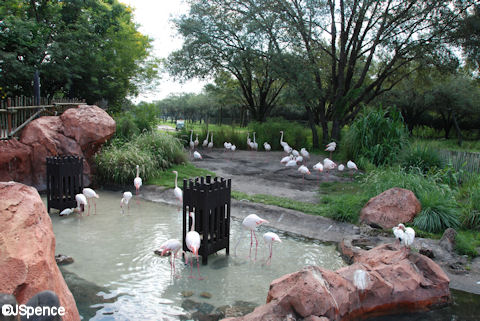 You can't do that at the Contemporary or Coronado Springs, can you?
With so much going on a Disney's Animal Kingdom Lodge, it's really a wonder that they do so much right — but they do! And while it has some drawbacks (proximity to Parks other than Animal Kingdom being the biggest), the pros far outweigh those cons for us.
Is Animal Kingdom Lodge your favorite Disney World resort? If not, which is? Let us know in comments!
Still not sure where to stay? Click here for our guide to making the right decision for your Walt Disney World vacation!
Join the AllEars.net Newsletter to stay on top of ALL the breaking Disney News! You'll also get access to AllEars tips, reviews, trivia, and MORE! Click here to Subscribe!