One of the most common questions we are asked is, "When is the best time to go to Walt Disney World?" There's really no right answer to this question — there are lots of contributing factors. School schedules, cost, and weather all play a role in deciding when is the best time for your family to come to Disney.
Disney recently rolled out Date- Based Ticketing, meaning each day of your ticket could have a different cost based on factors such as day of the week or projected attendance. Using the interactive calendar on Disney's website allows you to select how many days you want to visit, and then shows what each day of your vacation will cost. This allows you to pick the days that work best for your family, based on cost, length of vacation, and season.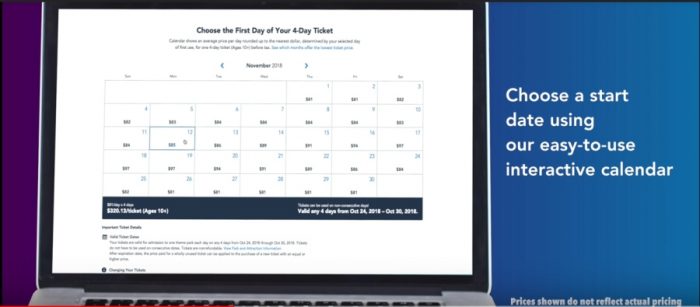 Generally speaking, Walt Disney World divides their calendar into three categories — Value, Regular, and Peak.  As a good rule of thumb, if the kids are out of school, it's going to be a busy, and therefore a more expensive time of year. It's also usually a safe bet that weekend days will be busier (and now more expensive) than weekdays. While each day could vary in cost now, here are the general guidelines for each season in 2019:
Value
Weekdays from the second week in January through February
Early March
Early May
Weekdays from the last week of August – the first week in October
Mid week the week before and after Thanksgiving
Regular
Weekends in January through February
Late March – early April
The last two weeks of May through June
Weekends in September
October through early November
The first two weeks of December
Peak
The first week of January (New Year's)
The last two weeks of April (Easter/Spring Break)
July- the third week of August (Summer)
Saturdays in October & November (Food and Wine)
The week of Thanksgiving
The last two weeks of December (Christmas break)
The beauty of the new interactive calendar, is you can gauge the crowds based on the prices, and select the days that are the best for your family. The updated ticketing page allows you to select the number of days, and even has a button to click that will show you the cheapest times of year to come, based on the number of days you selected.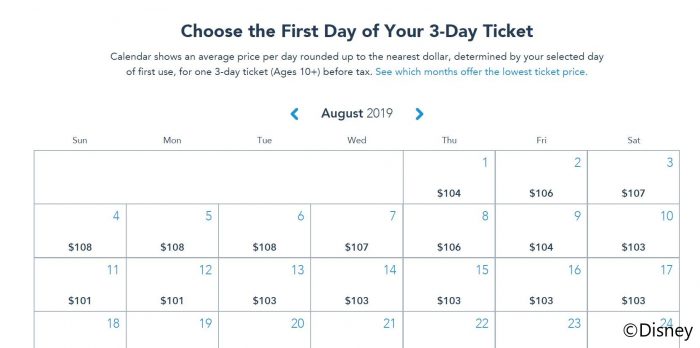 No matter what time of year you head to Walt Disney World, it's going to be magical!
Do you have more questions about Disney's Date-Based Tickets? We've put together a set of Frequently Asked Questions (FAQ) to address some of the most common concerns. See if your questions are answered — and if not, feel free to drop us a line!
What's your favorite time of year to visit Walt Disney World? Do you think this new Date-Based Ticketing system will save you money? Let us know in the comments!
Remember! When you're in Disney tag us @allearsnet in your photos!
Want more AllEars.Net content? Be sure to check out our YouTube Channel for reviews, news, information and more! 
Click below to subscribe to the AllEars® newsletter so you don't miss any exciting Disney news!