What's not to love about Character Dining? It combines two of the best things about Walt Disney World after all! We love being able to see some of our favorite characters, all while enjoying a nice meal (and air conditioning!). While there are lots of character dining options around the World, we have put together a ranking of our Top 8 Favorites.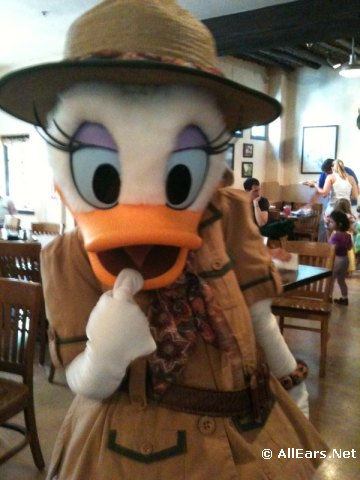 It should be noted, as a general rule, that it can be difficult to secure a reservation for character dining. If any of these restaurants sound like fun, we recommend making your reservations as early as possible — up to 180 days in advance. Also note, all characters are subject to change. We will be listing the characters most-often seen at each location, but there's always the possibility of a surprise!
Nestled at the end of Main Street USA, dining at The Crystal Palace provides you the opportunity to meet your favorite pals from the Hundred Acre Wood! Winnie the Pooh, Tigger, Eeyore, and Piglet join guests throughout breakfast, lunch, and dinner at this buffet-style restaurant.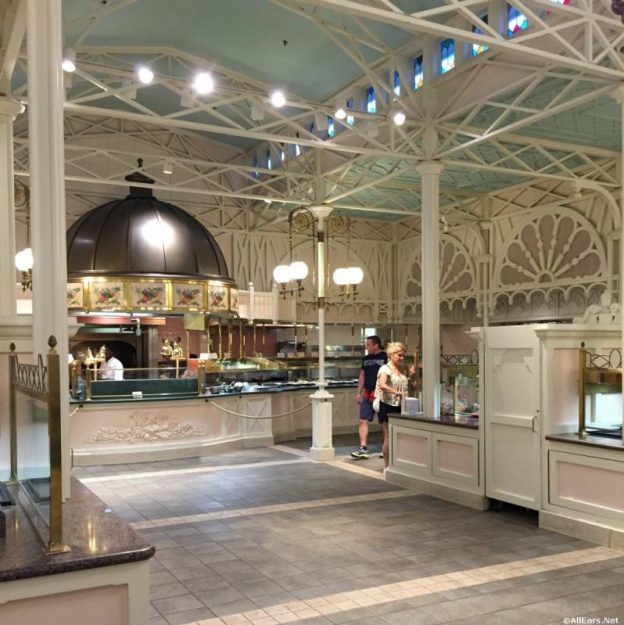 Breakfast features favorites such as Mickey waffles, eggs, bacon, fruit, and assorted pastries are featured. The buffet is fairly standard  — but one thing Disney does best is breakfast! At lunch and dinner, you'll find options such as meat carving stations, seasonal pastas, and peel-and-eat shrimp. Of course, the kids' buffet also has classics such as chicken nuggets and mac & cheese. (Don't worry, "big kids" can enjoy these too!)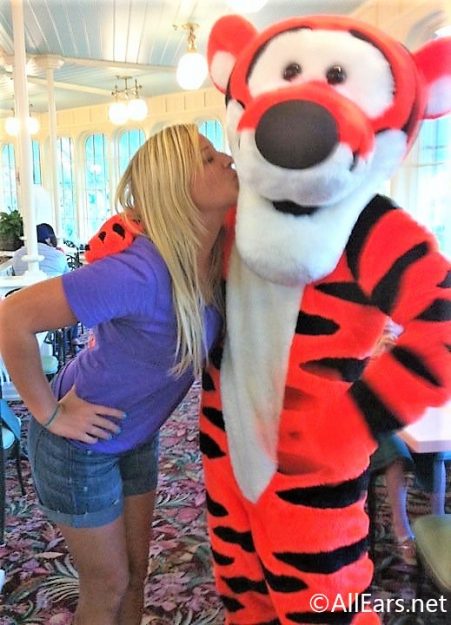 If you have big fans of Winnie the Pooh in your party, we highly recommend dining at the Crystal Palace. It's the only place you can find Eeyore and Piglet on a regular basis — and you'll avoid the long line in Fantasyland to meet Pooh and Tigger. We also recommend making the earliest reservation you can for breakfast. Typically, reservations start as early at 7:45 a.m., which means you'll be some of the first guests in the park. An almost empty Main Street is a perfect way to start your day — and makes for some of the best Castle pictures you'll ever take.
If you have Disney Junior fans in your family, Hollywood & Vine, at Disney's Hollywood Studios, is the place for you! Every morning for breakfast, the Disney Junior Play 'n' Dine takes place, where your little ones can meet favorites such as Vampirina, Doc McStuffins, and Sofia the First. On the buffet you'll find lots of choices for big and little kids alike — including a made-to-order omelet station, assorted pastries, several breakfast meats, and of course, Mickey waffles complete with toppings. There's also a soft-serve ice cream machine! The Disney Junior Play 'n' Dine is a great way for your little ones to meet some of their favorite characters, without having to wait in three (or more) separate lines at the character meet & greet locations.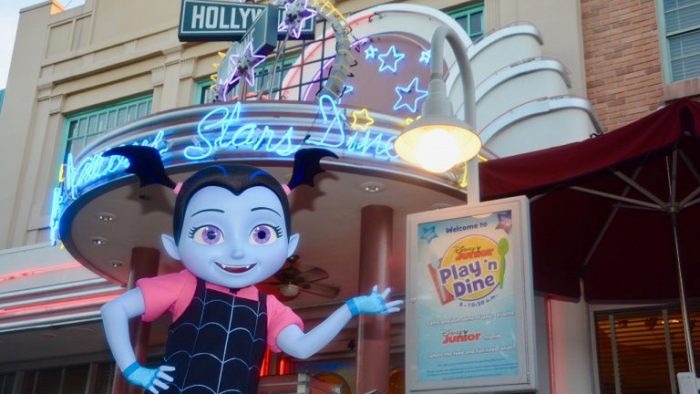 Certain times throughout the year, Minnie also invites you to Hollywood & Vine for Minnie's Seasonal Dine! This special meal takes place around the year during lunch and dinner. You'll be joined by Minnie, Mickey, Goofy, Donald, and Daisy who are dressed for the occasion. On the lunch and dinner buffets, you'll find assorted soups and salads, seasonal vegetables and sides, carved meats and pastas. There is a lot of choose from, but being perfectly honest, the food is pretty standard. It's good but not great.  However, the atmosphere and characters are really the appeal here! Hollywood & Vine is less high profile than Chef Mickey's, so if you want to meet the main mice (and more) this is a good place to try and snag a reservation.
Located on the ground floor of the Grand Floridian, 1900 Park Fare hosts breakfast and dinner with two different groups of "famous" friends. The Supercalifragilistic Breakfast is a practically perfect way to start your day, and you'll be joined by characters from "across the pond." Mary Poppins, Alice, The Mad Hatter, Pooh, and Tigger make the rounds at this buffet, making it one of the most unique groups of characters available for dining. If you have a die-hard Alice in Wonderland or Mary Poppins fan in your group, this is a great way to meet them! As far as food goes, your standard fare can be found — after all, what would Disney breakfast be without Mickey waffles?  But there are some signature items to look out for as well, including the Grand Floridian's famous strawberry soup, red velvet pancakes, and eggs Benedict.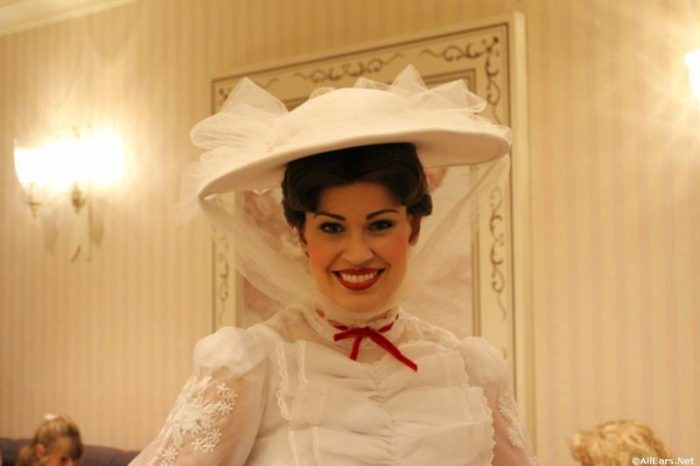 At dinner, you are royally invited to join Cinderella's Happily Ever After Dinner. As the name would suggest, this is a great place to meet Cinderella – as well as Prince Charming, her wicked step-mother Lady Tremaine, and her step-sisters Anastasia and Drizella. These are some of the most fun characters you can meet at a meal — particularly the step-sisters. The buffet features cuisine from "kingdoms around the world" and starts with an expansive selection of pre-made salads and soups. For the main course, we've seen everything from sushi to chicken marsala and Guiness beef stew. They also have a selection of pastas (including a create-your-own pasta station), meat carving stations, and a "kids" buffet. With this wide variety of food, there's sure to be something to please every member of the family.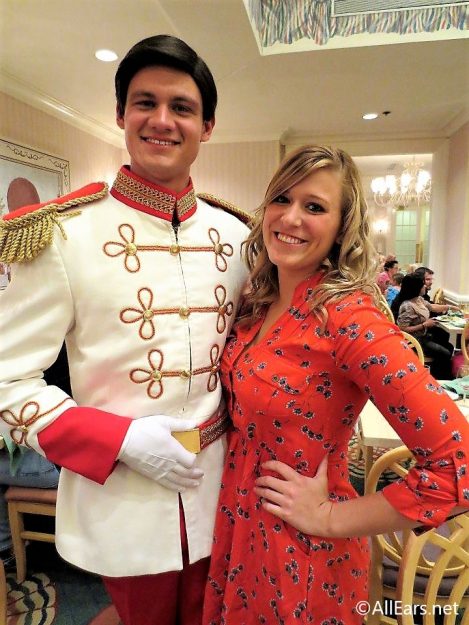 1900 Park Fare is a little off the beaten path (as in, not in a theme park), and offers a more upscale twist on a classic buffet during both breakfast and dinner. While you may not be able to meet "The Big Cheese" or a plethora of princesses here, we love it for the unique characters and better than average buffet options.
Jambo from Disney's Animal Kingdom! Tusker House, located in Africa, is open for breakfast, lunch, and dinner. Join Donald on his Dining Safari, where he is accompanied by Daisy, Mickey, and Goofy — all of whom are dressed for the plains of Africa!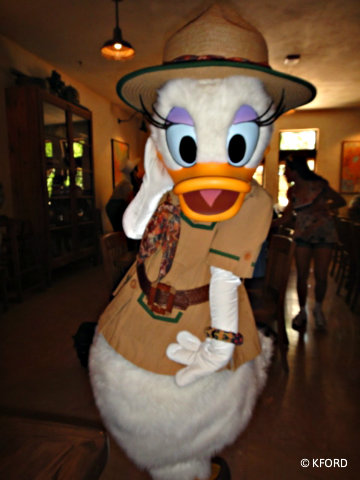 All three meals start off with a refreshing glass of Jungle Juice — a signature blend of orange, guava, and passion fruit. For breakfast, in addition to the Mickey waffles and other classics, you'll find options with a clear African influence such as carved meats, fruit chutneys, and beef bobotie quiche. These new-to-you selections really add to the atmosphere — and allow you to try something you wouldn't normally find on a Disney breakfast buffet! Lunch and dinner also offer a variety of items, including roasted chicken, veggies, and mac and cheese. As far as the unique offerings go, our favorites include the selection of breads and dips, curried chicken, and samosas. And make sure you save room for dessert! The dessert bar is not to be missed, and the house specialty is bread pudding.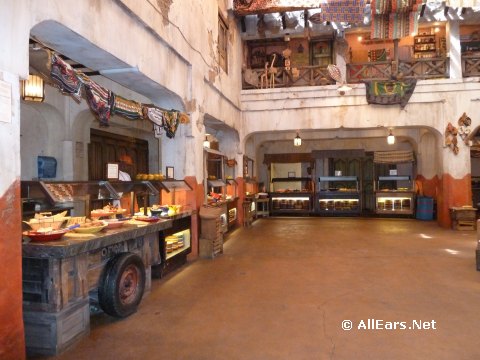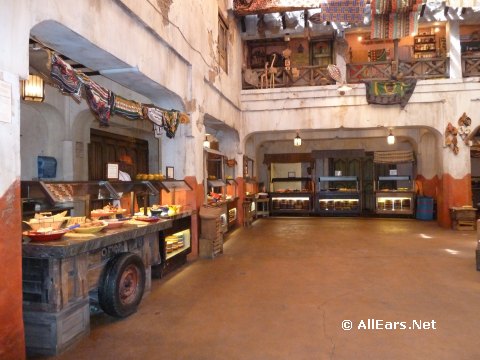 Tusker House is a great spot to meet some of the "fab 5," while also sampling some "exotic" flavors. As a planning tip, try and book the earliest reservation possible for breakfast. This way, you can head right to Kilimanjaro Safaris after your meal, which is just a short walk away. The early morning is one of the best times to see animals because it isn't as hot, so keep your eyes peeled!
May I introduce to you, the crème de la crème of character dining and the hardest reservation to get on property — Cinderella's Royal Table. What makes this meal so special you might ask? Well, it's inside Cinderella Castle. That's right – you dine IN THE CASTLE. And you'll be joining some royal guests! Cinderella is hosting breakfast, lunch, and dinner, and she's invited some of her princess friends to join you! While her royal guests may vary, the most-often attendees are Princess Aurora (Sleeping Beauty), Snow White, Ariel, and Princess Jasmine.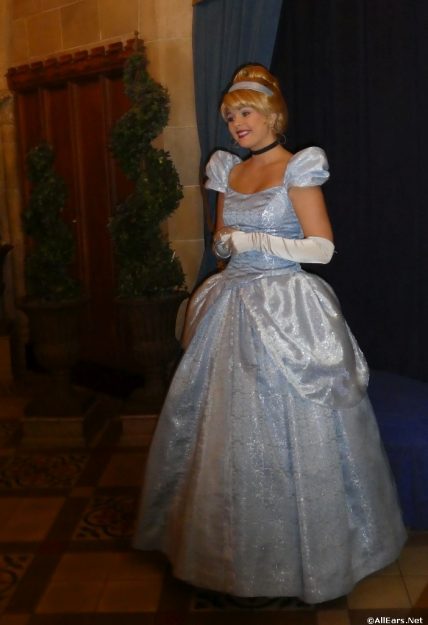 Unlike the other restaurants on our list thus far, Cinderella's Royal Table is a plated meal for all three dine times. At breakfast, a shared plate of pastries is placed on your table and then you select your own entrée. The menu includes shrimp & grits, a traditional breakfast plate, and caramel-apple stuffed French toast. Kid's choices include waffles, eggs, and cereal. As with all character dining, non-alcoholic drinks are included. For lunch and dinner, there is a prix-fix three-course meal available. Appetizers are your choice of soup, salad, or charcuterie plate. Entrée choices include a braised pork shank, beef tenderloin salad, and Chef's fresh fish of the day. The desserts are all themed to Cinderella, including "The Clock Strikes Twelve" which is a dark chocolate mousse.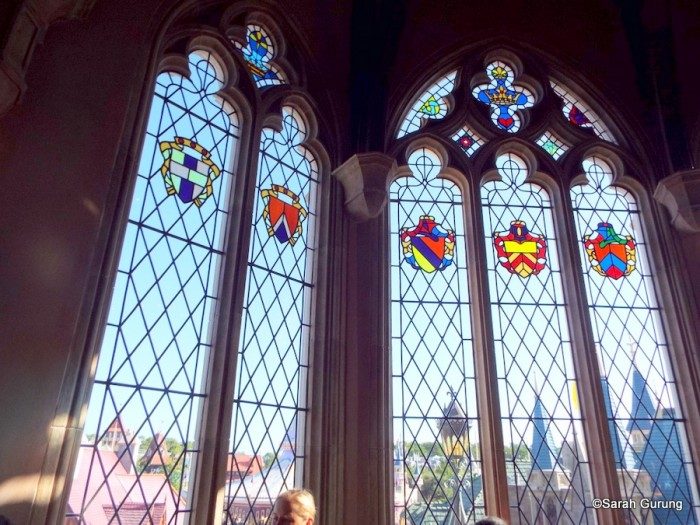 So if this is the most in-demand reservation at Walt Disney World, why isn't Cinderella's Royal Table #1 on our list? Well, the cost is a big factor. The price varies based on meal and season, but breakfast could cost almost $60 a person, and dinner could cost close to $80. If you are using the Disney Dining Plan, this location will cost you two entitlements a person. Additionally, the food is only so-so, and certainly not worth the high price tag if judging on meal alone. That said, Cinderella's Royal Table is a must-do for any Disney fan, at least once. You cannot beat the ambiance of being in the castle itself — it's even more gorgeous on the inside. Plus, you are saving yourself a lot of time in line by meeting so many princesses at once!  If you have little ones who idolize the princesses, this may make it worth the high cost.
Head into the Land pavilion at Epcot, and you can join Chip n' Dale's Harvest Feast at the Garden Grill! Chip n' Dale are joined by Farmer Mickey and Pluto for breakfast, lunch, and dinner in the rotating restaurant. That's right — the restaurant slowly spins as you dine so you see various scenes from Living with the Land below you! Speaking of Living with the Land, many of the vegetables you'll enjoy during your meal were grown right there in the Epcot greenhouses. How cool is that? For this reason, we highly recommend riding the attraction before your meal as a "preview" for what's to come, and so you can appreciate all the work that goes into your dinner.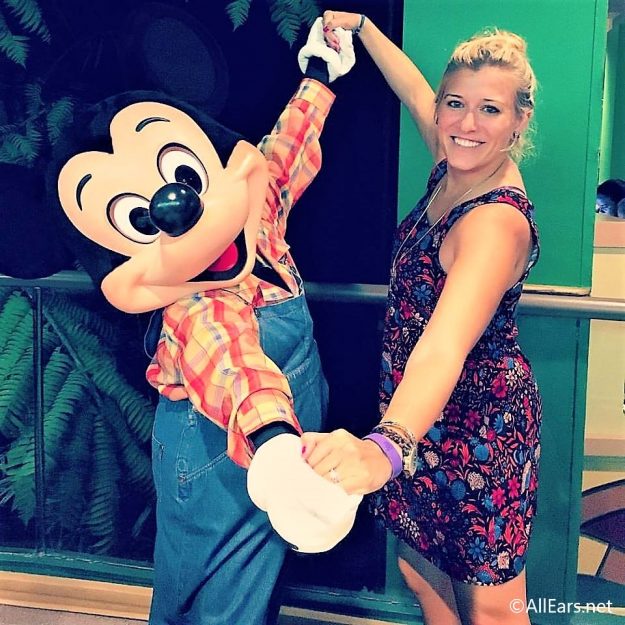 Garden Grill is served family-style, meaning large platters of food are brought to your table for all to enjoy. And don't be shy about asking for more — the servers are happy to bring to seconds (and thirds!) of your favorites. The food at breakfast is pretty classic, including seasonal fresh fruit, eggs, breakfast meats, and of course, Mickey waffles. Lunch and dinner are my favorite though! This farm-fresh feast includes a delicious garden salad, turkey, stuffing, seasonal vegetables, mashed potatoes, pot roast, and mac and cheese. It seems like those mischievous 'munks, Chip n Dale, helped cooked the mac & cheese, considering it comes with Goldfish crackers on top! And make sure to save room — dessert is a seasonal berry short cake with fresh whipped cream.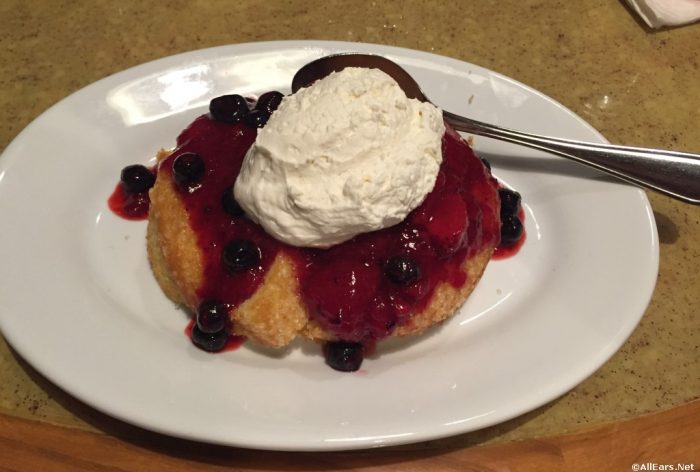 So why is Garden Grill so highly ranked? The food for starters. Personally, I think their dinner is the best meal you will find at a character dining location. While any character dining meal is expensive, Garden Grill caps out at about $45 an adult for dinner. Which considering all you get to eat, and the quality of the food, that's not too terrible. Additionally, the layout of the restaurant allows for some great quality time with the characters as the tables aren't on top of each other like in other locations. Also you'll find Chip n' Dale, and they make for a super fun feast! Simply put, Garden Grill is a hidden gem of character dining.
#2 Akershus Royal Banquet Hall
 Located in Epcot's Norway pavilion you'll find Princess Storybook Dining at Akershus! Here you can dine in a medieval castle and enjoy some of the most unique eats at any character dining location. Best of all, it's usually a lot easier to snag a reservation here vs. Cinderella's Royal Table, and you'll still get your fill of the princesses! Typically, guests are greeted by Belle in her ballgown (or Christmas gown during the holidays), and then joined by a myriad of other royalty as they enjoy their meal. Most commonly spotted are Snow White, Ariel, Princess Aurora (Sleeping Beauty), and Cinderella, though you could also see Mulan, Rapunzel, or Jasmine.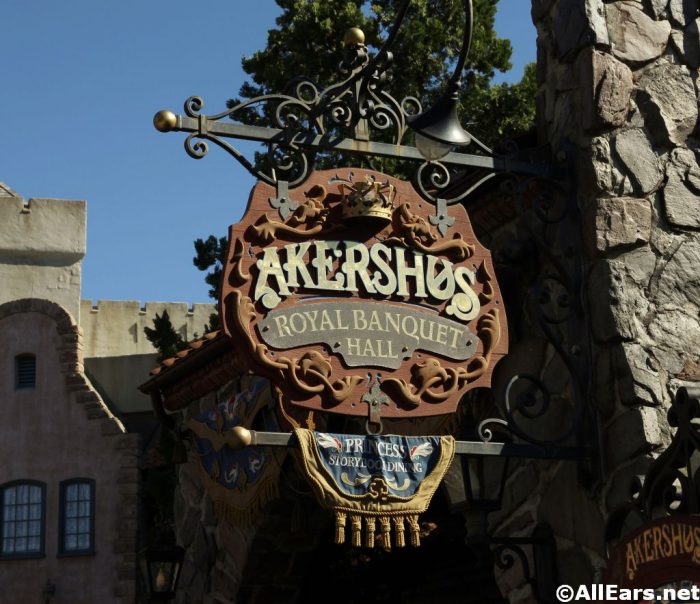 The set-up is a little different at Akershus, as it's part-buffet, part-plated meal. At breakfast, a large family-style platter of goodies is brought to the table, including items such as eggs, sausage, and potato casserole. Guests can complement their meal at the "Norwegian Smorgasbord" where they will find a buffet-line of cold meats, cheeses, and garnishes. For lunch and dinner, your meal starts with "A Taste of Norway," a buffet featuring a large selection of meats, cheeses, and other Norwegian delicacies. We recommend trying the famous "brown cheese"– it looks interesting, but it tastes delicious! Your entrée is plated, and includes choices such as Norwegian meatballs, potato and goat cheese ravioli, roasted chicken, and pan-seared salmon. For dessert, a trio of delicacies are brought to the table for you all to enjoy.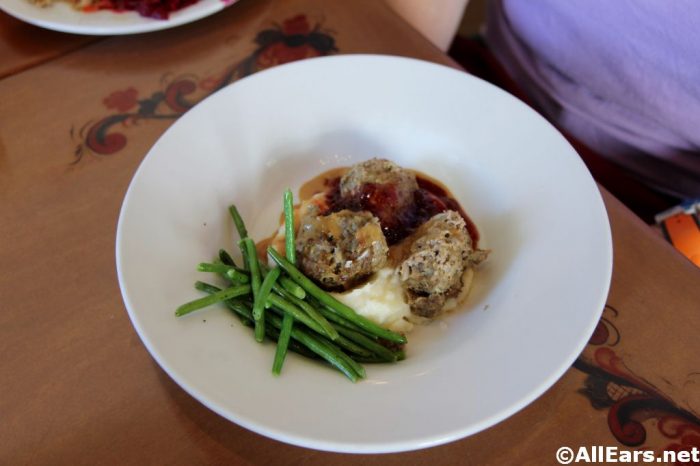 Akershus ranks so highly on our list for two main reasons. The first — highly in-demand characters. As we said before, you are saving yourself a lot of time in line by being able to meet four to five princesses in one sitting! Secondly, the food is far better than that of Cinderella's Royal Table, especially considering the cost. The highest you'll see dinner here is around $65 an adult – which isn't much more than breakfast at CRT. Also, this meal is only one dining plan credit, making it a real value at dinner. It is also much easier to secure a reservation for Akershus, and while you won't be inside Cinderella Castle, you are certainly in store for a magical meal.
Where does the monorail soar above you and the only place you can see the entire "Fab 5" at once? Why Chef Mickey's of course! Located in the Contemporary resort, the "Big Cheese" himself has invited you to his Fun-Time Buffet for breakfast, brunch, or dinner. Here you'll be greeted by one of the largest buffets on property, as well as Mickey, Minnie, Goofy, Donald, and Pluto who have all been working away in the kitchen to prepare this feast. Chef Mickey's is lively and fun, and several times throughout the meal you'll encouraged to dance with your favorite characters!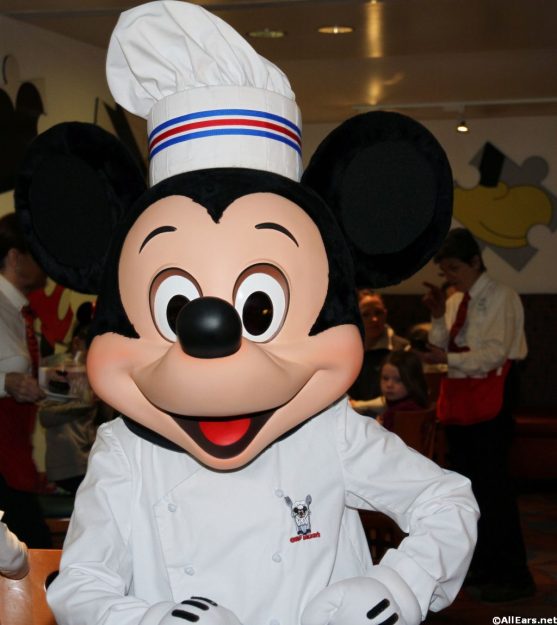 Breakfast is my personal favorite at Chef Mickey's. Selections include a build-your-own waffle station, carved ham, various egg dishes, French toast, and Minnie's Breakfast Pizza. It's basically all of your comfort breakfast foods – there are so many choices! Chef Mickey's is also the only restaurant who opts to do Brunch instead of just lunch. Here, you'll find many of the breakfast items are still available (yes, including the waffle bar), but they've added heartier choices such as soups, salads, carved pork tenderloin, and chili-cornbread casserole. Dinner features a carved prime rib, freshly-made pastas, seafood paella, and much more. Amongst the large array of desserts, you'll find a build-your-own sundae bar.  While this spread isn't as "exotic" as the Tusker House, there are a huge amount of choices and everyone in your family should leave stuffed!
So, why #1? That's simple — the characters. Like I said, this is the only place on property you can see the entire "Fab 5" at one time. Think of the hours you're saving yourself by not waiting in separate lines for Mickey, Minnie, Pluto, Goofy, AND Donald! Additionally, the atmosphere is fun, especially for little ones. Between the lively music and monorail zooming overhead, your kiddos are guaranteed to have a good time. Plus, you're walking distance to the Magic Kingdom. The variety in the food is key as well — there are lots of things the kids are sure to love, but you won't be bored or stuck eating chicken nuggets and mac & cheese (though if that's what you want, enjoy!).  Lastly, Chef Mickey's is only one dining plan credit, making it a real steal if you're using the plan. If not, I highly recommend going for breakfast. It's the least expensive of the meals, (it can still run about $40 an adult though) and what better way to start your day than by swinging your napkin overhead while eating a Mickey waffle and hugging Mickey himself?
What is your favorite character meal? Tell us in the comments!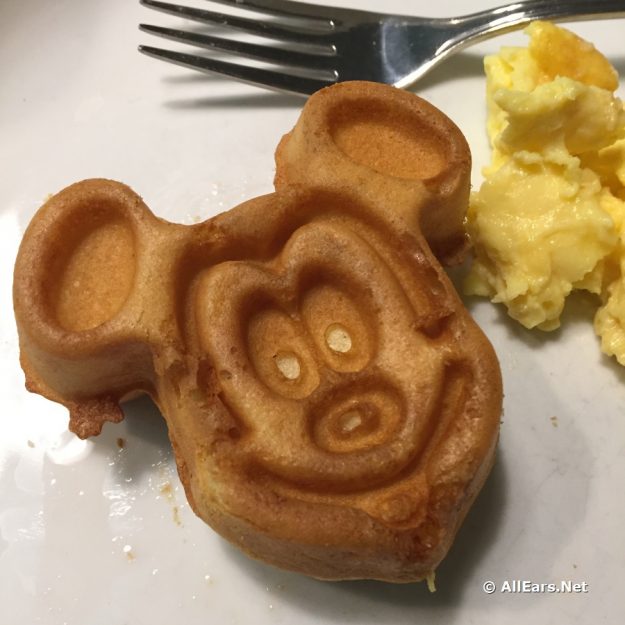 You can also read others' reviews in our Review section, or leave your own thoughts about character meals you've had.
Watch our character dining video reviews here:
Remember! When you're in Disney tag @allearsnet in your photos!
Want more AllEars.Net content? Be sure to check out our YouTube Channel for reviews, news, information and more! 
Subscribe to the AllEars® newsletter by clicking below so you don't miss any exciting Disney news!