If you love The Incredibles and are excited about "Incredibles 2," Walt Disney World is the place to be this summer! Tomorrowland at the Magic Kingdom has been transformed into the Incredible Tomorrowland Expo, where guests can take part in activities that resemble those at any big character convention. You'll find characters, photo ops, a dance party, children's activities, merchandise and special food — and it's all included in park admission (except the food, of course)!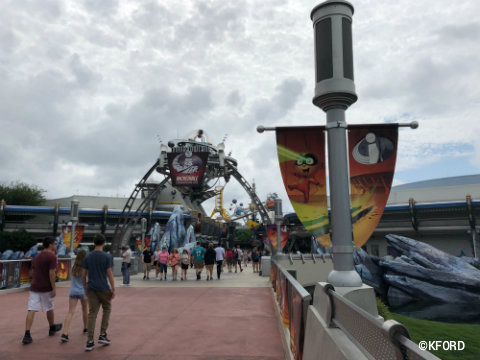 Walking across the bridge from the Main Street, U.S.A., hub to Tomorrowland, guests will find banners galore announcing the Expo, and it suddenly dawns on us why the rocks in front of Cosmic Ray's Starlight Café were painted new colors earlier this year. There's a nice photo opportunity on the bridge with Cinderella Castle in the background, and a Disney PhotoPass photographer will offer an Expo sign to guests, too.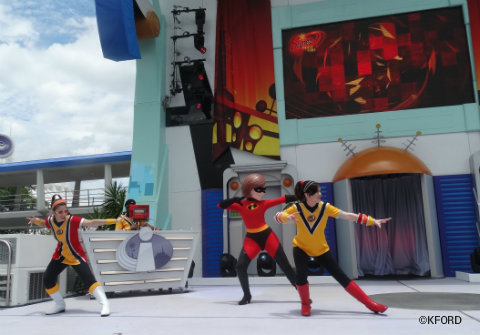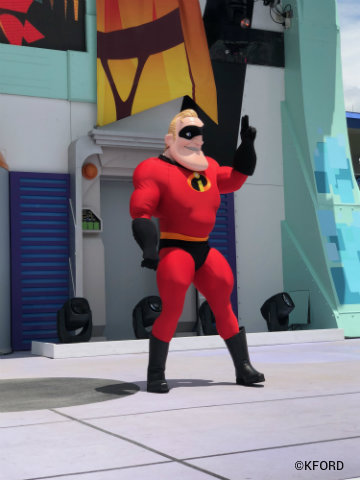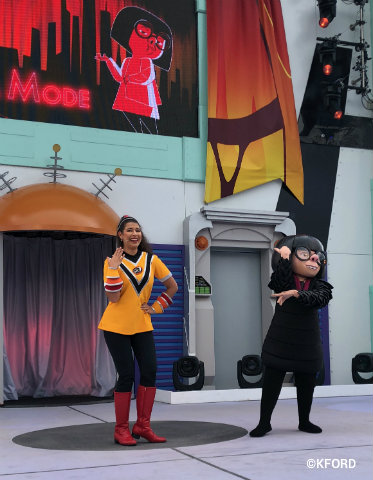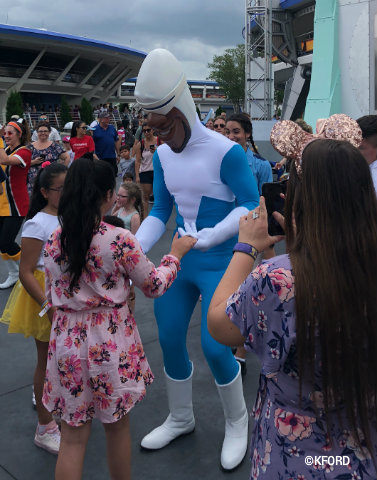 The centerpiece of the Expo is Super Party Time on the Rockettower Plaza Stage from 2 to 7 p.m. each day. This party is a stage show combined with a DJ and dance party for all ages. The characters change each hour, too. I hung out by the stage for the first hour and saw Elastigirl (Mrs. Incredible), Whipper Snapper, ElectroGirl, Mr. Incredible, Frozone and Edna Mode. This is the first-ever appearance of Edna, the designer to the Supers, and she received a warm welcome, especially as she judged an impromptu fashion show. Each Super and the sidekicks not only perform on stage, they also come down into the crowd to dance and mingle. To get a photo, you have to be quick with your camera because this isn't a meet-and-greet; they are there to interact with guests. (If it rains, as it is apt to do on summer afternoons in Florida, the characters usually move to the nearby gray wall by the face-painting booth. Edna Mode, however, only appears in Rockettower Plaza.)
Reflux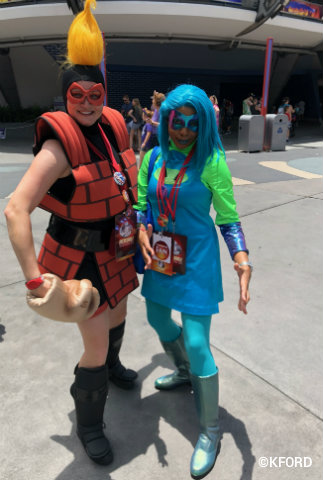 Brick and Voyd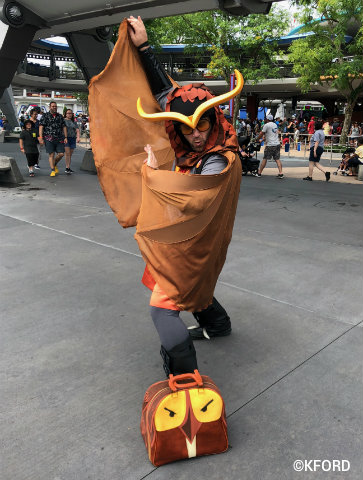 Screech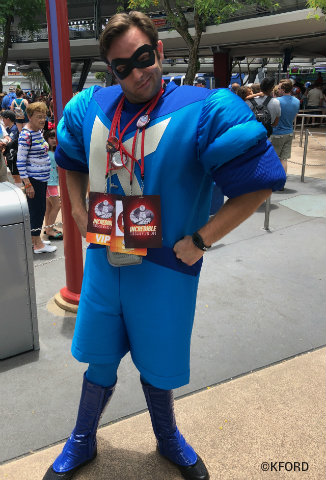 Krushhauer
Can't get enough of characters? Then be sure you look for the Super Super Fans who are roaming around Tomorrowland from 10 a.m. to 7 p.m. each day. These characters are dressed up as new Superheroes in "Incredibles 2." I spotted five of the six Super Super Fans at the Magic Kingdom: Wendell is dressed as Screech, who sounds and flies like an owl; Ed Chilada is dressed as Reflux, who can create and mold lava; Shirley is dressed as Brick, who is unbelievably strong; Will is cosplaying Krushhauer, a telekinetic superhero; and Abbie is cosplaying Voyd, who can remove things and leave a void.
Families with babies might want to enter the Jack-Jack Diaper Dash, a race to see who can crawl the fastest. It's fun to watch, even if you are past the baby stage! This event actually originated on Disney Cruise Line and was so popular it has been duplicated at the theme park. To sign up your child, go to the Rockettower Plaza Stage area beginning at 10:30 a.m. each day. The first 25 babies will be entered in five heats of five participants. Each baby must have two adults present — one to help at the start line and one at the finish line. Those who register return to the area at 11:45 a.m. for the races that begin at noon each day.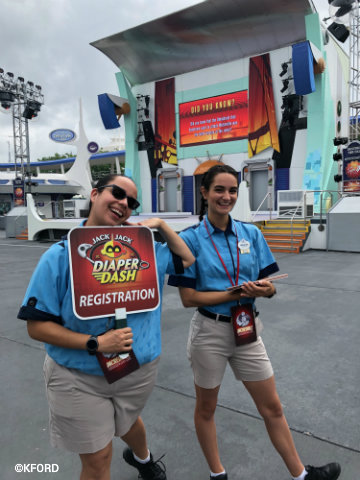 The rules:
** Parents are allowed to encourage from the finish line with toys or treats, but are not allowed to scoot or slide their babies in any way.
** Racers must be crawlers; walkers will be disqualified.
Participants each receive a special Jack-Jack bib.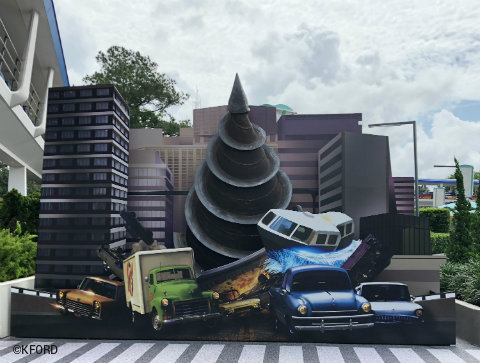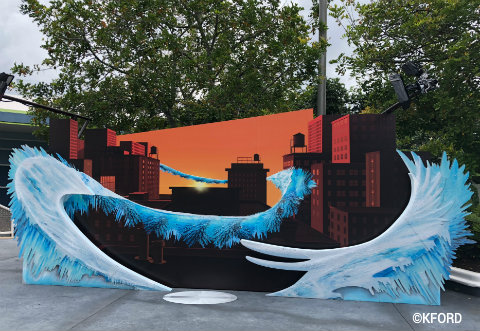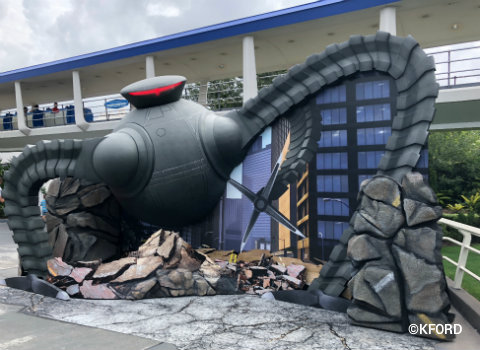 Throughout Tomorrowland, guests will find four additional Incredibles photo ops. You can pose with the Omnidroid, slide like Frozone, face down the Underminer or vogue like a movie star on the red carpet backdrop. Disney PhotoPass photographers are stationed at each location and their services are free. Read more about how PhotoPass service works here.
And what would a Disney event be without special themed food? There are plenty of dishes and desserts available throughout Tomorrowland during the Incredible Tomorrowland Expo. Here's what to look for:
** Tomorrowland Terrace: Dash Pizza (pepperoni and cheese Sicilian-style pizza).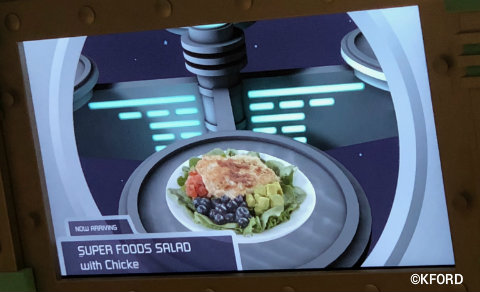 ** Cosmic Ray's: Super Stretchy Burger Inspired by Mrs. Incredible (flame-grilled angus burger piled high with deep-fried mozzarella sticks, American cheese, bacon and garlic ranch sauce.); and Super Foods Salad (Kale and spinach salad with quinoa, avocado, blueberries and pico de gallo).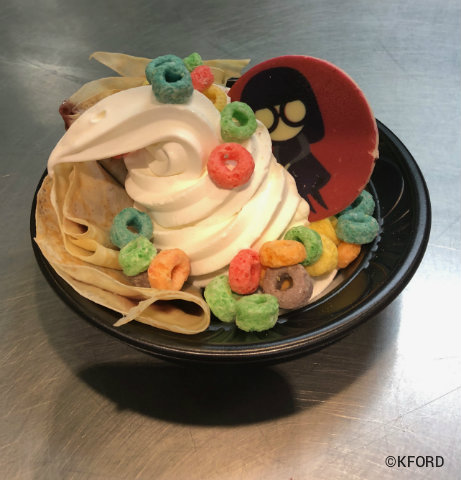 ** Auntie Gravity's Galactic Goodies: Edna Mode's "No Capes, Just Crepes" Crepe Sundae (Chocolate hazelnut spread crepe topped with ice cream and berries or Blackberry Lavender Jam Crepe topped with ice cream and fruit-flavored cereal).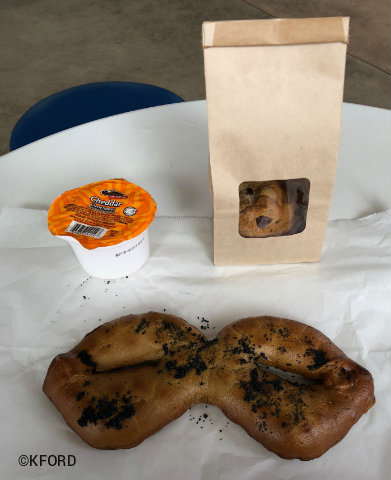 ** The Lunching Pad: Jack-Jack Cookies (freshly baked mini chocolate chip cookies); and Mrs. Incredible Pretzel Mask (soft pretzel topped with black salt).
** Snack carts: Frozone's Sno-Cones (Blue Raspberry-flavored sno-cone).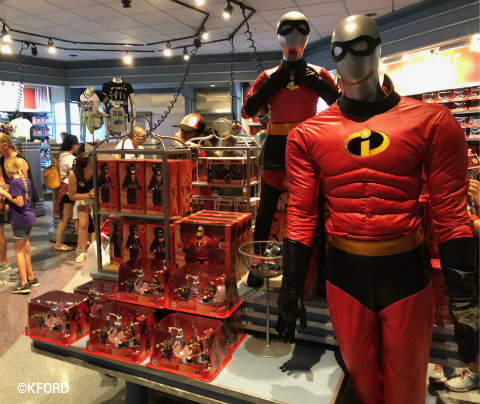 Finally, a slew of new Incredibles merchandise is for sale at Merchant of Venus, Tomorrowland Light & Power Co. and Mickey's Star Traders. There are Incredibles costumes for the whole family, action figures, plush figures (including Edna Mode), Funko Pop! Figures of the Incredibles family and Screenslaver, T-shirts and onesies, mugs and pins.
You can see more photos from the Incredible Tomorrowland Expo in our photo gallery HERE. And you can hear Show Director James Silson give his thoughts on the main show elements in our video HERE.
The Incredible Tomorrowland Expo runs daily through Sept. 3, 2018. Will you be going?
DISCLAIMER: I was a guest of Walt Disney World for its Incredible Tomorrowland Expo. This did not affect my story; my opinions are my own.