Electric Ocean, SeaWorld's nighttime summer event, kicks off with a new dolphin and bird show, "Touch the Sky." This show takes place only once each day, so you'll want to plan to be at Dolphin Theater in plenty of time for the 5:45 p.m. show.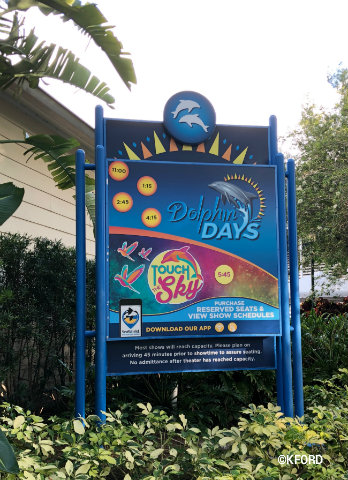 "Touch the Sky" is different from the daytime show, "Dolphin Days," because there is less of an emphasis on educating the audience and more of a focus on entertaining viewers. "Touch the Sky" begins with high-energy music — all original, I might add — and lots of high-flying Atlantic bottlenose dolphins. They wow the crowd with jump after jump.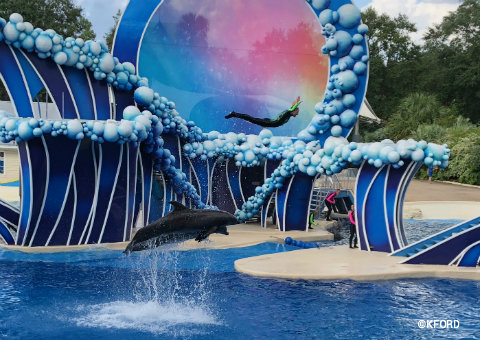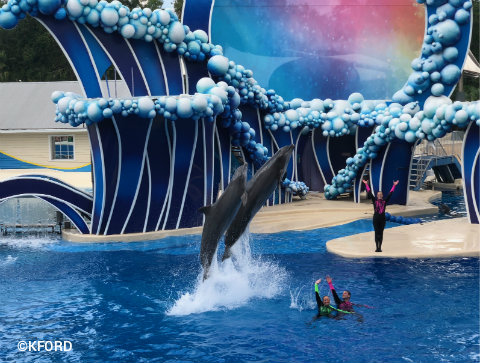 SeaWorld dolphin fans, like my teenage daughter, will recognize some of the same animal behaviors that are present in all the theme-park dolphin shows. But "Touch the Sky" combines them in new ways. For example, the dolphins appear to be dancing as they come out of the water vertically and use their flukes to propel them in figure eights. The show offers some thrills when a dolphin with a trainer balancing on his nose jumps high out of the water and both dive back in separately. And you can't help but "ooh" and "aah" when the dolphins soar over their trainers in the water or jump in unison.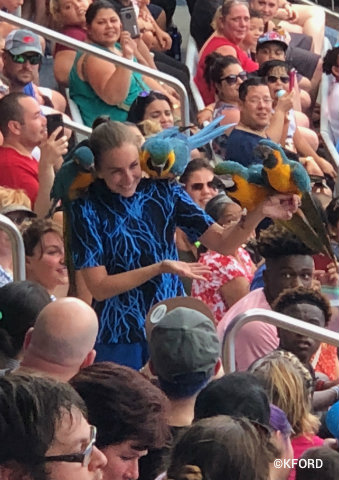 In addition to the dolphins, "Touch the Sky" features three types of Macaws: the Ruby, the Blue-Throated and the Blue-and-Gold. Natives of South America, these birds are endangered. While they swoop over the audience, the trainers explain how they have come close to extinction — there are only 300 Blue-Throated Macaws left in the world — and what each person can do to make a difference in the birds' lives.
As we have come to expect, the show closes with folks in the Splash Zone getting wet. Then, the trainers come into the theater and stand along the walkways so guests can talk with them and take photos — an opportunity my daughter never misses. Because she hopes to one day work with dolphins herself, she likes to ask questions about their career paths. Most dolphin trainers have degrees in marine biology or psychology, we were told. And they all try to volunteer and intern with animals of all kinds from an early age.
When "Touch the Sky" ends, guests are encouraged to enjoy the extended summer hours with other evening shows and the Club Sea Glow at Bayside Stadium. Folks can hustle over to Sea Lion & Otter Stadium to see a presentation of "Sea Lions Tonite," a hilarious show only presented in the summer. Clyde and Seamore take a trip to SeaWorld and parody other theme parks in the process. It's shown only once each night — at 6:30 p.m. You also won't want to miss the "Light Up The Night" show with SeaWorld's signature killer whales at 8:45 p.m. at Shamu Stadium. In between, guests will find a colorful, loud dance party with different entertainers and a DJ at Bayside Stadium for Club Sea Glow, which takes place from 8 p.m. to 9:30 p.m. when the last show of the night, "Ignite," offers fireworks, fountains and flames.
Electric Ocean events take place on select nights through Sept. 2.
DISCLAIMER: I was a guest of SeaWorld Orlando to experience its Electric Ocean events. This did not affect my story; my opinions are my own.