No matter what your kids tell you, science can be fun, and one of Epcot's corporate sponsors, Raytheon, is offering theme-park guests the opportunity to discover this for themselves during special events planned for National Engineers Week, which is Feb. 17 to 21.
Raytheon, an aerospace and defense contractor that employs state-of-the-art electronics and communications systems for government and commercial projects, sponsors Sum of All Thrills in the theme park. This attraction allows guests to digitally design their own roller coasters and then experience a simulated ride in them.
But during National Engineers Week, the company also will conduct an interactive stage show called "Science Thrills Live" to demonstrate to Walt Disney World guests the exciting ways that science can be applied to objects in our everyday lives. Guests will learn about nucleation-triggered eruptions, thermoplastic recycling, and the conservation of angular momentum by watching soda explode and milk jugs melt and participating in a giant tug of war. The experiments will be conducted by actual scientists, and the show features Erika Ebbel, the host of "The Dr. Erika Show," and the founder of Science from Scientists.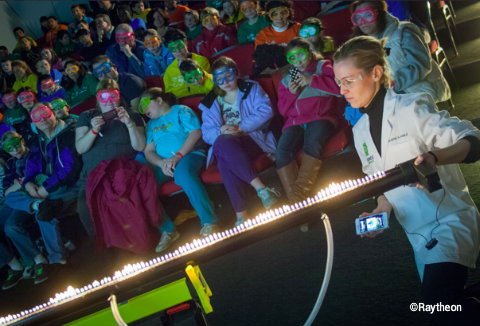 Erika Ebbel teaches students who have donned safety goggles about math and science.
The 20-minute shows are free and take place each day at 11 a.m. and 1, 2, 3 and 4 p.m. at the Innoventions Engineers Lab inside Innoventions West. Raytheon representatives will be handing out free T-shirts on Monday and sling bags on Tuesday through Friday.
Last year during National Engineers Week, Raytheon hosted family friendly sessions called "Coaster Crafters" that taught kids the basic physics behind designing roller coasters. You can read about it and see photos on my blog post here.
Can't make it to Innoventions at Epcot? There is an online version of Sum of All Thrills that allows users to create a roller coaster ride, pilot a jet fighter or race a bobsled — and then relive their custom ride over and over again. A design table similar to the one used at Walt Disney World provides all the virtual tools users need to experience their own thrill ride and learn about some of the scientific concepts that make the attractions so exciting.
In another community effort to nurture interest in math and science, Raytheon also hosts the MATHCOUNTS national competition at Walt Disney World each spring. The contest brings together the nation's top middle-school students who have excelled at math. Raytheon's educational efforts are grouped under the MathMovesU initiative, which includes scholarships, competitions, interactive learning programs and tutoring.