Jack Spence is on a leave of absence until 2014. This is a reprint of a blog that originally ran in January 2012 and was accurate at the time of publication.
Now that the busy holiday season is over, I have a question for all of you who visited Disneyland and Walt Disney World the week between Christmas and New Year's. Why?
I have often asked myself, "Why would anyone visit Disneyland or Walt Disney World the week between Christmas and New Year's?" This is hands down the busiest week of the year. Park closings due to capacity issues are a daily experience. Of course, the answer to this question is simple. The kids are out of school this week and very often mom and dad have coordinated their vacation to coincide with this. But I'm here to tell you, a trip to a Disney park over Christmas week just might not be worth it.
Living in Orlando, I can go to Disney World anytime I like. And writing for AllEars requires that I visit here 3 to 5 times a week. But I avoid Disney World like the plague between Christmas and New Year's. It' simply isn't worth it. It's too darn crowded. Even Interstate 4, Highway 192, and the streets near Disney become a clogged mess during this time of year.
But the question "Why do people visit during this week" kept nagging at me. I know not everyone was doing so because of school schedules. There must be something I'm missing about this week that attracts so many of you. So I decided to take a drive down to the Magic Kingdom on December 29th (2011) to see if things are as horrible as I remember.
First, I knew I needed to arrive before 10am. The Magic Kingdom is the busiest of the four parks and is always the first to close due to capacity issues. I wanted to make sure I arrived before this happened. A complete description detailing Disney park closing policies can be found at the bottom of this blog.
When a park is reaching capacity, Disney will post signs around property, informing guests that a particular park is closed. However, these signs are easily missed. Once you reach a "point of no return" on the roadway, you are committed to drive all the way to the toll booth where you'll be asked to make a U-turn. This can take a lot of time as the cast members must explain the disappointing news to each and every car ahead of you.
If a park is open, you will still have many vehicles ahead of you at the toll plaza when it's busy. I must admit, Disney is magnificent at parking cars efficiently, but it can still take a lot of time to pay the attendant and be directed to a space.
If you're staying at a Disney resort, by all means, use Disney transportation during Christmas week. It's easier and will save you a lot of time and hassle.
I parked my car in the Magic Kingdom lot at 9:30am. I had to wait for three trams before I could board for my trip to the TTC. Once there, the lines to catch the monorail and ferry boat were incredible. I opted for the ferry and was able to catch the second boat to pull in. Once at the Magic Kingdom, the lines for bag check were humungous, as were the lines to pass through the turnstiles. In all, it took me a full hour to get from my car to the tunnel under the train tracks.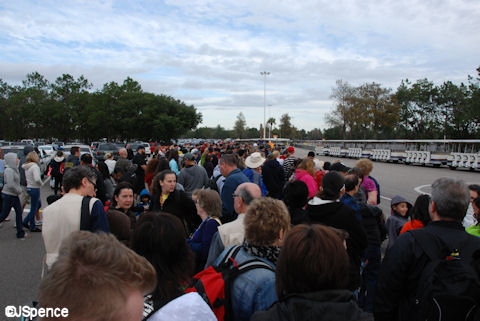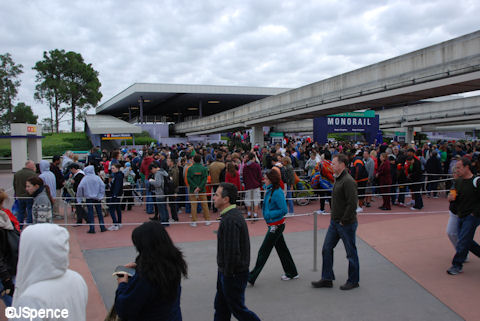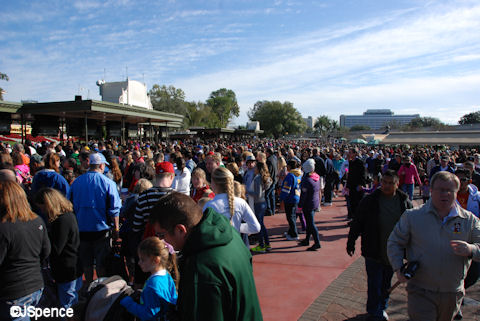 Since my objective was to blog about the day, not experience the park, I did not ride any attractions. I simply circled the park and took pictures and shot videos. Here are few photos of Main Street and The Hub.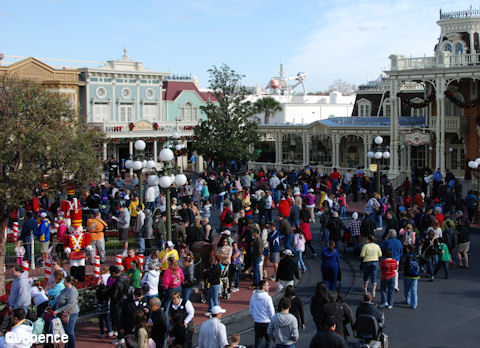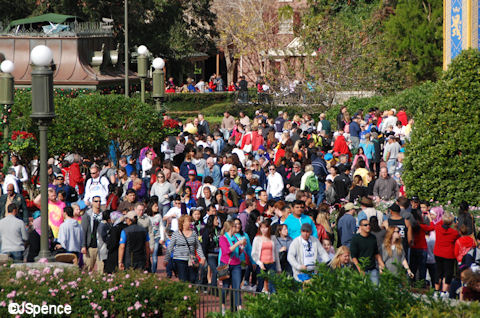 Take a look at Tomorrowland.
If you want to avoid lines at counter service restaurants, eating at off times is absolutely necessary. These next pictures were taken at Cosmic Rays Starlight Café at 11:30am. As you can see, it's already pretty busy. But this is nothing compared to what it will look like at noon. Even at 11:30, cast members were guarding every doorway leading into the restaurant. All were designated as "exit only" with the exception of one which was designated "entrance only." Disney does this to facilitate better crowd control. In addition, cast members had the entrance to the main dining room barricaded. You were required to have trays of food before being allowed to find a table. Past experience has shown that people will save tables, thus taking up this precious space for twice as long as necessary.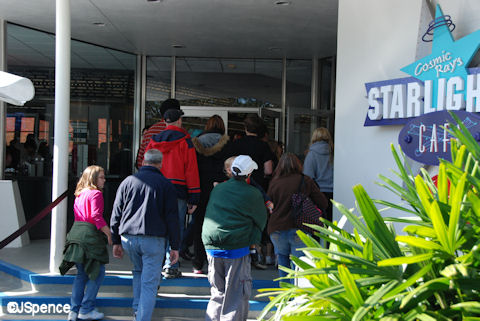 By the way, did you know that Disney raises the prices on counter-service food over this week – just because they can?
This is Fantasyland around noon. There were still some open spaces, but you had to use your best maneuvering skills to negotiate the walkways.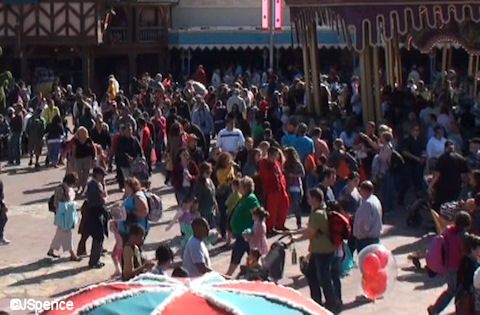 In Liberty Square, the line for the Haunted Mansion began near the entrance to the Liberty Belle.
In Frontierland, the wooden walkway that skirts the edge of the Rivers of America was designated as a two-way street. Masking tape had been placed on the ground with arrows indicating direction. Cast members were stationed along the route about every 15 feet to keep things moving. There was no stopping allowed. Traffic was so regimented in this area, I was not able to stop and get a picture. This next shot was taken In Liberty Square as you approach the Frontierland walkway.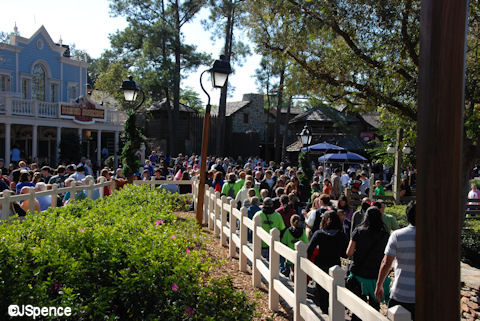 The area in front of Thunder and Splash Mountains was a mob scene. There must have been a couple hundred people in line just to get FastPasses for TM, which was already stating a comeback time of 2:45-3:45. And remember, with crowds like these, returning to this area when your FastPass comes due is going to take additional time.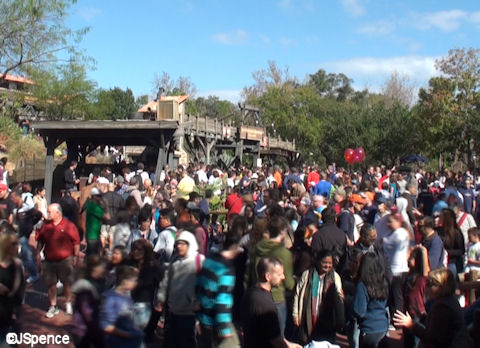 As you can imagine, Adventureland was as crowded as the rest of the park.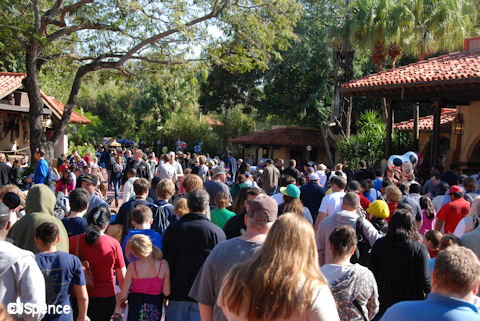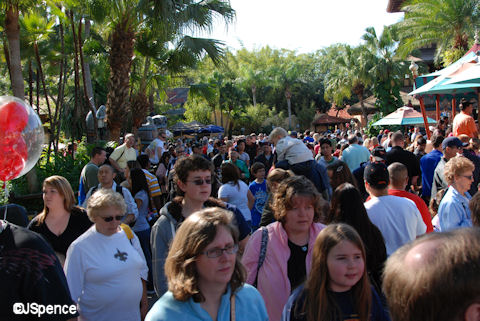 The shortest stated attraction line I ever saw was in Tomorrowland. Shortly after I arrived at 10:30 the line for Monsters Inc. Laugh Floor was 20 minutes. However, before I left the area, it was 30 minutes. The sign posted for Snow White was 40 minutes, Dumbo 60 minutes, Small World 75 minutes, and Space Mountain 2 hours. But mind you, all of these signs said "From this point" and the lines extended well past the signs, which could add another 10-20 minutes to your wait. Even the People Mover and Swiss Family Treehouse had lines – attractions that never see people waiting. Carousel of Progress was playing to almost full theaters.
As I circled the park, I kept saying to myself, "I'm glad I'm here just to document the crowds and I'm not trying to get my money's worth."
People often ask me how I can take pictures and videos at Walt Disney World with few or no people in the shot. Well one thing is certain, I don't attempt this the week between Christmas and New Year's.
After spending three hours at the Magic Kingdom, I'm still shaking my head. It is beyond me why anyone would spend their hard-earned money to visit Walt Disney World during Christmas week (other than it coincides with school vacation). If you want to see the holiday decorations, you can do that with manageable crowds from December 1st to around the 18th. The only thing you'd miss out on seeing during the early weeks of December is the Christmas parade. However, this is available if you attend one of the Mickey's Very Merry Christmas Parties.
If you're thinking that you'll get to see the filming of the Christmas Parade and special entertainment broadcast every Christmas morning on ABC, think again. This was filmed weeks earlier at both the Magic Kingdom and Disneyland when the crowds were manageable.
When I worked at Disneyland in the 1970's, the projected attendance for the day was posted backstage for the cast members to see. Christmas week regularly attracted 60 to 70 thousand people per day. Disney now guards this information judiciously. So don't ask me how many people visit. I don't know.
Below are the official Disney guidelines in regards to park closings at Walt Disney World. Note, it is common for the parks to reopen later in the afternoon as guests begin to leave.
Alternate Parking:
All Walt Disney World parks are open, but due to parking limitations, guests will be requested to park their vehicle at a different theme park and use Disney transportation to their ultimate destination. For example, guests wishing to visit the Magic Kingdom may be directed to park at Epcot and use the monorail.
Phase 1:
The following guests will be turned away at the Auto Plaza:
"¢ Day guests with Magic Your Way Base Tickets
"¢ One-Day/One-Park Tickets
"¢ Guests without theme park admission
"¢ Cast members using Main Gate & Silver Passes.
Phase 2:
Only the following guests will be allowed entrance:
"¢ Disney Resort guests*
"¢ Annual and Premium Annual Passholders
"¢ Guests with Park Hopper tickets coming from another park visited earlier in the day
"¢ Guests re-entering the same park
"¢ Guests with dining reservations
"¢ Guests with reservations for Bibbidi Bobbidi Boutique, The Pirates League, or Harmony Barber Shop (Magic Kingdom)
"¢ Guests with reservations for Wild Africa Trek (Animal Kingdom)
Phase 3:
At this phase, park admission is limited to:
"¢ Disney Resort Guests*
"¢ Annual and Premium Annual Passholders,
"¢ Guests with dining reservations
"¢ Guests with reservations for Bibbidi Bobbidi Boutique, The Pirates League, or Harmony Barber Shop (Magic Kingdom)
"¢ Guests with reservations for Wild Africa Trek (Animal Kingdom)
Phase 4:
Closed to all guests as the park has reached total capacity
* The following non-Walt Disney World hotels are considered part of the Disney Resort:
Swan and Dolphin
Shades of Green
The hotels along Hotel Plaza Blvd (provided guests arrive via their hotel shuttle bus)