To all who come to this photo trivia game, Welcome! Along the way, the photos can make us relive memories and see details Walt's Imagineers put into everything we love in Walt Disney World!
Lots to celebrate!
The Winter Solstice:

Christmas:

and Boxing Day!
I don't have any smileys for it. Sorry! Have a wonderful holiday!

Whatever you do this week, enjoy and think Disney!
From last week: Challenge #310:

And here's the answer:


Copyright © Erin Blackwell
The entrance to Din-O-Rama in Disney's Animal Kingdom!
Jim Finley, my husband calls Primeval Whirl "The Hurl Maker". 🙂 But it's actually one of his favorite rides.
Jim & Lorie Sonnen was the first to send in the correct answer! Congratulations to Jim & Lorie and all our winners this week! The Kahle Family, Linda Scrivano, Phil Vickers, Russ Morgan, Bruce Jones, Michelle Norris, Phyllis, The Gunnels Family, Virginia Pierce, Dee Dee Kenney, The Kertes Family, Linda K Ranatza, Carol Ney, Donna Frank, Mary Beth Tarbet, Tricia Petty , Sharon Pierce, Andrew Carrieri, Kris Nixon, The Youngs, England, Betsy Silvestri, Kerri Coggins, Kenny, Clare S, Megan K, Dennis Parker, Melissa Rymer, Heather Keenan, John Mahoney, Kelly Deleon, Deanna, Zach Szymko, Ed Suscreba, Jennifer Rowell, Scott Greenbaum, Melissa Moody , Barbie Tupua, Jenny Brennan, Sheree Montgonery, Jon Landis, Joseph Johnson, Amber Penske, Debbie Marielle, Dayshel Harwood, Jennifer Nencka, Matt Wildey, Gina Shaw, Mary Ann Lamay, Dave Freemyer, Jack Lynch, Jennifer Page, The Tisdale Family, Jennifer Chartier, Lisa Manrodt, Lee Anastasi, Danielle Ciotti Harsley, Valerie Nance, Paul Dickson, Tinkerbell Wells, Kristi Strembicki, Maryann Eckenrode, Agnes Ciotti, Team Hill, Olszak Family, Deb Ragno, Melissa Mueller, John Bickers, Pam Vanaustin, Elaine Kleinhenz, Carolyn Como, Don Collignon, Robin Robinson , Chuck Sands, Jason Hocker, Judy Simonsen, Colette Stanton , Perlonia, Erin Hammer, Cathy Derecola, Belicia Cullen, Craig Livingston, Scott Cullen, Double Family, Joann Albrecht, Sheryl Hicks, Gallagher Family, Deb Audette, Linda Bowles, Amanda Campbell, Chris Horne, Emily Hudson, Colleen Leclair, Pollyanna Buff, Bill Mckim, Michael Scholz, Hallie Gleave, Maureen Handy, Melissa Such, Carrie Mccammon, Kara Cummings, Laurie Walker, Kerry A, Ryan Mccorristin, Janet T Thorn, Teala Van De Ven, Bruce Nash, Craig, Patti Gumiela, Bill Schmid, Heather Long, Gabriella, Terry And Matthieu, K Beasley, Karen Hotchkiss, Ruben O'meara, Trina Noggle, Louise Barton, Ed Hogan, Brian Mickle, Herb Miller, Carly &Colin, Jonathan Thomas, Jonathan Thomas, Lauren Thomas, The Parker Family ( I Love You Nikki), Amy Filliben, Sonya Shirley, Tom Koval, Ashley Collins, Craig Mitchell, Mickey Eckert, The Pearsall Family, Mark Benton, Les Whitten, Diane Furtado, James Steele, Mike Berry, Duskin Henard, Zachary Falcone, Andy Hickey, Team Meeker, Paul Scimeca, Darlene Haven, Drew Popek, Mike Haven, Karen Schlumpf, Lons, Wendy Beaudoin, Rosanna Bowser, Angela Curley, Blake Schmidt, Sarah Smee, Charles Alexander, Leach Family, Jennifer Gray, Jason Stelle, Laura V., Heather Stevens, Patty Carty, Susie Howard, David Lizewski, Larry Sprenkle, Rhonda Tomlinson, Bruce Hinterleitner, Jim Finley, Mike Hulse, Jim Nitschke, Heather Sabatino, Ashley P. , Tinker Fairy, Tim Johansen, Eric Enli, Chloe Mayhew, Sara Holloway, Morgan Williams, Josh Weiss, Jeremy Hardy, Karen Costa, Kelly Reynolds, Jeff Blank, Hunter Armstrong, Hillary Waldroop, Olga Vorontsova, Carrie Henderson, Morag Lemon, Matt Reed, Linda College, Kris, Chris Bauman, Tricia Noble, Paul Ignudo, Andrew Pettit, Wayne Witherspoon, Brenda H, Rebecca Keenan, Anastasia Macneil, Jennifer Harmon, Melody Odonnell, Alison Rosenberger, Heather Hynes, Karrie Duffey, Kelly Smith, Gail States, Antoinette Leblanc, Nathaniel Clements, Terry Fleming, Janice Enli, Kara Morton, Andrew Dimaggio, Tony Lliteras, Annie Snodgrass, Vicki Britt, Barbara Remele, Rob Blundin, Robert Wescovich, Shelly Borella, Kev Marriott , Maja K., Kate Kozlowski, Theresa Rucando, Dave Kanigowski, Maggie Klotz, Sandy Kanigowski, Kathryn Hughes, Jeremy Reichelt, Jeff Finger, Sarah Calvario, Ken Clark, Michael Dale Pennington, Cheryl Chambers, Jenn Steele, Kerry Finnamore, Hobbes And Snorky, Kimberly Sancranti, Brian Mcwithey, John P, The Patterson Family, Alex A, John Pasqueralli, Erin Connell, Matt Petty, Kerry Mccaffrey, Pj, Vera And Izzy Williams, Heidi Goodhue, Kelsi, Wayne Beck, Claire Gregory, Vicki Edwards, Kerrie Hogan, Jennifer Shaw, Fred Shakeshaft , Randy Thomas, Nicole Benoit, Leigh Mertz, Carolyn Duff, Ron Harper, Jullie Pudem, Patti Mccaffrey, Carri Marotto, Olivia, Paul Newbiggin, Les Stewart, Nan Amor, David Ballard, Walter N. Clark, Sherry Trapp, Ashley Hill, Jackie Graebel, Joseph M. Zafia, Doug Olson Family, Josh Carney, Jennifer A. Mcfarland, Carla C, Robert P. Flaherty, Cheryl Costello, Jean Bussell, Barclay Bakkum, Tom Higbee, Matt Holley, Alan Mize, Dave Carriere, Grasso Family, The Campbell Family, Chris, Gretchen, and Katie Barnes, Jane Johnson, Wayne Chadourne, Nathan York, Mark Franklin, and Carol Gamill. Each of you are entered in this month's winners' drawing.
_____________________________________________________ _____________________
Challenge #311 Where in the world is this?
Different park!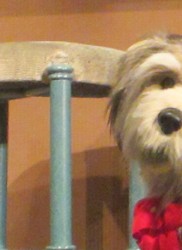 Do you know? Do you have a guess? Please send in your answer, before the end of the day on Thursday, December 26th, by clicking on the blue box below. Please do not post answers using the Feedback Form link at the bottom of this post.
See you next week, Players!


_______________________________________________________________________
Everyone who sends in a correct answer to a Where in the World Challenge this month will be entered in a drawing at the end of the month for some special AllEars® goodies!