Snowflakes on Main Street USA.
Nikon D700/Tokina 11-16mm, 6s, f/16, ISO 200, EV 0, 16mm focal length, tripod.
Wishing You a Magical & Merry Christmas!
Who says there is never any snow(flakes) on Main Street USA in the Magic Kingdom? I found some on my last trip. Do you notice anything unusual about this photo or the one below?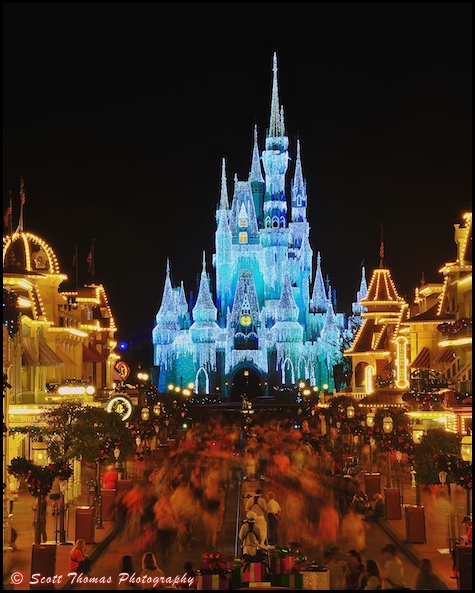 Cinderella Castle Dream Lights at the end of Main Street USA.
Nikon D700/28-300VR, 8s, f/22, ISO 200, EV 0, 105mm focal length, tripod.
If you have been to the Magic Kingdom during the Christmas holiday celebration, you should remember there are normally wreaths strung across Main Street USA. However, on the days they film the Christmas Day Parade in early December, those wreaths and the large Christmas tree at the beginning of Main Street USA are taken off stage. Thus, giving a clear view from the Railroad Station to Cinderella Castle.
I will be off next week to spend time with Family and Friends. See you in two weeks as we start another year of Disney Photographic learning and fun!